Essence Mommy Meet Up
The one thing I love most about being invited to different events is the connection that face to face meetings bring. Since I was an only child I think I have some weird over compensation side effect because I absolutely adore meeting new people. Its why I go to conferences and events. There are so many good people in the world and meeting them is so much fun!
So I was more than excited to attend the Essence Mommy meet up thrown by essence magazine and the Chic Busy Mom. When I rsvp'd yes I really was not expecting to leave the event with such a sense of fulfillment, pride, joy, and relief.
The event was held at the Essence Magazine offices just a short walk from my job in midtown Manhattan. When I entered the extremely elegant offices I was overwhelmed to see my friends–I only knew two people were going to be there prior to the event. I got to finally meet Monica from SoFamilyOnline and yes she is even more fabulous in person! All of my favorite girls were lined up on the other side of the table from me including Aliah, Ghada, Kim, Cass, and Onika. Candace was in the house too! There were around 20-25 very influential mom bloggers of color in the room and I was simply excited to be in their presence!
There was a lavish spread for lunch, and Svedka sponsored drinks for everyone. We got started with a quick toast and an introduction of ourselves.
A Conversation for Mommies
We started talking and I realized quickly that I was in the right place. We talked about our favorite tv shows and our favorite social media. We traded tips and tricks and resources. We laughed, a lot.
Then we broached the subject of mommy guilt. Most of us in the room works outside of the home so this was a sensitive subject for us. As a full time working mom there are real drawbacks to bringing in a paycheck. Sometimes there are issues with the daycare, sometimes you have to work late, sometimes you have to get in past your child's bedtime. Its tough.
We all agreed that we need to make a conscious effort to be present for not only our children but our husbands. We also must take time for ourselves to recharge and be better for those we take care of. As women we are always the caretakers, we must remember to take care of our bodies, spirits and soul. We also talked about working with blog brands and other aspects of blogging. I was absolutely floored by the sheer beauty, intelligence and influence gathered in one room. Unlike what the media portrays, there were 25 or so African-American women in a room sharing very similar stories, laughing, sharing and agreeing with one another in an extraordinary way.
I've noticed in the bloggy world there has been a lot of competitiveness lately, seems like a few folks are clawing their way to the top. This environment was the exact opposite of that. It really brought me full circle because when I started blogging I did it for the love. My job does not allow me to write about my passions so I do so here. Getting to interact with amazing people through events like these, is one of the absolute reasons why I blog. Any money or trinkets that are associated are just icing on my very yummy blogging cake. Do I want to grow my blog? Of course…but only to make genuine connections.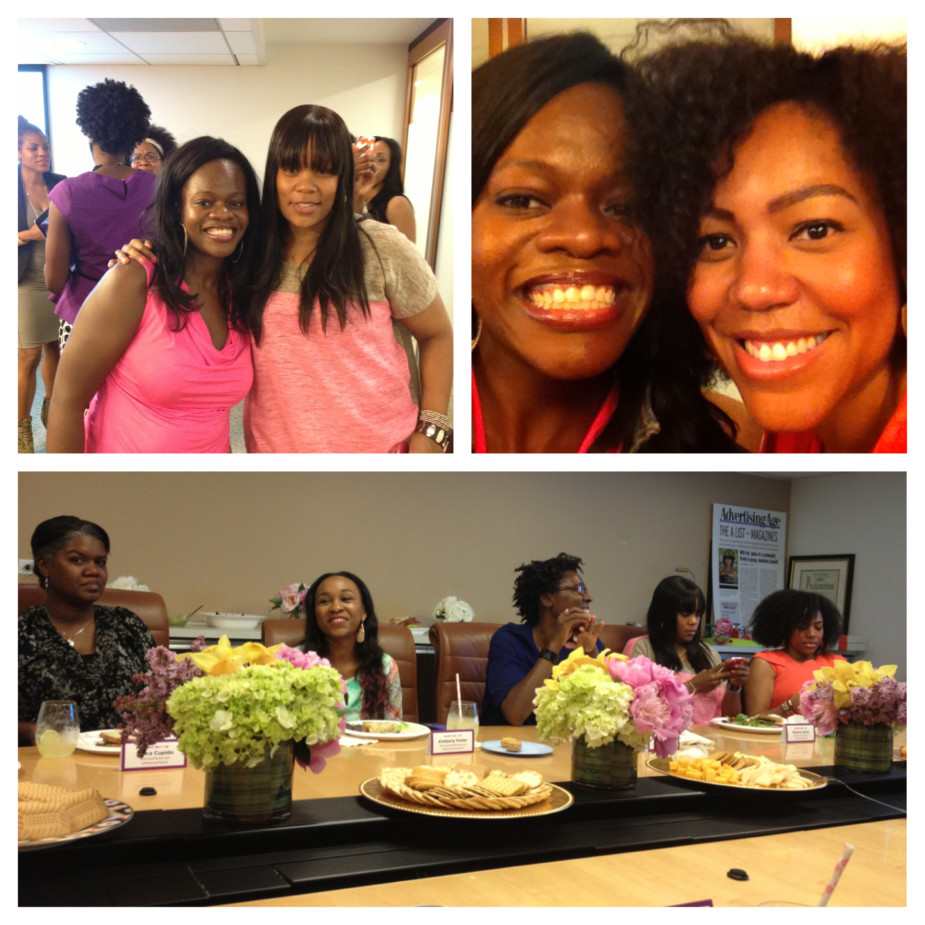 Blogging is very much like several different sororities. There is that one person that joins to be popular, there is that one person that joins to get a free ride or connection, then there is the person that joins for the sisterhood. I am so here for the sisterhood. But I digress. 🙂
The Essence Mommy meet up was food for my soul is the best way possible. I'm just happy to have been a part of such an amazing event.
Have you done anything lately for your soul? Tell me about it.