With so much free time on our hands, we have to keep finding new and creative ways to feed our family. Today I've got a super easy air fryer potato skins recipe with minimal ingredients that the family will love!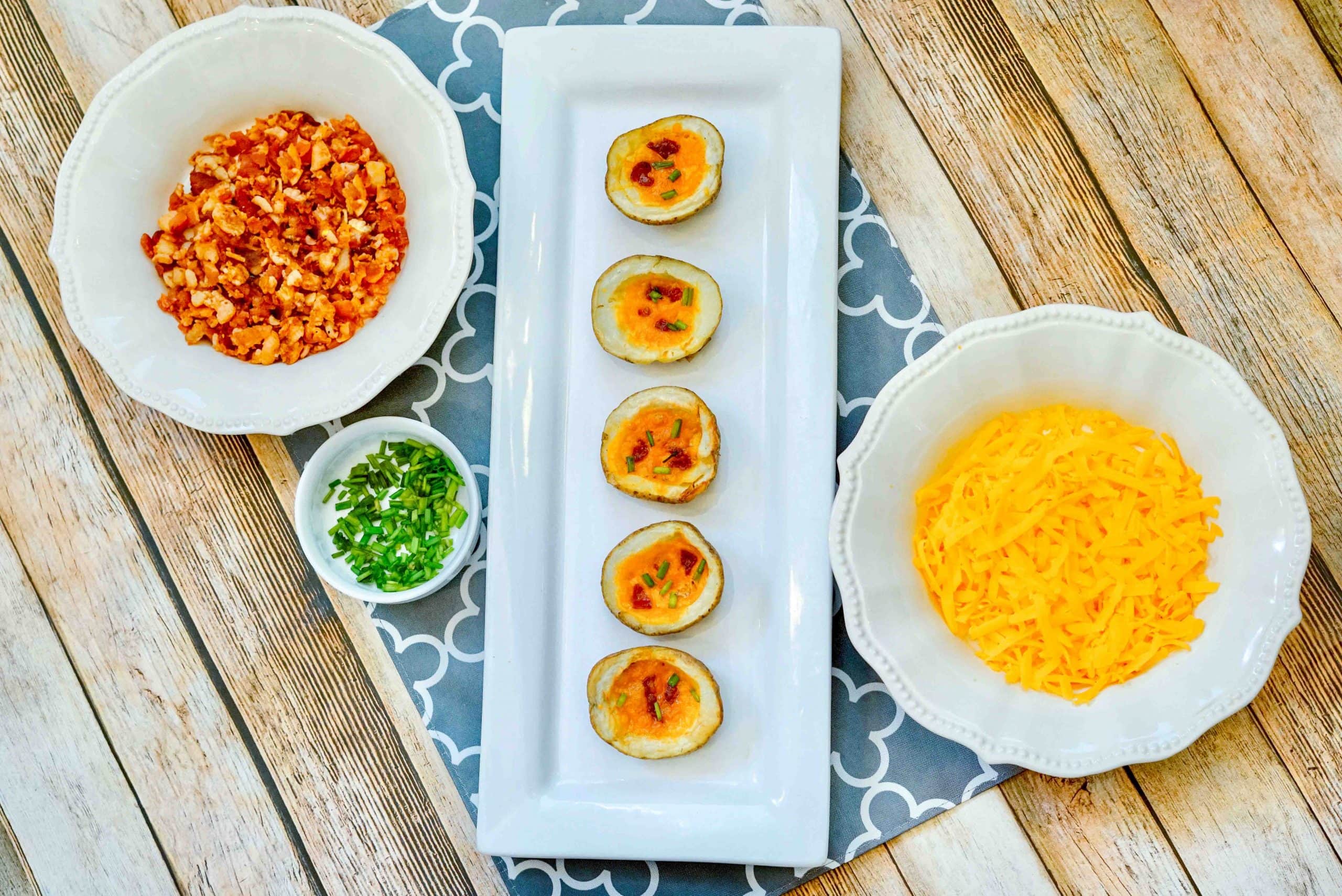 Our air fryer has been a life saver for us since we've been spending so much time indoors! If I don't have to make something on the stove or I can heat up something that much quicker than the oven I am so with it!
Air Fryer Potato Skins Recipe
Craving some classic pub-style appetizers but don't want to leave the comforts of your home? Our Air Fryer Potato Skins bring the party to you! This recipe takes tender small baking potatoes and transforms them into crunchy, cheesy, bacon-loaded delights. Topped with cheddar cheese, bacon bits, and thinly sliced chives—with a dollop of sour cream if you wish—this air fryer miracle is sure to wow your palate and your guests. Ready in under an hour, these potato skins are perfect for a quick snack, party appetizer, or family get-together.
FAQs
Do I need to pre-cook the potatoes?
Yes, you'll need to pre-cook the potatoes in the air fryer until they're tender but not mushy. This ensures the insides are cooked through and ready to meld with your delicious toppings.
Can I use a different cheese?
Absolutely! Feel free to swap out the cheddar with Monterey Jack, mozzarella, or any cheese that melts well.
What's the ideal air fryer temperature?
We recommend 400°F (200°C) for a crispy finish. Always preheat your air fryer before placing the potato skins inside.
We have done so many different meals in our air fryer, from bacon, to burgers and fries, to mozzarella sticks to roasted vegetables and so much more! It has been one of our best purchases to keep this family of 5 fed!
Tips and Tricks
For extra-crispy skins, brush the outside with a little olive oil before air frying.
Scoop out enough flesh to leave a 1/4-inch shell; this will allow room for your toppings but still give the skin structure.
Use a fork to pierce the potatoes before pre-cooking to let steam escape.
Variations
Go vegan by using dairy-free cheese and tempeh bacon bits.
Spice it up with a sprinkle of paprika or cayenne pepper before air frying.
Add minced garlic to the potato flesh for extra flavor.
Where to Serve
These Air Fryer Potato Skins are incredibly versatile. They are perfect for game day gatherings, BBQs, or even as a creative side dish during a sit-down dinner.
There is still so much I want to do with my air fryer because the options are so endless! When things get back to normal around here and grocery stores are stocked again, I can't wait to try out so many recipes!
Storage
If you have any leftovers (which is unlikely!), store them in an airtight container in the refrigerator for up to 3 days. Reheat them in the air fryer at 350°F for about 5 minutes or until warmed through.
Common Problems and How to Avoid Them
Soggy Skins: Make sure to pre-cook the potatoes adequately and allow them to cool before scooping out the flesh.
Uneven Cooking: Ensure all potato halves are roughly the same size for consistent cooking.
Toppings Falling Off: Press the cheese and bacon bits slightly into the potato flesh to help them adhere.
Tips for Making This Recipe with Kids
Kids can be great helpers in the kitchen for this recipe.
They can assist in scooping out the potato flesh (under adult supervision, of course).
Let them be creative with toppings. You can provide a "topping bar" for them to choose their ingredients.
Teaching moment: Explain the importance of washing hands before and after handling raw food, especially if they're helping with the bacon bits.
In the meantime, these air fryer potato skins are everything. You guys know I love my potatoes, just last week I shared these air fryer roasted baby potatoes that are perfect as a dinner side or as a brunch staple!
These air fryer potato skins are super easy and only require 4 ingredients:
6 small baking

potatoes

½ Cup shredded cheddar cheese
½ Cup bacon bits
Thinly sliced chives
Over here in our house, we like a little sour cream too. 🙂
All you have to do is get some small baking potatoes put them in the air fryer.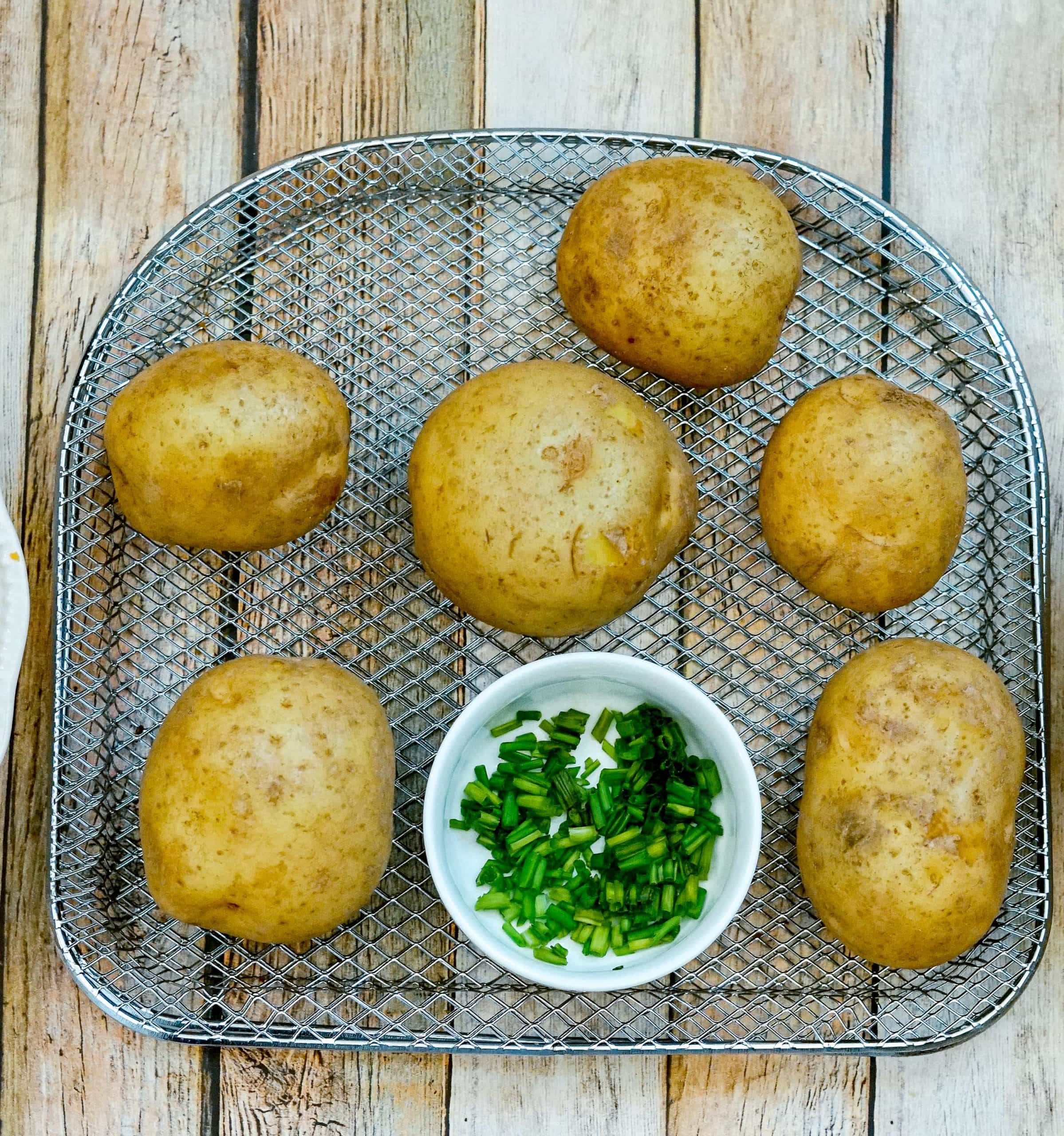 Bake them for 20 minutes
Core out the middle, (an ice cream scoop works well for this!) but don't take everything out! Be sure to leave a good rim around the edges.
Place the cheese to melt.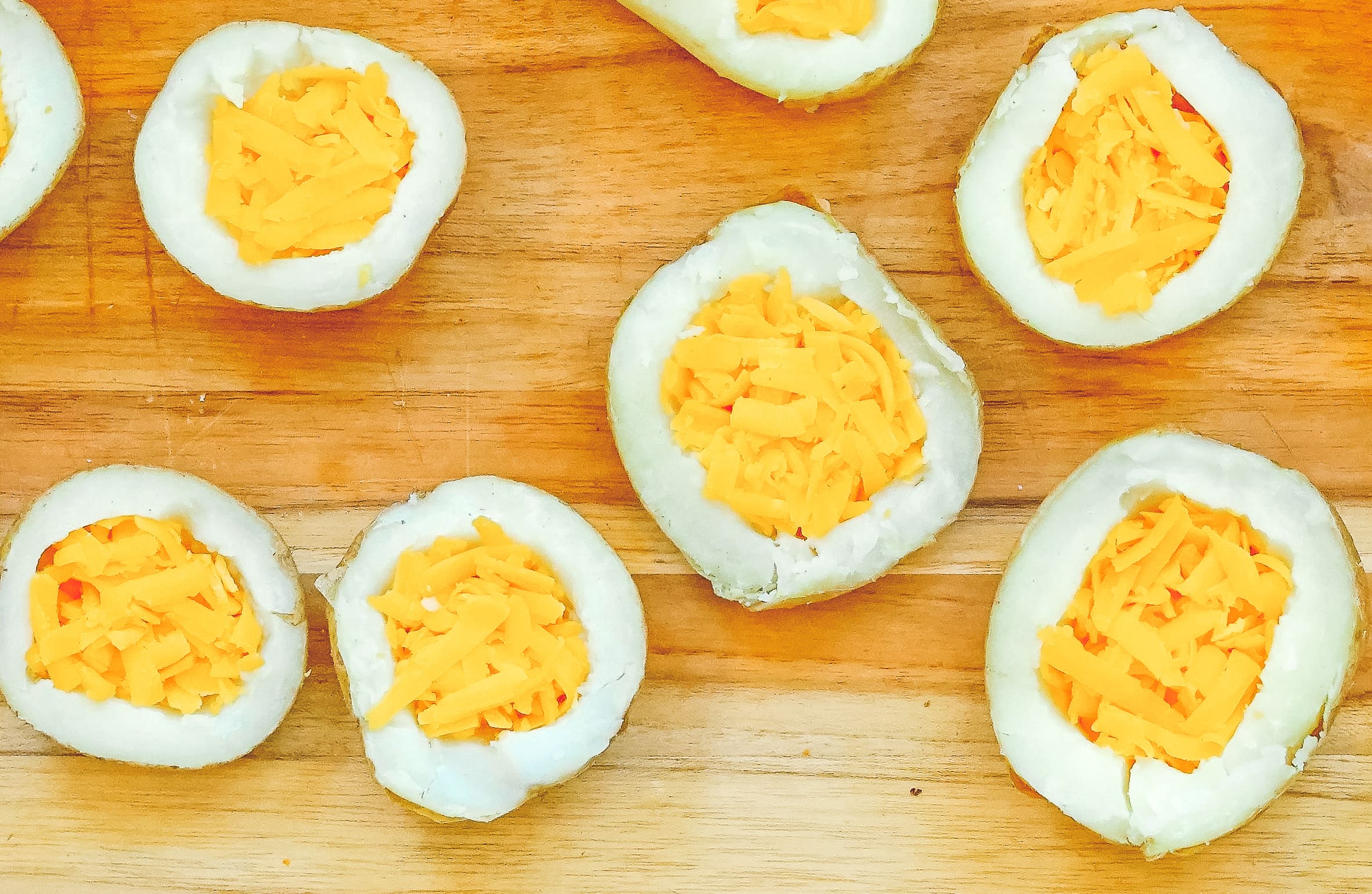 Add the bacon bits too for 5 minutes in the air fryer and boom!
Topping Options
While cheddar cheese, bacon bits, and chives are classic toppings, you could also consider:
Sliced jalapeños for heat
A sprinkle of Parmesan cheese for a nutty flavor
Diced onions for a crunchy texture
Why This Recipe Works
This Air Fryer Potato Skins recipe capitalizes on the air fryer's capability to achieve a crispy finish without excessive oil, making it a healthier alternative to deep-frying. The combination of cheddar, bacon, and chives hits all the right savory notes. Plus, the customizable aspect makes it a fun, interactive meal for families and guests alike. So why wait? Let your air fryer do the magic!
What are some more fun air fryer recipes to try?
A great snack, appetizer or even lunch for the family! Enjoy!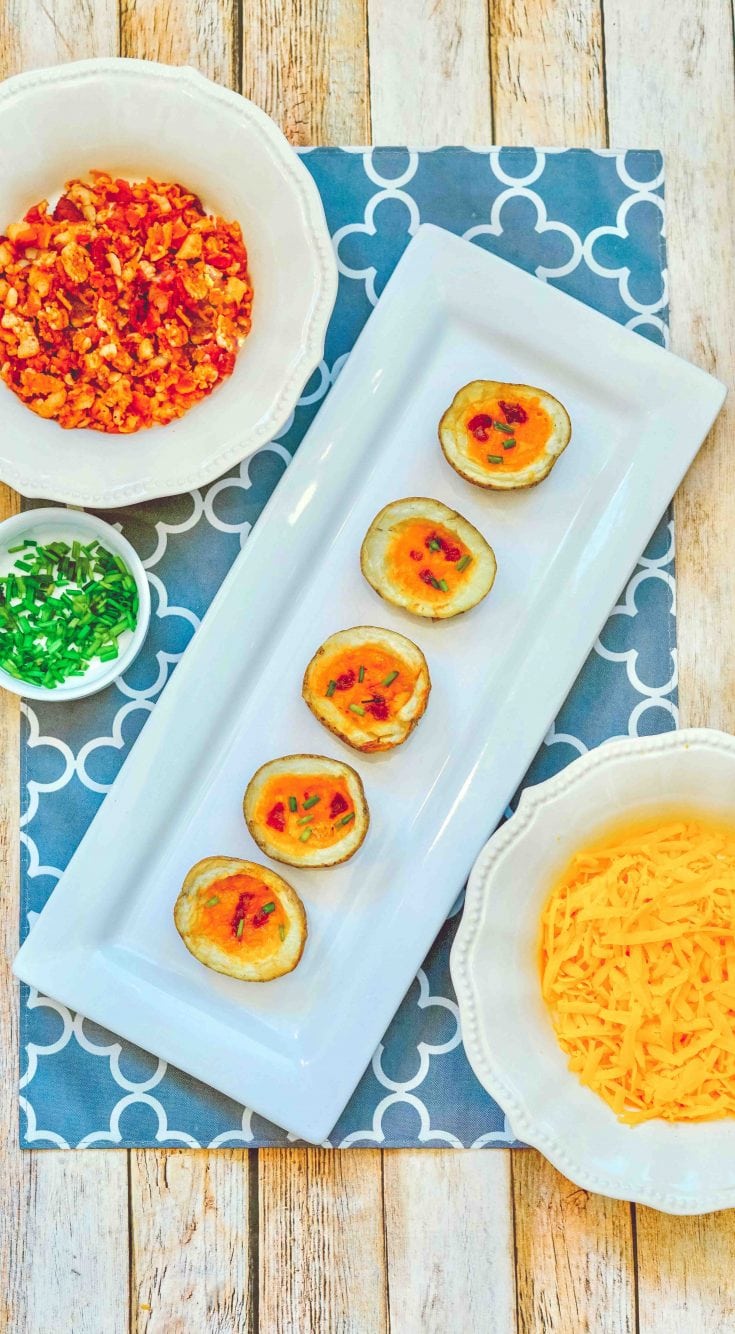 Yield:

12 potato skins
Easy and Delicious Air Fryer Potato Skins
A super easy air fryer potato skins recipe that is done in 25 minutes! Makes a great lunch or appetizer!
Ingredients
6 small baking potatoes -
½ Cup shredded cheddar cheese
½ Cup bacon bits
Thinly sliced chives
sour cream optional
Instructions
Bake potatoes in the air fryer for 20 minutes at 400 degrees.
Once the potatoes are done, slice each one in half.
Scoop out the flesh from the inside the potato. You want to make sure to leave a good amount around the edges.
Sprinkle each potato half with cheddar cheese.
Then sprinkle with bacon bits.
Place them in a single layer back in your air fryer. Cook for 5 minutes at 400 degrees.
Sprinkle with chives.
Serve & enjoy!
Nutrition Information
Yield
12
Serving Size
1
Amount Per Serving
Calories

107
Total Fat

3g
Saturated Fat

1g
Trans Fat

0g
Unsaturated Fat

2g
Cholesterol

5mg
Sodium

121mg
Carbohydrates

16g
Fiber

2g
Sugar

1g
Protein

4g
If you enjoyed this recipe be sure to check out my Instagram Page for the latest posts!
Before you go, check out these great posts!
25 Incredible Dip Recipes For Game Day Appetizers
Game Day Air Fryer Recipes That Are Simply Perfect
Easy Slow Cooker Queso Dip For Game Day Appetizers
Game Day Air Fryer Recipes That Are Simply Perfect
Super Easy Game Day Bacon Cheddar Dip
Hi! I'm Nellie. I am a busy mama of three, wife to my high school sweetheart who loves to cook, workout and stay organized! I love to share helpful printables, the best recipes and fitness tips for the modern mom. I strongly believe that every mom can feed their family well, take proper care of themselves and have fun along the way! Read my story.
Get comfortable and be sure to come hang out with me on social. Don't grab your free fitness journal before you go!