If you've got an air fryer, you've got a valuable piece of equipment to help you make some of the most delicious meals, including these Air Fryer Chicken Fajitas.
Air Fryer Chicken Fajitas
Get ready for a flavor-packed party on your plate with this easy, delicious Air Fryer Chicken Fajitas recipe. Say goodbye to stovetop splatter and enjoy this mess-free, super savory dish that brings together tender, marinated chicken, vibrant bell peppers, and sweet onions, all crisped to perfection in the air fryer. With a quick preparation and an even quicker cook time, this recipe is set to become your next weeknight dinner superhero.
Why Use the Air Fryer?
If you're anything like me, you're always looking for flavorful recipes to make that won't require too much effort. Using the air fryer makes it possible to prepare the chicken in this recipe with ease.
FAQs:
1. What type of chicken should I use? Skinless, boneless chicken breasts are best for fajitas as they cook quickly and evenly in the air fryer.
2. Can I use frozen peppers and onions? Yes, you can. However, using fresh veggies will provide a crisper texture and more robust flavor.
3. Can I make this recipe with another type of meat? Absolutely! This recipe works well with lean cuts of beef like flank steak or skirt steak. You could also use pork or even shrimp, adjusting cooking times accordingly.
You'll season it to perfection, toss it in your air fryer, and allow it to cook for about 12-15 minutes, or until your chicken is fully cooked. The air fryer speeds up the process, allowing you to have food on the table for your family in no time!
Try Something Different
When you're tired of the same foods all the time, it makes sense to go on the hunt for new, tasty recipes that aren't hard to follow and prepare.
Tips and Tricks:
Cut your chicken and vegetables into similar-sized pieces to ensure even cooking.
Marinate the chicken for at least 30 minutes for maximum flavor. However, if you're in a rush, even a quick toss in the marinade will help.
Don't overcrowd the air fryer basket. Cook in batches if necessary to ensure all pieces are nicely browned and cooked through.
Always preheat your air fryer for best results.
Variations:
Spicy Chicken Fajitas: Add some jalapeños or extra chili powder to the marinade for a fiery kick.
Citrus Chicken Fajitas: Include the juice of 1 orange in the marinade for a bright, citrusy note.
Asian-style Chicken Fajitas: Swap out the traditional seasonings for some soy sauce, sesame oil, and ginger for an Asian twist on this Mexican classic.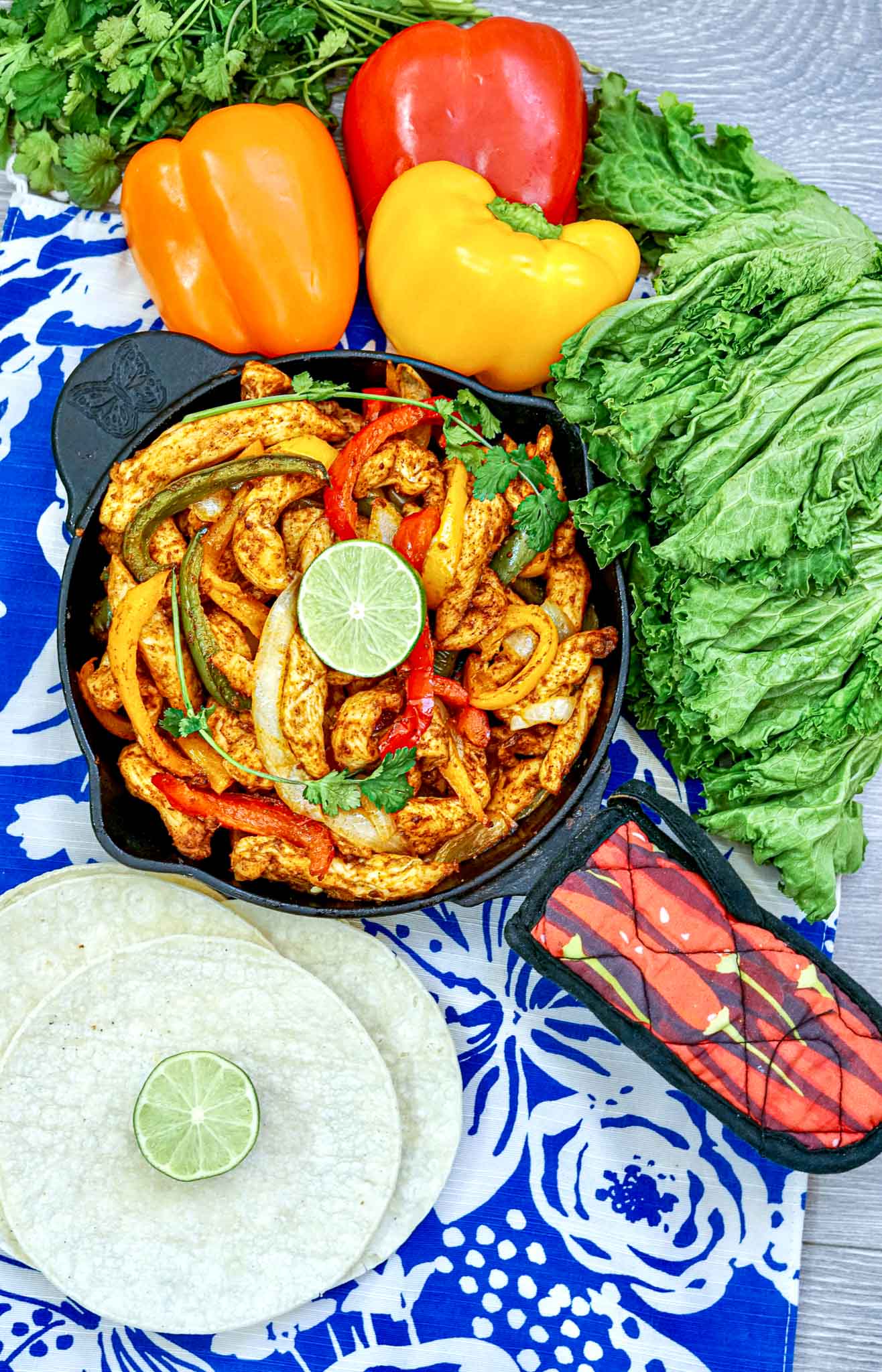 Try something new with this recipe for simple yet delicious air fryer chicken fajitas. You'll use thin-sliced chicken breasts, fajita dry seasoning, salsa, sliced peppers, and a few other ingredients to create the perfect filling for your tortillas.
After you prepare your chicken, consider shredding it with a fork or using a hand mixer to shred it into thin pieces. Add it to your tortillas with sour cream, salsa, and cilantro as a finishing touch.
Where to Serve:
These air fryer chicken fajitas are a hit at any gathering, be it a casual dinner party or game night. They're also an excellent option for a quick, nutritious family meal or a packed lunch. Serve them with warm tortillas, salsa, sour cream, and a squeeze of fresh lime for a satisfying meal.
Storage:
Store leftovers in an airtight container in the refrigerator for up to 3-4 days. You can reheat them in the air fryer or in a skillet over medium heat.
Common Problems and How to Avoid Them:
Dry or overcooked chicken: Avoid this by carefully monitoring your cooking time. Overcooking can quickly turn tender chicken into something tough and chewy.
Undercooked veggies: Cutting the veggies too large can lead to them being undercooked when the chicken is done. Aim for uniform, thin slices.
Lack of flavor: Marinating the chicken and using a variety of spices can ensure your fajitas are full of flavor. Don't skimp on the seasoning!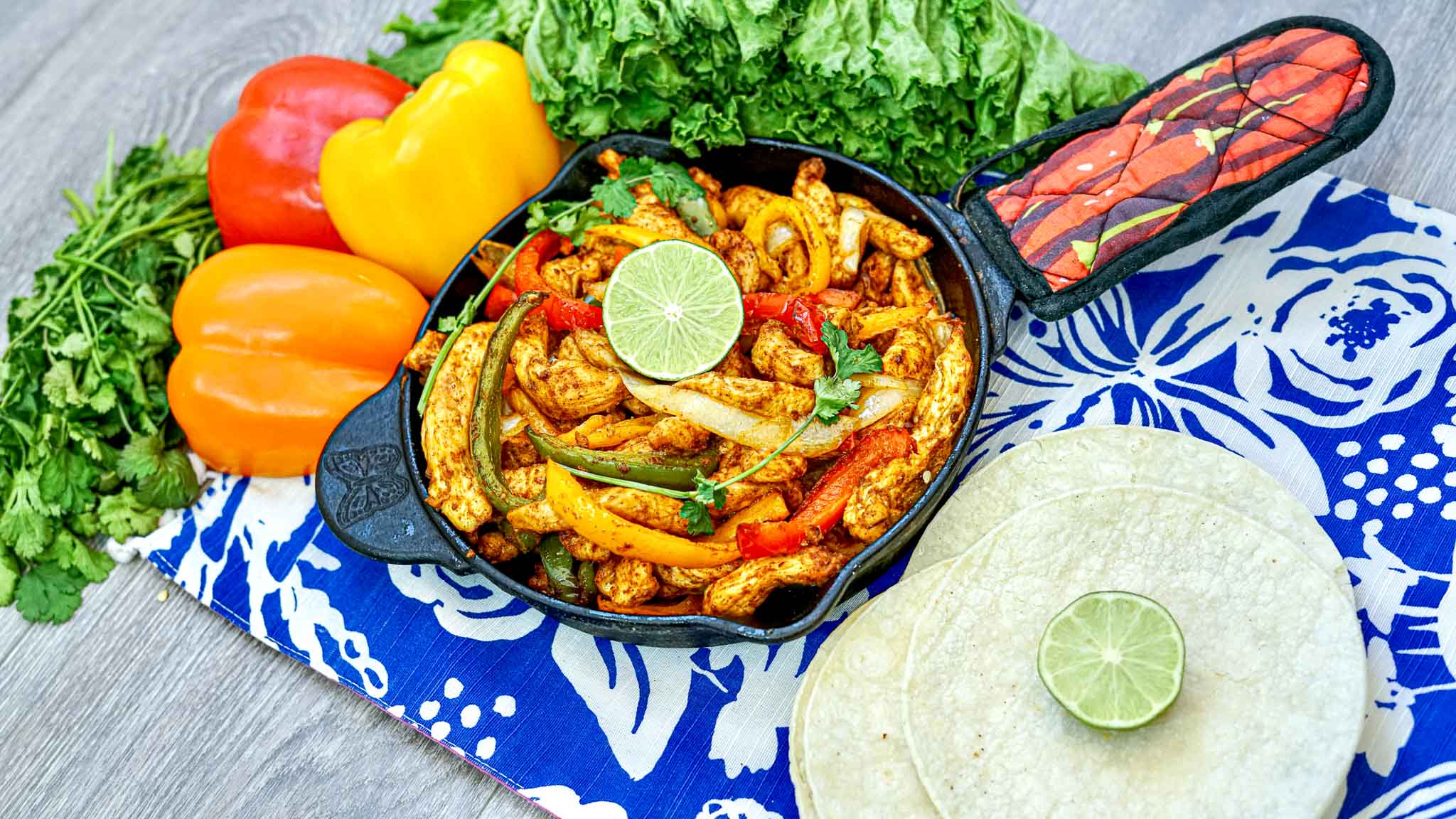 Serve a Good Drink to Go With Your Fajitas
Whether it's fajita friday or taco tuesday, you might want to make a good drink that will pair perfectly with your homemade fajitas. Jalapeno Margaritas are the perfect adult-friendly beverage to serve with your fajitas.
Topping Options:
Serve your fajitas with a range of toppings to add even more flavor. Some options include shredded cheese, diced tomatoes, sliced avocado, chopped cilantro, salsa, sour cream, or guacamole. For an extra kick, try pickled jalapeños or a drizzle of hot sauce.
Why This Recipe Works:
Air Fryer Chicken Fajitas are a game changer due to their simplicity and impressive flavors. The air fryer ensures the chicken is perfectly cooked – tender on the inside, and slightly crisp on the outside, while the peppers and onions get a beautiful char. The fast cooking time seals in the juices and flavors, resulting in a dish that is both healthy and satisfying. Furthermore, the quick clean-up makes this recipe an ideal choice for busy weeknights. This modern twist on classic fajitas truly is a feast for the senses!
What are some other fun Mexican Inspired recipes to try?
If you are looking for more fun dinner recipes be sure to check out this comprehensive list! Easy and Tasty Dinner Ideas For The Whole Family!
Yield:

6-8 fajitas
Air Fryer Chicken Fajitas
These easy air fryer fajitas are made with perfectly seasoned chicken, peppers and more!
Ingredients
1lb Thin Sliced Chicken Breasts
Sliced Peppers
Sliced Onions
1/4 Cup Vegetable Oil
Tortillas
1/2 Lime
Cilantro
1 packet Taco/Fajita Dry Seasoning
Salsa (optional)
Sour Cream (optional)
Instructions
Pre-heat air fryer to 390 degrees.
In a large mixing bowl, add chicken, peppers & onions.
Pour olive oil over chicken and veggies and then sprinkle in the seasoning.
Squeeze in half of a lime.
Mix well.
Pour chicken/veggie mix onto the air fryer rack.
Air fry for 12-15 minutes or until chicken is fully cooked.
Serve on tortillas with salsa, cilantro & sour cream.
Nutrition Information
Yield
8
Serving Size
1
Amount Per Serving
Calories

390
Total Fat

18g
Saturated Fat

4g
Trans Fat

0g
Unsaturated Fat

12g
Cholesterol

84mg
Sodium

450mg
Carbohydrates

25g
Fiber

2g
Sugar

2g
Protein

32g
If you liked this chicken fajitas recipe be sure to check these out too!
Air Fryer Veggie Stuffed Zucchini Boats
Amazing Air Fryer Breakfast Potatoes
Amazing Air Fryer Salsa Recipe
Hi! I'm Nellie. I am a busy mama of three, wife to my high school sweetheart who loves to cook, workout and stay organized! I love to share helpful printables, the best recipes and fitness tips for the modern mom. I strongly believe that every mom can feed their family well, take proper care of themselves and have fun along the way! Read my story.
Get comfortable and be sure to come hang out with me on social. Don't grab your free fitness journal before you go!