There are two things that I love in this world and that is my air fryer and potatoes. I am so excited to bring you these amazing Air Fryer Baby Potatoes that you can use as a delicious side dish to your meals!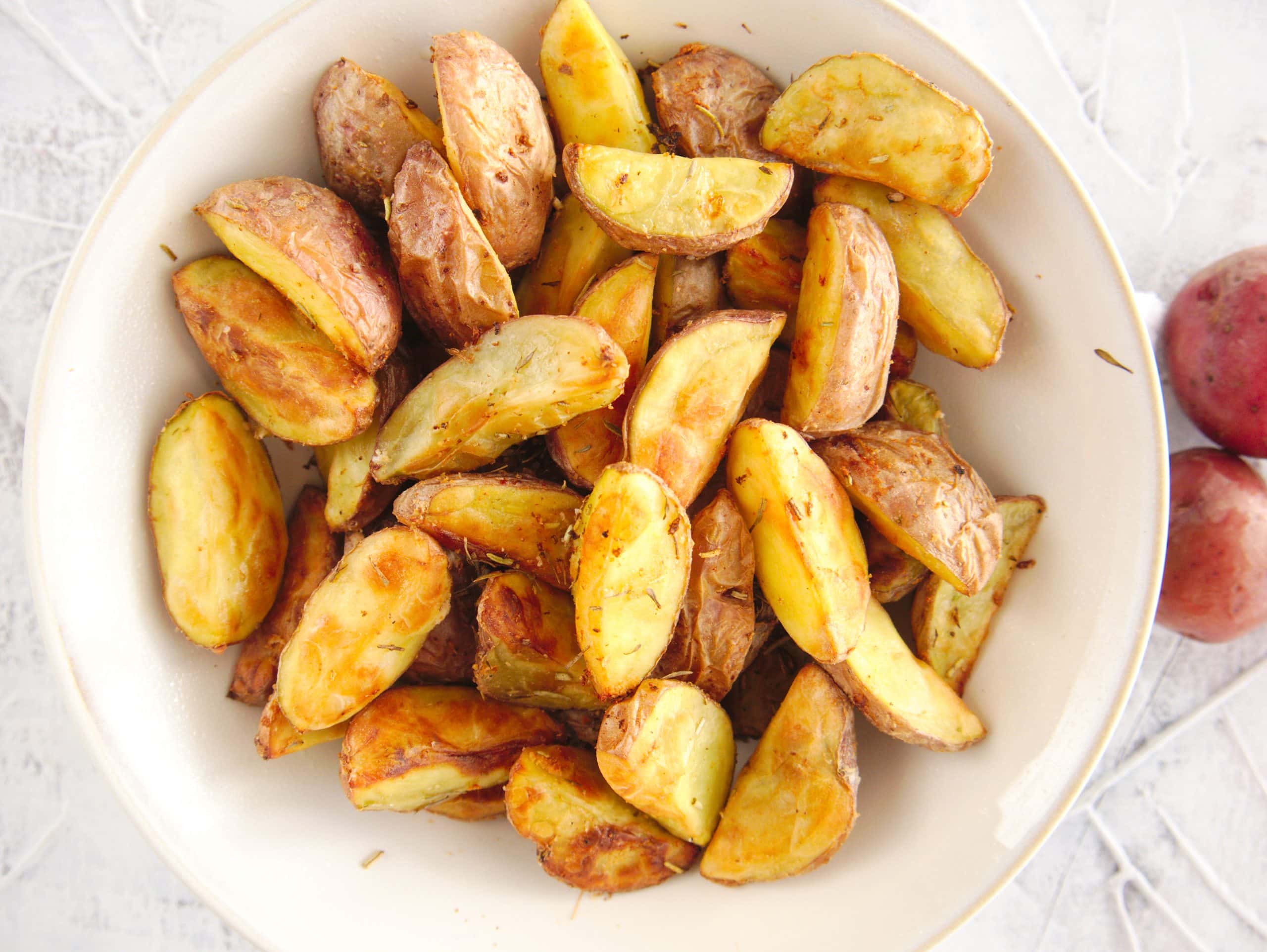 My favorite thing to do is throw a recipe in the air fryer and forget it. My absolute favorite thing to make in the air fryer is bacon believe it or not. I literally throw it in (in an organized fashion of course) and boom 7 minutes later, perfect bacon!
I've already given you guys these amazing Air Fryer Mozzarella Sticks, Air Fryer Buffalo Cauliflower and of course the super popular Air Fryer Roasted Vegetables. Today we are adding Air Fryer Baby Potatoes to the army!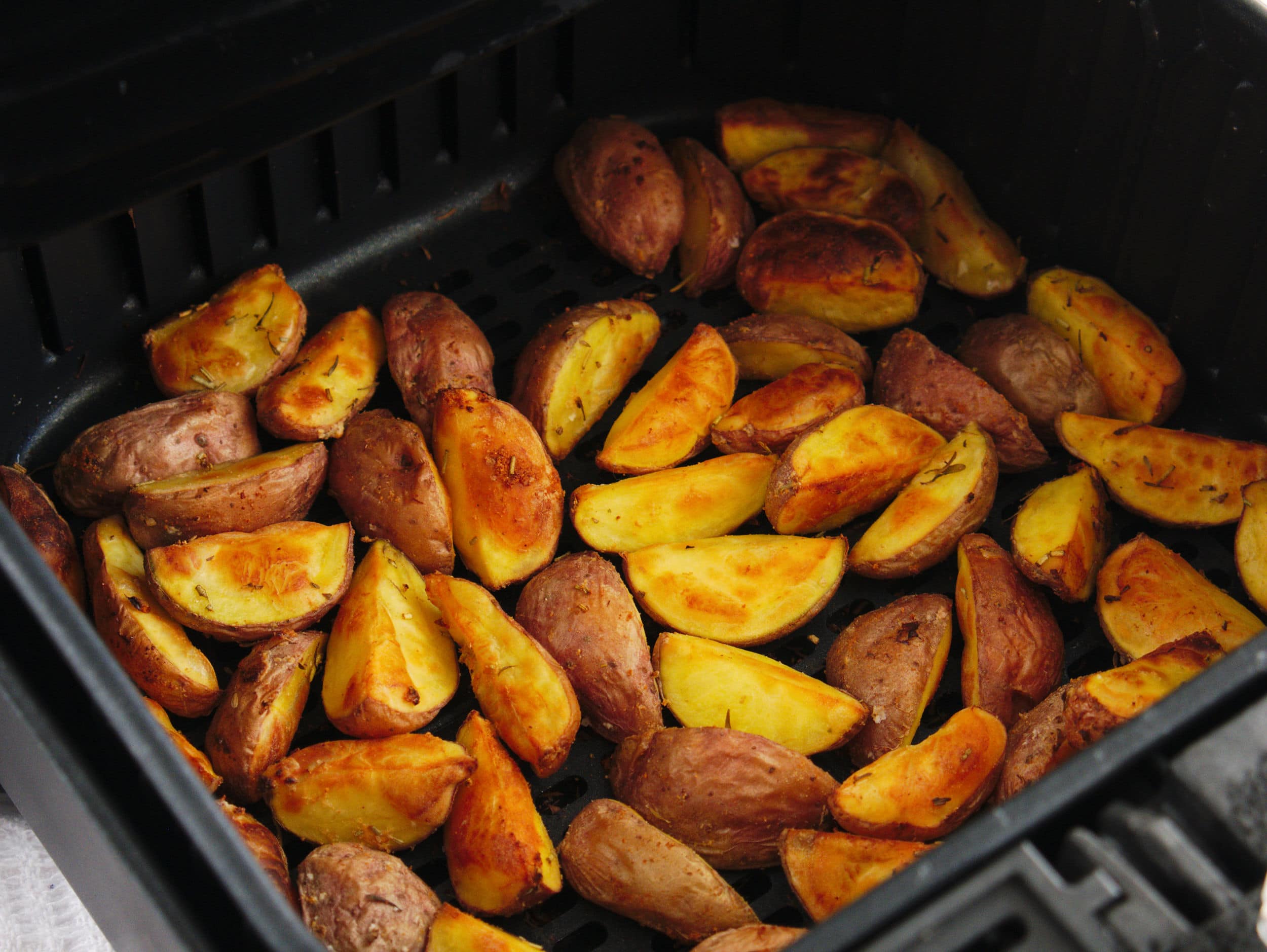 Where should I serve this dish?
Holidays and family gatherings are fantastic for this dish, but honestly it's great on an average regular day too. I would personally serve with a rib eye steak or even with this crockpot balsamic pork!
Another great way to eat these is like breakfast potatoes! I'd personally add some chopped onions and peppers but that's me 😉 They are the perfect brunch addition!
Can you cook potatoes in the air fryer?
Yes, you can cook potatoes in an air fryer! Potatoes are a perfect fit for air fryers as they can become crispy on the outside while maintaining a fluffy texture inside. You can make classic French fries, potato wedges, tater tots, and even baked potatoes with your air fryer. All of these recipes require minimal oil and come out delicious.
When cooking potatoes in an air fryer, it's best to preheat the appliance before adding your potatoes. This helps ensure that your potatoes are evenly cooked and crispy. Depending on what type of potato you're working with, you may also want to give them a quick toss in some olive oil or melted butter before you place them in the air fryer.
This will help to ensure a crispier outcome. When it comes to cook times, it mostly depends on the type of potatoes and the size you are working with. Generally speaking, French fries take between 12-15 minutes and potato wedges take 15-18 minutes at a temperature of 400°F (204°C).
Baked potatoes take anywhere from 20-30 minutes, depending on the size. Potatoes are a great food to experiment with when it comes to air fryers and can be used in many recipes!
How do you store air fryer baby potatoes?
Air fryer baby potatoes can be stored in a sealed container or bag in the refrigerator for up to three days. If you plan to store them longer, it's best to freeze them.
To do this, spread the potatoes out on a baking sheet and place it in the freezer. Once they are frozen, transfer them into an airtight container or bag and store in the freezer. When you are ready to cook them again, let them thaw before placing them in the air fryer.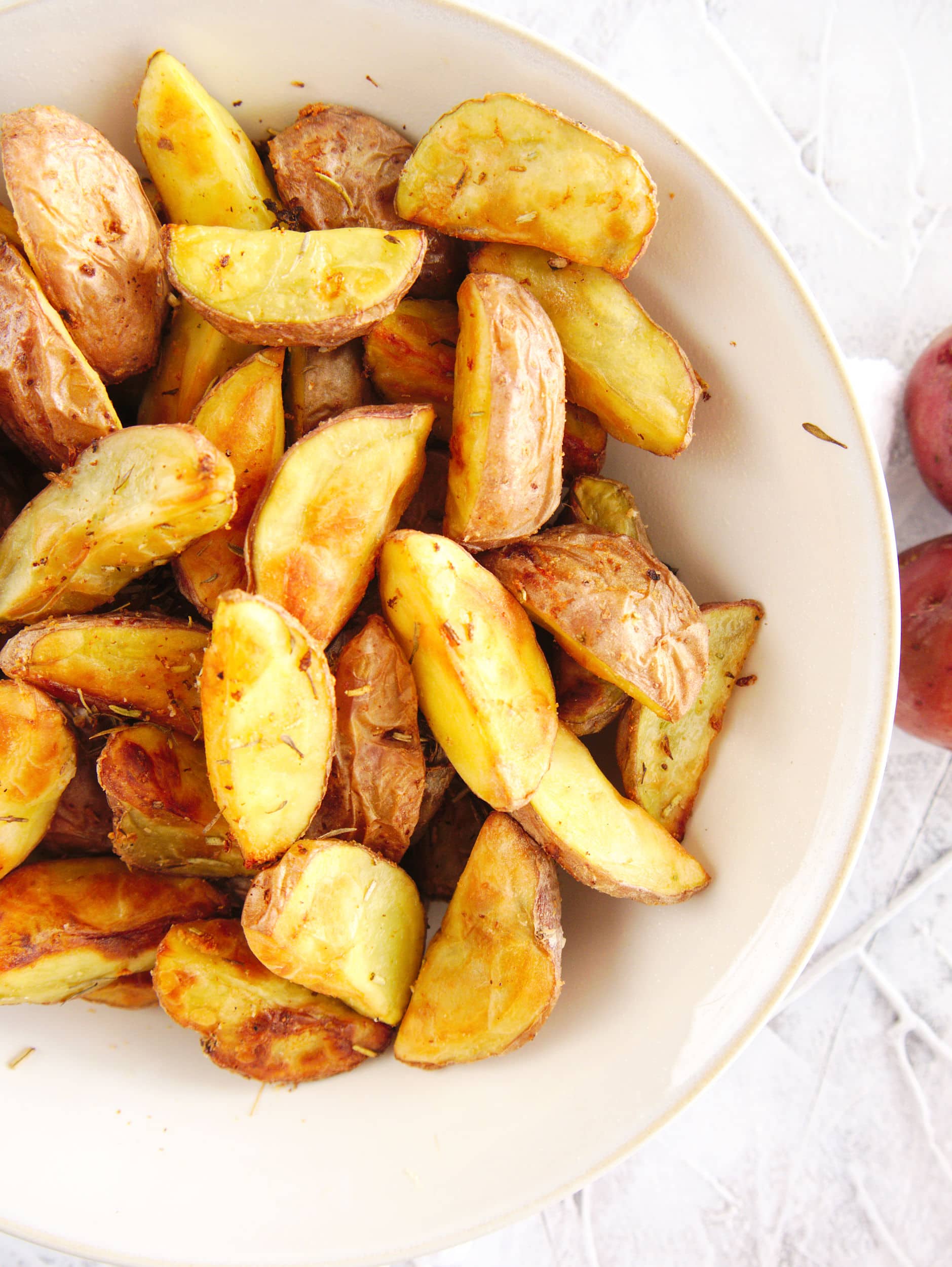 A good rule of thumb is to set your air fryer temperature to 400°F (204°C) and cook for 10-12 minutes. Check after 10 minutes to make sure the potatoes have reached your desired crispiness.
What are some helpful tips for making baby potatoes in the air fryer?
When air frying baby potatoes, it's best to start by preheating your air fryer. This ensures that the potatoes cook evenly and get nice and crispy.
You will also want to make sure you cut them evenly in size so they all cook at the same rate. It's also important to toss them in oil or melted butter before putting them in the air fryer.
This helps to give them an extra crunchy texture. Finally, keep a close eye on your potatoes while they are cooking.
What are some other fun potato recipes to try?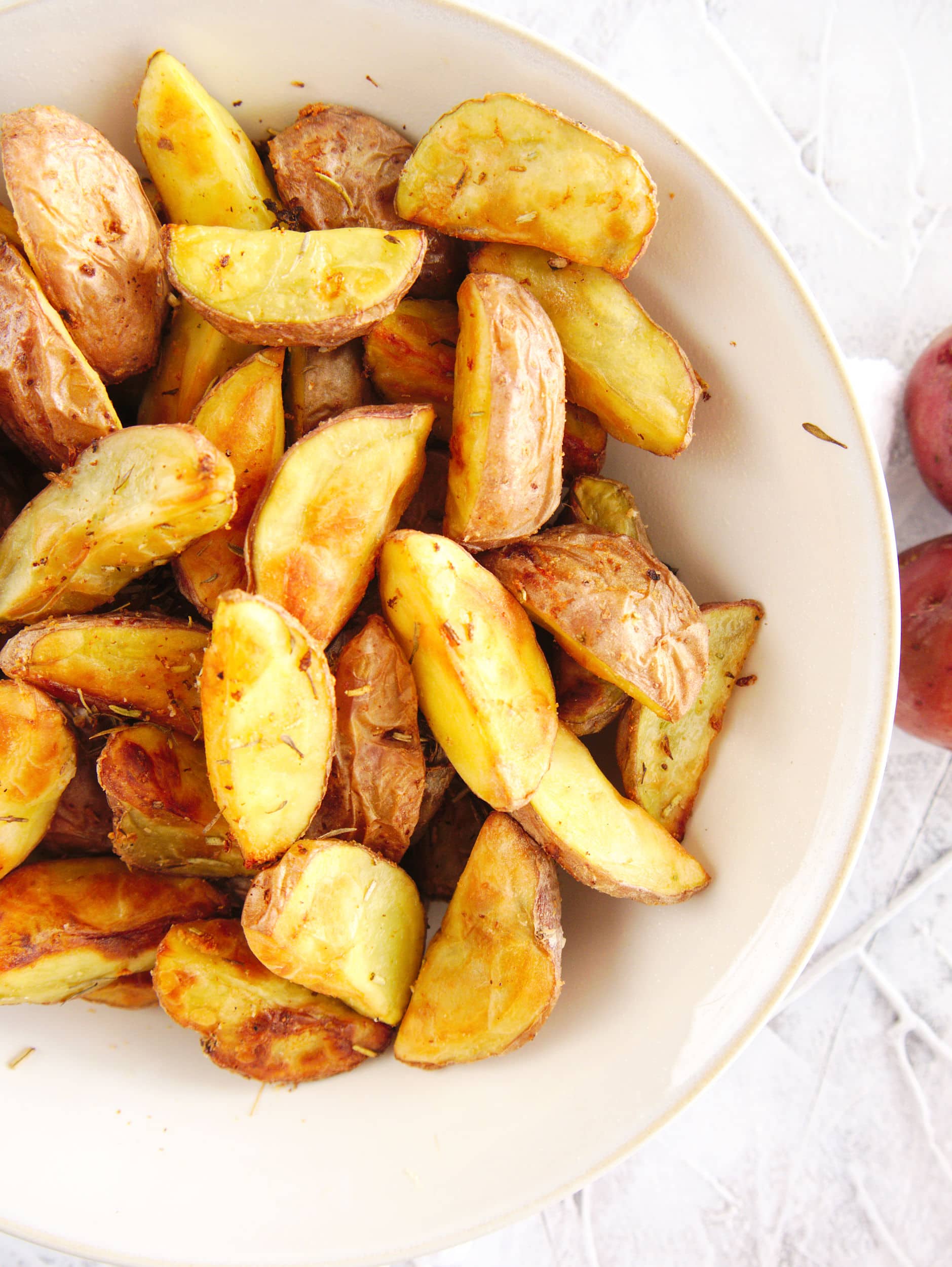 What type of spices are used on the potatoes?
The great news is that you likely have everything you need in your pantry!
–garlic powder
–dried thyme
–rosemary
–salt
–olive oil spray
The cool thing is you can double the spices for a stronger tasting dish! These potatoes are such a great addition to any meal–for example my family loves spicy food, especially my middle child. The more heat the better!
Yield:

1lb potatoes
Easy Air Fryer Baby Potatoes
Potatoes are delicious and very nutritious, but they can take a long time to cook. With an air fryer you can cut cooking time by a lot so you can enjoy these little baby potato wedges as a snack or as a side dish.
Ingredients
1 lb. raw baby red potatoes
¼ teaspoon garlic powder
¼ teaspoon dried thyme
¼ teaspoon dried rosemary
½ teaspoon of salt
olive oil spray
Instructions
Choose baby potatoes which are similar in weight and
circumference for even cooking.
Cut each potato into quarters to make small wedges. Place in a bowl and spray with oil until they are well coated on all
sides.
Add the garlic powder, dried thyme and rosemary, and salt and stir until well combined and the potatoes are well coated.
Allow to sit for 5 minutes.
Set air fryer to 400F place the potato pieces into the air
fryer basket and set time for 10 minutes.
After the 10 minutes carefully flip the potatoes, don't shake because too much of the seasoning may fall off. Cook for another 7 to 10 minutes depending on the size and crispiness you'd like.
Serve as a side dish or with your favorite dipping sauce for a healthy and quick snack. The potatoes are also great on the side of a scramble eggs or with steak or even a salad. Enjoy!


Pin it for later!
If you enjoyed this recipe be sure to check out my Instagram Page for the latest posts!
Before you go, check out these great posts!
Balsamic Zucchini With Feta Cheese Easy Side Dish
Easy Air Fryer Roasted Lamb and Potatoes
Easy Copycat KFC Coleslaw – Quick Side Dishes
The Best Sweet Potato Biscuits Recipe
Easy Brussels Sprouts Salad: Yummy and Healthy Sides
Hi! I'm Nellie. I am a busy mama of three, wife to my high school sweetheart who loves to cook, workout and stay organized! I love to share helpful printables, the best recipes and fitness tips for the modern mom. I strongly believe that every mom can feed their family well, take proper care of themselves and have fun along the way! Read my story.
Get comfortable and be sure to come hang out with me on social. Don't grab your free fitness journal before you go!