Air Fryer Chicken and Broccoli
This Air Fryer Chicken and Broccoli Recipe is so good! You'll have the most juicy and tender end result, ever!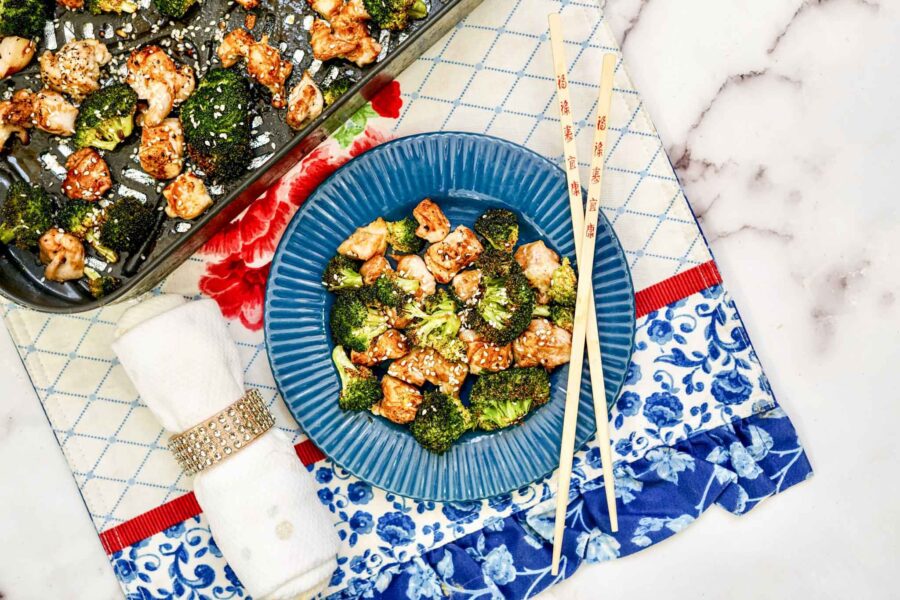 Eating healthy requires creativity, but it doesn't mean you have to compromise on taste. Air fryer chicken and broccoli is a delicious dish that's easy to make and is perfect for anyone who wants a quick and healthy meal.
With the help of an air fryer, you can cook up a juicy and tender chicken breast, paired with lightly steamed broccoli, in just a few minutes.
This dish is high in protein, low in fat, and absolutely delectable. So, if you're looking for a simple and satisfying meal tonight, give this recipe a try! This is the easy way to make one of your favorite recipes ever!
Why You'll Love Air Fryer Chicken and Broccoli
Quick and Easy – With just a few ingredients and an air fryer, you can whip up this delicious meal in no time. Perfect for busy weeknights or when you need a healthy meal in a hurry.
Healthy and Nutritious – Chicken and broccoli are both great sources of protein and nutrients. This dish is low in fat, high in vitamins and minerals, and is a great option for anyone looking to eat healthy.
Flavorful and Delicious – Despite its simplicity, this dish is full of flavor thanks to the juicy, tender chicken and lightly steamed broccoli. The air fryer ensures that everything is cooked to perfection, resulting in a dish that's sure to please your taste buds. If you love juicy chicken, then this recipe is for you!
Simple Ingredients Needed
Large broccoli stalk – Broccoli is a cruciferous vegetable that's packed with nutrients like fiber, vitamin C, and potassium. It's also low in calories, making it a great addition to a healthy meal. Fresh broccoli florets also work really well.
Chicken breasts – Chicken is a great source of lean protein, which is important for building and repairing muscles. It's also rich in vitamins and minerals like niacin, selenium, and phosphorus. Boneless skinless chicken breasts works the best!
Salt – Salt is a common seasoning that's used to enhance the flavor of food. It's important to use it in moderation to avoid excess sodium consumption.
Pepper – Pepper is another common seasoning that adds flavor to dishes. It also has some health benefits, like improving digestion and reducing inflammation.
Garlic powder – Garlic is a bulbous plant that's used for both flavor and medicinal purposes. Garlic powder is a convenient way to add garlic flavor to dishes without having to peel and mince fresh garlic.
Cornstarch – Cornstarch is a fine, powdery starch that's used as a thickener in sauces and gravies. It also helps to create a crispy coating on the chicken. The cornstarch will help you get a thicker sauce.
Hoisin sauce – Hoisin sauce is a thick, sweet and savory sauce that's commonly used in Chinese cuisine. It's made from soybeans, garlic, vinegar, and sugar.
Minced ginger – Ginger is a spicy root that's commonly used in Asian cuisine. It has many health benefits, such as reducing inflammation, aiding digestion, and boosting the immune system.
Apple cider vinegar – Apple cider vinegar is made from fermented apples and is a popular ingredient in many recipes. It has many potential health benefits, such as aiding weight loss, improving digestion, and reducing inflammation.
Soy sauce – Soy sauce is a salty, savory sauce that's made from fermented soybeans. It's a popular ingredient in Asian cuisine and adds flavor to many dishes.
Raw honey – Honey is a sweet, viscous substance that's made by bees from nectar. Raw honey is unprocessed and contains many beneficial compounds like antioxidants and enzymes.
Sesame seeds for garnish – Sesame seeds are small, nutty seeds that are commonly used in Asian cuisine. They add a nice crunch and nutty flavor to the dish.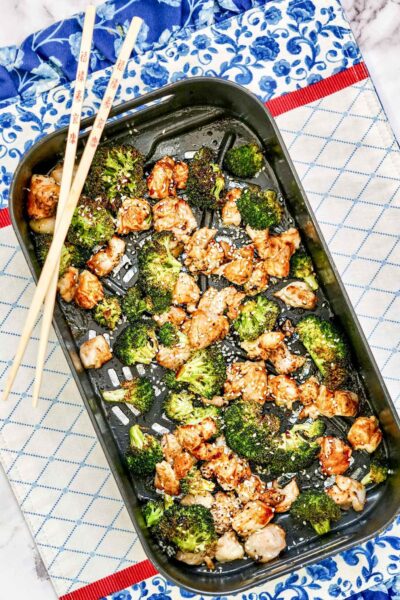 You can also add dark soy sauce, chili sauce, water chestnuts, green onions, oyster sauce, and sesame oil. Make sure you also have a large nonstick skillet, so that you can make Chinese food and broccoli stir-fry any night of the week!
FAQs
Is this easy chicken broccoli recipe better than a Chinese restaurant?
If you don't want to continue to eat out and are looking for the best Chinese chicken recipe, then give this one a try! Add extra fresh broccoli florets for an even more delicious meal. You'll find that golden brown marinated chicken is the most popular Chinese takeout dish that you can enjoy right at home!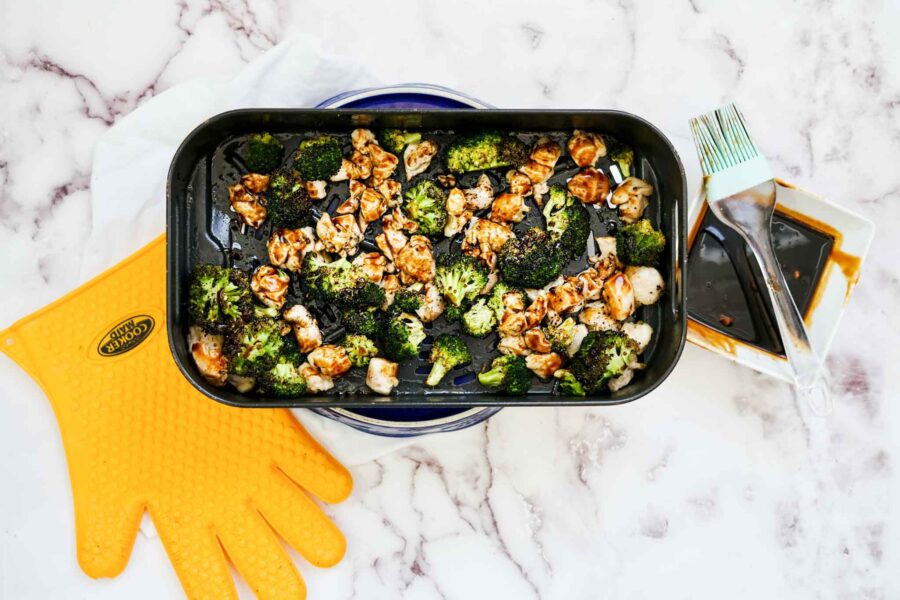 What else is this recipe called?
Cheesy Chicken Broccoli Rice Casserole, Classic Chinese takeout Dish, Broccoli Casserole Recipe.
This Air Fryer Chicken and Broccoli recipe is so good that you'll want to make it often. What's your favorite part of making yummy meals right at home?
What are some other great air fryer dinner recipes to try at home?
Yield:

4 servings
Easy Air Fryer Chicken and Broccoli
This classic chicken and broccoli recipe is great for an easy weeknight dinner!
Ingredients
1lb Cubed Chicken (breasts or skinless thighs)
1/2lb Broccoli (cut into pieces)
Cooking Spray
1/4 Cup Teriyaki Sauce
Sesame Seeds
1/4 Tsp Salt
1/4 Tsp Pepper
Instructions
Pre-heat air fryer to 350 degrees.
Place cubed chicken & broccoli pieces into the air fryer basket.
Lightly spray with cooking spray then coat with salt & pepper.
Air fry for 15 minutes.
Remove from air fryer and coat with teriyaki sauce.
Place back in the air fryer for 5 minutes.
Remove from air fryer & sprinkle sesame seeds on top.
Enjoy.
Nutrition Information
Yield
4
Serving Size
1
Amount Per Serving
Calories

326
Total Fat

19g
Saturated Fat

5g
Trans Fat

0g
Unsaturated Fat

12g
Cholesterol

107mg
Sodium

940mg
Carbohydrates

9g
Fiber

3g
Sugar

3g
Protein

31g
If you enjoyed this recipe be sure to check out my Instagram Page for the latest posts!
Before you go, check out these great posts!
How To Make Quick And Easy Air Fryer Brownies
Delicious Air Fryer Tuscan Salmon With Cream Sauce
Easy and Flavorful Air Fryer Jalapeno Poppers Recipe
Hi! I'm Nellie. I am a busy mama of three, wife to my high school sweetheart who loves to cook, workout and stay organized! I love to share helpful printables, the best recipes and fitness tips for the modern mom. I strongly believe that every mom can feed their family well, take proper care of themselves and have fun along the way! Read my story.
Get comfortable and be sure to come hang out with me on social. Don't grab your free fitness journal before you go!