This awesome Air Fryer Roasted Vegetables recipes is a super healthy side dish that the family will love. A great vegetable medley that is roasted and seasoned to perfection!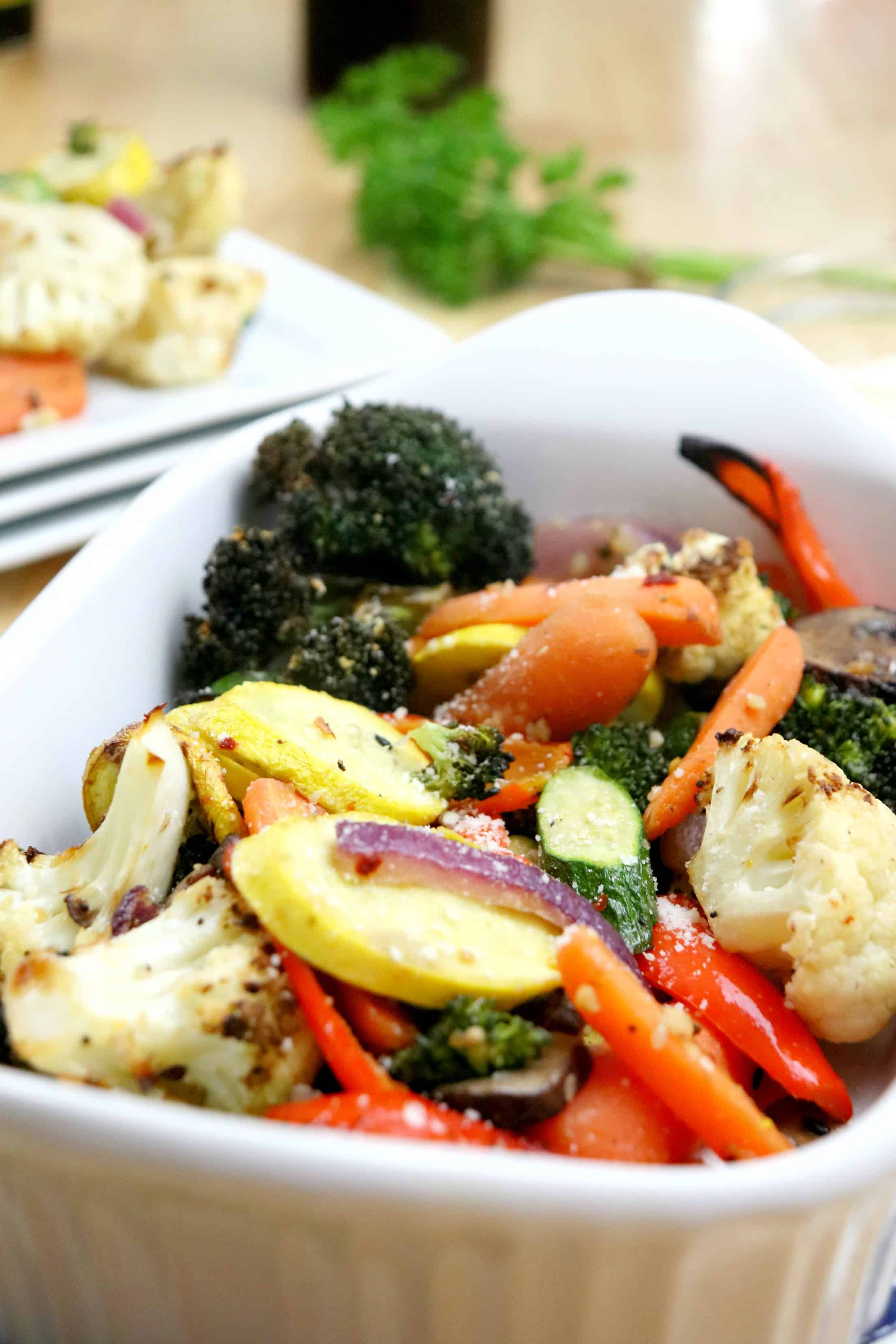 Is cooking vegetables in an air fryer healthy?
Many people are asking if cooking vegetables in an air fryer is healthy. The answer to this question is a little bit complicated. Air frying vegetables does not use as much oil as traditional frying, so it is healthier than traditional frying.
However, the high temperatures used in air frying can destroy some of the nutrients in vegetables. So, while air frying vegetables is healthier than traditional frying, it may not be as healthy as eating raw or steamed vegetables.
I am woman enough to admit that my diet has never been perfect. I remember my mom used to pay me to eat vegetables when I was a kid. When I was a teenager, I remember being SO grossed out by vegetables and I didn't know why my mom would torture me so.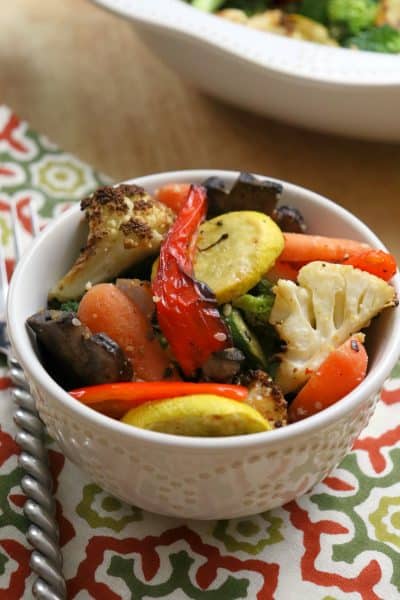 How long can you air fry vegetables?
There is no one-size-fits-all answer to this question, as the time you can air fry vegetables will vary depending on the type of vegetable you are cooking. However, most vegetables can be air fried for about 10 minutes.
I have since grown up and realized that vegetables are good for me and she was right after all. WHO KNEW?! I even seem to like brussels sprouts too!
It took me a really long time to not only understand how important it is to have vegetables as a part of a healthy diet, (or even a clean diet!) but it's also important to know how to cook them to your liking. I love a good roasted vegetable! Cooking them in the air fryer is an easy way to get them done!
Easy Quick vegetables in the air fryer
Throwing all of your favorite vegetables in an air fryer basket is such a great way to make tasty tender vegetables. I absolutely love making air fryer chicken, french fries, air fryer steak, sweet potatoes and brussel sprouts with very little effort.
You can make a really delicious side dish with this easy air fryer vegetables recipe. It will be your new favorite way to make delicious veggies for the whole family.
This healthy air fryer recipe grabs a mix of veggies and puts them in the air fryer in a single layer. You can use frozen veggies or fresh vegetables for these air fryer veggies recipe. It's one of those delicious dishes that makes sure you include healthy vegetables on busy weeknights.
It's a great low carb dish with super easy steps. The best way to keep any leftovers is in a airtight container and put it in the fridge.
Can you cook meat and veggies together in air fryer?
Yes, you can cook meat and vegetables together in an air fryer. However, it is important to be careful not to overcook the vegetables. Overcooked vegetables can be tough and taste bitter.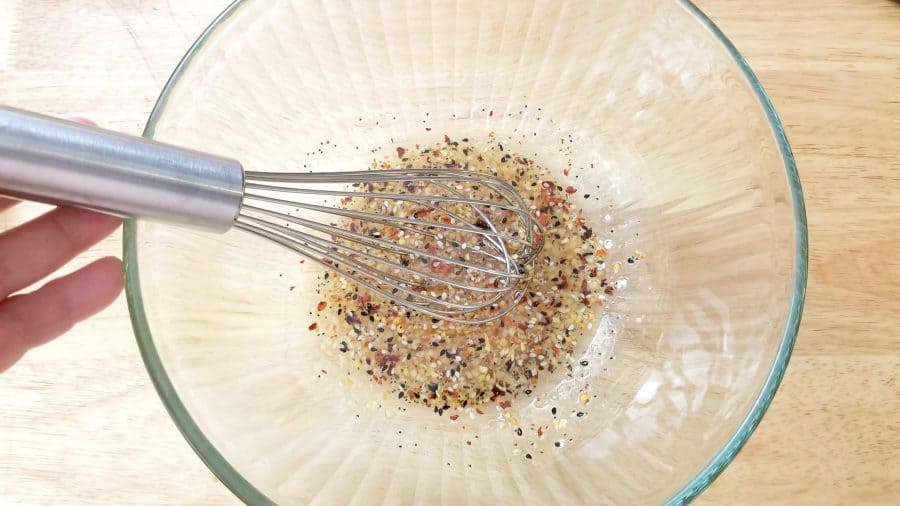 If you are cooking a dish that includes both meat and vegetables, start cooking the meat first and then add the vegetables halfway through the cooking time. This will ensure that the vegetables are cooked but not overcooked.
This air fryer version of crispy vegetables has a quick cook time and requires a little cooking spray or vegetable oil.
Can you put frozen veggies in an air fryer?
Yes, you can put frozen vegetables in an air fryer. In fact, frozen vegetables are a great option for air frying because they don't need to be thawed first. Just make sure that the vegetables are spread out in a single layer on the cooking tray so that they cook evenly.
It's one of those great recipes that makes the best air fryer broccoli and the first time you make it, you will make it again and again.
How do you make frozen vegetables taste better?
One way to make frozen vegetables taste better is to cook them in a sauce. You can either prepare a homemade sauce or use a store-bought sauce. Another option is to season the vegetables with herbs and spices before cooking them. This will add flavor and make them more enjoyable to eat.
Can you overcook frozen vegetables?
Yes, you can overcook frozen vegetables. When vegetables are overcooked, they can become mushy and lose their flavor. It's important to monitor the cooking time when air frying frozen vegetables so that they don't get overcooked.
I've got a really great Air Fryer Roasted Vegetables recipe that is perfect and i'm sharing it today! (Plus: Don't forget to download your free meal planner before you go!)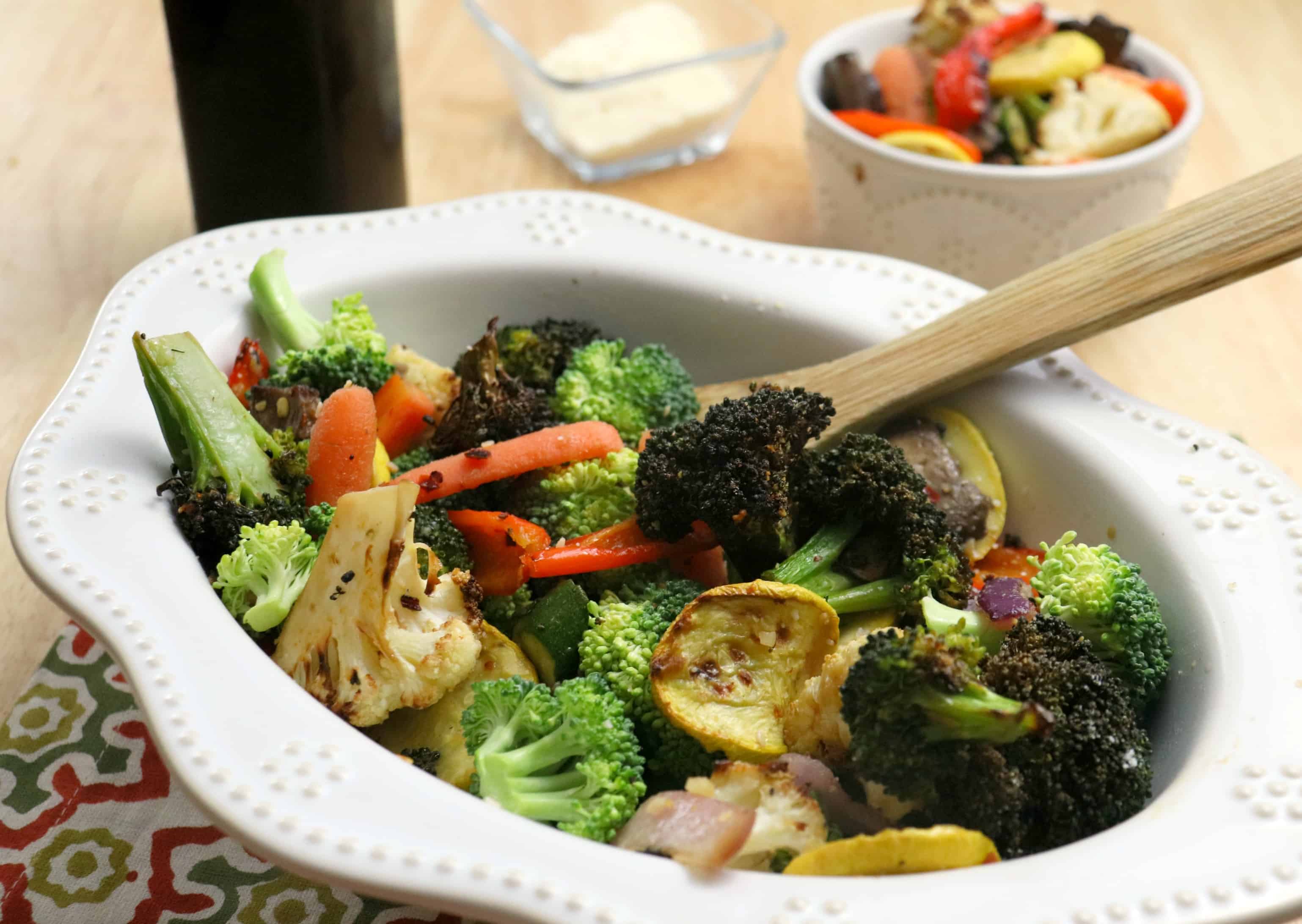 What I love about this recipe is that you likely have all of the ingredients in your freezer, pantry and/or fridge. The instructions are fool proof and the seasonings are perfect for any occasion. Air frying is a great way to keep away from the stove too.
They are a fantastic healthy dish for the holidays or even a dinner party with friends. The dish is super versatile and pairs well with most entrees.
There are many types of vegetables that you can use including root vegetables, summer squash, winter squash, butternut squash, red onion, baby potatoes, red bell peppers–this is the type of vegetables side dish that you make again and again.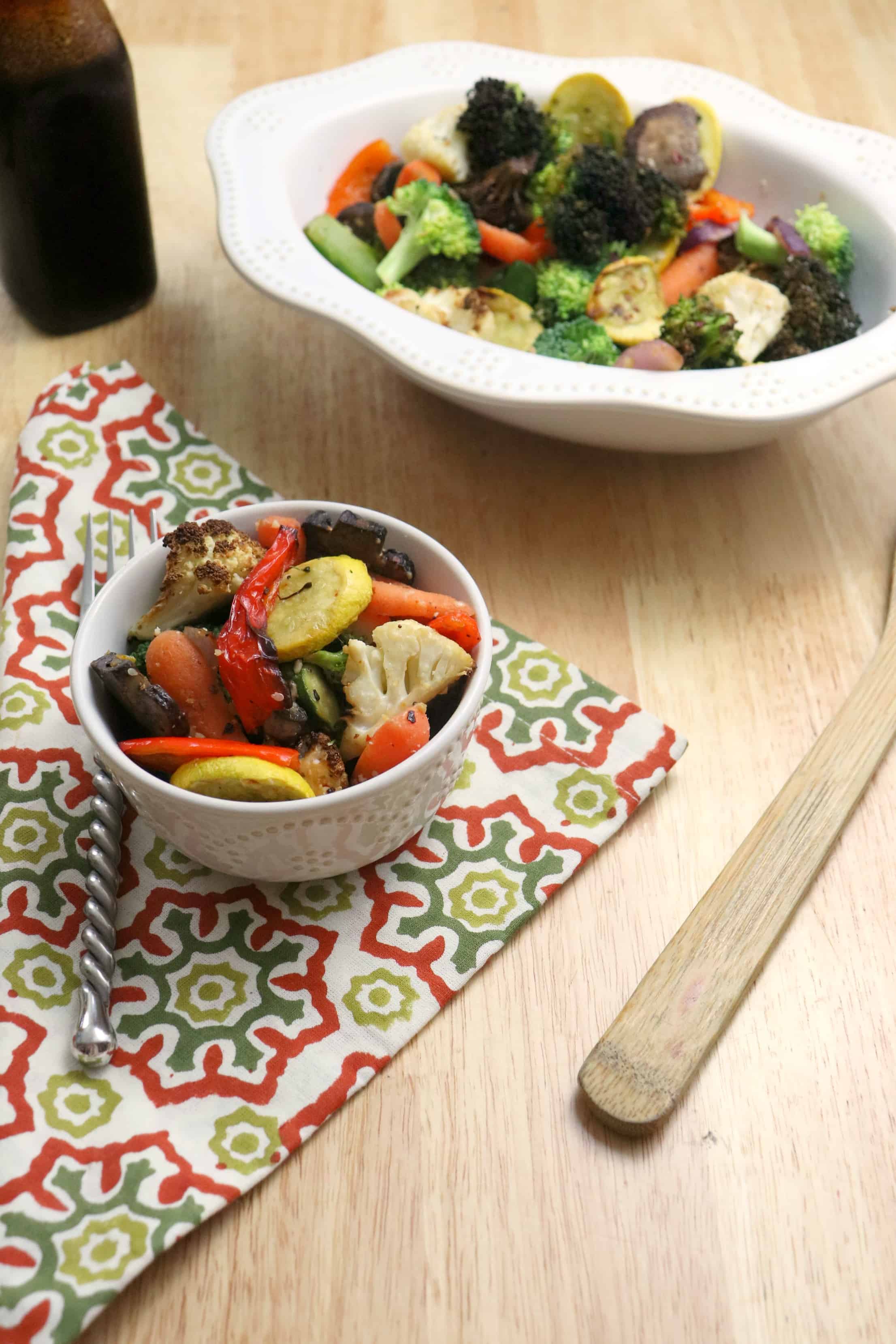 Let's face it, working with vegetables can be intimidating if you don't know what you are doing.
Thank goodness there are these little gadgets like Air Fryers, Slow Cookers and the Instant Pot to make things a bit easier. If you are anything like me, you have an All in one like the Ninja Foodi!
I love how the right seasonings can transform any vegetable into amazing deliciousness!
Related: Healthy Two Ingredient Air Fryer Buffalo Cauliflower
Let's face it, it can be hard to get the kids to love vegetables too. I am happy to report that this recipe is kid friendly! My kids love it on the sides of their meals and they don't fight me (too much) to eat it.
How To Cook Vegetables In The Air Fryer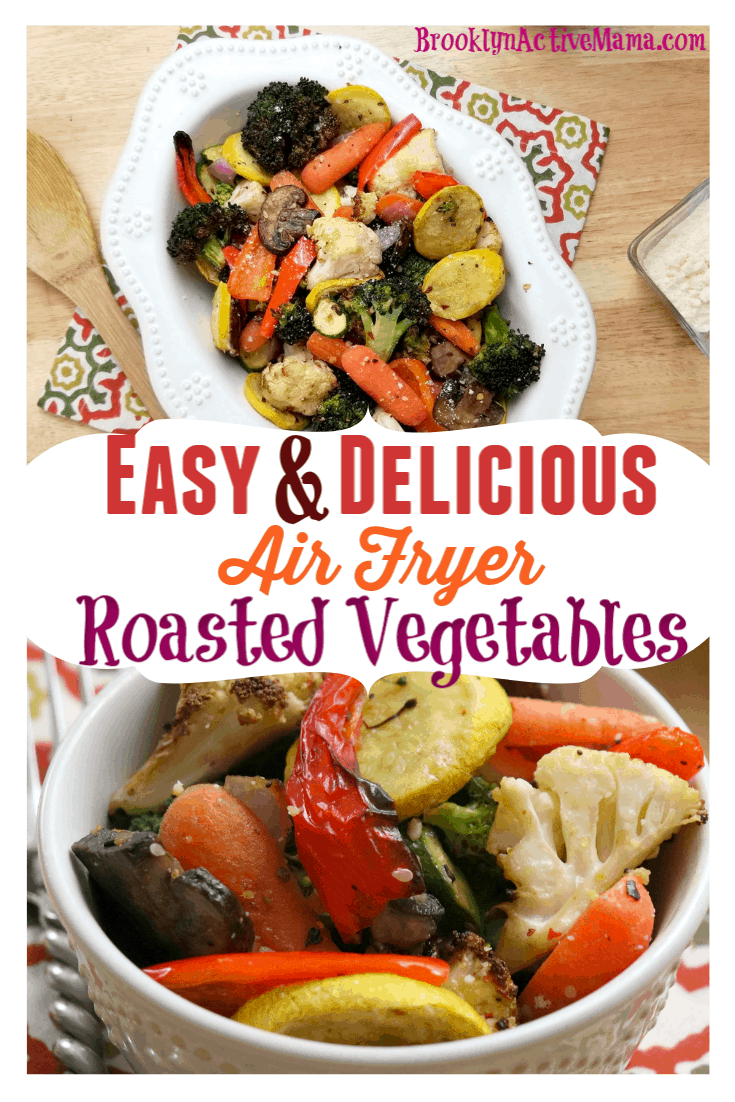 This little device has been such a God send! I am already such a fan of kitchen gadgets but my air fryer has changed the game when it comes to chicken, potatoes and pretty much everything else. I have made french toast, bacon, this pork tenderloin air fryer recipe and so much more!
The best part about air fryer vegetables is that you can put these in the air fryer while you do your normal cooking on the stove. I've done it dozens of times! It saves so much time!
If you are a multi-tasker chef like me, you can throw the vegetables in the air fryer while you work on the main dishes or maybe even heat up the leftovers in the oven.
Here are the ingredients you will need for Air Fryer Roasted Vegetables
1 cup broccoli florets
1 cup cauliflower florets
1/2 cup baby carrots
1/2 cup yellow squash, sliced
1/2 cup baby zucchini, sliced
1/2 cup sliced mushrooms
1 small onion, sliced
1/4 cup balsamic vinegar
1 tablespoon olive oil
1 tablespoon minced garlic
1 teaspoon sea salt
1 teaspoon black pepper
1 teaspoon red pepper flakes
1/4 cup parmesan cheese
Mix up all the seasonings, drizzle over the vegetables, roast and just like that you have a yummy side dish (or even main dish)! The cooking process is super easy Some people use Italian seasoning in their air fryer vegetable recipes but I love this one!
Can you put frozen vegetables in the air fryer?
You absolutely can! I am known for having veggies on hand in the freezer so feel free to use frozen broccoli, cauliflower etc.
Just be sure to add 5-7 additional minutes to be sure that the veggies are cooked through. You can usually tell by how easily the fork pierces the vegetable. You can find the full easy recipe in the recipe card below.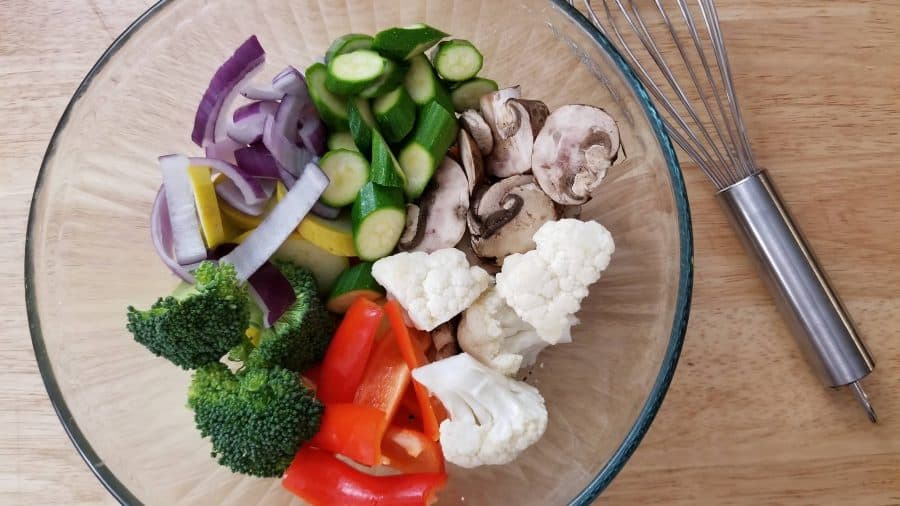 What are some helpful tips for roasting vegetables in the air fryer?
1. Preheat the air fryer for best results – Most vegetables cook best at higher temperatures, so preheating the air fryer before adding your ingredients will ensure that they roast nicely and brown evenly.
2. Toss vegetables in oil or cooking spray – To make sure the vegetables don't stick to the basket, be sure to lightly coat them in oil or cooking spray before adding them to the air fryer.
3. Use a mix of vegetables – To ensure that your vegetables get roasted evenly, use a mix of cut and uncut veggies. This will ensure that they cook through without burning.
4. Cut vegetables into uniform pieces – For even roasting, make sure that all of the vegetables are cut into uniform pieces. This will also help them cook more quickly and evenly.
5. Don't overcrowd the air fryer basket – Too many vegetables can prevent air circulation which will lead to uneven cooking. To avoid this problem, don't load up the basket too much.
6. Shake the basket periodically – To ensure even roasting, give the basket a shake every few minutes to redistribute the vegetables and keep them from sticking together.
7. Check for doneness frequently – As air fryers can heat up quickly, it's important to check your vegetables often so they don't burn. As soon as the vegetables are cooked through, remove them from the air fryer.
8. Add seasonings after roasting – To bring out the best flavor in your roasted vegetables, add any desired seasonings right at the end when they come out of the air fryer.
Enjoy! And be sure to let me know how you like it in the comments!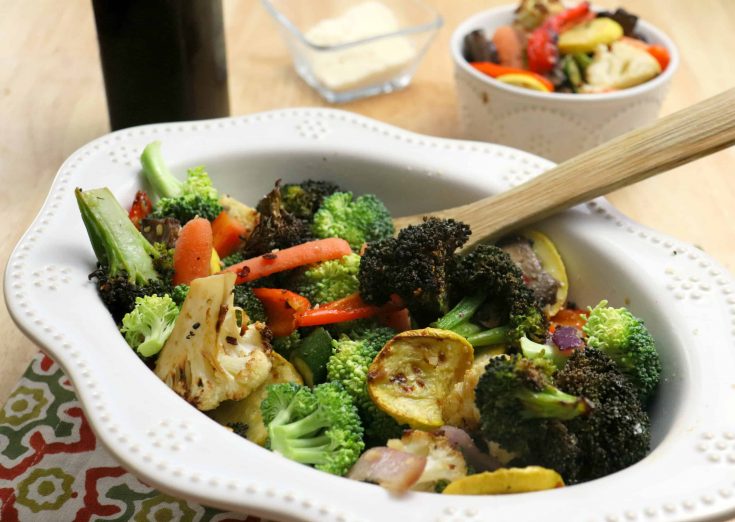 Yield:

6 Servings
Delicious Air Fryer Roasted Vegetables
A super easy, healthy and delicious Air Fryer Vegetables recipe that will have a yummy side on the table in no time!
Ingredients
1 cup broccoli florets
1 cup cauliflower florets
1/2 cup baby carrots
1/2 cup yellow squash, sliced
1/2 cup baby zucchini, sliced
1/2 cup sliced mushrooms
1 small onion, sliced
1/4 cup balsamic vinegar
1 tablespoon olive oil
1 tablespoon minced garlic
1 teaspoon sea salt
1 teaspoon black pepper
1 teaspoon red pepper flakes
1/4 cup parmesan cheese
Instructions
Pre-heat Air Fryer at 400 for 3 minutes.
In a large bowl, put olive oil, balsamic vinegar, garlic, salt and pepper and red pepper flakes.

Whisk together.

Add vegetables and toss to coat.

Add vegetables to Air Fryer basket. Cook for 8 minutes.

Shake vegetables and cook for 6-8 additional minutes.



Add cheese and bake for 1-2 minutes.



Nutrition Information
Yield
8
Serving Size
1
Amount Per Serving
Calories

61
Total Fat

3g
Saturated Fat

1g
Trans Fat

0g
Unsaturated Fat

2g
Cholesterol

3mg
Sodium

340mg
Carbohydrates

7g
Fiber

2g
Sugar

3g
Protein

2g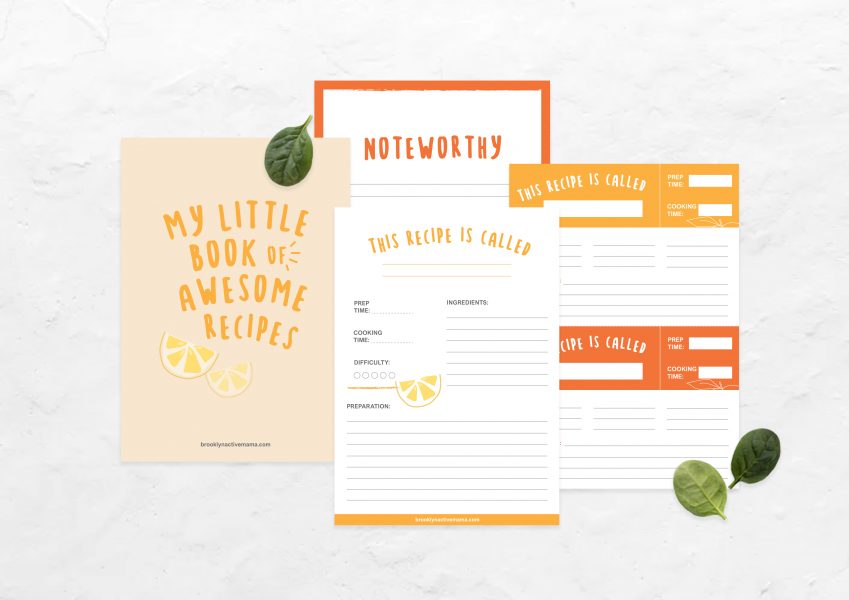 Before you go, grab Your Free Printable Recipe Kit —Today!
Write down your favorite recipes and create your own personal cookbook of your favorite food creations!
If you enjoyed this awesome recipe be sure to tag and follow us on Instagram for more fun recipes!
For more yummy recipes check out:
Easy KFC Style Air Fryer Potato Wedges
Healthy Two Ingredient Air Fryer Buffalo Cauliflower
Easy and Healthy Air Fryer Mozzarella Sticks
What is your favorite way to prepare vegetables?
Hi! I'm Nellie. I am a busy mama of three, wife to my high school sweetheart who loves to cook, workout and stay organized! I love to share helpful printables, the best recipes and fitness tips for the modern mom. I strongly believe that every mom can feed their family well, take proper care of themselves and have fun along the way! Read my story.
Get comfortable and be sure to come hang out with me on social. Don't grab your free fitness journal before you go!