I am all about quick and easy meals these days. The easier and faster that I get out of the kitchen the better. Today I've got a super easy and yummy main dish that the whole family will love – air fryer pork tenderloin.
Imagine a pork tenderloin so juicy and tender it practically melts in your mouth, but with a crust so delectably crisp you'd swear it was grilled to perfection. That's what our Air Fryer Pork Tenderloin delivers. Marinated in a sumptuous blend of melted butter and garlic & herb seasoning mix, this 1-2 lb piece of porky goodness cooks to perfection in the air fryer, offering you a hassle-free yet gourmet dining experience. Whether you're hosting a dinner party or looking for a quick weeknight meal, this recipe is a knockout!
FAQs
Do I need to marinate the pork tenderloin?
While it's not a necessity, marinating the pork tenderloin in the melted butter and garlic & herb seasoning for at least 30 minutes will maximize flavor.
What's the best internal temperature for pork tenderloin?
The USDA recommends cooking pork to an internal temperature of 145°F, followed by a 3-minute rest time.
Can I cook a frozen pork tenderloin in the air fryer?
It's best to thaw the pork tenderloin before cooking to ensure even cooking and optimal flavor absorption.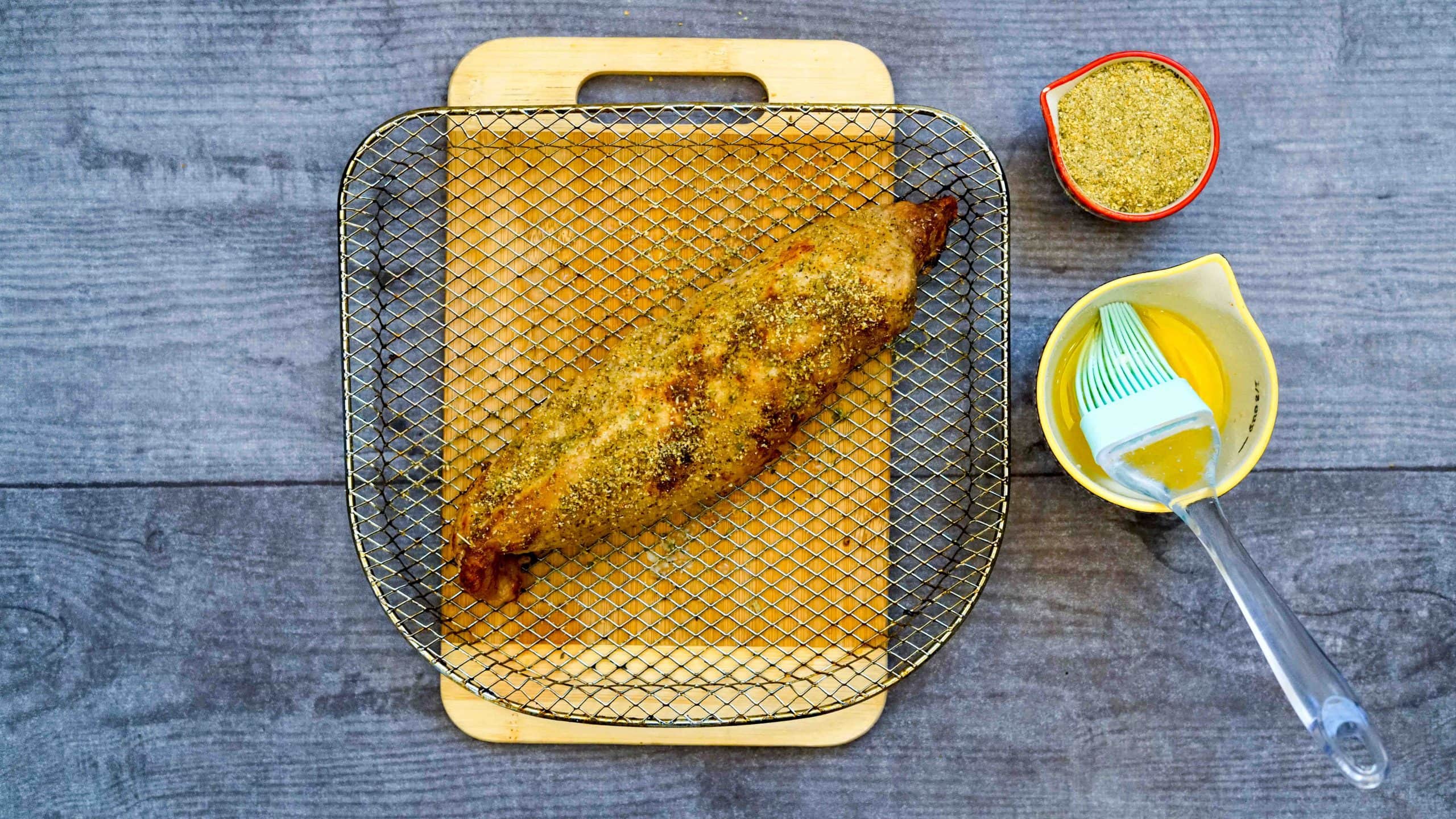 Tips and Tricks
For the juiciest result, let the pork tenderloin come to room temperature for about 20 minutes before cooking.
Use a meat thermometer to check for doneness.
Make small cuts or "pockets" in the meat to allow the marinade to penetrate deeper.
Variations
Substitute the garlic & herb seasoning with your preferred spice blend—think Cajun, lemon-pepper, or even a BBQ rub.
You can also add a sweet element by brushing the pork with a glaze made of honey and mustard in the last 5 minutes of air frying.
Where to Serve
This dish is so versatile it can effortlessly grace both a casual dinner table and a formal dining event. Serve it with sides like air-fried Brussels sprouts or a quinoa salad for a wholesome meal.
Storage
Leftover pork tenderloin can be stored in an airtight container in the refrigerator for up to 3 days. For longer storage, freeze it for up to 3 months. Reheat in the air fryer at 350°F until warmed through.
During grocery shopping I buy all kinds of meat, in different cuts. I love all cuts of pork, a lean cut of pork, pork shoulder, even air fryer pork chops–so this air fryer pork roast was a no brainer.
My last grocery run had steak, ground beef, chicken wings, legs, thighs, pork sausage, pork tenderloin, chicken nuggets and so much more. I have tons of spices in my cabinet so I know that I can keep things pretty creative on my side.
Common Problems and How to Avoid Them
Dry Meat: To avoid this, ensure you don't overcook the pork. Always check the internal temperature.
Uneven Cooking: To prevent uneven cooking, make sure the pork tenderloin is of even thickness throughout. If it tapers at one end, you can tuck it under for a more uniform shape.
Lack of Flavor: Proper marination and seasoning are crucial. Don't skimp on the garlic & herb seasoning mix, and allow time for the meat to marinate.
Tips for Making This Recipe with Kids
Children can help by mixing the marinade and brushing it onto the pork.
Use this as an opportunity to teach them about the importance of safe meat handling, including using separate utensils for raw and cooked meat.
Younger kids can help set the table or make a simple side salad.
Topping Options
A dollop of apple sauce can offer a sweet contrast.
A sprinkle of freshly chopped parsley will add a burst of color and freshness.
Crumbled feta or blue cheese can bring a different texture and flavor complexity.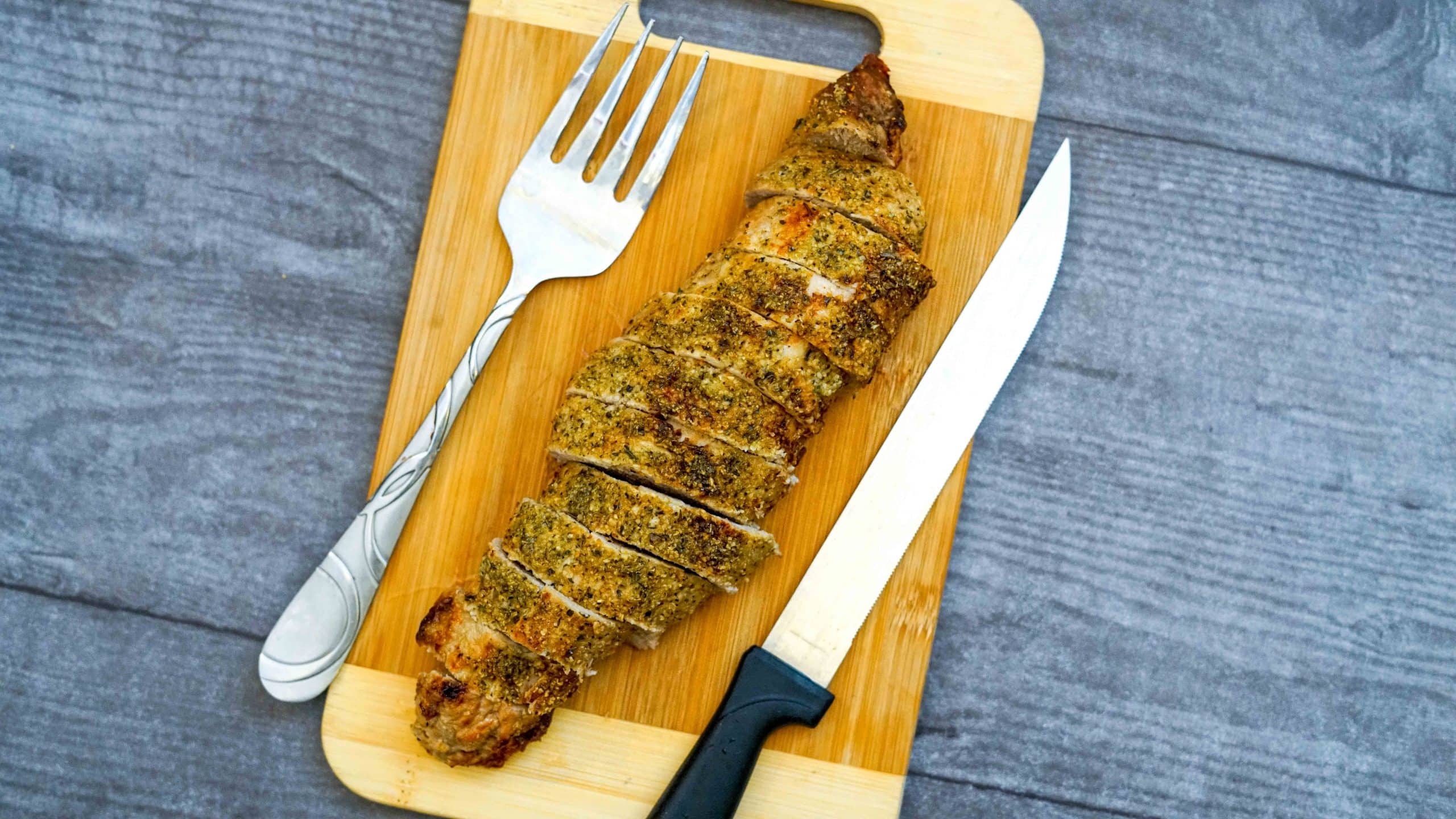 However, like I mentioned before, the sheer amount of time I have spent in the kitchen is wearing me out. I am so excited to share this extremely simple air fryer marinated pork tenderloin recipe that is not only easy and low maintenance, it is tender and delicious too!
Not to mention that the perfect crust forms too. All you need is butter and garlic and herb seasoning. These two ingredients and the magic of the air fryer is all you need! Place the pork into the bottom of the air fryer basket and you are good to go!
If you are looking for some meal prep options the boneless pork loin is a great recipe! It's the easiest way to add some protein to your meal.
What type of side dishes can I have with this air fryer pork loin roast?
You can add a salad on the side or like me have some rice and peas or white rice on the side. You could even add some of these easy and amazing baby potatoes. If you want to really add some razzle dazzle use your cutting board and cut and saute some onions and peppers to go with it! This dish is great way to celebrate holidays or special occasions. Once you make this for the first time you won't regret it!
For a great juicy pork roast be sure not to jump in as soon as it's done. Take some time, and as the pork rests, the juicier it will be.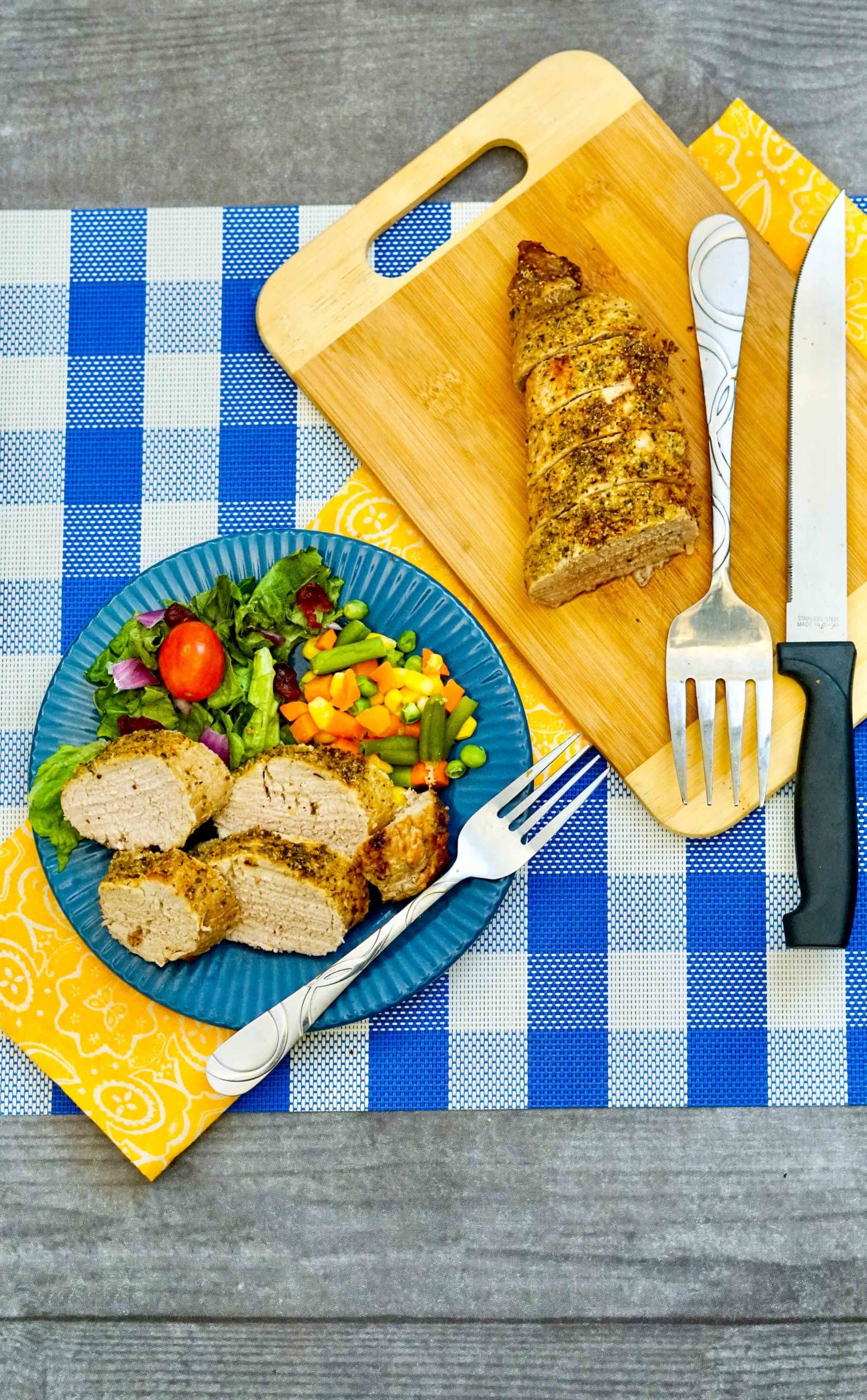 Be sure to make sure the internal temperature reaches 145 degrees by checking the internal temperature of the pork with a digital thermometer for the best results. Compared to the traditional oven, this recipe has a quick cooking time of 25 minutes. Tender perfection!
The simplicity of an air fryer really takes all the guesswork out of making this roast pork. It's easier than ever to cook pork tenderloin! This easy recipe provides tender meat and will become one of your favorite pork recipes.
Air Fryer Pork Tenderloin Ingredients
1-2lb Pork Tenderloin
1/2 Cup Melted Butter
Garlic & Herb Seasoning mix
Meat thermometer
The flavor is super delicious without going over the top. Next time you go to the store make sure you pick up a tenderloin or two, this is a meal you are going to want to make over and over! Don't forget to make these air fryer roasted vegetables for a healthy and delicious side.
Why This Recipe Works
The beauty of using an air fryer for pork tenderloin lies in its ability to cook the meat evenly and quickly, sealing in all the juicy flavors. The melted butter not only acts as a lipid to retain moisture but also as a flavor carrier for the garlic & herb seasoning. This method turns a relatively simple list of ingredients into a dish that is both mouthwatering and elegant. Trust us, once you try pork tenderloin in the air fryer, you may never go back to your oven or grill!
What are some other delicious pork recipe to try?
If you are looking for more fun dinner recipes be sure to check out this comprehensive list! Easy and Tasty Dinner Ideas For The Whole Family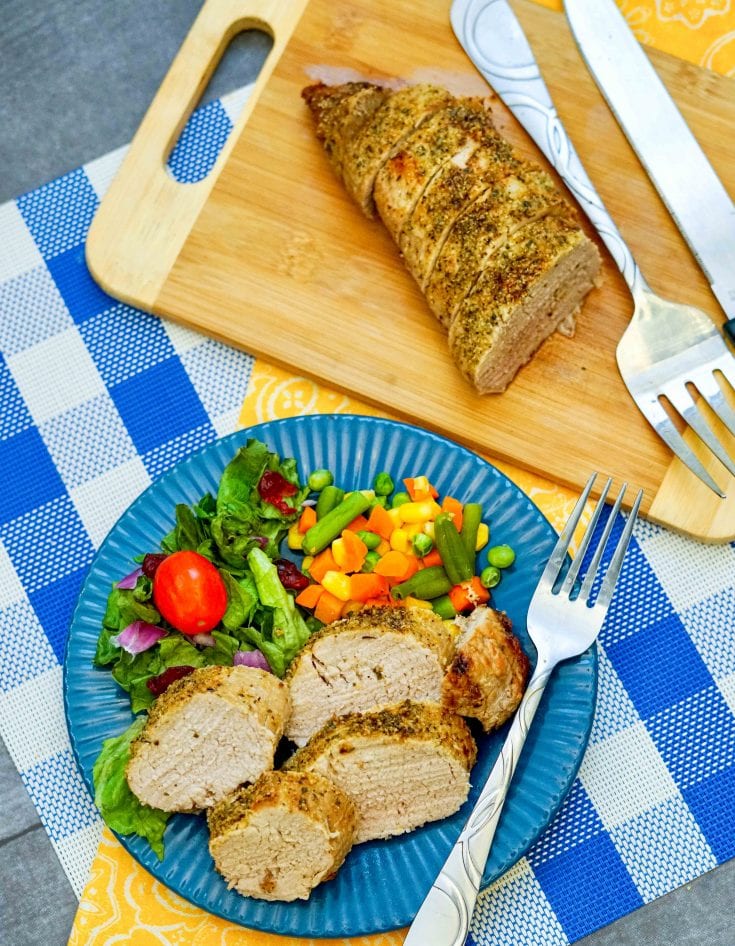 Yield:

8-12 servings
Easy and Delicious Air Fryer Pork Tenderloin
Here is a super easy and yummy main dish that the family will love--air fryer pork tenderloin. Served with your favorite side, it's a great family recipe!
Ingredients
1-2lb Pork Tenderloin
1/2 Cup Melted Butter
Garlic & Herb Seasoning
Meat thermometer
Instructions
Coat pork tenderloin in butter. The more the better.
Place pork tenderloin in air fryer for 25 minutes at 400 degrees.
Remove pork tenderloin from air fryer and coat again in butter then rub garlic & herbs seasoning all over the pork.
Place in the air fryer for an additional 5 minutes or until pork reaches 145 degree.
Nutrition Information
Yield
12
Serving Size
1
Amount Per Serving
Calories

201
Total Fat

12g
Saturated Fat

6g
Trans Fat

0g
Unsaturated Fat

4g
Cholesterol

84mg
Sodium

143mg
Carbohydrates

0g
Fiber

0g
Sugar

0g
Protein

22g
If you liked this pork tenderloin recipe be sure to check out these recipes too!
Easy Weeknight Lemon Chicken Sheet Pan Dinner
Air Fryer Veggie Flatbread Pizza
Air Fryer Veggie Stuffed Zucchini Boats
Hi! I'm Nellie. I am a busy mama of three, wife to my high school sweetheart who loves to cook, workout and stay organized! I love to share helpful printables, the best recipes and fitness tips for the modern mom. I strongly believe that every mom can feed their family well, take proper care of themselves and have fun along the way! Read my story.
Get comfortable and be sure to come hang out with me on social. Don't grab your free fitness journal before you go!