One of the foods that I probably have been eating since I was six months old is plantains. Coming from a Caribbean household it's simply a delicious fruit that we would have for breakfast, lunch AND dinner! Today I am going to show you how simple it is to make Air Fryer Sweet Fried Plantains, plus I'll show you how to make it the old fashioned way as well!
Air Fried Plantain
You guys already know that I absolutely love my air fryer–I am so intensely familiar with it that I can finally start trying things on my own without a recipe! It's a little scary but man is the payoff so worth it!
I decided to try to do plantains in the air fryer because the only way that I am used to making them is in a frying pan in oil over medium heat. All you need is a good amount of vegetable oil and all of your attention because the minute you turn your back they could burn! (Kinda reminds me of pancakes!)
So I wanted to try a version of friend plantains that didn't need all of the oil and left less room for error. Here is where the air fryer comes in.
What do I eat fried plantains with?
Everything. Honestly. Plantains look just like bananas but somehow taste completely different. I am not a big banana fan but plantains I can eat all day long!
I usually have them on the side of breakfast with eggs, or with my famous rice and peas and oxtail. Any classic Caribbean dish would do, this ropa vieja recipe is the perfect companion along with some white rice. They are even a fantastic appetizer. I'm not kidding when I say I'd eat them anytime, my mom would make a batch and she knew that if she had any leftover I'd take care of them, quickly!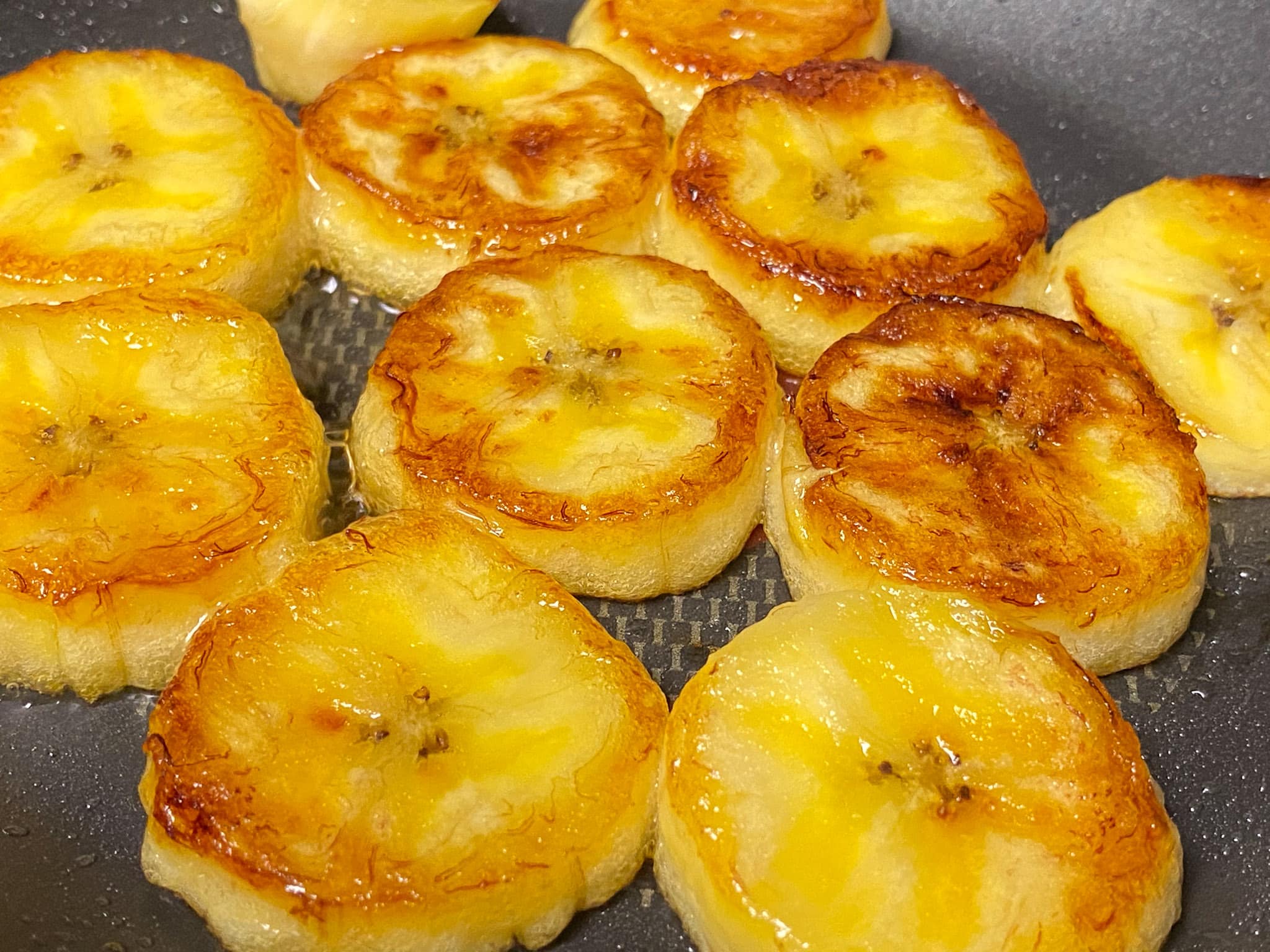 What is the difference in taste between regular fried plantains and Air Fryer Plantains?
Nothing! The taste the exact same! Still sweet and soft and delicious. The air fryer plantains have less color than the fried ones but there is no difference in taste.
How many ways can you make plantains?
So many ways! A lot of people boil, a lot of people use the oven, I was raised on a quick fry, but there are so many ways to heat and serve this delicious fruit!
How do I get plantains to be as sweet as possible?
Make sure they are RIPE! When I say ripe, I mean almost BLACK on the outside. It's super tempting to get a green plantain and cut right into it, which you can but you won't get that incredibly sweet taste. You can also let them ripe naturally but in general when I got to the market I buy them super ripe so I can enjoy that night. Kind of like avocados!
How do you slice plantains?
This can be quite controversial because everyone has their own method. I love slicing the plantain into round pieces, it's a great way to keep the pieces symmetrical.
Others cut on an angle in a more oblong shape. However you do it, just try to make sure that the sizes are even so they all cook evenly in the pot.
Here is the super easy recipe to make air fryer plantains–all you need are plantains and a bit of non stick spray!
I have also included the original way to fry plantains in case you don't want to use an air fryer!
Yield: 3 servings
Air Fryer Sweet Fried Plantains
Prep Time: 2 minutes

Cook Time: 5 minutes

Total Time: 7 minutes

This classic recipe for plantains just upgraded to a more healthy version! Enjoy these tasty air fryer sweet plantains in just 7 minutes!
Ingredients
One very ripe plantain
cooking spray
Sea salt (optional)
Instructions
Cut the plantain in half
Carefully cut the skin off the plantain by slicing down the middle but stopping before you hit the plantain
slice into even one inch pieces
pre heat air fryer for 3 minutes at 300 degrees
set timer for 5 minutes
flip plantain pieces halfway through
add a sprinkle of sea salt (optional)

If you would like to fry your plantains, follow steps 1-3, add a tablespoon of vegetable oil to a frying pan over medium to low heat, place plantains in the fry pan. Wait till edges get slightly brown (pay close attention, this happens quickly!). Flip plantains gently and wait for the other side to brown. Extract to a paper towel to soak up any excess oil and enjoy!
If you loved these air fryer fried plantains be sure to check out this Easy Banana Pecan Bread!
Hi! I'm Nellie. I am a busy mama of three, wife to my high school sweetheart who loves to cook, workout and stay organized! I love to share helpful printables, the best recipes and fitness tips for the modern mom. I strongly believe that every mom can feed their family well, take proper care of themselves and have fun along the way! Read my story.
Get comfortable and be sure to come hang out with me on social. Don't grab your free fitness journal before you go!