These super easy Air Fryer Cheese Danishes are SO good! All you need is crescent rolls, cream cheese, sugar and vanilla and you have a sweet breakfast treat.
Do you have an air fryer that you'd like to put to work? You no longer have to worry about WHAT you will make with your air fryer because you have so many options.
One of your best options is to make this awesome Air Fryer Cheese Danish. This cheese danish is not only delicious, but it's super easy to make in your air fryer basket! This easy recipe makes a golden brown sweet treat with cream cheese filling with simple ingredients.
What ingredients do you need for this easy breakfast or perfect dessert?
1 package or can of Crescent Rolls (or sheet)
8 ounces softened cream cheese
1/2 cup sugar
1 teaspoon vanilla extract
These danish pastries are filled with a yummy cream cheese mixture surrounded by a flaky crust. You can add a fruit topping like cherry filling or make it an air fryer apple danish with apple filling! This air fryer copycat starbucks cheese danish is a simple danish recipe and a delicious way to make this tasty treat.
How do you store these cream cheese danish leftovers?
You can store the danish pastry in an airtight container for a few days in the fridge.
When it comes to air fryer breakfast recipes you can make so many things with a store-bought puff pastry! From fruit pastries to air fryer donuts with different fruit, Using the air fryer is a great way to make the perfect breakfast for special occasions. It's a great recipe that comes out amazing every single time. It's one of my favorite things to make with a sheet of puff pastry!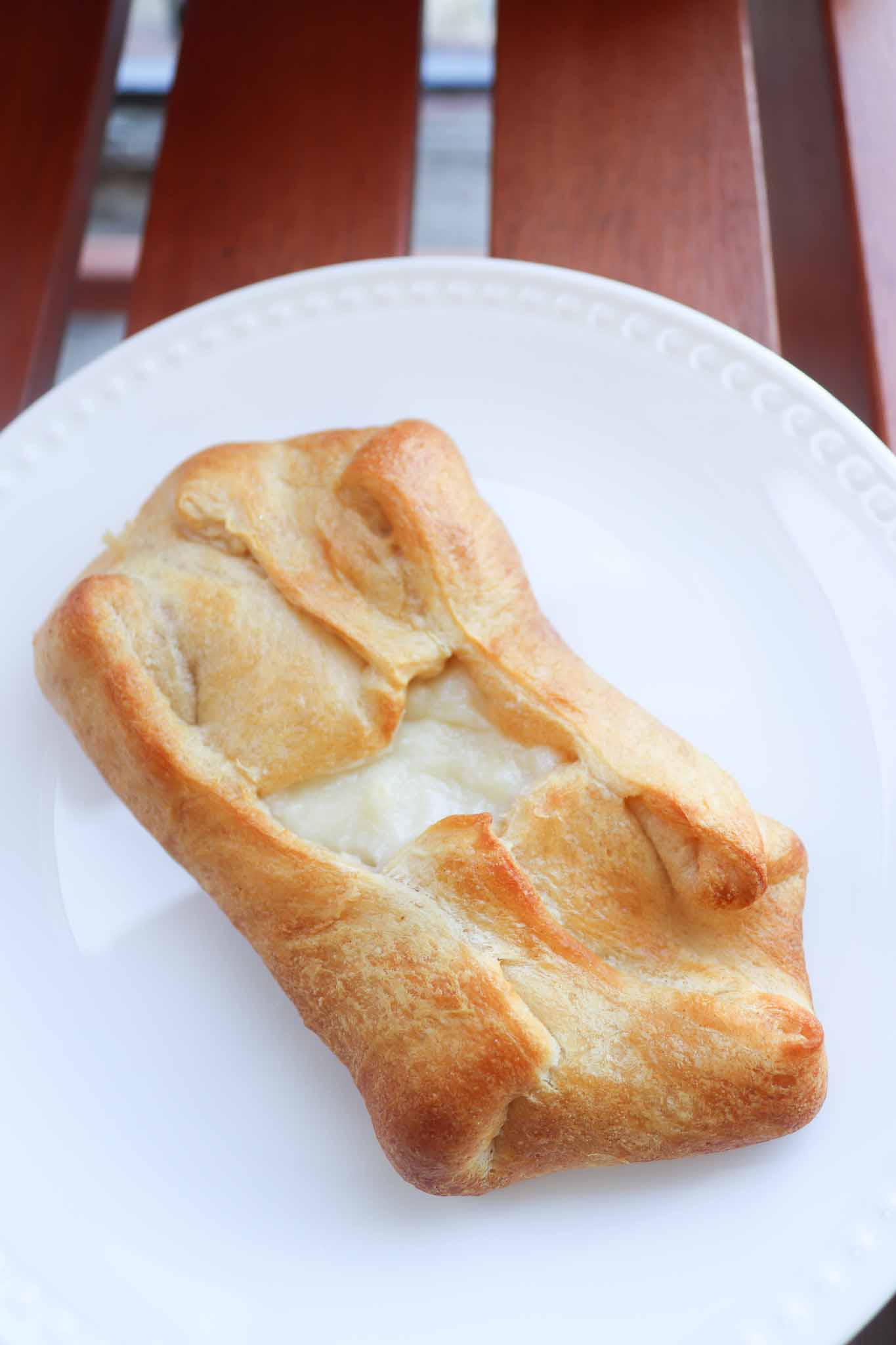 Air Fryer Cheese Danish
The last time you went to the store, you may be glanced at the cheese danish and thought, wow that looks so good! Well, now you can make it yourself. Making anything yourself is a way better option than buying it store-bought. I'm going to show you HOW to make it, so you can keep this recipe for many years to come!
How to Make Air Fryer Cheese Danish
The next time you get the urge to make this, you will need to know all of the ingredients involved in this delicious dish! Grab all of the ingredients now, so next time you can make it in these easy simple steps.
Crescent rolls – Who knows, you might already have some of these in your fridge. I like to stock up on these crescent rolls when they are on sale. They make excellent cheese danishes and so many more things!
Cream cheese – The cream cheese is the absolute star of the show! You will appreciate the flavor cream cheese brings to these danishes.
Sugar and vanilla – We don't want to forget the sugar and vanilla in this delicious dish. You'll love it!
The next time you decide to make this dish, you'll be so thankful you gave it a try. Your family will love it too.
Every single ingredient is simplet with these Air Fryer Cheese Danishes, plus you can make them right at home in your own air fryer in no time!
If you want to check out some more sweet breakfast recipes check out this comprehensive list: The Best Sweet Breakfast Recipes
Yield: 4 Cheese Danishes
Easy and Delicious Air Fryer Cheese Danish
Prep Time: 5 minutes

Cook Time: 4 minutes

Total Time: 9 minutes

These super easy Air Fryer Cheese Danishes are SO good! All you need is crescent rolls, cream cheese, sugar and vanilla and you have a sweet breakfast treat.
Ingredients
1 package Crescent Rolls (or sheet)
8 ounces cream cheese
1/2 cup sugar
1 teaspoon vanilla
Instructions
In a large mixing bowl, mix together the cream
cheese, sugar and vanilla.
Layout two of the crescent rolls (you could use the sheets) and seal the seams together with your fingers, just pinch the sides together.
Mix well until creamy.
Set the crescent dough on a flat surface, and then place about 2 tablespoons of filling in the middle.
To fold it, just make a triangle with the sides and then fold the sides up.
Set the danish with the filling onto a greased air fryer baking tray
Set the tray in the air fryer oven for 4 minutes at 320 degrees F. (air frying setting)
Plate, serve and enjoy!
Notes
You can easily add your favorite fruity filling! Just add a dollop of your favorite canned fruits (cherries, strawberries, blueberries, apple etc.) to the top of the cheese mixture before you air fry.
Nutrition Information
Yield
4
Serving Size
1
Amount Per Serving Calories 323Total Fat 21gSaturated Fat 12gTrans Fat 0gUnsaturated Fat 6gCholesterol 61mgSodium 207mgCarbohydrates 31gFiber 0gSugar 28gProtein 4g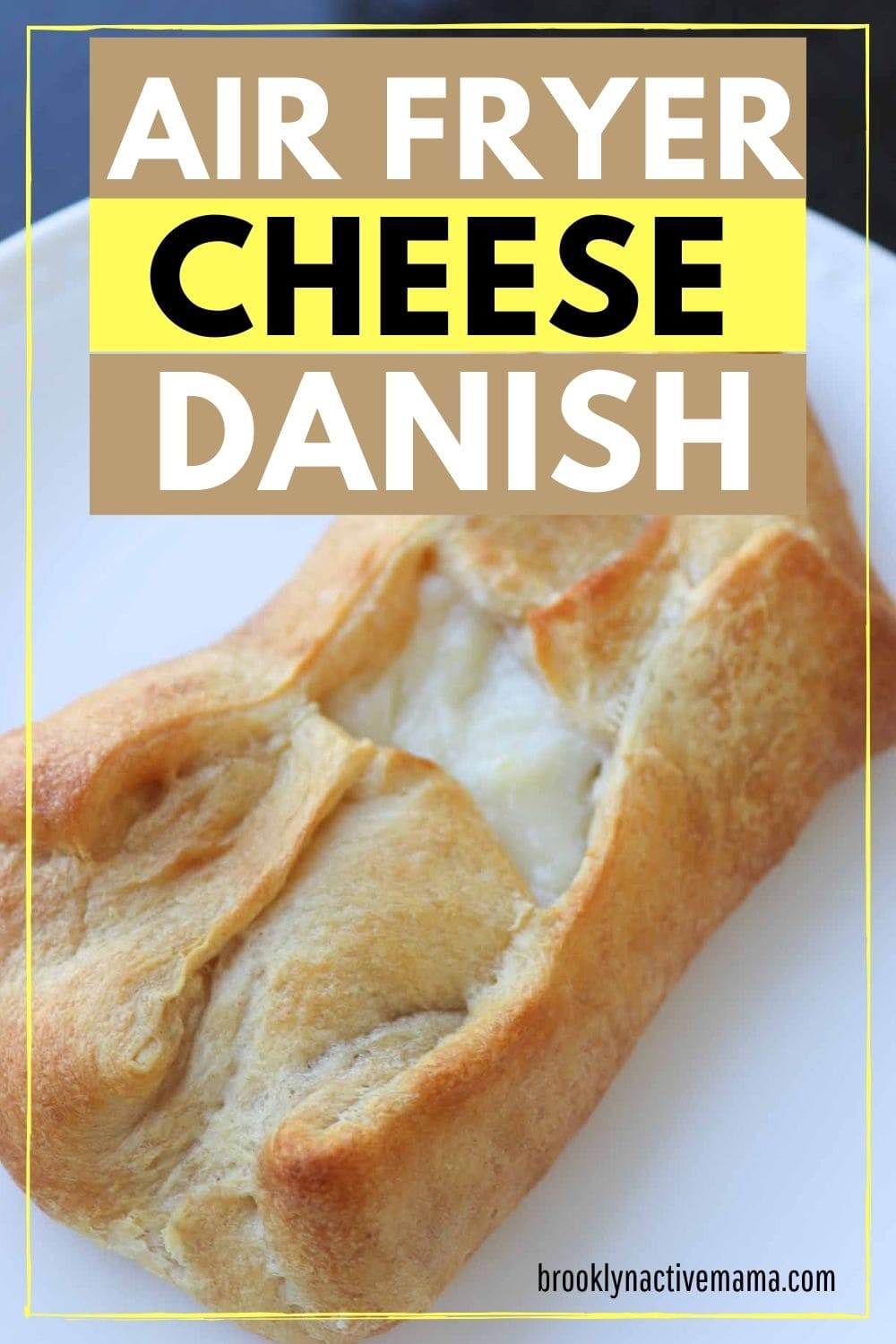 Hi! I'm Nellie. I am a busy mama of three, wife to my high school sweetheart who loves to cook, workout and stay organized! I love to share helpful printables, the best recipes and fitness tips for the modern mom. I strongly believe that every mom can feed their family well, take proper care of themselves and have fun along the way! Read my story.
Get comfortable and be sure to come hang out with me on social. Don't grab your free fitness journal before you go!