Air Fryer Chili Baked Potato
These Air Fryer Chili Bake Potatoes are so easy to make that you won't be able to get enough of them! Choose your favorite toppings and go!
Looking for a delicious and easy comfort dish? Look no further than air fryer chili baked potatoes! Perfectly crispy on the outside, fluffy on the inside, and topped with a savory chili, this dish is sure to satisfy all your cravings.
Not only is the air fryer a healthier cooking option, but it also cuts down on cook time without sacrificing flavor. So why not give this recipe a try and enjoy a hearty meal that is both delicious and nutritious!
Why You'll Love Air Fryer Baked Potatoes
Air fryers use up to 80% less oil than traditional deep-frying methods, making them a healthier alternative for cooking delicious baked potatoes. This means that you can indulge in your favorite comfort food without feeling guilty about your choices.
With the air fryer, cooking baked potatoes becomes a breeze. You can have perfectly cooked potatoes in less than 30 minutes, making it an ideal weeknight dinner option.
Air fryer baked potatoes can be customized to your liking. You can stuff them with your favorite toppings like sour cream, cheese, bacon bits, and chives or even go for a healthier option like steamed veggies, herbs, and spices. This means that there's no end to the variations you can create and personalize!
Potato Toppings for the Best Baked Potatoes
This Easy Air Fryer Baked Potato recipe is so easy to make and the process gets you crispy skin and fluffy insides every time. If you don't know what to do with these Russet Potatoes, then give your air fryer basket a try!
Cheddar Cheese
Green Onions
Cheese sauce
Cottage cheese
Air Fryer Bacon
Sea Salt
Side Options for Air Fryer Potatoes
The perfect side dish does exist thanks to these options! The salty skin on these potatoes taste great with the following side options: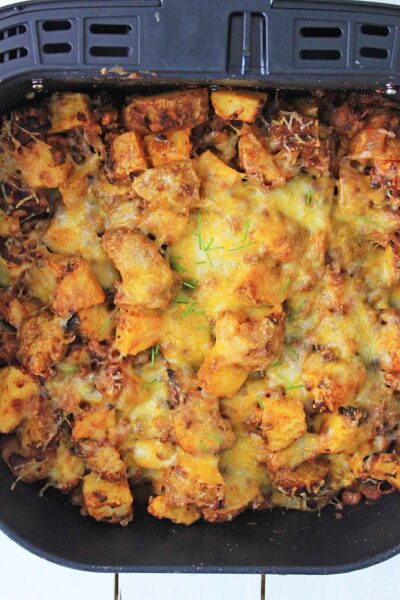 Grilled corn on the cob is a great side dish.
Coleslaw or mac and cheese
Grilled or roasted chicken, steak or pork chops
Fresh sliced avocado or guacamole
Baked beans or vegetarian chili
What are some other fun potato recipes to try?
How to Get the Perfect Baked Potato
Put larger potatoes on a single layer in the air fryer. The size of the potato can be important to how long you cook it!
Use aluminum foil on the bottom of the air fryer to help keep it clean.
You can use tongs to help pull the potatos out of the air fryer.
Use olive oil or avocado oil to help get the potato skin crispy as possible! Vegetable oil is also an option.
Baked potatoes work as main dish, but also they can be the best side dish too!
Make a baked potato bar with this recipe. With a few simple ingredients, you can feed a lot of people!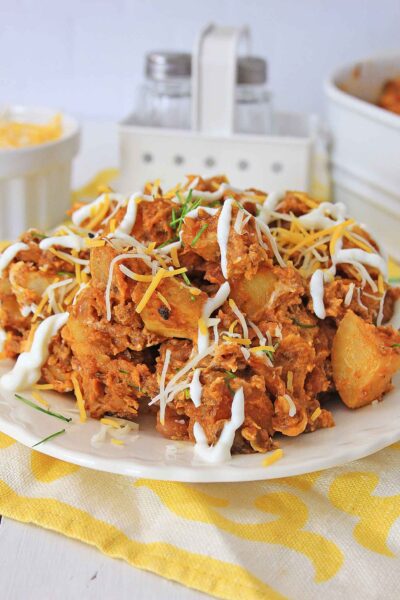 The next time you're looking for easy Air Fryer recipes, give this potatoes recipe a try. It can cook in the fraction of the time of other recipes! What's your favorite topping to put on Air Fryer Chili Baked Potatoes?
If you are looking for more fun dinner recipes be sure to check out this comprehensive list! Easy and Tasty Dinner Ideas For The Whole Family
Yield:

4-6
Easy Air Fryer Chili Baked Potato Casserole
This recipe is so good, and so simple, it's a great dish to make on busy nights, and still have wonderful comfort food instead of fast food. If you have leftover Chili, it's a great way to give it a little twist, or you can whip up some chili in a hurry, and the Air Fryer will make it taste like it's been simmering all day. Keep this recipe handy, because everyone will love it!
Ingredients
4 - 5 Russet Potatoes - washed and cubed
FOR THE CHILI:
1 pound of ground Sirloin
1 large onion - chopped
Garlic Salt - to taste
Seasoned Salt - to taste
Seasoned Pepper - to taste
1 large can of Tomato sauce - about 24 ounces
1 cup of Ketchup
1/2 cup of water
1 Tablespoon of Chili powder
1 Tablespoon of ground Cumin
1/3 cup of Brown sugar
1 teaspoon of minced garlic
1 can of Dark Red Kidney Beans - drained and rinsed
TO TOP:
Shredded Colby Jack Cheese
Chopped Onion
Chives - chopped
Sour Cream
Instructions
Place the ground Sirloin in a large heavy bottom skillet, and cook until golden brown, and no pink is visible.
Crumble cooked Sirloin, and sprinkle with Garlic salt, seasoned salt, and seasoned pepper, and stir to combine. Add the chopped Onion, and stir well.
Add the can of Tomato sauce, Ketchup, water, chili powder, ground cumin, Brown sugar, minced garlic, and beans.
Bring to a boil, and cook for 1 minute. Turn heat to low, and simmer while preparing the Potatoes.
Wash the potatoes, dry with paper towels and cut into cubes.
Place Foil in the Air Fryer - around the basket shelf, and place cubed potatoes on the foil.
Ladle the Chili over the potatoes completely covering them.
Cook for 12 minutes on 375.
Remove basket, and cover with cheese, then place basket back in the Air Fryer, and cook an additional 2 minutes.
To serve, top with chopped onions, chopped chives, and sour cream. Enjoy!
Notes
Because not all Air Fryers cook the same, pierce potatoes with a knife after cooking to make sure they're cooked tender, before serving. If potatoes are not cooked done, place basket back in Air Fryer, and cook for an additional 2 minutes. You can also serve with your favorite toppings, crackers, bread, or Frito's.
Nutrition Information
Yield
6
Serving Size
1
Amount Per Serving
Calories

561
Total Fat

17g
Saturated Fat

8g
Trans Fat

0g
Unsaturated Fat

7g
Cholesterol

86mg
Sodium

1318mg
Carbohydrates

71g
Fiber

8g
Sugar

26g
Protein

35g
Pin it for later!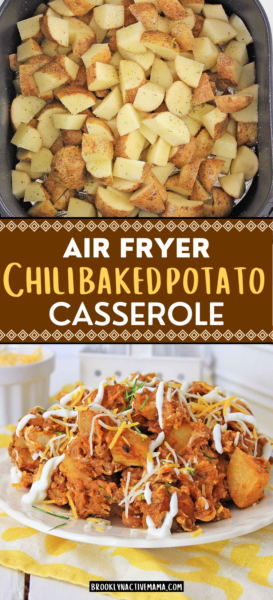 If you enjoyed this recipe be sure to check out my Instagram Page for the latest posts!
Before you go, check out these great posts!
Easy Loaded Roasted Potatoes For An Amazing Side Dish
Delicious Air Fryer Tuscan Salmon With Cream Sauce
Easy Air Fryer Copycat Chick-Fil-A Chicken Biscuits
Hi! I'm Nellie. I am a busy mama of three, wife to my high school sweetheart who loves to cook, workout and stay organized! I love to share helpful printables, the best recipes and fitness tips for the modern mom. I strongly believe that every mom can feed their family well, take proper care of themselves and have fun along the way! Read my story.
Get comfortable and be sure to come hang out with me on social. Don't grab your free fitness journal before you go!