Potatoes are just one of those foods that are always better when you make it fresh. French fries and frozen potatoes are fine, but when you made a potato dish from scratch it just tastes so much better! Today I've got a super easy and delish KFC Style Air Fryer Potato Wedges recipe that you will make over and over again!
The best part of the recipe is that you likely have all the seasonings right there in your pantry. All you need is paprika, salt, pepper, garlic powder and olive oil. Cayenne Pepper and parsley are optional too.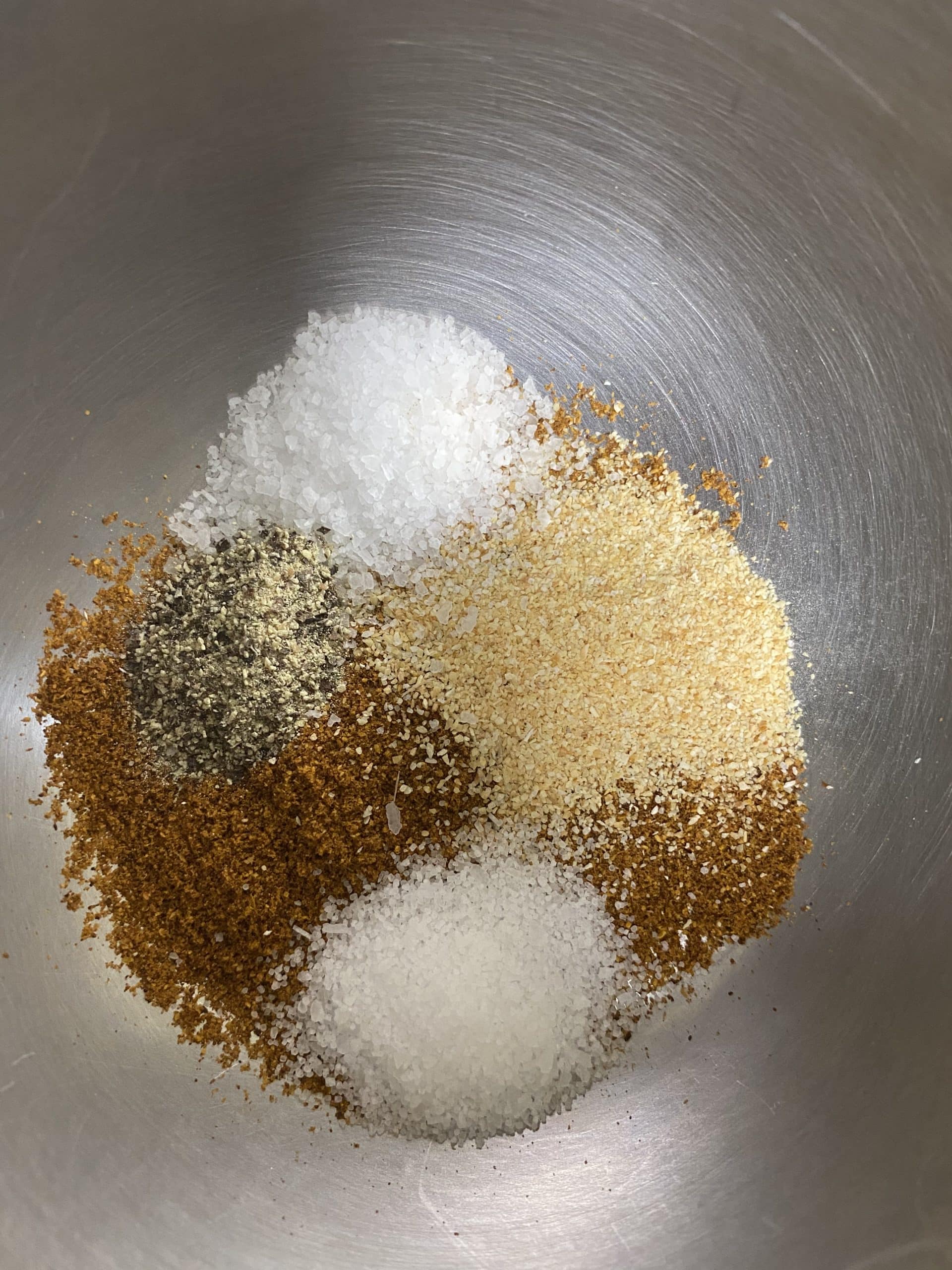 I initially looked for this recipe on Pinterest because I was in the mood for some KFC potato wedges but obviously didn't want to leave the house on this lockdown to get it, and ordering on Uber Eats can get insanely expensive really fast.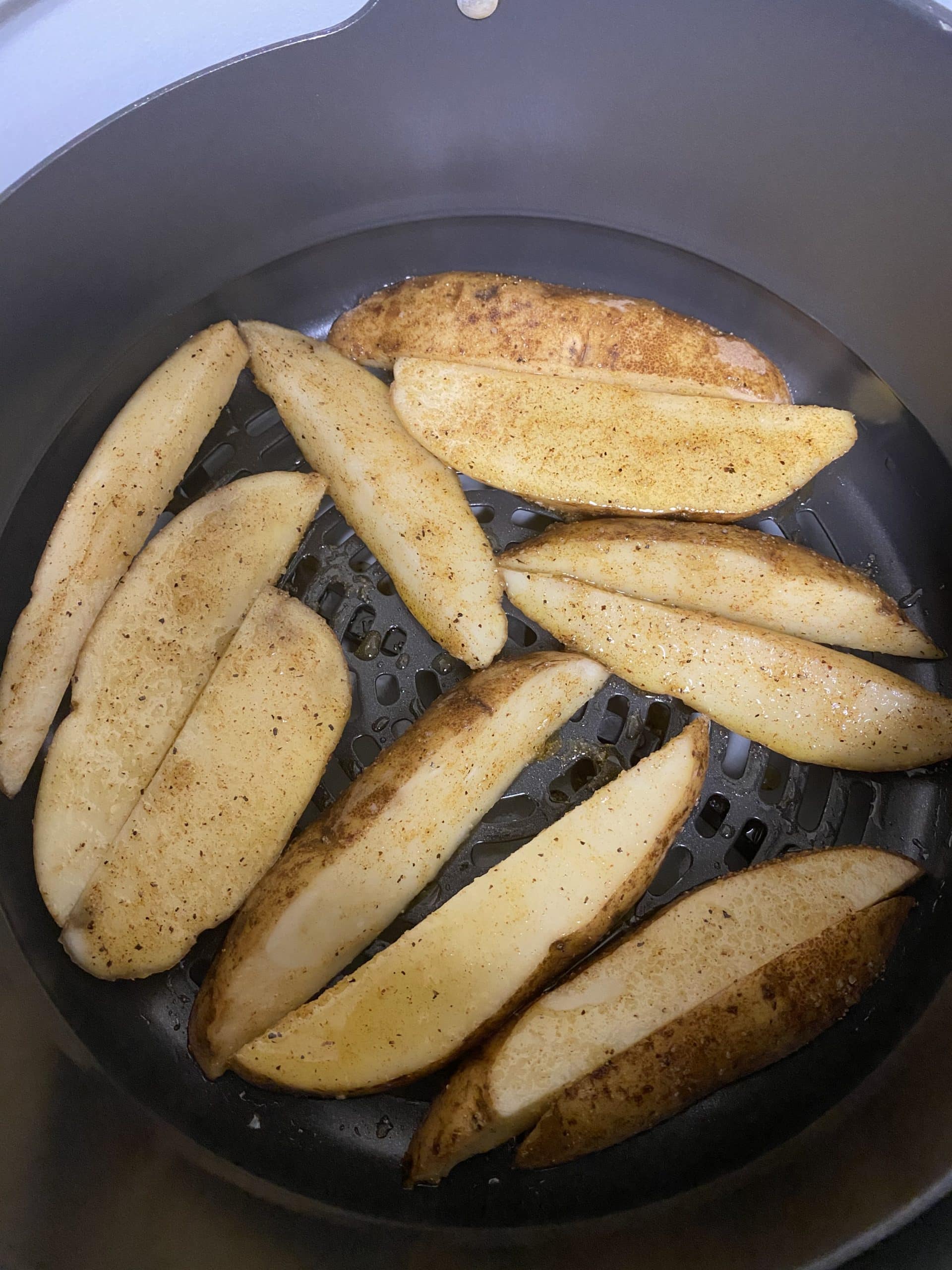 I always pick up potatoes on my grocery run because there are just so many fun and easy recipes you can do like these amazing air fryer potato skins or even this delicious crockpot garlic cheesy mashed potatoes recipe. Potatoes are insanely versatile so I make sure to pick up a bag every time I'm at the store (which isn't often these days!).
Method of Cooking Air Fryer Potato Wedges
I checked out a few different recipes and some of them had similar ingredients but some had different ways of execution. Some asked that you cut the potato, season and put directly in the air fryer. Me? I love a crispy potato and I know that crispy potatoes require some sort of blanching of the potato.
I found this awesome recipe that required the sliced potatoes to be soaked in ice water for at least 30 minutes. I was willing to do this for the crunch!
How To Cut The Potatoes
A big complaint about making potatoes wedges is that a lot of people tend to cut the potatoes unevenly resulting in overcooked and undercooked wedges. An easy fix to this is to try to use potatoes that are as close to the same size and shape as possible.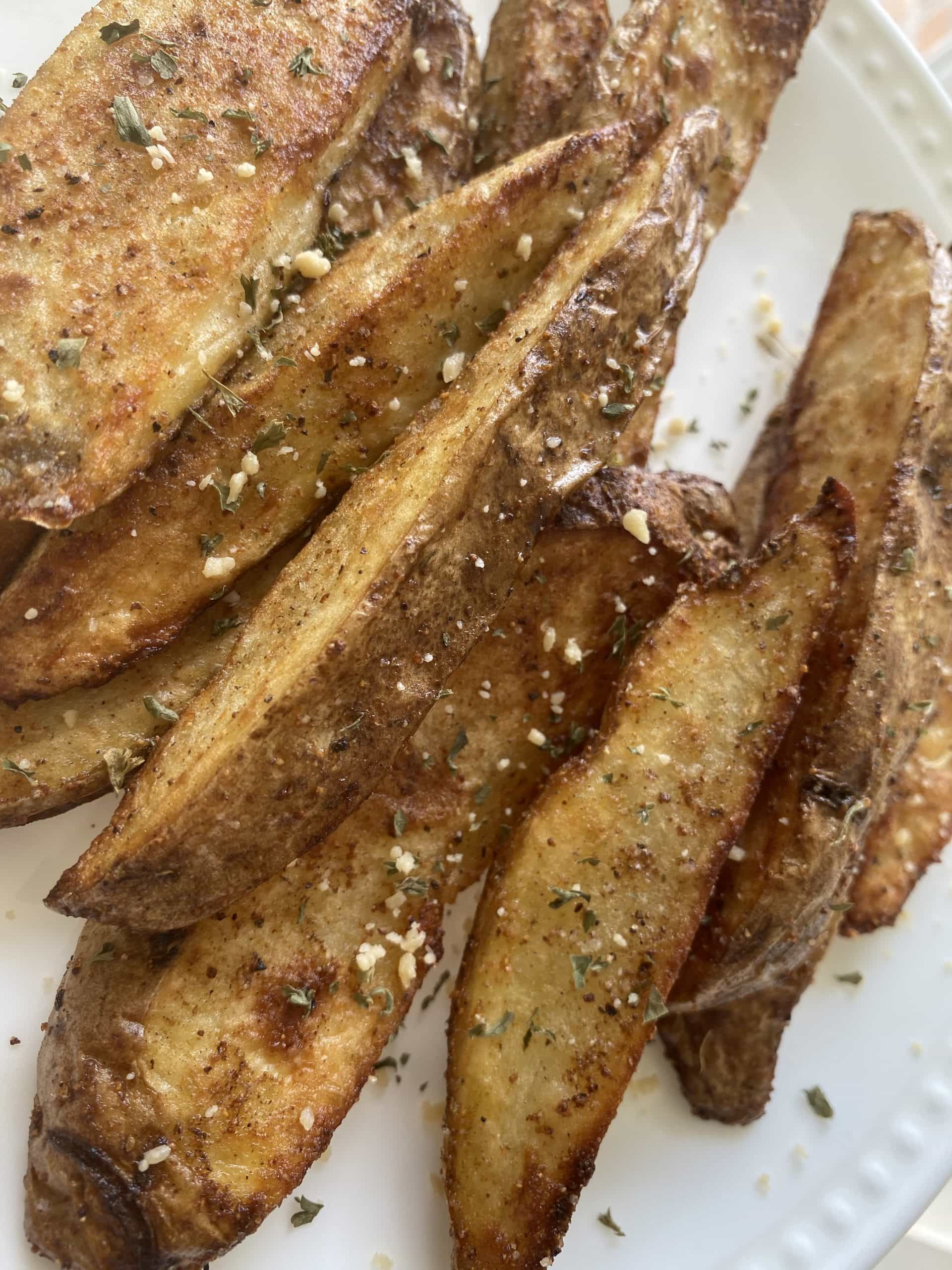 Then you cut the potato in half, then slice the halved potato in half (leaving you with fourths)–you can then cut the fourths in half leaving you with 8 evenly sliced wedges. I recommend using a sharp knife.
Related: Easy Air Fryer Baby Potatoes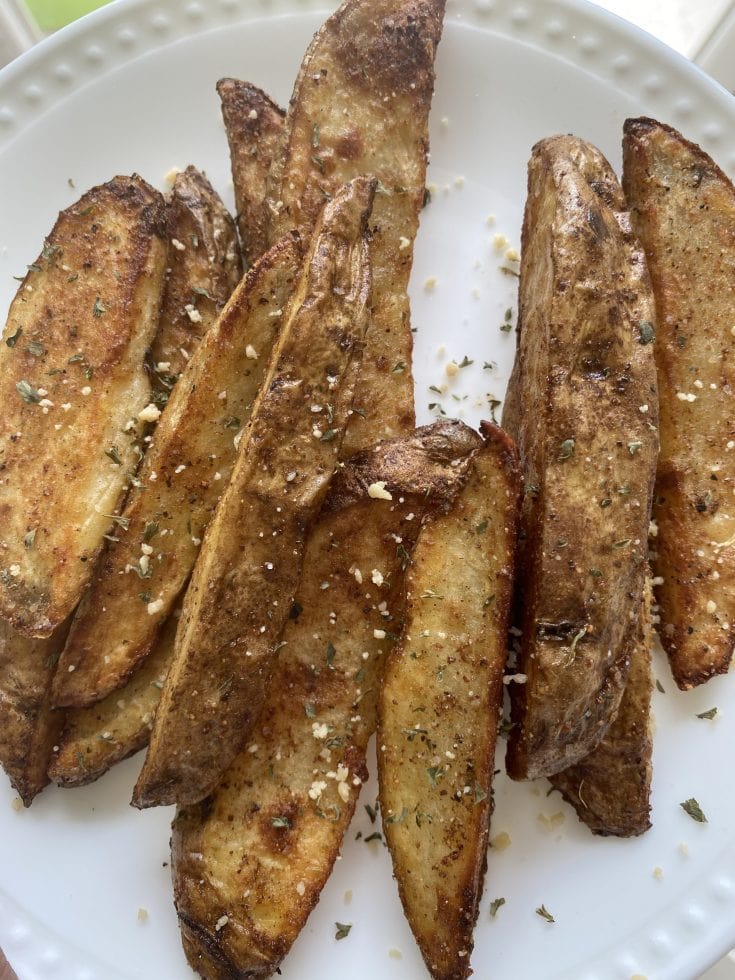 Yield: 16 potato wedges
Easy KFC Style Air Fryer Potato Wedges
Prep Time: 10 minutes

Cook Time: 15 minutes

Additional Time: 30 minutes

Total Time: 55 minutes

These KFC Style Air fryer Potato wedges are super easy to make and the family will love them!
Ingredients
2 medium Russet potatoes, cut into wedges
1 1/2 Tbsp olive oil
1/2 tsp paprika
1/4 tsp garlic powder
1/8 tsp cayenne pepper, (optional)
1 tsp sea salt
1/4 tsp ground black pepper
Instructions
Place raw potato wedges in a bowl and add cold water and 2 cups of ice cubes. Let them soak for at least 30 min then drain them and pat them dry with paper towels.
Preheat Air Fryer for 4 minutes at 400F.
In a large bowl or ziplock bag combine olive oil, paprika, garlic powder, cayenne pepper, salt, and black pepper. Add the potato wedges and toss to coat the potatoes with the seasoning.
Place wedges in the basket of the air fryer and cook for 15 minutes at 400F. Shaking the basket every 5 minutes. Depending on big your Air Fryer is you might have to fry them in batches.
In a bowl combine grated Parmesan cheese and parsley if using. Transfer cooked wedges to the bowl and toss until coated with the topping. Serve with ketchup or sour cream.
Nutrition Information
Yield
4
Serving Size
1
Amount Per Serving Calories 131Total Fat 5gSaturated Fat 1gTrans Fat 0gUnsaturated Fat 4gCholesterol 0mgSodium 594mgCarbohydrates 19gFiber 2gSugar 1gProtein 2g
Hi! I'm Nellie. I am a busy mama of three, wife to my high school sweetheart who loves to cook, workout and stay organized! I love to share helpful printables, the best recipes and fitness tips for the modern mom. I strongly believe that every mom can feed their family well, take proper care of themselves and have fun along the way! Read my story.
Get comfortable and be sure to come hang out with me on social. Don't grab your free fitness journal before you go!