These easy and healthy air fryer Mozzarella Sticks require no oil and are so easy to make. Simple ingredients and a great taste!
Today I've got a super amazing and simple recipe perfect for the big game, appetizers for the family or just a general snack! Who doesn't love yummy Mozzarella sticks?!
Check out this amazing and healthy air fryer mozzarella sticks recipe that is not only tasty but sure to please!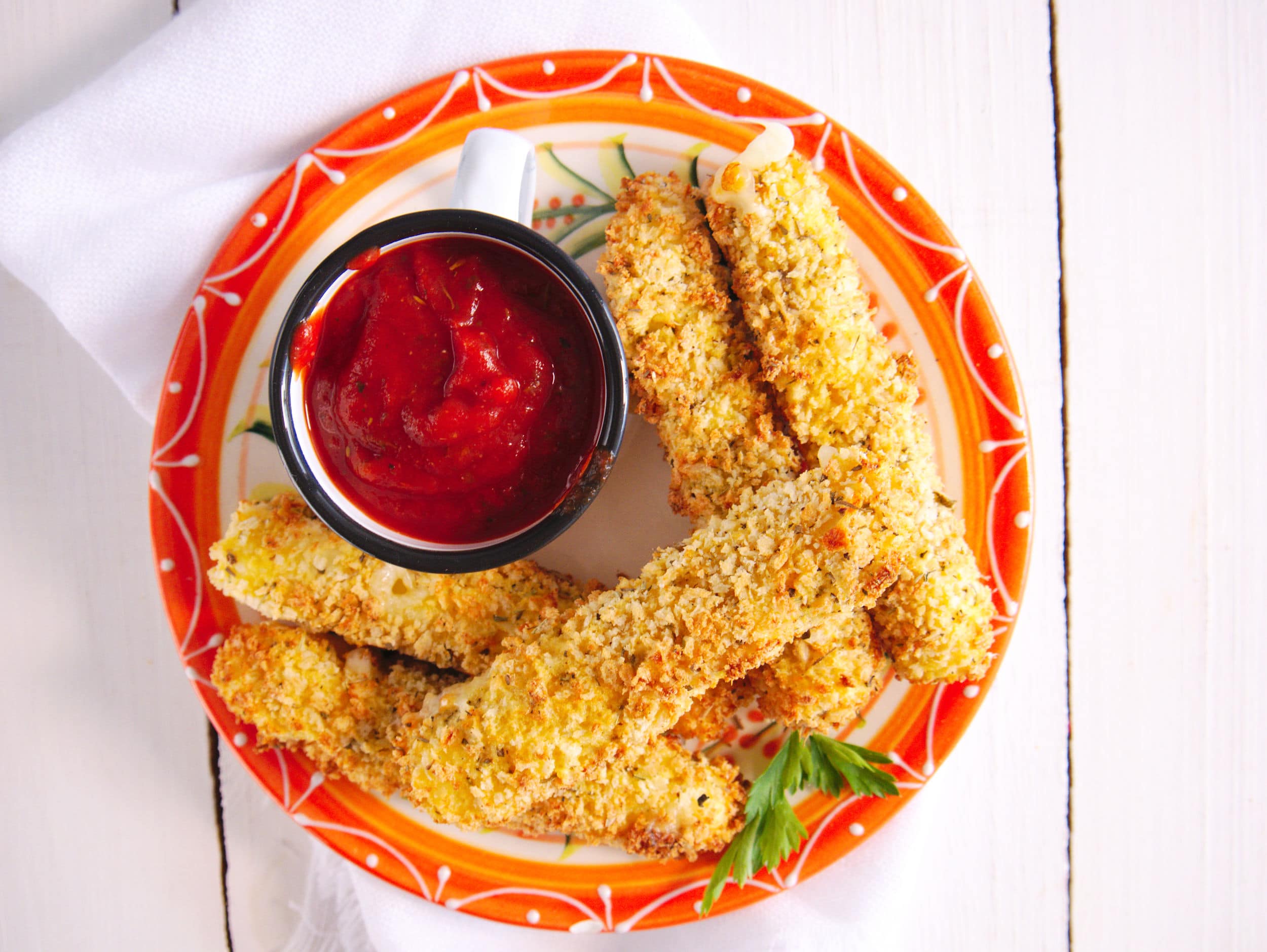 What are Air Fryer Mozzarella Sticks?
These homemade mozzarella sticks are made easily with panko breadcrumbs, italian seasoning, egg mixture from a beaten egg placing them in a single layer in the air fryer basket. These mozzarella cheese sticks are way better than the frozen mozzarella sticks!
These amazing air fryer cheese sticks are great for game day. The cook until they are golden brown and look like they came from deep frying. Served with homemade marinara sauce these fried mozzarella sticks are a delicious snack!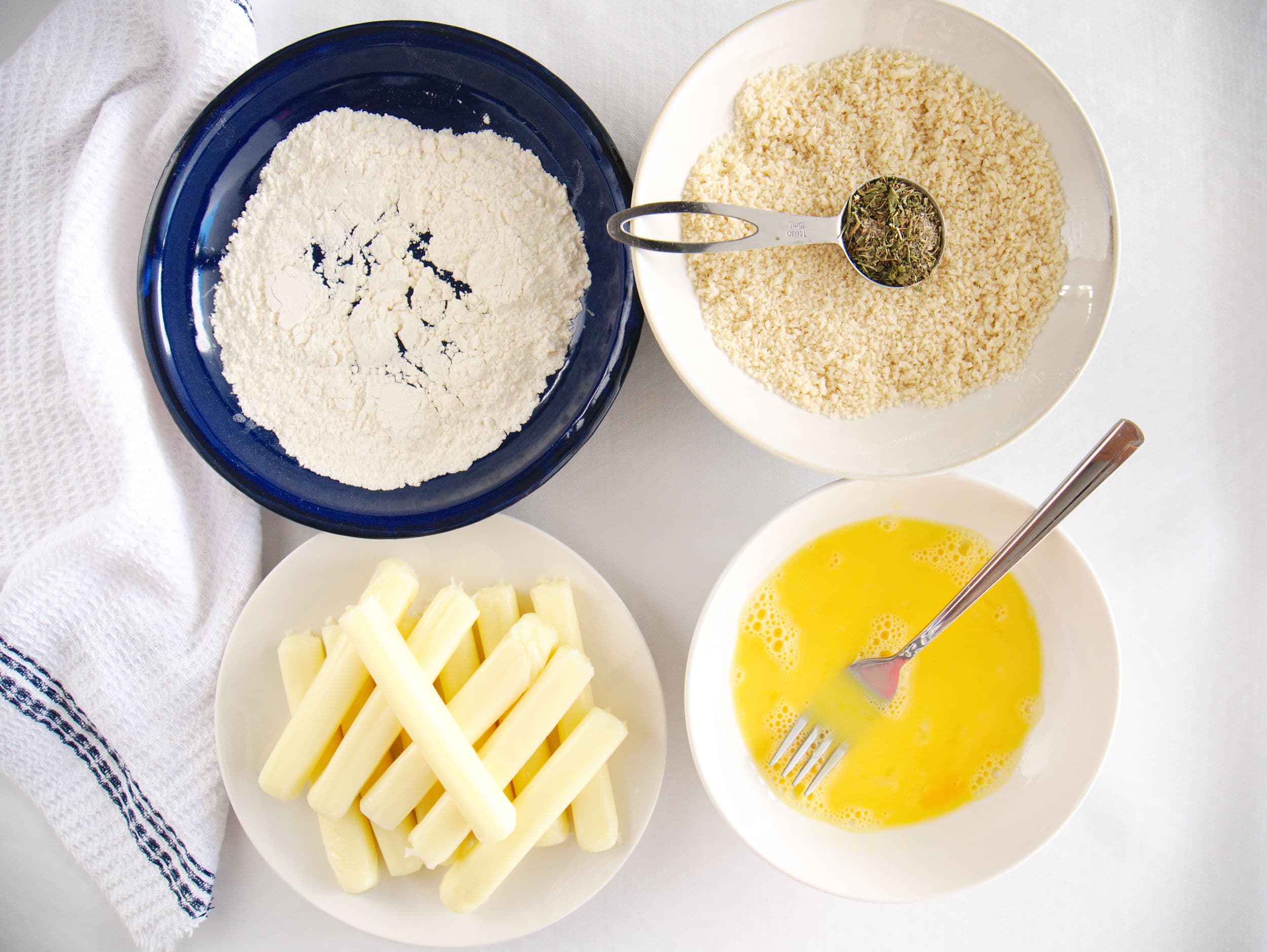 I made these amazing Air Fryer Roasted Vegetables to go with them!
These traditional mozzarella sticks are tossed in a yummy breadcrumb mixture with panko crumbs and put on the air fryer rack. These breaded mozzarella sticks are so great and amazing for anytime. It's a fun recipe to serve with warm marinara sauce or your favorite dipping sauce. Fantastic for game day eats.
What ingredients do you need for these gooey air fryer mozzarella sticks?
12- 1oz mozzarella cheese sticks
1⁄4 cup all purpose flour
1.5 to 1.75 cups of panko breadcrumbs
1.5 Tablespoons Italian seasoning mix
large pinch of salt (if your Italian seasoning is salted you may or may not want to add more salt)
large pinch of ground black pepper
2 large, lightly beaten eggs
cooking oil spray
You won't need any garlic powder, onion powder, whole wheat flour, parmesan cheese, garlic salt or chili powder for this recipe. These mozzarella string cheese sticks are so good, for the best results make sure they are frozen before dipping and breading.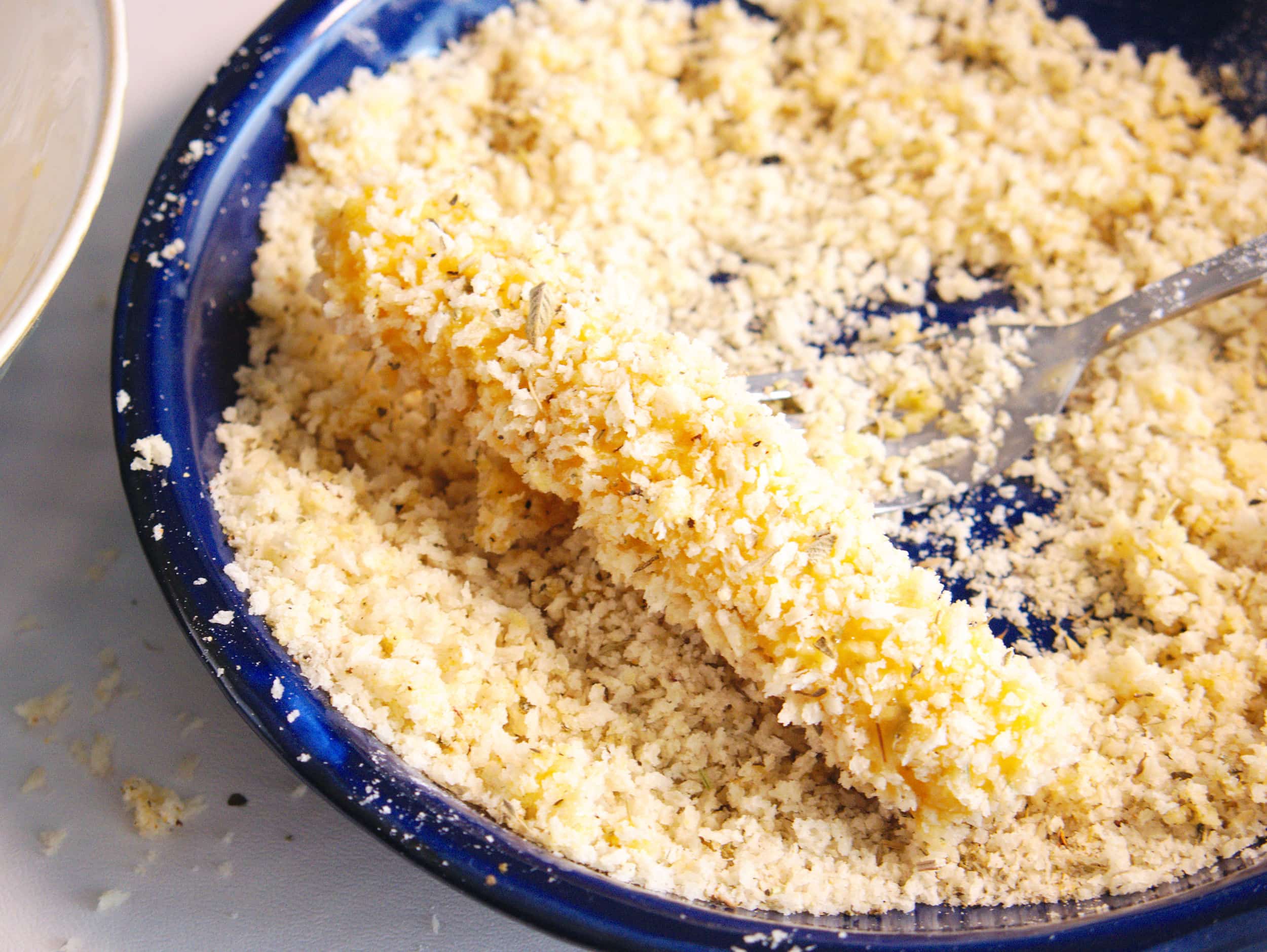 Which Air Fryer To Use For Air Fryer Mozzarella Sticks?
Then I went and bought myself a Ninja Foodi right before Christmas. I LOVED that it was a Pressure Cooker/Instant Pot, Searing, Air Fryer and more.
I started by making a simple mac and cheese, then I heated some french fries, a million meals later and here I am!
It's one of those easy recipes that result in a crunchy exterior and gooey cheese on the inside. You can use a little olive oil spray or a little oil on the aluminum foil to avoid sticking when the cheese melts.
Crunchy Air Fryer Mozzarella Sticks
If you are looking for a perfectly crispy mozzarella stick with melty cheese grab your favorite marinara sauce, main ingredients and check out the recipe card!
There are many different ways to make a homemade version of mozzarella sticks, but this one is one of those classic recipes that combine breadcrumbs to coat cheese sticks and put it on a prepared baking sheet.
The next time you are looking for a easy snack it's a good idea to make these awesome snacks with your favorite sauce.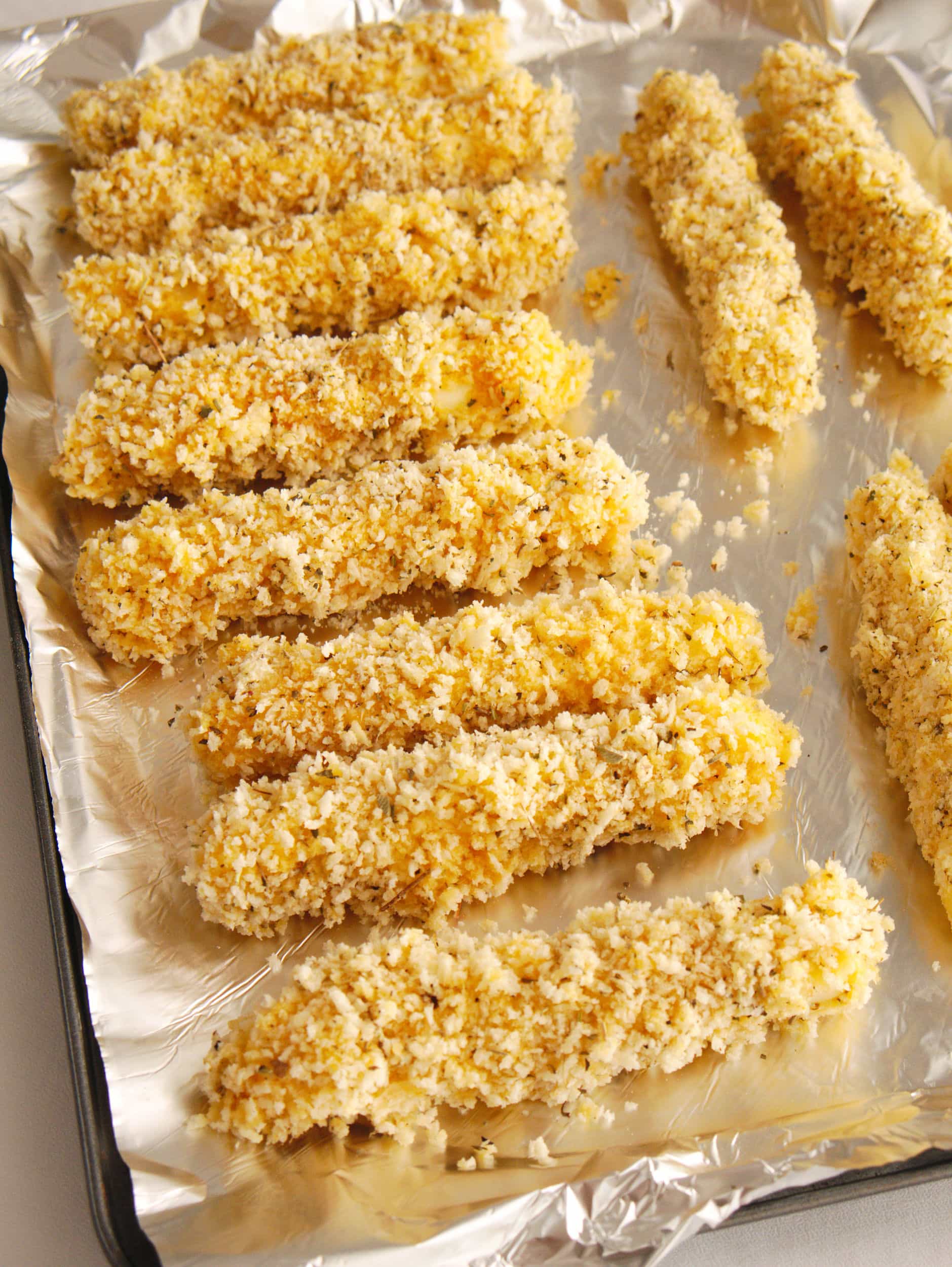 What is the best tip for using air fryers?
One thing I learned really quickly is ALWAYS preheat your air fryer. It takes no time. Set it on 400 degrees, then let it heat with nothing in it for 4 minutes.
I skipped this step when I first got my air fryer but it makes a big difference when it comes to exact cook times.
Why make Mozzarella Sticks In The Air Fryer?
WHY NOT? But really, the air fryer just gives that restaurant quality deep fry crisp without all of the pesky unhealthiness. Plus it helps when you know exactly what ingredients are in your dish!
Let's be honest, sometimes food from restaurants are deep fried with lots of other food–these are just as good!
Plus the air fryer is set it and forget it, you don't have to watch the magic happen! You don't have to be stuck in the kitchen while everyone else is watching the game OR playing one. 🙂
Plan ahead for parties with these easy snacks
This recipe requires that you freeze the sticks for 3 hours, so make sure you plan ahead for snacks! You can put them in after breakfast to make for lunch or a snack later on.
Can you cook mozzarella sticks other ways than frying it?
Yes, mozzarella sticks can be baked. Preheat oven to 375 degrees F (190 degrees C). Line a baking sheet with parchment paper. Lightly coat mozzarella sticks with olive oil. Place on prepared baking sheet and bake for 10 minutes, or until golden brown. Serve with marinara sauce.
What foods go well with mozzarella sticks for dinner?
Some great side dishes to serve with mozzarella sticks include a simple salad, garlic bread, and roasted vegetables.
What is the best sauce to use for mozzarella sticks?
Marinara sauce is the classic dipping sauce for mozzarella sticks, but you could also try a ranch dressing, BBQ sauce, or even a sweet chili sauce.
What's the difference between cheese curds and mozzarella sticks?
Cheese curds are fresh, unaged pieces of cheese, while mozzarella sticks are usually made with aged mozzarella cheese. Both are delicious, but cheese curds have a more mild flavor and a softer texture, while mozzarella sticks are typically more flavorful and have a more firm texture.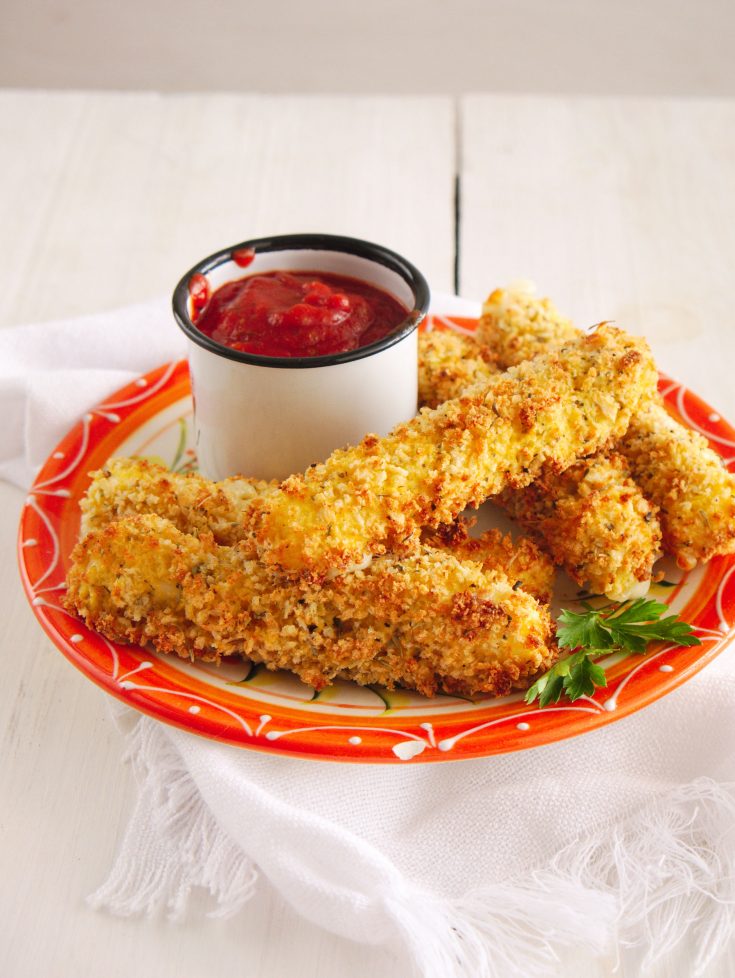 Yield:

12 Sticks
Healthy Air Fryer Mozzarella Sticks
Prep Time:
3 hours
20 minutes
Total Time:
3 hours
28 minutes
One of America's favorite snacks just became healthier with the air fryer. This recipe is so easy and full of delicious flavor. Makes a great snack, or appetizer for your party needs.
Ingredients
12- 1oz mozzarella cheese sticks
1⁄4 cup all purpose flour
1.5 to 1.75 cups of panko breadcrumbs
1.5 Tablespoons Italian seasoning mix
large pinch of salt (if your Italian seasoning is salted you may or may not want to add more salt)
large pinch of ground black pepper
2 large, lightly beaten eggs
cooking oil spray
Instructions
Freeze the mozzarella cheese sticks, either still in their
individual package or on a cookie sheet.
Freeze until fully firm (about 3 hours) or you can also do it overnight to have ready to use the next day.
Right before you take out the cheese sticks pour the flour, the panko crumbs and eggs into their own small shallow bowl, so you'll have 3 separate bowls.
Mix in the Italian seasoning, pinch of salt and pepper into the breadcrumbs until well combined.
Line a baking sheet with aluminum foil and spray with
cooking oil spray, set aside.
Roll each frozen mozzarella stick in the flour making sure to thoroughly coat it on all sides.
Then dip into the lightly beaten eggs, again making sure
it's completely coated.
Next dredge in the seasoned breadcrumbs and making sure
to fully coat the entire cheese stick. Lay on baking sheet and continue until all of the cheese sticks have been breaded.
Place in the freezer for 10 minutes, do not discard breading ingredients. After freezing for 10 minutes, make sure your air fryer is ready to go and that the basket is on the counter.
Dip the cheese stick into the remaining beaten eggs, then into the breadcrumbs and then lay inside the air fryer basket. (It's not necessary to spray the
battered cheese stick again with the oil spray, but you can if you'd like.)
Continue until you have enough stick to fit comfortably in the basket but without overcrowding.
Set air fryer to 390F and 5 minutes. Cook the sticks for
these 5 minutes then carefully flip over and cook an additional 2 to 3 minutes until golden. Remove from air fryer and place on a serving dish.
Continue air frying the remaining mozzarella sticks until all have been fried. Serve with your favorite marinara sauce or any other dipping sauce of choice.
Enjoy!
Nutrition Information
Yield
12
Serving Size
1
Amount Per Serving
Calories

211
Total Fat

10g
Saturated Fat

4g
Trans Fat

0g
Unsaturated Fat

4g
Cholesterol

53mg
Sodium

374mg
Carbohydrates

20g
Fiber

1g
Sugar

2g
Protein

11g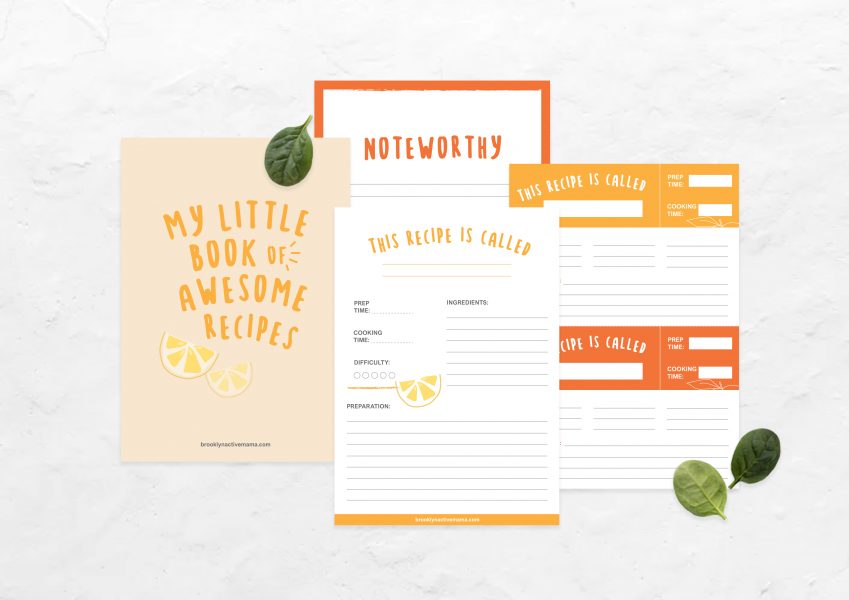 Before you go, grab Your Free Printable Recipe Kit!
Write down your favorite recipes and create your own personal cookbook of your favorite food creations!
Enjoy! Don't forget to grab your free 9 Page Meal Planner and Check out more healthy appetizer/snack recipes!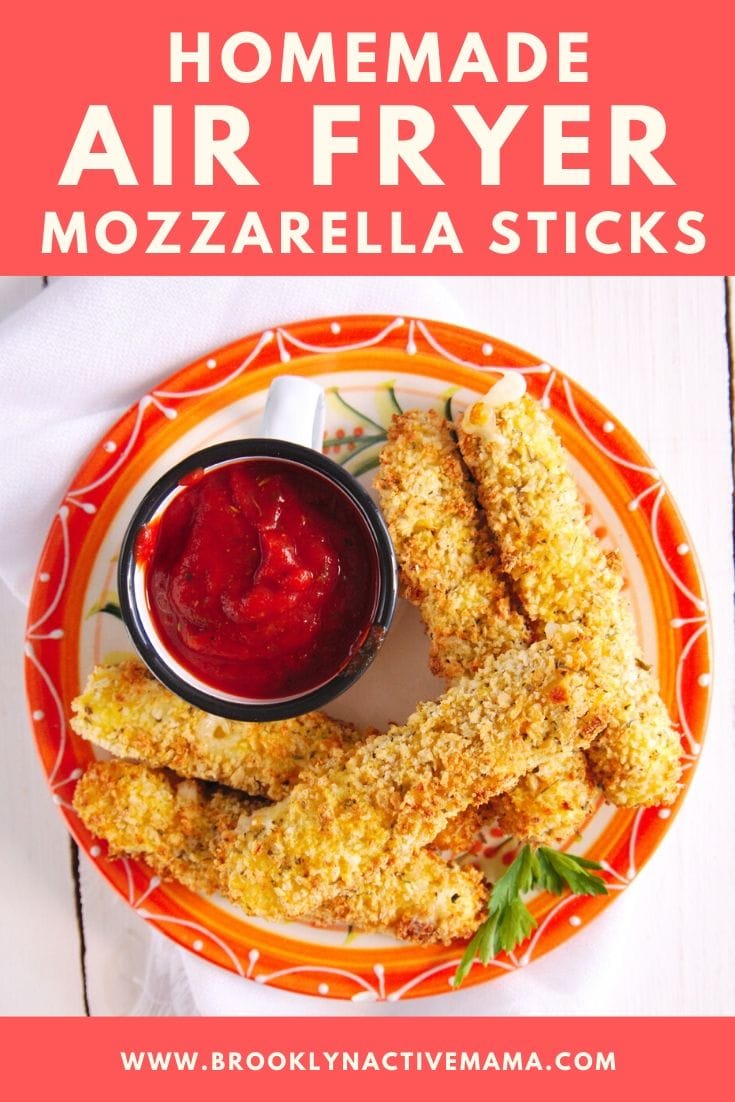 If you liked these Mozzarella Sticks be sure to check these amazing Air Fryer Recipes!
Air Fryer Veggie Stuffed Zucchini Boats
Amazing Air Fryer Salsa Recipe
Easy and Delicious Air Fryer Pork Tenderloin
Easy and Delicious Air Fryer Potato Skins
What is your favorite thing to cook in your air fryer?
Hi! I'm Nellie. I am a busy mama of three, wife to my high school sweetheart who loves to cook, workout and stay organized! I love to share helpful printables, the best recipes and fitness tips for the modern mom. I strongly believe that every mom can feed their family well, take proper care of themselves and have fun along the way! Read my story.
Get comfortable and be sure to come hang out with me on social. Don't grab your free fitness journal before you go!