Air Fryer Blueberry Bagels
These Air Fryer Blueberry Bagels are so easy to make! With a few ingredients, you can easily make bagels right at home!
Bagels have long been a beloved breakfast food and for good reason. The perfect combination of chewy texture and savory flavor make them a comforting breakfast staple. But have you ever tried a blueberry bagel?
The addition of sweet, juicy blueberries adds a delicious twist to this classic breakfast food. Whether toasted with cream cheese, topped with fruit jam, or simply enjoyed on its own, a blueberry bagel is a delightful way to start your day. This recipe for homemade blueberry bagels are even made in the air fryer.
Why You'll Love Air Fryer Blueberry Bagels
Healthier than traditional bagels: Air fryer blueberry bagels are healthier than traditional deep-fried bagels. They are crispy and delicious on the outside and soft on the inside, without the added oil and calories.
Easy to make: Making air fryer blueberry bagels is easy and quick. Simply brush them with egg wash, sprinkle with sugar or cinnamon, and place in the air fryer for a few minutes. In no time, you'll have perfectly crispy and sweet bagels.
Versatile: Not only are air fryer blueberry bagels delicious for breakfast, but they also make a great snack or dessert. Top them with cream cheese, honey, or your favorite jam for a sweet treat any time of day. You can also experiment with different toppings and flavors, such as chocolate chips or nuts.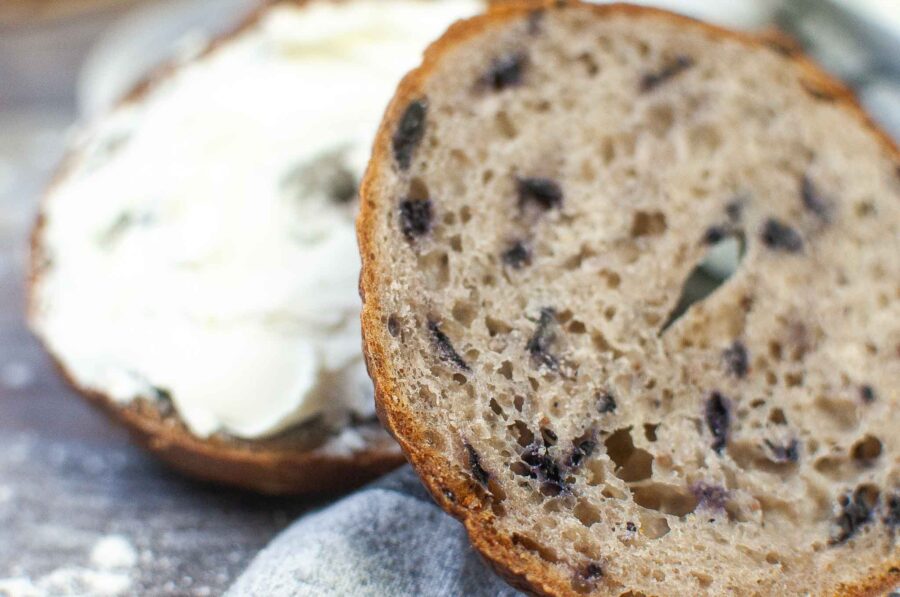 Delicious Blueberry Bagels Ingredients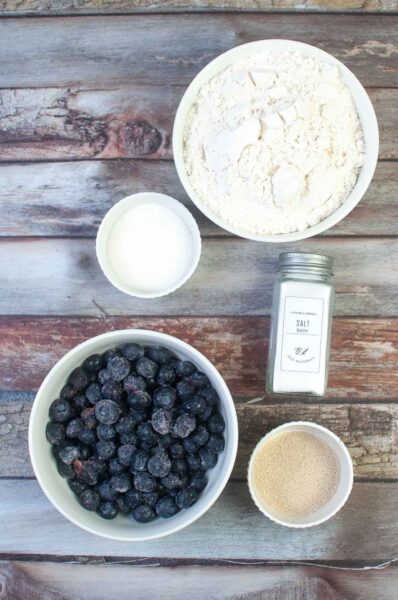 Warm water – This is the main liquid used for forming the dough. The warm water helps activate the yeast and helps the dough rise.
Active dry yeast – This is the leavening agent that causes the dough to rise by converting the sugar in the dough into carbon dioxide gas. It's important to use the correct amount to ensure the dough rises correctly. This helps make the best dough ball ever!
Sugar – The sugar is used to feed the yeast and give the bagels a slightly sweet taste. It's divided into two portions, with one portion used to activate the yeast and the other portion added to the dough.
All-purpose flour – The flour is the main dry ingredient for making the dough. It's divided into two portions, with one portion added to the yeast mixture and the other portion added later in the recipe.
Salt – Salt is important for adding flavor and regulating the yeast's activity during the fermentation process.
Blueberries – The blueberries are added to the dough to give the bagels a burst of sweet, juicy flavor. Frozen blueberries are used to prevent them from bursting during the mixing process. The blueberries help give the bagels that sweet blueberry flavor! Consider even using dried blueberries.
Feel free to use a dough hook attachment to help you make this dough. The bowl of your stand mixer is also a really good tool!
FAQs
Can I use fresh real blueberries?
Yes! You don't HAVE to use frozen blueberries! You can use fresh blueberries if that's what you'd rather do!
Can you freeze homemade bagels?
Yes, you can freeze these bagels and then reheat them in a toaster until they are golden brown.
Should I try a different flavor for my bagel?
While you may love the tasty hint of blueberries in this recipe, you can also make a good bagel out of other ingredients. While I enjoy a plain bagel, it's nice to add other ingredients from time to time. If you enjoy breakfast breads, then you'll love this recipe.
What are some other fun air fryer recipes to try?
If you like homemade bread, but want to eat something like chewy bagels, then you will love making this bagel dough. Making fresh bagels with this bagel recipe is such a good idea.
And if you've never made your own bagels before, then give this easy breakfast idea a try! If you have any extra bagels, feel free to freeze them!
If you are looking for a full list of fun and delicious sweet breakfast recipes be sure to check out this list –> The Best Sweet Breakfast Recipes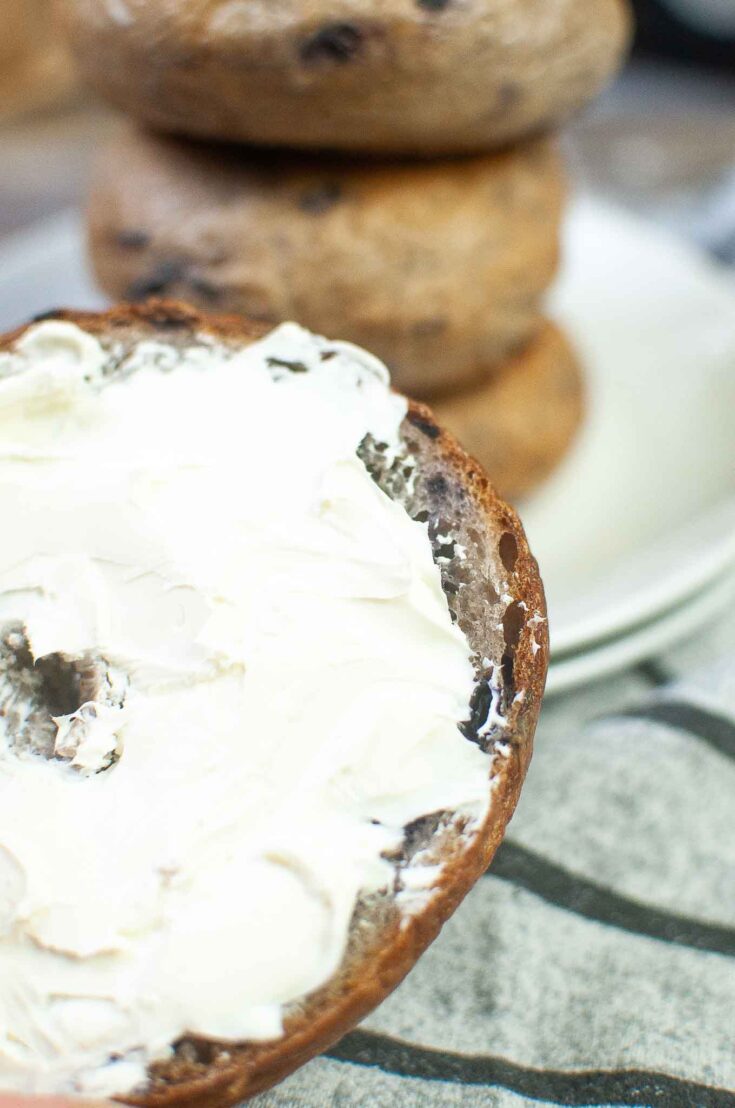 Delicious Air Fryer Blueberry Bagels
Additional Time:
1 hour
25 minutes
Total Time:
1 hour
55 minutes
These blueberry bagels are so good and easy to make in your air fryer!
Ingredients
12 cups warm water, divided
4 1/2 teaspoons active dry yeast
4 tablespoons sugar, divided
5 to 5 1/2 cups all-purpose flour divided
2 teaspoons salt
2 cups blueberries, frozen
Instructions
In a mixing bowl, add 2 cups of warm water, yeast, and 3 tablespoons of sugar. Give it a gentle stir then let sit for 5 minutes until foam and bubbles form.
Add 4 1/2 cups of flour and salt to another bowl and gradually stir into the water mixture. Continue to stir and mix until a soft dough forms. Fold in the blueberries.
Add 1/2 cup of flour to a hard surface and kneed the dough gently into it forms up and is elastic.
Light oil in a bowl and add the firm dough. Cover and place in a warm spot for an hour. The dough will double in size.
Add the dough to a lightly dusted hard surface. Divide into 8 smaller pieces and roll into a smooth ball. Using your thumb, punch and smooth a hole into the center of the dough ball.
Place the dough rings on a baking sheet and cover for 25 minutes.
In a large saucepan, bring 8-10 cups of water to a bowl with 1 tablespoon of sugar.
Once the dough is finished proofing, and the water is boiling, dunk each bagel into the bath for a few minutes. Immediately place the boiled bagels in the air fryer basket on parchment. Boil only what you can immediately cook.
Cook at 350°f for 10 minutes, flipping at 6 minutes. Bagels will be fully cooked and ready to eat after cooling.
Nutrition Information
Yield
24
Serving Size
1
Amount Per Serving
Calories

538
Total Fat

2g
Saturated Fat

0g
Trans Fat

0g
Unsaturated Fat

1g
Cholesterol

0mg
Sodium

184mg
Carbohydrates

113g
Fiber

4g
Sugar

4g
Protein

15g
Pin it for later!
If you enjoyed this recipe be sure to check out my Instagram Page for the latest posts!
Before you go, check out these great posts!
Red White and Blueberry Salad With Homemade Blueberry Vinaigrette
Homemade Blueberry Lemon Sorbet
Easy Homemade Glazed Blueberry Donuts
Hi! I'm Nellie. I am a busy mama of three, wife to my high school sweetheart who loves to cook, workout and stay organized! I love to share helpful printables, the best recipes and fitness tips for the modern mom. I strongly believe that every mom can feed their family well, take proper care of themselves and have fun along the way! Read my story.
Get comfortable and be sure to come hang out with me on social. Don't grab your free fitness journal before you go!