This air fryer chicken and waffles recipe is so good and will become one of your brunch favorites! Featuring crispy chicken made in the air fryer, this is an amazing recipe.
Chicken and Waffles is such a classic dish, it's just good comfort food. It's super popular and definitely a crowd favorite. This recipe calls for chicken breasts to be seasoned perfectly in a flour mixture then air fried until they are golden brown.
Then grab your waffle iron to make some delicious crispy waffles. The chicken and waffle combination is so good! Add a little syrup and yum! This classic dish is elevated to a new level of deliciousness by using the magic of air frying. Picture perfectly seasoned and juicy chicken, encased in a crunchy coating, served alongside fluffy, golden waffles. Get ready for a mouthwatering symphony of flavors and textures that will leave you craving more!
What ingredients do you need for this crispy fried chicken and waffles recipe?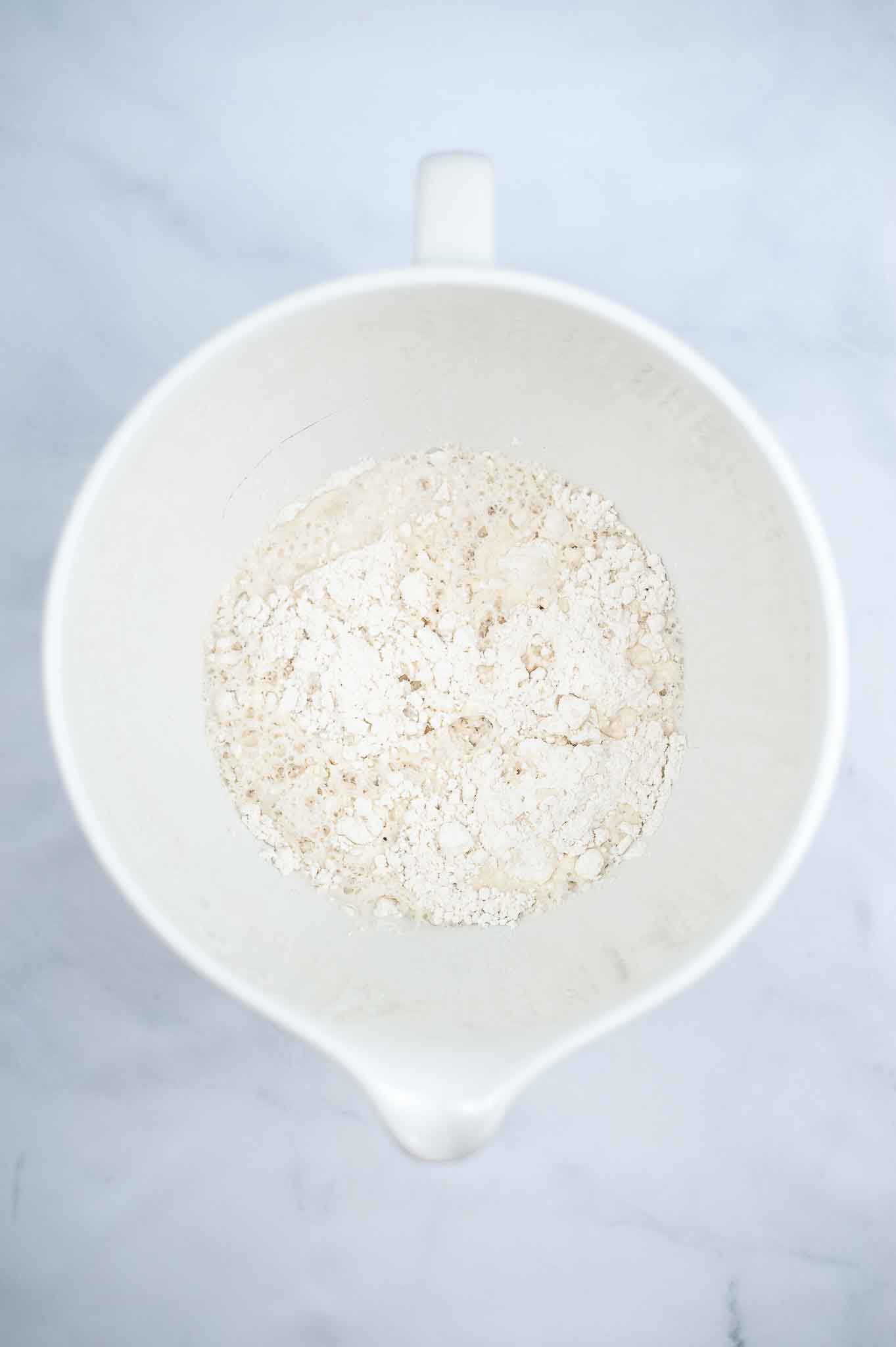 Ingredients:
Chicken fillets:
2 boneless chicken breasts
1/2 cup of cornstarch
1/2 cup of all purpose flour
2 tablespoons of nature's seasoning
2 large eggs
Waffles:
2 1/2 cups of pancake mix
1 1/2 cups of water.
A lot of the traditional chicken and waffles recipes call for egg whites , garlic powder, onion powder, cayenne pepper or even hot oil or paper towels. Some use chicken thighs or chicken wings but we will be using chicken breasts. The best chicken to use is up to you but the process remains the same.
FAQs About Air Fried Chicken and Waffles:
Q: Can I use frozen chicken for this recipe?
A: While fresh chicken is recommended for the best results, you can use thawed, boneless, skinless chicken breasts or tenders. Adjust the cooking time accordingly.
Q: Do I need to marinate the chicken?
A: Marinating the chicken is optional but highly recommended as it adds extra flavor. You can marinate the chicken in buttermilk or your favorite seasoning blend for at least 1 hour or overnight.
Q: Can I make the waffle batter ahead of time?
A: Absolutely! You can prepare the waffle batter the night before and refrigerate it. Just give it a good stir before using it.
The nature's seasoning is great and it has a great blend, so no extra black pepper, kosher salt are needed to add to the dry ingredients. Instead of placing the chicken in vegetable oil, you will instead place chicken in the air fryer so they can get crispy. The best part is that the clean up is definitely less.
Tips and Tricks:
Preheating the air fryer: Preheat your air fryer for a few minutes before cooking to ensure even heat distribution and a crispy coating on the chicken.

Coating the chicken: Dip the chicken into the flour mixture, then into beaten eggs, and finally into the breadcrumbs. Press the breadcrumbs onto the chicken to create a nice, thick coating.

Waffle perfection: For fluffy waffles, avoid overmixing the batter. It's okay if there are a few lumps remaining.
Variations:
Spicy twist: Add cayenne pepper or hot sauce to the chicken coating for a fiery kick.
Maple bacon waffles: Mix cooked and crumbled bacon into the waffle batter for a savory-sweet twist.
Herb-infused chicken: Add dried herbs like thyme, rosemary, or sage to the flour mixture for a flavorful twist.
Whether you make belgian waffles or regular waffles, there is so much flavor when you put a piece of chicken in between fluffy waffles. Add some sweet maple syrup and maybe even a little melted butter and this will absolutely be one of your favorite chicken recipes. Some might even like to serve with hot sauce on the side.
Where to Serve:
This dish is versatile and can be enjoyed for any occasion. Serve it for a weekend brunch, a casual dinner, or even at a gathering with friends and family. It's a guaranteed crowd-pleaser!
How To Store Leftovers:
If you have leftovers, store the chicken and waffles separately in airtight containers in the refrigerator. Reheat the chicken in the air fryer for a few minutes to maintain its crispiness. Reheat the waffles in a toaster or oven until warmed through.
This homemade chicken and waffles recipe is the real deal! It's a really great twist on this southern recipe. The crisp waffle, and the crispy chicken + the spice blend makes this the ultimate brunch easy chicken recipe!
Topping Options:
Classic: Drizzle warm maple syrup generously over the waffles and chicken for a traditional touch.
Spicy-sweet: Add a dollop of spicy honey or maple sriracha sauce for a deliciously balanced flavor profile.
Savory: Top with a pat of melted butter and a sprinkle of sea salt for a savory twist.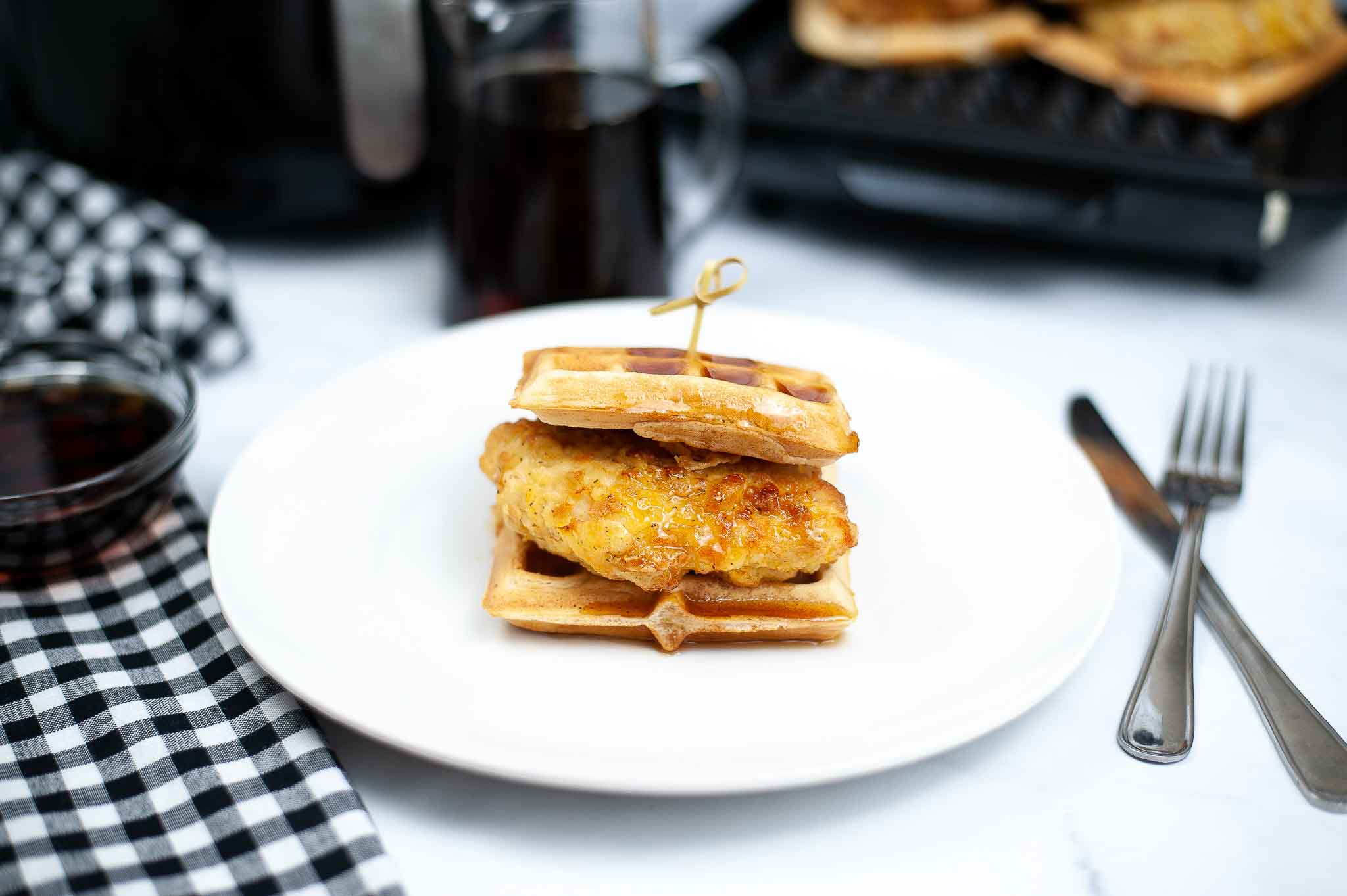 The Air Fryer makes some of the best fried chicken! You don't have to worry about putting the chicken on a wire rack, no baking sheet, you still get the crispy crust without all of the extra oil. You just transfer chicken into the air fryer and call it a day.
Why This Chicken and Waffles Recipe Works:
Air frying the chicken results in a crispy exterior with tender and juicy meat, minus the excess oil.
The combination of crispy chicken and fluffy waffles provides a delightful textural contrast.
The option to marinate the chicken adds depth of flavor and tenderness.
The recipe offers versatility with various topping options and the possibility of adding personal touches through variations.
It's a crowd-pleasing dish suitable for any occasion, making it a go-to recipe for gatherings or a cozy night in.
What are some more fun Air Fryer Chicken Recipes To Try?
Yield:

4 sandwiches
Homemade Air Fryer Chicken and Waffles Recipe
This air fryer chicken and waffles recipe is easy to whip up and perfect for brunch.
Ingredients
Ingredients:
Chicken fillets:
2 chicken breasts
1/2 cup of cornstarch
1/2 cup of flour
2 tablespoons of nature's seasoning
2 eggs
Waffles:
2 1/2 cups of pancake mix
1 1/2 cups of water.
Instructions
Pound the chicken breasts using the flat side of a cleaver or kitchen hammer. Pound breast to 1/2" thick. Cut breast into 4 fillets.
In a bowl, mix flour and cornstarch with natures seasoning. In another bowl, beat the eggs.
Coat the fillets in flour mix, then egg wash and then back into the flour mix.
Spray air fryer basket with oil and place fillets in basket. Spray fillets with oil.
Cook fillets on 380°f for 12-15 minutes.

Make sure chicken internal temp reaches 165°f. Flip fillets and cook for 3-5 to crisp breading.
Let fillets rest and cook.
Mix water and pancake mix to create waffle batter. Using waffle iron, pour batter and cook. Make sure batter is evenly dispersed.
Assemble the fillets between two waffle squares, coat with warm syrup and enjoy.

Nutrition Information
Yield
4
Serving Size
1
Amount Per Serving
Calories

634
Total Fat

10g
Saturated Fat

3g
Trans Fat

0g
Unsaturated Fat

6g
Cholesterol

166mg
Sodium

3352mg
Carbohydrates

94g
Fiber

4g
Sugar

15g
Protein

37g
If you liked this recipe be sure to check out these too!
Healthy Cilantro Chicken Lime Tacos
The Best Classic Buttermilk Fried Chicken Recipe
Easy One Pan Honey Garlic Chicken Dinner
Hi! I'm Nellie. I am a busy mama of three, wife to my high school sweetheart who loves to cook, workout and stay organized! I love to share helpful printables, the best recipes and fitness tips for the modern mom. I strongly believe that every mom can feed their family well, take proper care of themselves and have fun along the way! Read my story.
Get comfortable and be sure to come hang out with me on social. Don't grab your free fitness journal before you go!