These pumpkin muffins are insanely easy to make and only need 2 ingredients! Enjoy this fall treat with your favorite cup of coffee or tea!
If the Fall season has you thinking all things pumpkin, you aren't alone! Did you know that in the United States alone, 1.5 billion pounds of pumpkins are used every year? That's a lot of pumpkin. Today I've got an easy fail proof 2 ingredient Air Fryer Pumpkin Muffins recipe that you will love!
As much as social media leads you to believe it, it isn't all in the coffee either. There are so many wonderful recipes using pumpkin that you could never try them all. You can certainly try though!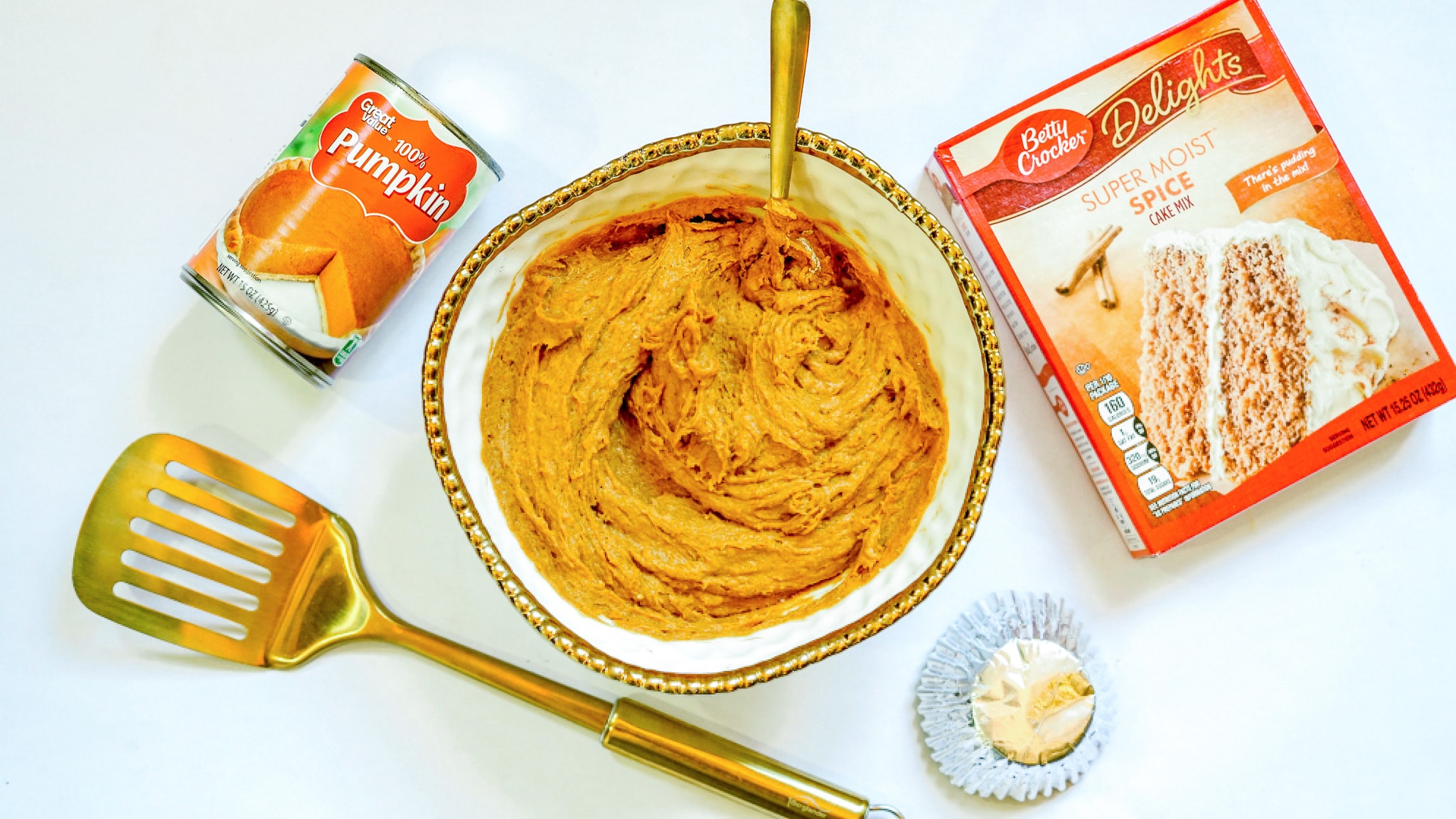 If you are ready to start trying some new pumpkin recipes, these deliciously easy Air Fryer Pumpkin Muffins should definitely be at the top of your must-make list.
They are oh so delicious, and since you make them in the Air Fryer with just 2 ingredients, they are super easy to make! These muffins have definitely made the list of fall favorites in our house.
Air Fryer Pumpkin Muffins
All you need in order to create these tasty fall treats is a can of pureed pumpkin and one box of spice cake mix. Yes, that really is all you need. It is that easy.
Truth be told, I sometimes don't even break out the mixer for this recipe, it seems like a waste of resources for how quick this recipe is to whip up.
One difference you will find while making these muffins is that the batter will be thicker than with other muffins, but that is what makes them so moist and full of flavor!
Can Air Fryer Pumpkin Muffins Be Made In Another Flavor?
These muffins can easily be switched up for variety if you aren't in the mood for the "pumpkin spice" flavor, or in case you don't have any spice cake mix on hand.
For instance, I have previously made them with chocolate and yellow cake mix and those tasted amazing as well, although the spice cake mix really adds that fall flavor that we know and love.
What Toppings Work Best for Air Fryer Pumpkin Muffins?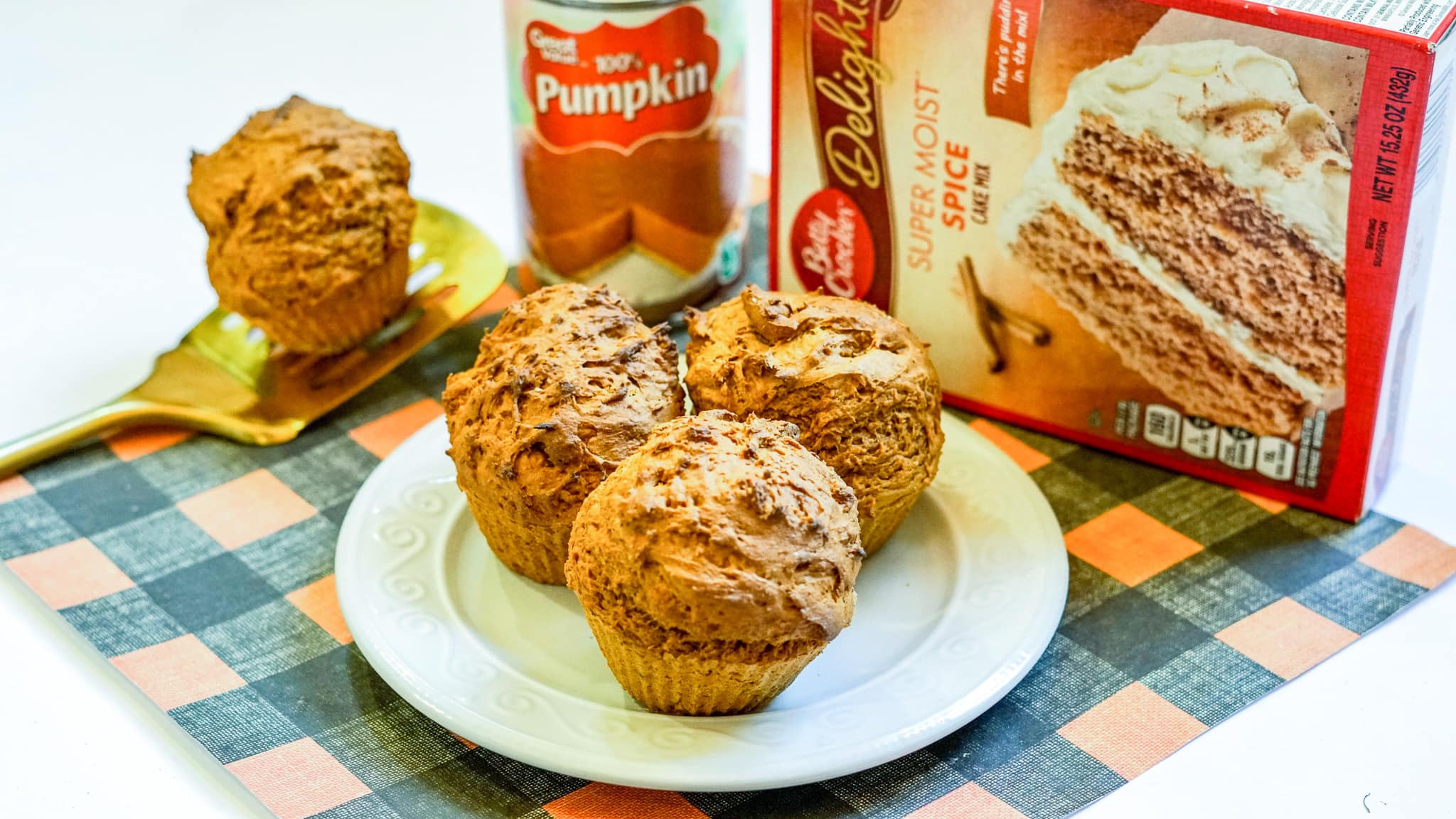 Air fryer pumpkin muffins don't actually need any toppings at all, but here are some toppings that go quite well with them:
Powdered Sugar
Cream Cheese Frosting
Vanilla Frosting
Enjoy your delicious fall treat, my friends!
Yield:

10-12 muffins
Air Fryer Pumpkin Muffins - Just 2 Ingredients!
These awesome air fryer pumpkin muffins are made with only 2 ingredients and brings all of the fall flavors you love!
Ingredients
15oz Can Pumpkin
1 Box Spice Cake Mix
Instructions
Place pumpkin & cake mix in a large mixing bowl.
Mix well.
Add mixture to cupcake/muffin liners.
Place in air fryer for 15 minutes at 370 degrees.
Serve & enjoy.
If you loved these easy air fryer pumpkin muffins be sure to try these Easy Air Fryer Pumpkin Turnovers!
Pin it for later!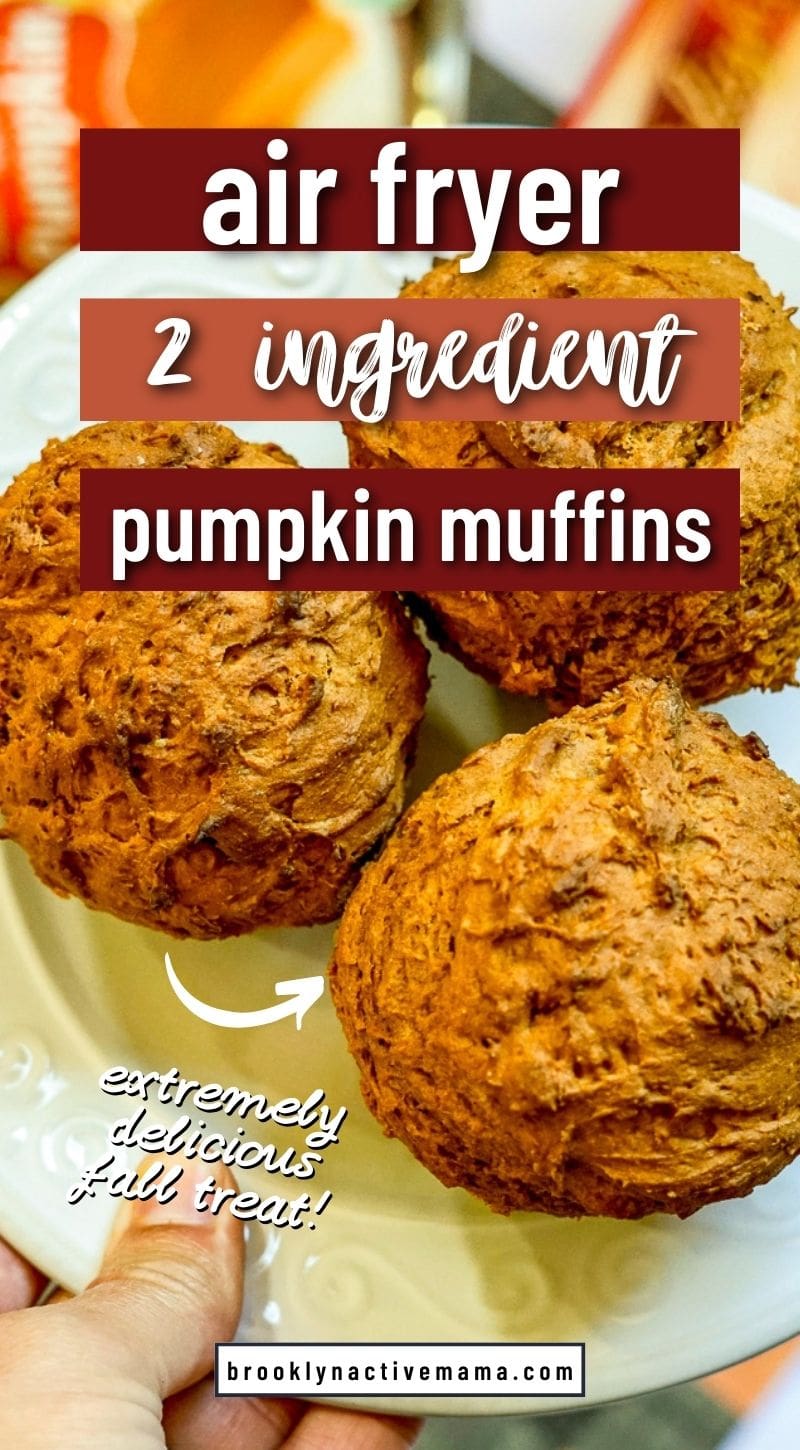 If you enjoyed this recipe be sure to check out my Instagram Page for the latest posts!
Before you go, check out these great posts!
Easy Pumpkin Monkey Bread Muffins
Easy Air Fryer Pumpkin Turnovers
Easy Homemade Pumpkin Waffles with Cinnamon Maple Syrup
Easy Instant Pot Pumpkin Apple Cider
Easy Homemade Pumpkin Spice Cold Brew Coffee Recipe
Hi! I'm Nellie. I am a busy mama of three, wife to my high school sweetheart who loves to cook, workout and stay organized! I love to share helpful printables, the best recipes and fitness tips for the modern mom. I strongly believe that every mom can feed their family well, take proper care of themselves and have fun along the way! Read my story.
Get comfortable and be sure to come hang out with me on social. Don't grab your free fitness journal before you go!