Who needs a toaster oven when you can use an air fryer? Prepare a tasty Air Fryer Turkey Melt for lunch or dinner. You'll love the way it tastes with bacon, cheese, lettuce, and tomatoes.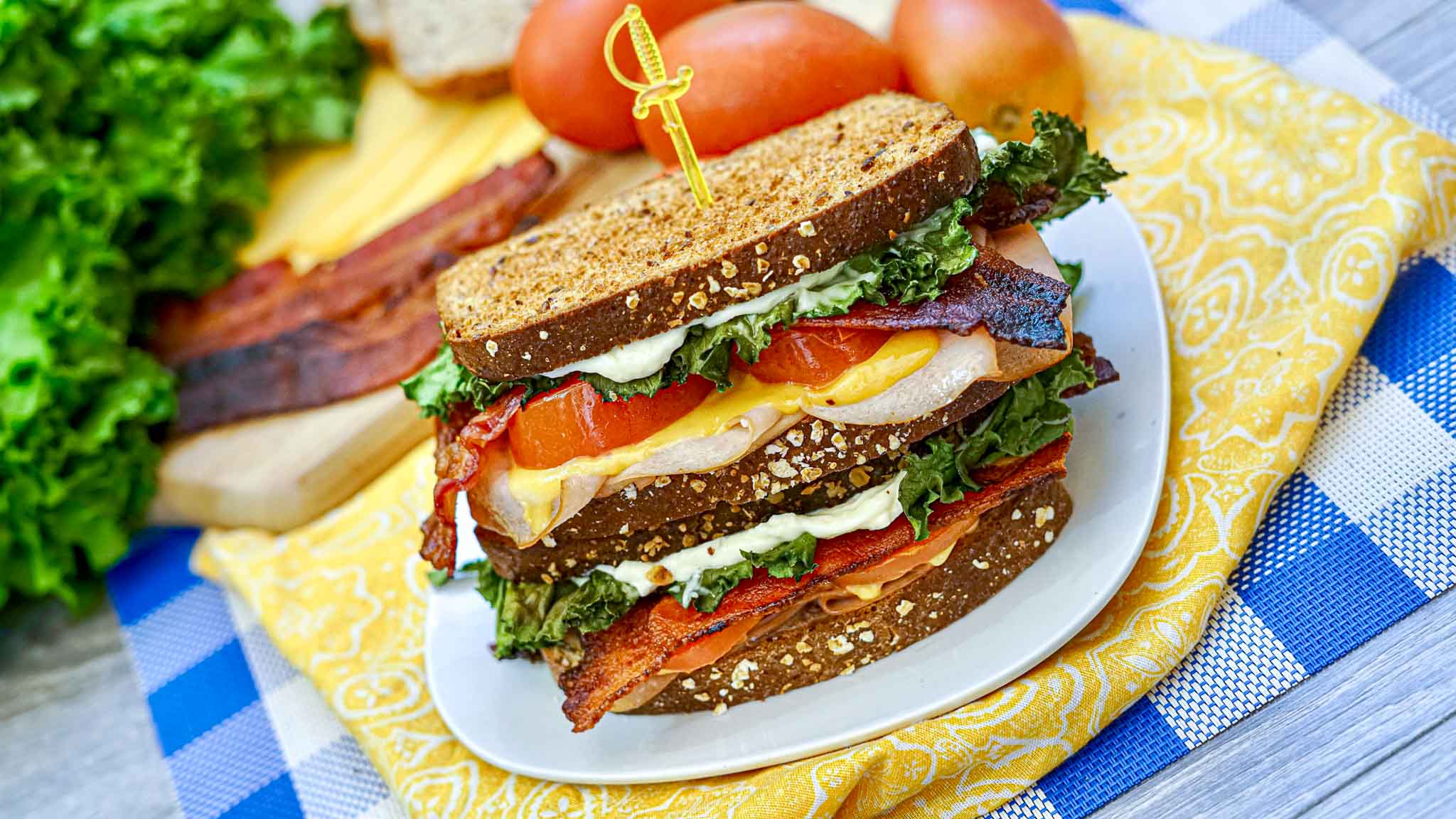 Do you often eat sandwiches for lunch? Even if you do, you're probably getting tired of eating the same things.
If you'd like to try something different yet simple enough to make, prepare this Air Fryer Turkey Club. It consists of sandwich slices, fresh turkey deli slices, crisp bacon, lettuce, tomatoes, and cheddar cheese.
Get ready to upgrade your sandwich game with our Air Fryer Turkey Melt! This delicious sandwich combines slices of leftover turkey with melty cheese and tangy tomato slices, all sandwiched between golden-brown and crispy bread. Using the air fryer is a great way to achieve that perfect crunch and ensure the melted cheese oozes with flavor. Whether you're looking for a quick lunch or a complete meal, this easy recipe is a hit every time!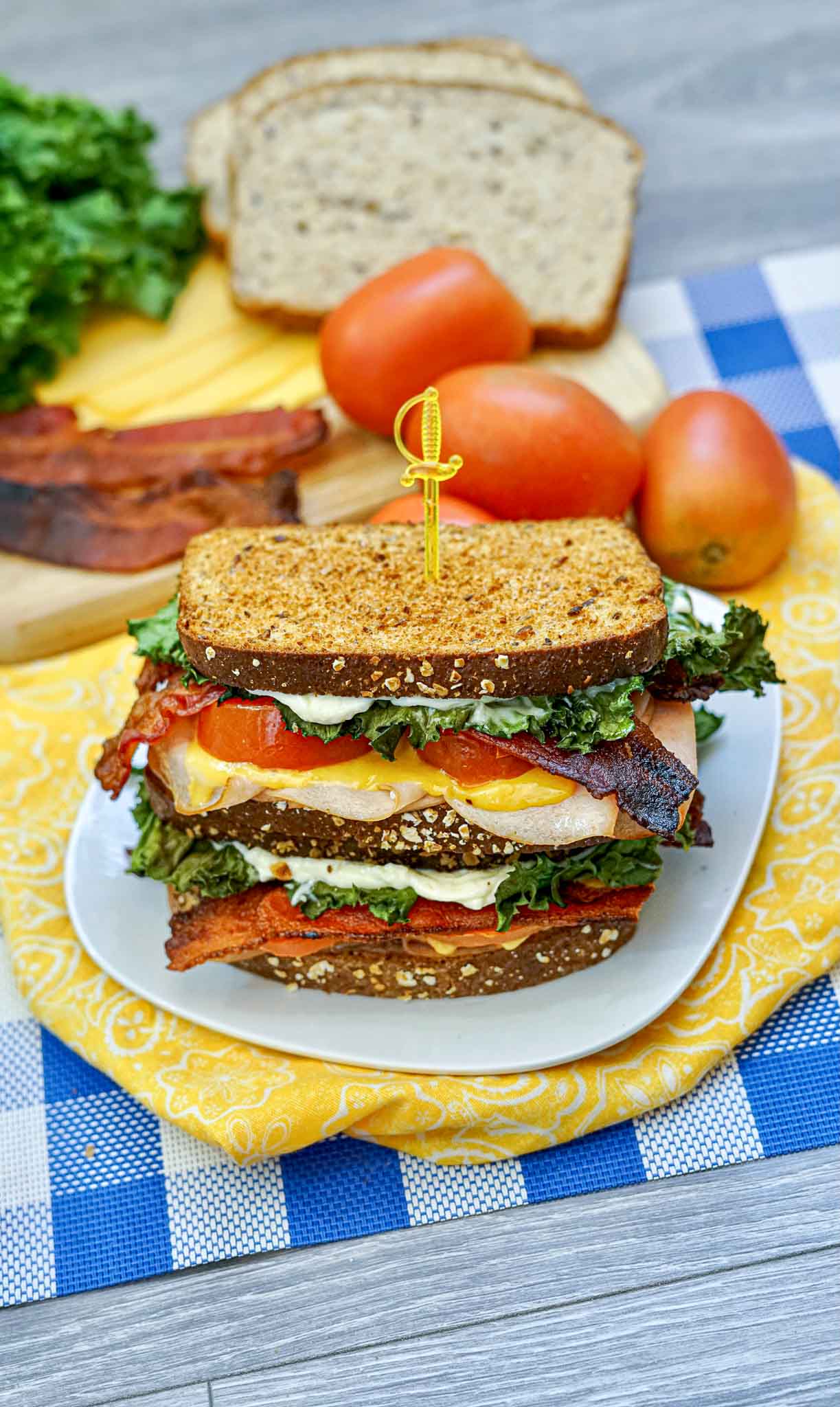 It's the kind of sandwich you'll love to have on a hot day with a glass of iced tea or water. It's a refreshing, light lunch that kids and adults can enjoy.
FAQs:
Q: Can I use different types of cheese for the Turkey Melt? A: Absolutely! You can experiment with various cheeses like American, mozzarella, sharp cheddar, or Swiss. Choose your favorite melting cheese or mix and match for a unique flavor experience.
Q: Can I use other deli meats instead of turkey? A: Yes, feel free to use your favorite deli meat like roast beef, lean turkey ham, or even chicken slices for a delightful twist on this classic sandwich.
Tips and Tricks:
Preheat the air fryer: Preheating your air fryer will help achieve the best results. Set it to 375 degrees F for a couple of minutes before placing the sandwiches in the basket.

Butter the outside of the bread: To achieve that perfect golden-brown crust, spread softened butter on the outside of the bread slices before air frying.
Variations:
Air Fryer Tuna Melt: Replace the turkey with canned tuna and use your favorite melting cheese to create a scrumptious tuna melt in the air fryer.

Veggie Melt: For a vegetarian version, skip the meat and load your sandwich with grilled vegetables like zucchini, bell peppers, and onions, along with your favorite cheese.
How Do You Make a Turkey Melt in the Air Fryer?
The air fryer is such a vital piece of equipment these days. Most people are cooking fries, chicken wings, and other tasty foods in this appliance. However, you can use it to make crisp sandwiches instead of putting your bread in the toaster oven. Start by assembling your sandwich to your liking.
Where to Serve:
Quick lunch or dinner: Whip up this Air Fryer Turkey Melt when you need an easy and satisfying meal in no time. It's a great option for busy weekdays or lazy weekends.

Game day or movie night: Treat your taste buds to this yummy grilled cheese sandwich during game day gatherings or movie nights with friends and family.
Storage:
Store any leftover Air Fryer Turkey Melts in an airtight container in the refrigerator. To reheat, use the air fryer or toaster oven for a quick warm-up and to maintain the crispy bread.
Common Problems and How to Avoid Them:
Soggy bread: To avoid a soggy texture, make sure not to overload the sandwich with too much filling. Keep the layers of meat and cheese relatively thin for the best results.

Uneven browning: Arrange the sandwiches in a single layer in the air fryer basket to ensure even browning on all sides.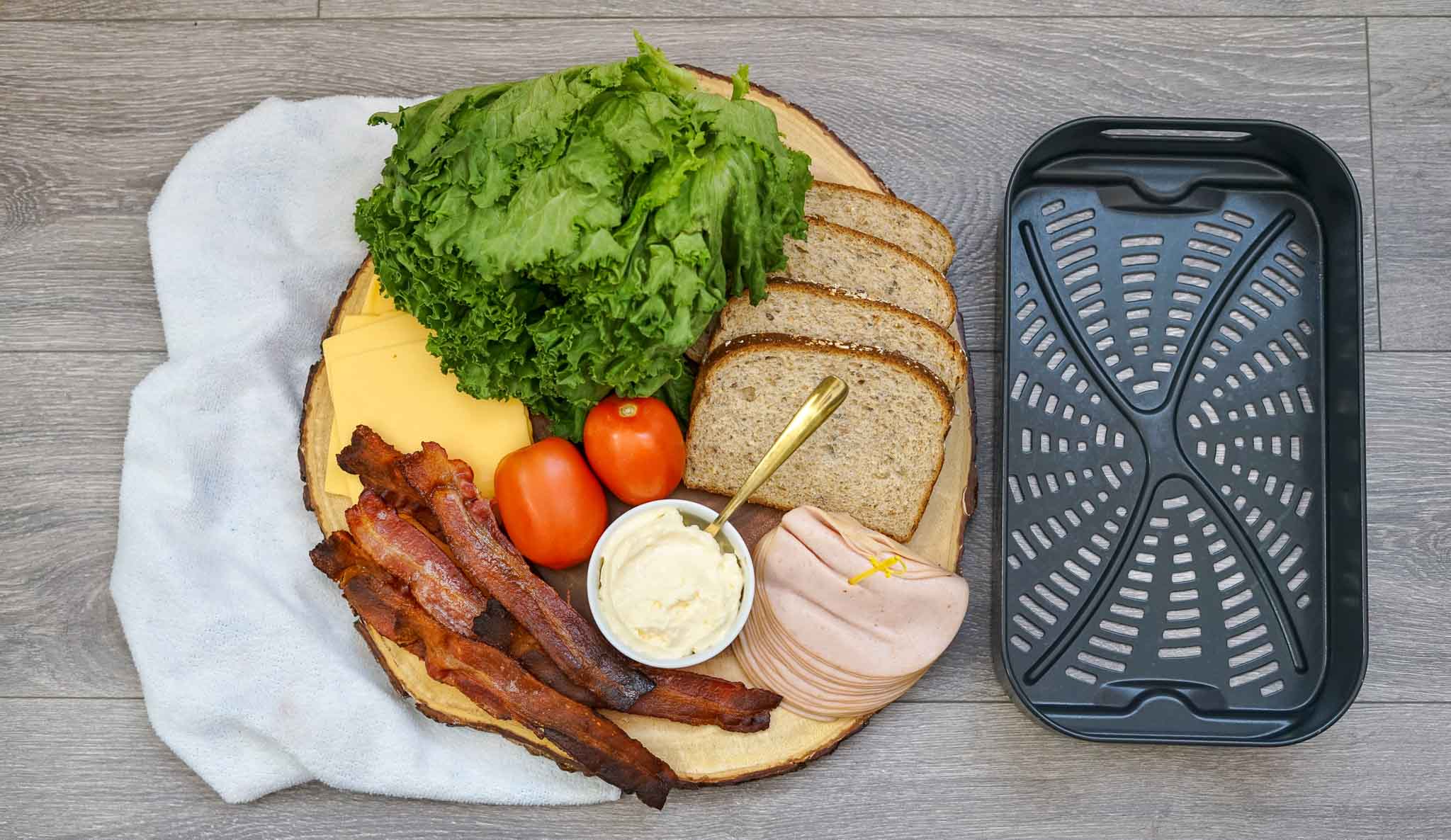 Spread the mayo, layer the turkey, bacon, cheese, lettuce, and tomato, and then place the sandwich directly in the air fryer. If you set it to 350 degrees F, you will have a crispy melt club sandwich ready to eat within five minutes or less.
Topping Options:
Crisp bacon: Add some crispy bacon slices to your Turkey Melt for an extra layer of smoky and savory goodness.

Fresh fruits: Serve your sandwich with a side of fresh fruits like sliced apples or grapes for a refreshing contrast.
Using Other Deli Slices to Make Air Fryer Melt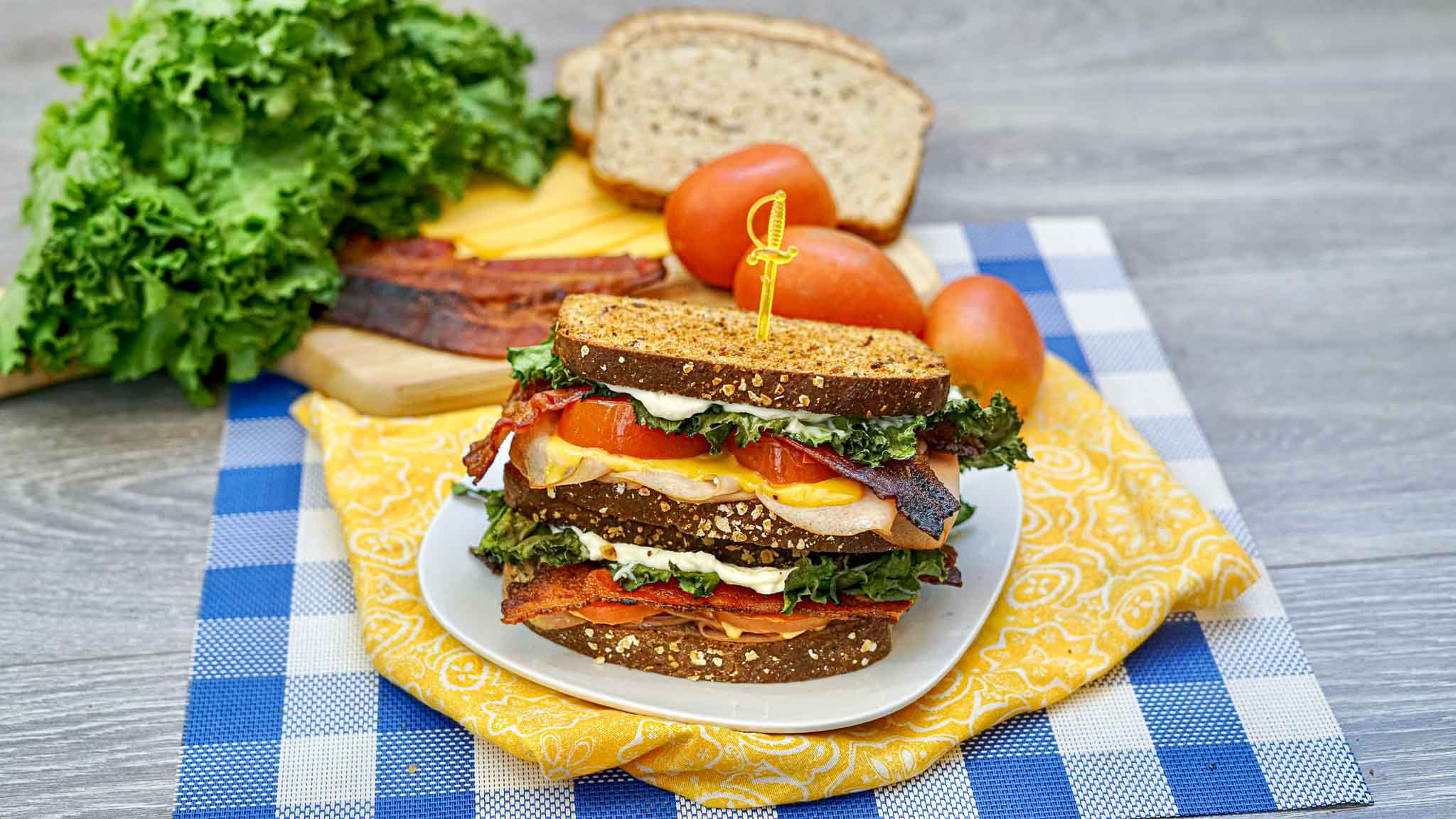 While turkey slices are lean and taste great, you can use other deli slices on bread with these ingredients to prepare different types of clubs.
Some of the other deli slices worth trying include smoked ham, honey ham, chicken breast, and salami.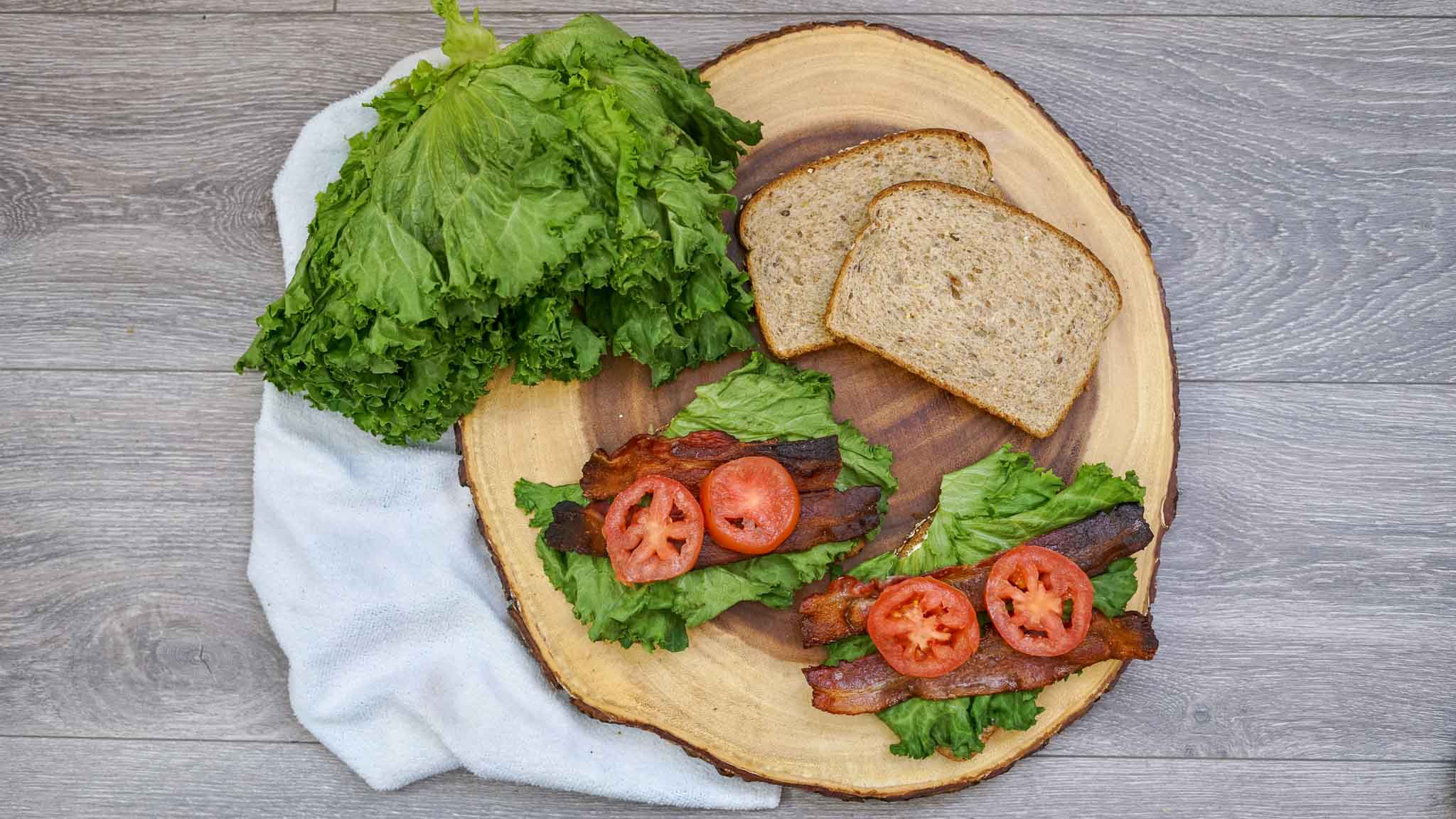 If you don't want to use deli slices, you can also add prepared tuna to your bread with bacon and cheese before adding it to the air fryer to get your bread nice and crispy.
Why This Recipe Works:
Our Air Fryer Turkey Melt is the perfect combination of convenience and taste. The air fryer provides a quick and easy way to create a deliciously crisp sandwich with melty cheese in just a few minutes. With a variety of cheeses and deli meats to choose from, you can customize this sandwich to suit your preferences. So whether it's a hot lunch, a light meal, or a party snack, this Air Fryer Turkey Melt is sure to become your go-to favorite. Get creative with your favorite toppings, and enjoy the perfect balance of flavors in this classic and satisfying grilled cheese sandwich!
What are some other yummy turkey recipes to try?
If you are looking for more amazing delicious lunch recipes be sure to check out this comprehensive list –> The Best Quick and Easy Lunch Recipes!
Enjoy and let me know how much you love it!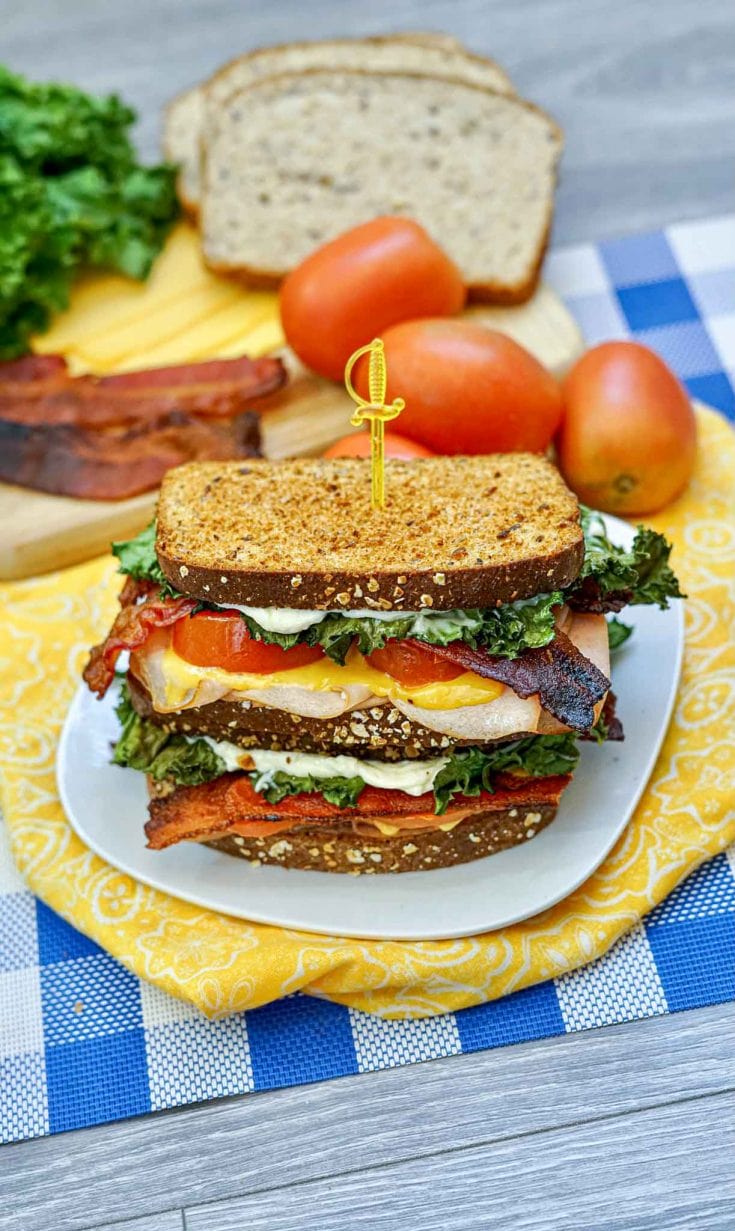 Yield:

1 sandwich
Air Fryer Turkey Club Sandwiches
This air fryer classic turkey club sandwich is made quickly in the air fryer with all of your favorite ingredients!
Ingredients
Bread
Cooked Bacon
Turkey Slices
Lettuce
Mayonnaise
Cheddar Cheese
Tomato Slices
Instructions
Preheat the air fryer to 350 F.
Spread the mayonnaise on the bread.
Place lettuce, bacon, cheese, tomatoes & Turkey onto the bread.
Place slices of bread together to create a sandwich.
Place the sandwich in the air fryer for 3-5 minutes or until bread has fully toasted.
Serve & enjoy.
Nutrition Information
Yield
1 sandwich
Serving Size
1
Amount Per Serving
Calories

520
Total Fat

35g
Saturated Fat

12g
Trans Fat

0g
Unsaturated Fat

21g
Cholesterol

99mg
Sodium

1034mg
Carbohydrates

20g
Fiber

3g
Sugar

4g
Protein

30g
If you liked this air fryer recipes be sure to try these!
Amazing Air Fryer Chocolate Cake
Easy and Delicious Air Fryer Cheese Danish
Air Fryer Veggie Stuffed Zucchini Boats
Air Fryer Pizza Done In Just 10 Minutes!
Hi! I'm Nellie. I am a busy mama of three, wife to my high school sweetheart who loves to cook, workout and stay organized! I love to share helpful printables, the best recipes and fitness tips for the modern mom. I strongly believe that every mom can feed their family well, take proper care of themselves and have fun along the way! Read my story.
Get comfortable and be sure to come hang out with me on social. Don't grab your free fitness journal before you go!