This awesome crockpot brown sugar balsamic pork tenderloin recipe will become an instant family favorite! Slow cooked for 6 hours brushed with a delicious sauce, you will make this recipe over and over!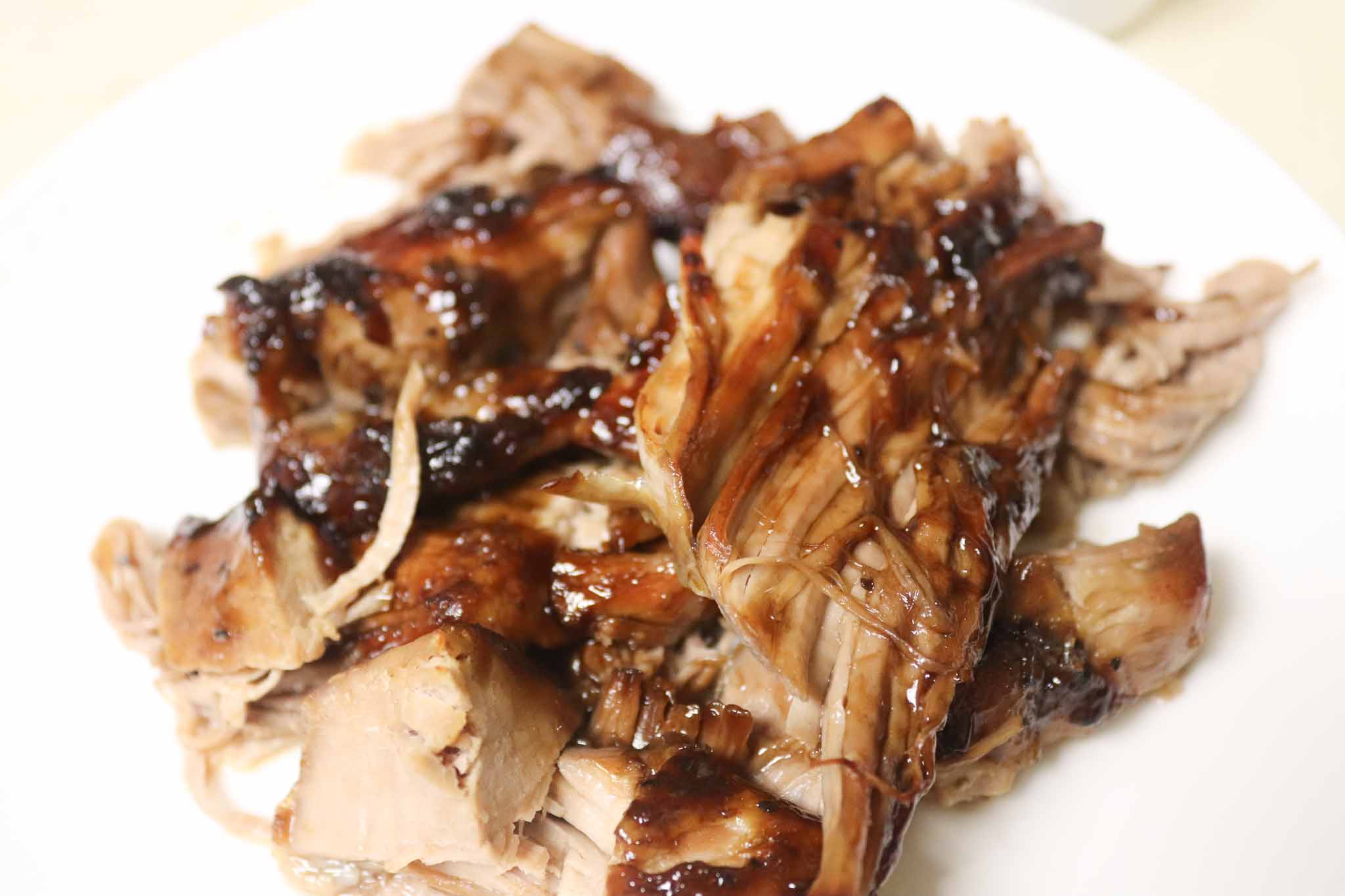 On Sunday morning I woke up knowing that I wanted to be hands off, some Sundays I love to nurse different pots and spend my entire day in the kitchen.
Other Sundays, (like this one) I just want to set it and forget it. So I took a look at my crockpot board on Pinterest and decided I'd be making some Pork Tenderloin for dinner!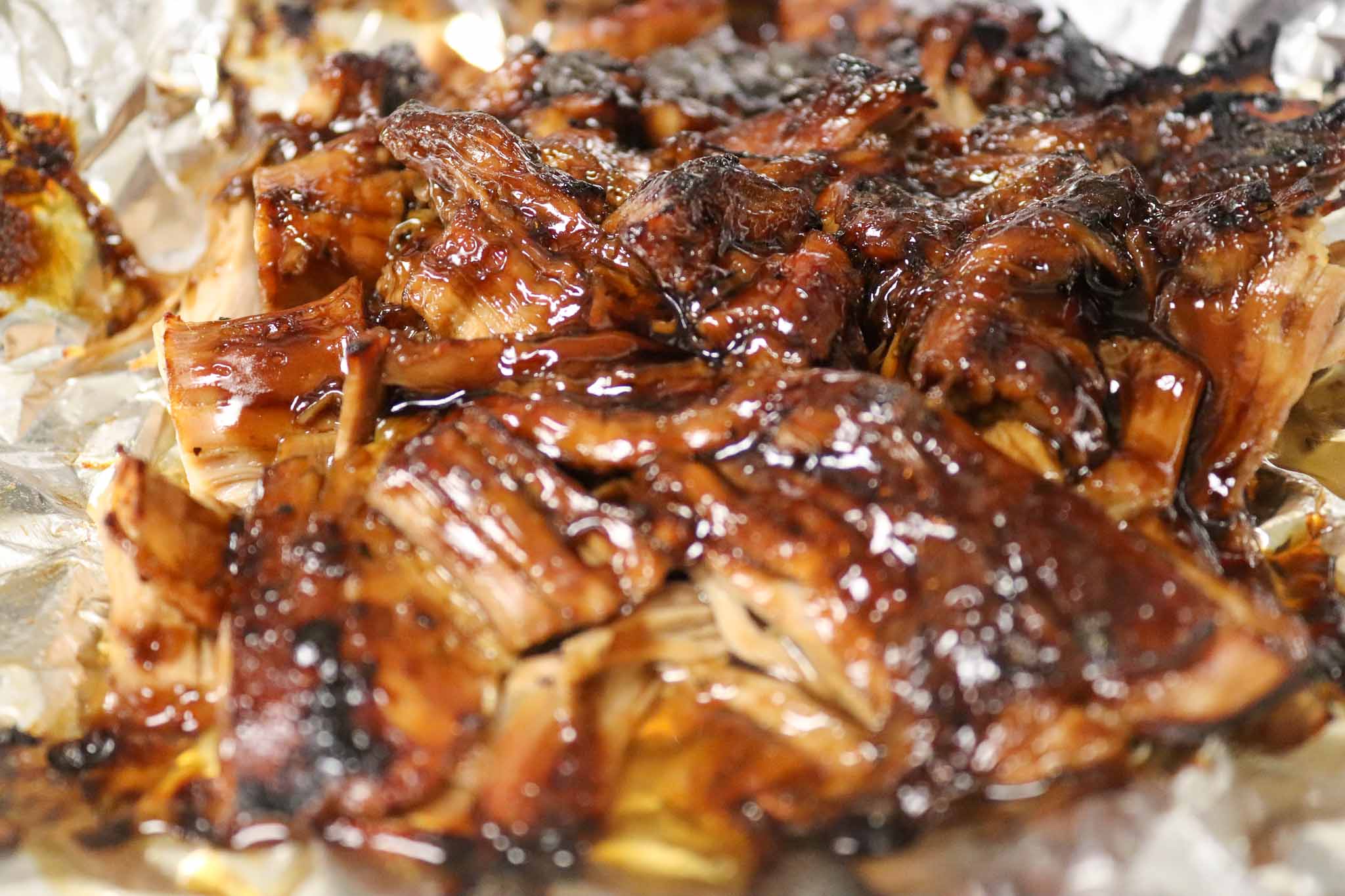 Crockpot Brown Sugar Balsamic Glazed Pork Tenderloin Recipe
Imagine a pork tenderloin so tender it practically melts in your mouth, glazed with a harmonious blend of brown sugar and balsamic vinegar. This Crockpot Brown Sugar Balsamic Glazed Pork Tenderloin is a fuss-free recipe that delivers in both flavor and convenience. Slow-cooked to perfection, this dish offers a sweet and tangy twist that pairs beautifully with the meaty succulence of the pork. Ideal for busy weekdays or leisurely Sunday dinners, this is a meal that's sure to impress without stressing you out.
I love pork tenderloin because of the high protein/low fat content. You can pretty much make this with everything, rice, salad, mashed potatoes or even vegetables–it's versatile like that!
This tenderloin is glazed with a perfect tangy sweet glaze that is not too overpowering but so delicious!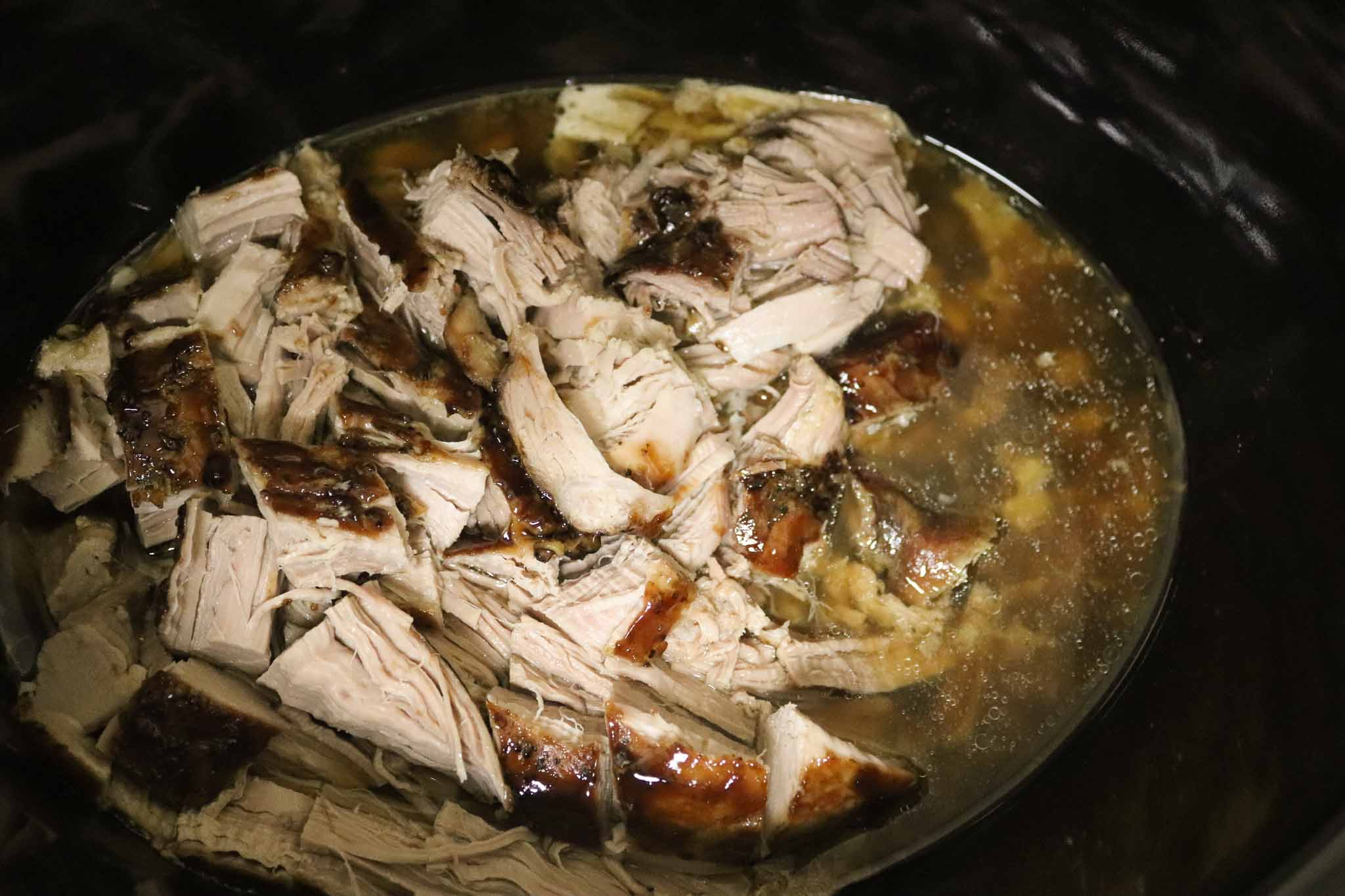 I didn't have all of the ingredients–the original recipe called for sage (so I put my favorite parsley instead) and a fresh garlic clove (I used 1/2 tsp minced garlic instead–I like garlic a lot).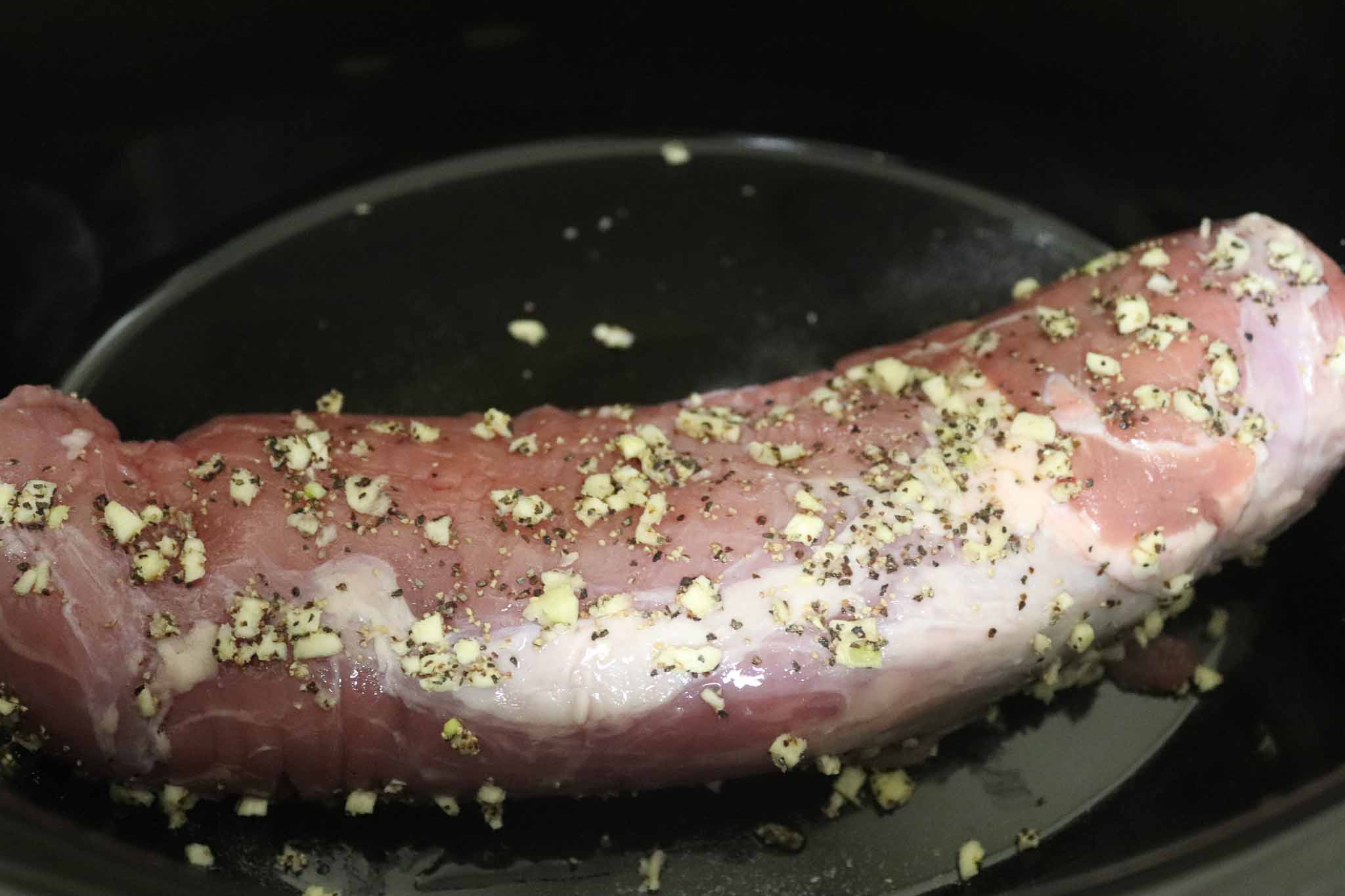 The best part of the recipe for me was the actual browning of the pork…I love a crisp skin on meat, I would have browned it even more but my hubs might have objected a bit. 🙂
After you cook the tenderloin, You set your oven on broil and leave it there for a few minutes to watch the magic happen! This creates some yummy crispy parts that takes this pork over the top!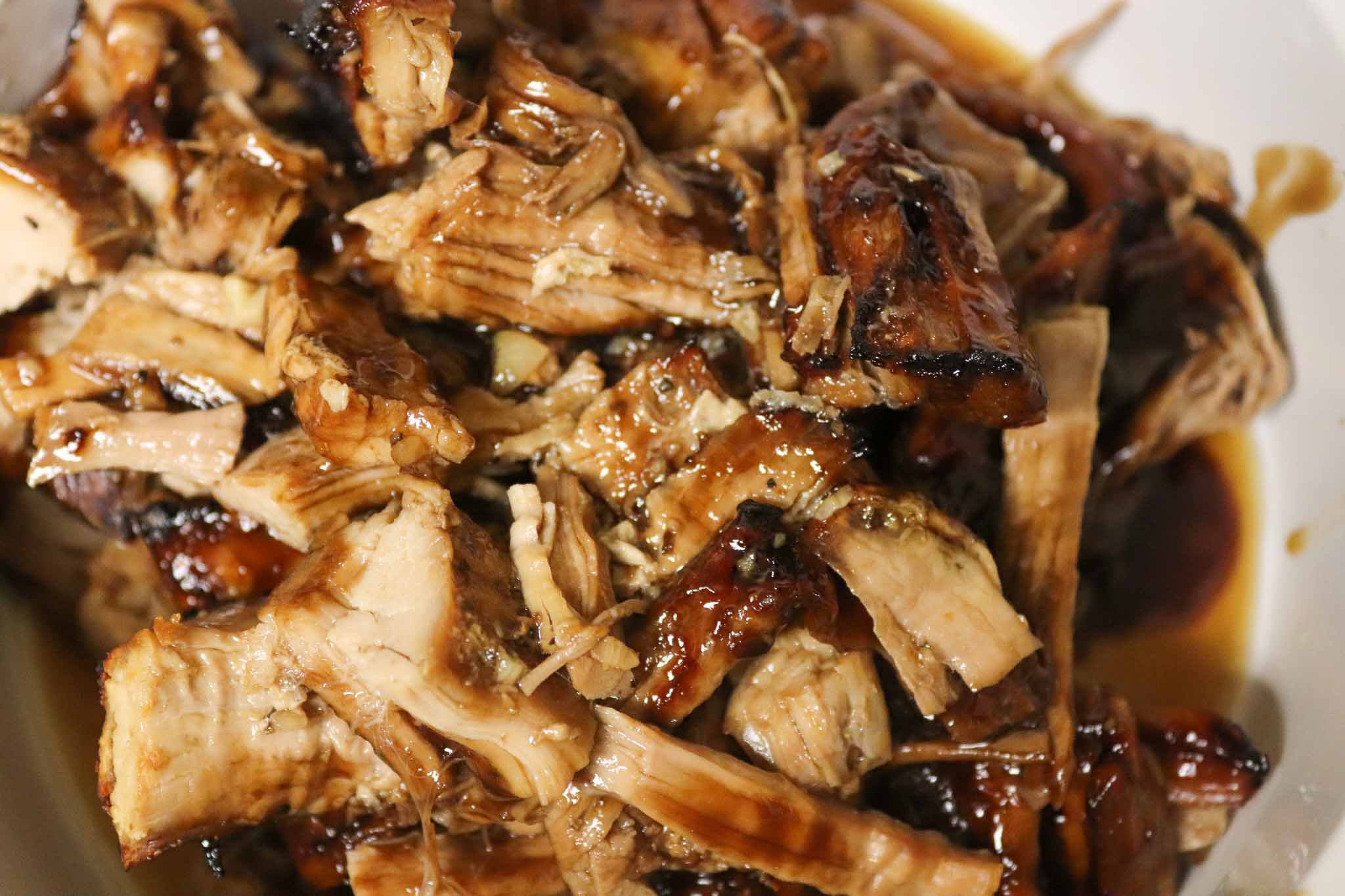 The meat is fork tender after hours of slow cooking and it's so good! I generally serve it as the main meat for dinner but I could easily see this being served on some Hawaiian rolls for a tasty lunch.
If you are looking for more amazing delicious crock pot recipes be sure to check out this comprehensive list –> The Best Easy Slow Cooker Recipes.
What ingredients are needed for Crockpot Brown Sugar Balsamic Pork Tenderloin?
Pork Tenderloin
Ground Sage
Salt
Black Pepper
Crushed garlic
Water
Brown sugar
Cornstarch
Balsamic Vinegar
Soy sauce
You won't need any olive oil, worcestershire sauce, garlic powder, onion powder, or chicken broth for this recipe.
What should I eat this pork tenderloin with?
Some delicious side dishes that go perfectly with brown sugar balsamic tenderloin are roasted potatoes, asparagus risotto, garlic mashed cauliflower, and sautéed mushrooms. For something a little more indulgent, you could also try sweet potato gratin or stuffed tomatoes. To complete the meal, serve with a crisp green salad, crusty bread, and a glass of your favorite red wine.
My personal favorite is white rice and veggies. Sandwiches is a great option but be careful not to overwhelm with other toppings because the flavor is pretty strong by itself.
I could easily do mashed potatoes with it as well. It's such a yummy comfort food that your Sunday (or any day) dinner will never be the same!
What is the best part of this crockpot tenderloin recipe?
The sauce of course! Everyone always raves about how good the sauce is. It's great with rice or even on other proteins!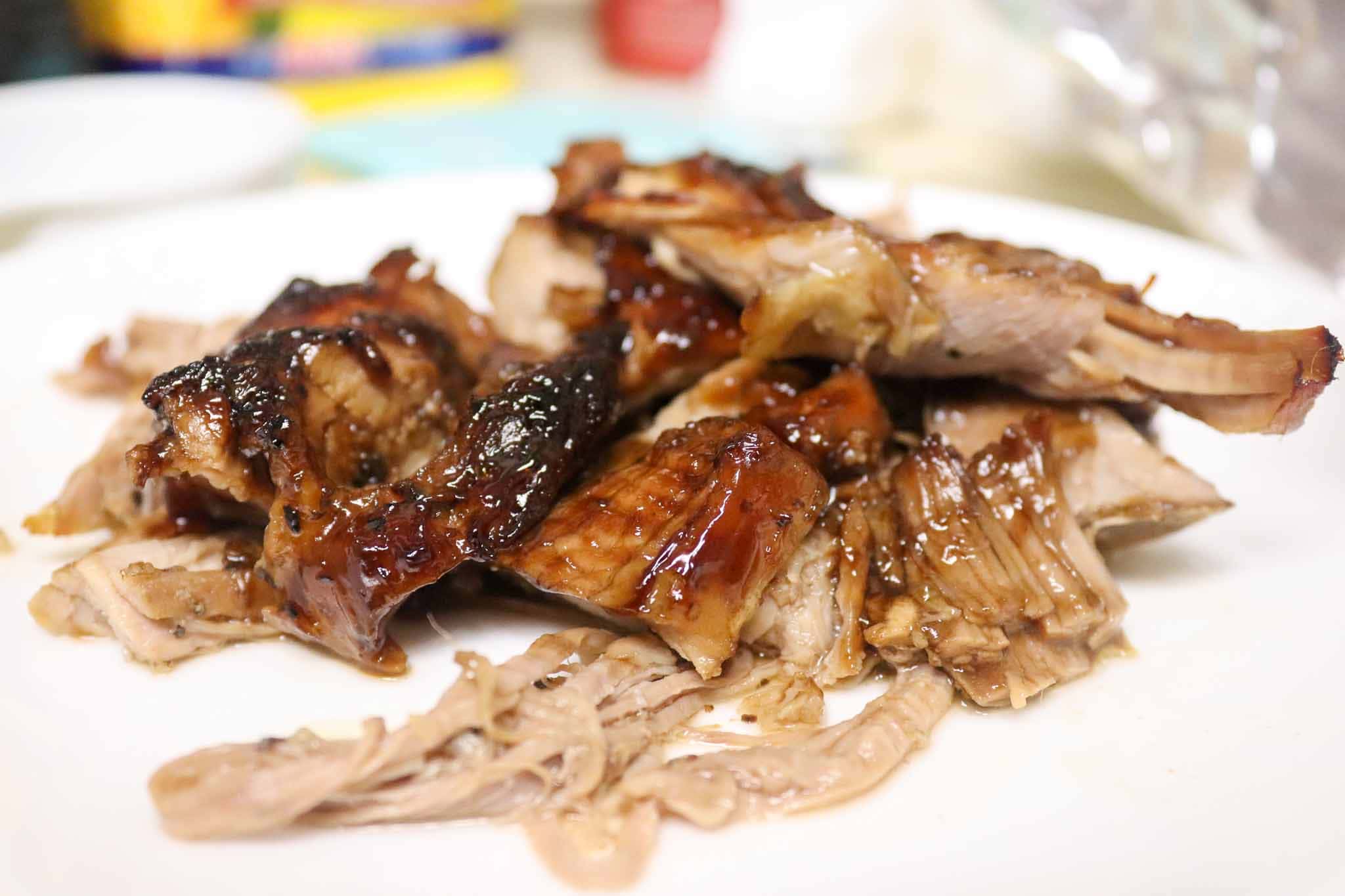 This slow cooker pork loin roast is an amazing pork tenderloin and one of those easy dinner recipes for busy weeknights. When it comes to slow cooker meals this crockpot pork tenderloin is one of those easy dinners for the whole family.
Be sure to grab your meat thermometer to check the internal temperature on the crock pot pork tenderloin. This pork loin recipe is an easy recipe that you can cook all day on the low setting.
It produces a super tender meat and it's one of those low fuss recipes. This slow cooker pork roast recipe is made from a juicy pork loin roast and will satisfy even the most picky eater.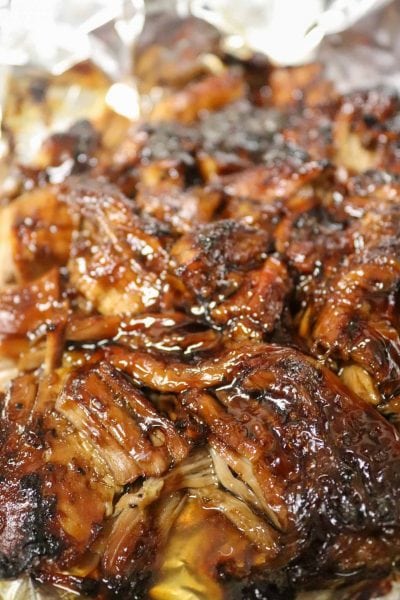 The best part for me is the broiling at the end. It's both crispy AND soft. The best of both worlds!
How do I cook a pork loin so it doesn't dry out?
There are a few things you can do to prevent your pork loin from drying out. First, make sure you don't overcook it. Pork loin is best cooked to an internal temperature of 145 degrees Fahrenheit.
Secondly, choose a cut of pork loin that has some fat marbled throughout it. This will help keep the pork loin moist as it cooks. Finally, if you are cooking the pork loin in a crockpot, be sure to add some liquid to the pot so that the pork loin doesn't dry out during cooking.
Can I just double the cook time of the tenderloin on the high setting?
I strongly recommend taking the time to really let the pork cook on the low setting. I haven't tried the high setting but if it works for someone please let me know in the comments!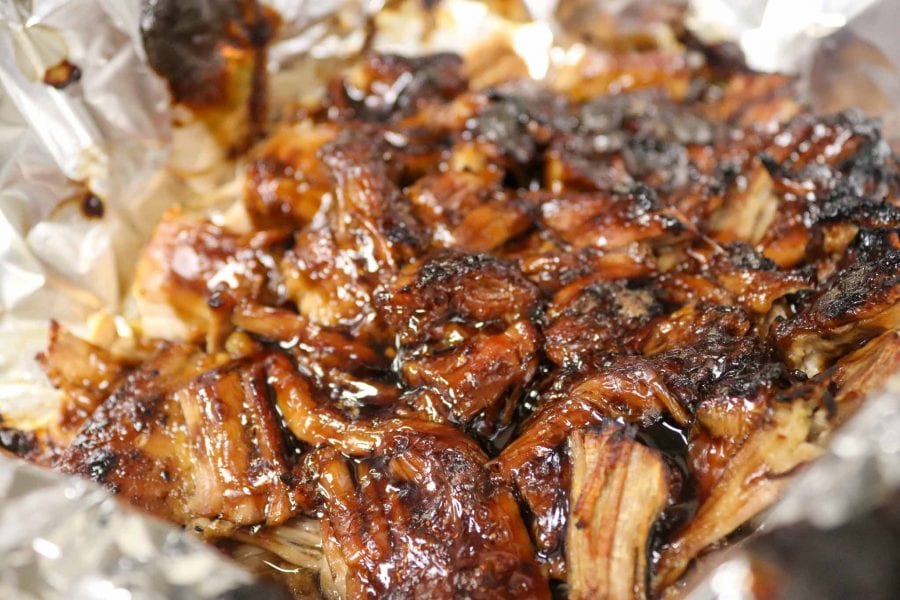 What is the difference between pork tenderloin and pork loin?
Pork tenderloin is a smaller and more tender cut of meat than pork loin. Pork tenderloin is also leaner, making it a healthier option. However, because it is leaner, it can also be more difficult to cook without drying it out.
Pork loin is a larger cut of meat that is not as tender as pork tenderloin. However, because it has more fat, it is easier to cook without drying it out. Pork loin is also a less expensive option than pork tenderloin.
What should I do with pork tenderloin leftovers?
There are a few things you can do with leftover pork loin. First, you can slice it and serve it as sandwiches. Add some BBQ sauce or other condiments to the sandwich for extra flavor.
Another option is to dice the pork loin and add it to a salad. This is a great way to add some extra protein to your salad. Finally, you can also shred the pork loin and use it as a topping for nachos or tacos.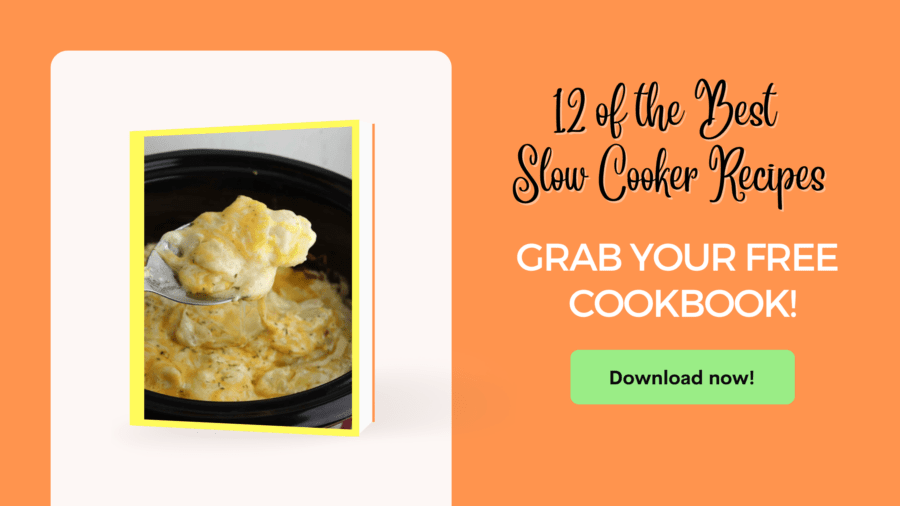 What are some other great slow cooker recipes that you should try?
Should I sear my pork tenderloin before putting it in the crockpot?
There are a few schools of thought on this. Some people believe that searing the pork tenderloin before cooking it in the crockpot helps to lock in the juices, resulting in a juicier final product.
Others believe that searing the pork tenderloin before cooking it in the crockpot can make it tougher.
This recipe does NOT call for searing but you can still get that crisp from the broiling step at the very end.
Brown Sugar Pork Tenderloin FAQs
What cut of pork should I use?
Pork tenderloin is the preferred cut for this recipe because it's lean yet tender, and its shape allows for even cooking in the Crockpot.
Can I substitute the brown sugar?
You can use maple syrup or honey as a substitute, but the unique molasses notes of brown sugar are ideal for this dish.
How long should I cook the pork in the Crockpot?
Cook the pork on low for about 6-8 hours or on high for 3-4 hours. The actual time may vary depending on the size of your tenderloin and the model of your Crockpot.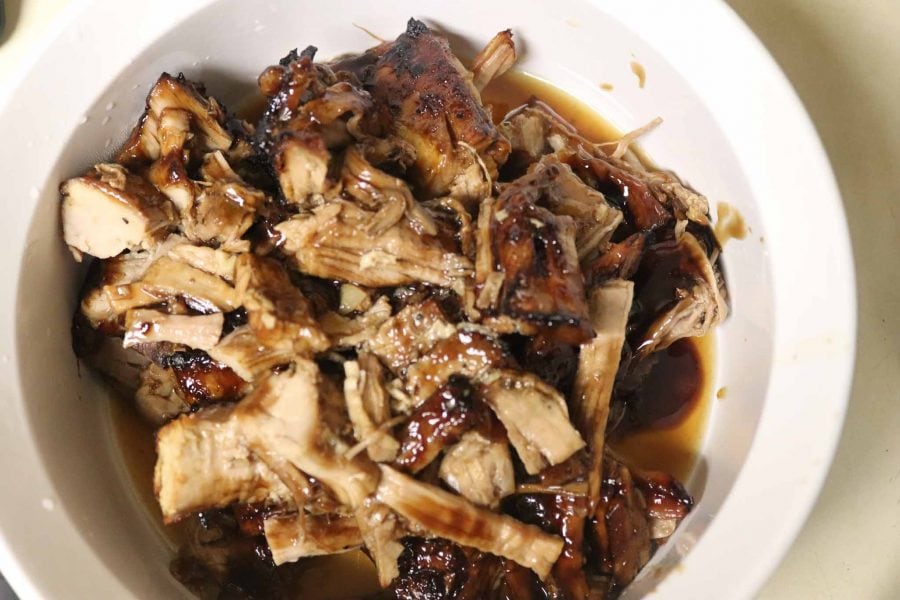 Ultimately, the decision of whether or not to sear your pork tenderloin before cooking it in the crockpot is up to you. If you do choose to sear it, be sure not to overcook the pork tenderloin, as this can make it tough. I personally do not, the broiling at the end gives it a great seared "look".
Common Problems and How to Avoid Them
Overcooked and Dry Pork
Slow-cooking is designed to make meat tender, but there's still a risk of overcooking. To avoid dry pork, check the internal temperature; it should read 145°F when it's done. Remove the pork from the Crockpot as soon as it reaches this temperature.
Inconsistent Glaze
If the brown sugar and balsamic glaze comes out too thin or uneven, it could be due to inadequate stirring. Make sure to thoroughly mix the glaze ingredients before adding them to the Crockpot, and consider stirring a couple of times during cooking.
Lack of Flavor
The slow cooking process should intensify flavors, but if your pork tenderloin lacks depth, it could be because you skipped the seasoning step. Ensure that the pork is well-seasoned with salt and pepper before adding the glaze. Also, using a high-quality balsamic vinegar can make a significant difference.
Where can I serve this amazing brown sugar balsamic crockpot pork tenderloin?
There are a few great places to serve this delicious pork dish. First, you can serve it over a bed of rice or quinoa. This is a great option if you are looking for a complete meal. This pork tenderloin is great for a dinner party, or anytime. My picky eating children even love it!
Can I shred pork tenderloin?
Yes, you can shred pork tenderloin. Pork tenderloin is a great option for shredding because it is so lean. This makes it a great option for using in tacos, burritos, or as a topping on nachos.
To shred pork tenderloin, simply place it in a bowl and use two forks to shred it. Alternatively, you can also place the pork tenderloin in a stand mixer and mix on low until shredded. Usually I just shred the pork inside of the slow cooker.
This amazing slow cooker pork tenderloin recipe is one of those delicious pork recipes you will make again and again!
What are some helpful tips for making Crockpot Pork tenderloin?
Trim extra fat from the pork tenderloin before cooking. This will help ensure that your pork will be tender and juicy.
Use a quality cut of meat, such as center-cut or "select" grade pork tenderloin for best results.
Marinate the pork tenderloin overnight for added flavor. This is optional but can help enhance the flavor of the pork.
Brown the pork tenderloin in a skillet before adding it to the Crockpot. This will help seal in the juices and give you a better-tasting result.
Add vegetables such as potatoes, carrots, celery, and onions to the Crockpot for a delicious meal.
Don't overfill the Crockpot; leave at least one inch of space between the pork and sides of the pot to allow for proper circulation.
Cook on low heat for approximately 6-8 hours or until internal temperature reaches 145° and juices are clear. Be sure to check the internal temperature of the pork with a meat thermometer to ensure it is cooked thoroughly.
Let the pork rest for 10-15 minutes before slicing and serving.
Why This Recipe Works
Effortless Cooking
The Crockpot does most of the work for you. Once the ingredients are prepped and in the pot, you're free to go about your day. The slow cooking allows the flavors to meld beautifully without requiring your constant attention.
Balanced Flavors
The sweetness of the brown sugar is perfectly offset by the tart richness of the balsamic vinegar. These flavors penetrate the pork tenderloin, making every bite a delightful experience.
Versatility
While the pork tenderloin is the star of this dish, the brown sugar balsamic glaze can be versatile. You can use it on other meats or even as a dipping sauce, broadening your culinary repertoire with one easy recipe.
Ideal for Meal Planning
This dish is not just delicious freshly cooked; it also reheats well. The flavors continue to develop as it sits, making it an excellent option for meal planning or leftovers.
All in all, this Crockpot Brown Sugar Balsamic Glazed Pork Tenderloin recipe delivers on multiple fronts—flavor, convenience, and versatility. The slow cooking process ensures a tender, flavorful result that's well worth the minimal prep time. With its balanced yet robust flavors, it's a dish that promises to be a hit with the whole family. Enjoy your cooking journey!
Enjoy and be sure to let me know what you think!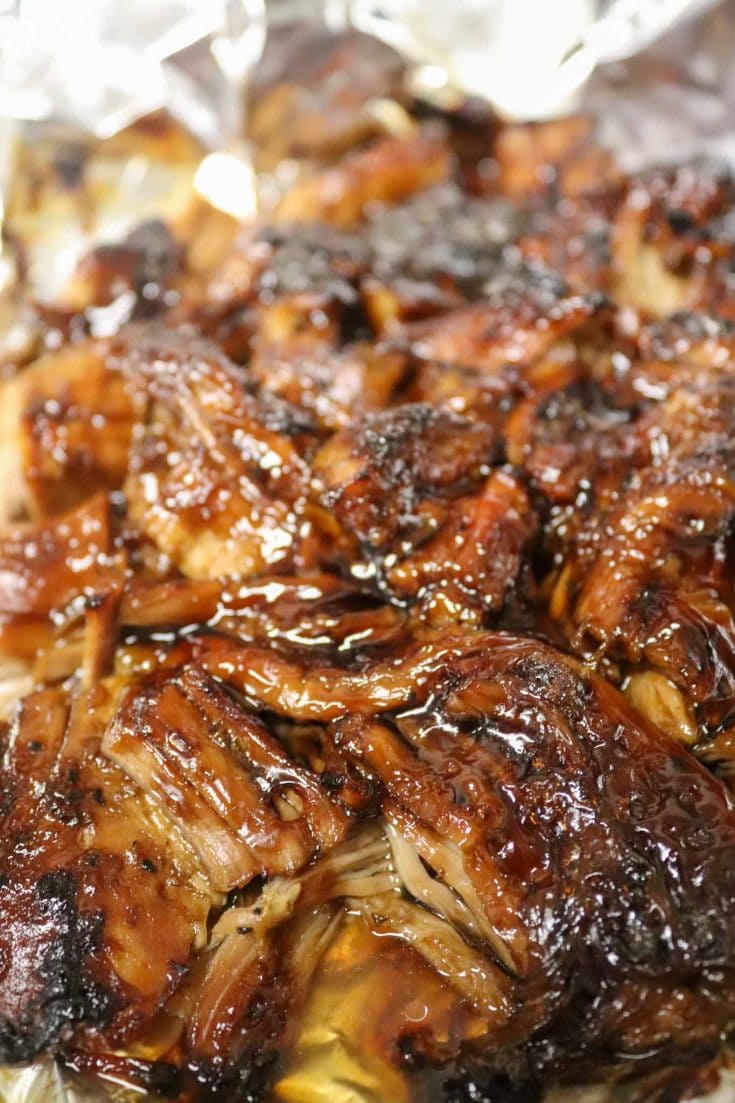 Yield:

6 servings
Crockpot Brown Sugar Balsamic Glazed Pork Tenderloin Recipe
Additional Time:
4 minutes
Total Time:
8 hours
24 minutes
This amazing pork tenderloin recipe will impress even the most pickiest eater. The glaze is the star of the show!
Ingredients
2 pounds Pork tenderloin
1 teaspoon Ground sage
½ teaspoon Salt
¼ teaspoon Pepper
1 clove Garlic; crushed
½ cup Water
½ cup Brown sugar
1 tablespoon Cornstarch
¼ cup Balsamic Vinegar
½ cup Water
2 tablespoons Soy sauce
Instructions
Mix together the seasonings: sage, salt, pepper and garlic.
Rub over tenderloin. Place ½ cup water in slow cooker; place tenderloin in slow cooker.
Cook on low for 6-8 hours.
A hour before the roast is finished, mix together the ingredients for the glaze in a small sauce pan: brown sugar, cornstarch, balsamic vinegar, water, soy sauce.
Heat over medium and stir until mixture thickens, about 4 minutes.
Brush roast with glaze 2 or 3 times during the last hour of cooking. (For a more caramelized crust: remove from crockpot and place on aluminum lined sheet pan, glaze, and set under broiler for 1-2 minutes until bubbly and caramelized. Repeat 2 to 3 more times until desired crust is achieved.)
Serve with remaining glaze on the side.
Enjoy!
Nutrition Information
Yield
6
Serving Size
1
Amount Per Serving
Calories

299
Total Fat

6g
Saturated Fat

2g
Trans Fat

0g
Unsaturated Fat

3g
Cholesterol

110mg
Sodium

563mg
Carbohydrates

19g
Fiber

0g
Sugar

16g
Protein

40g
Pin It for later!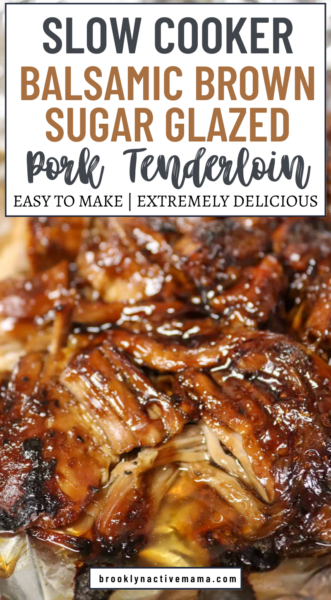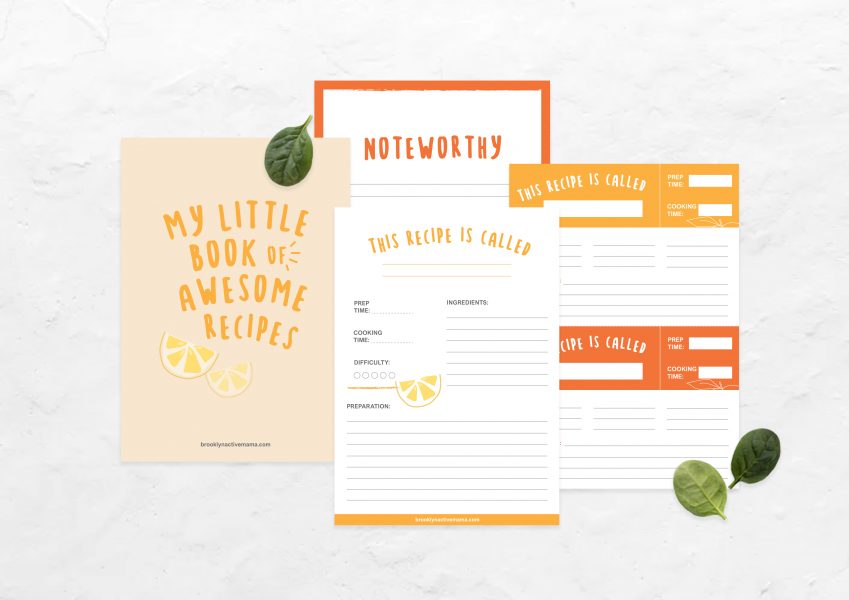 Before you go, grab Your Free Printable Recipe Kit!
Write down your favorite recipes and create your own personal cookbook of your favorite food creations!
If you enjoyed this recipe be sure to tag and follow us on Instagram to stay up to date with the latest recipes!
How do you cook your pork tenderloin? Do you love your slow cooker as much as I do?
Hi! I'm Nellie. I am a busy mama of three, wife to my high school sweetheart who loves to cook, workout and stay organized! I love to share helpful printables, the best recipes and fitness tips for the modern mom. I strongly believe that every mom can feed their family well, take proper care of themselves and have fun along the way! Read my story.
Get comfortable and be sure to come hang out with me on social. Don't grab your free fitness journal before you go!