This crockpot sirloin steak is seasoned to perfection and you can just set it and forget it! Serve with your favorite side for dinner tonight!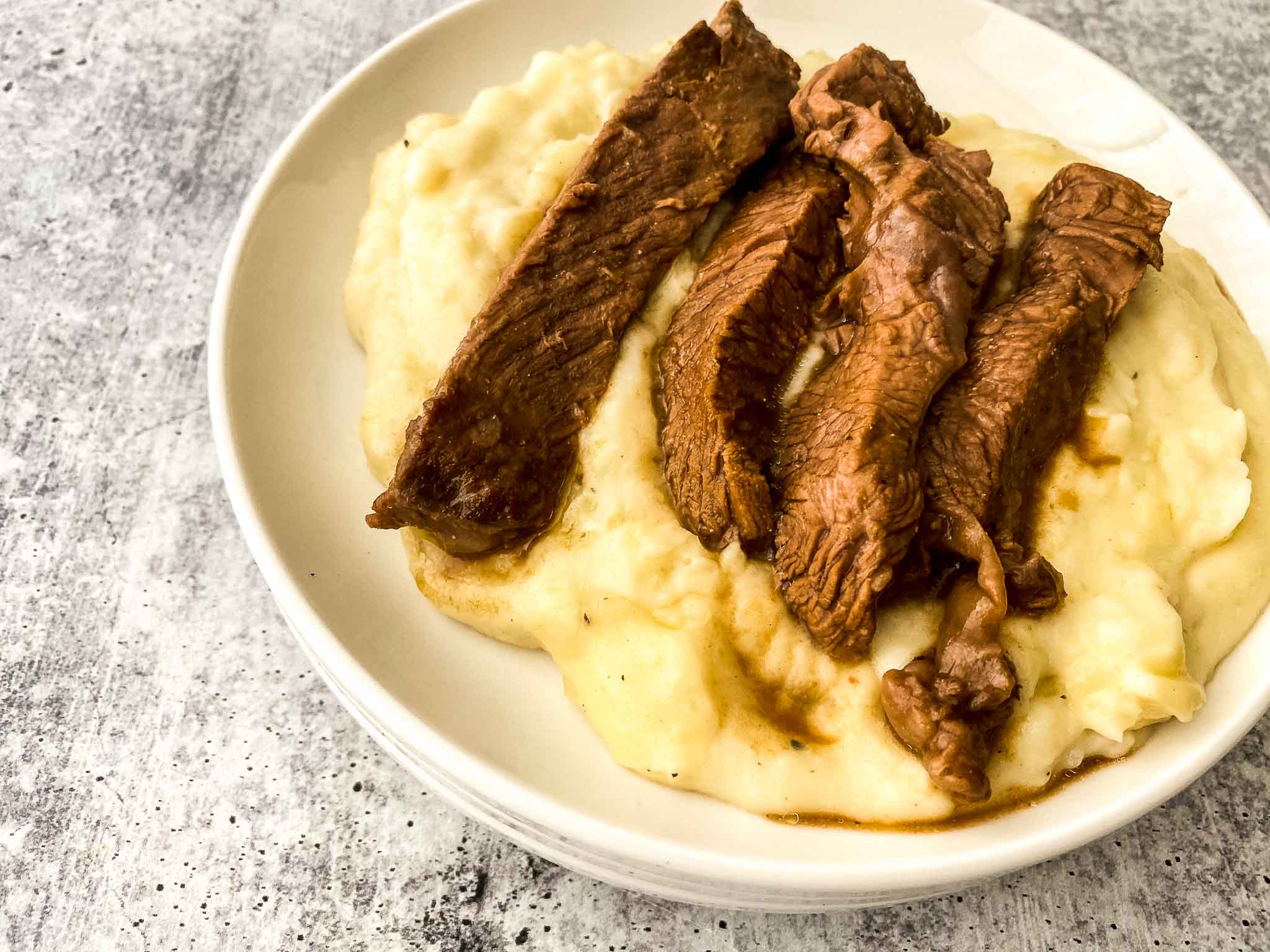 Easy Slow Cooker Sirloin Steak
I think I got my first crockpot around 10 years ago. It was the beginning of my obsession with kitchen gadgets! I love that you can put all of the ingredients in and forget it. This is clutch for parents with many things to do every day.The best part of it all is that cleanup is easy!
Only one pot, instead of many pots and pans. I have made so many delicious meals in my crockpot and today I am sharing one of my favorites, sirloin steak!This slow cooker steak is a delicious recipe and a family favorite. It's one of those slow cooker recipes that the whole family can enjoy for comfort food on busy weeknights.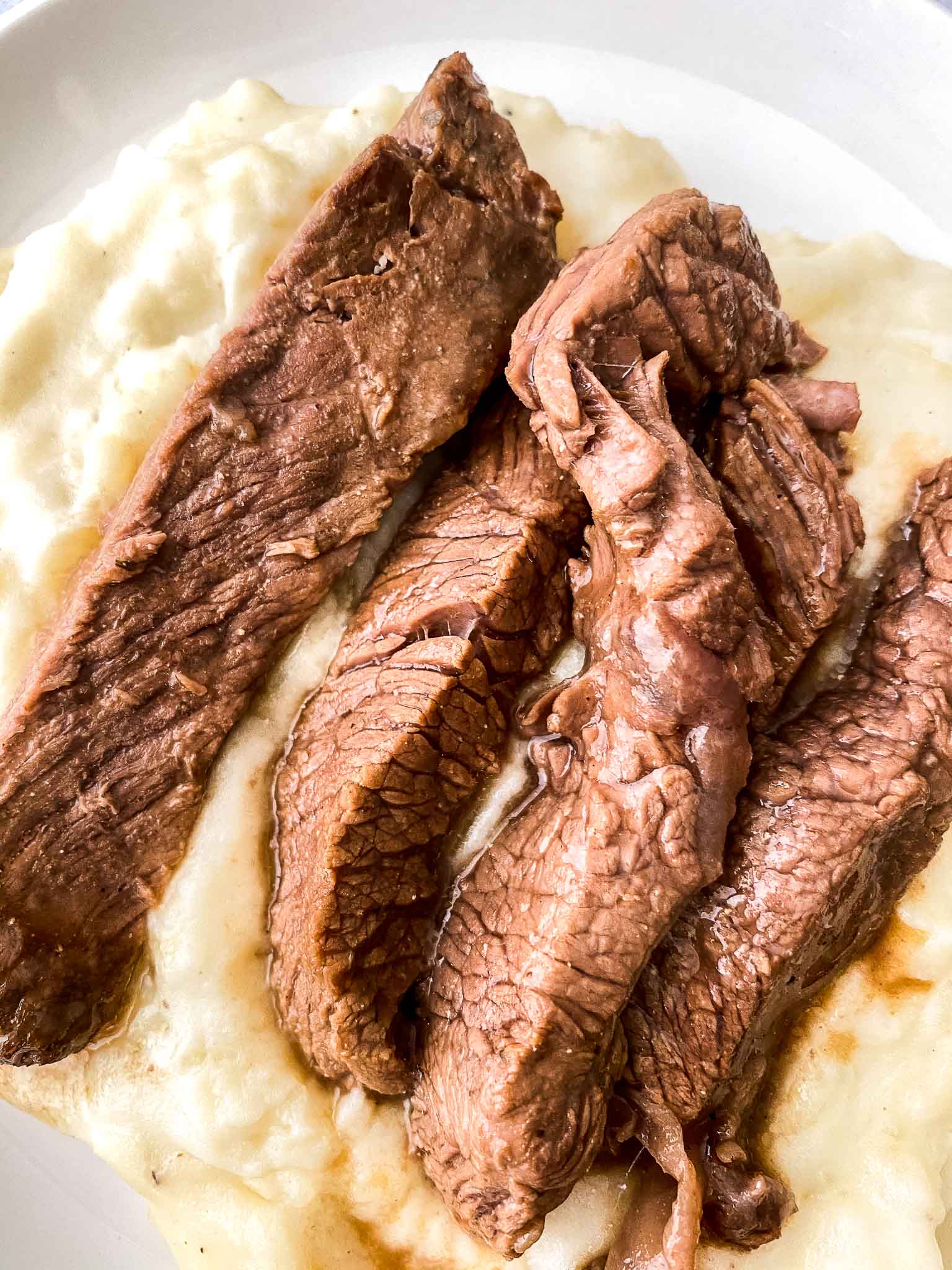 What ingredients do you need to make Crockpot Sirloin Steak?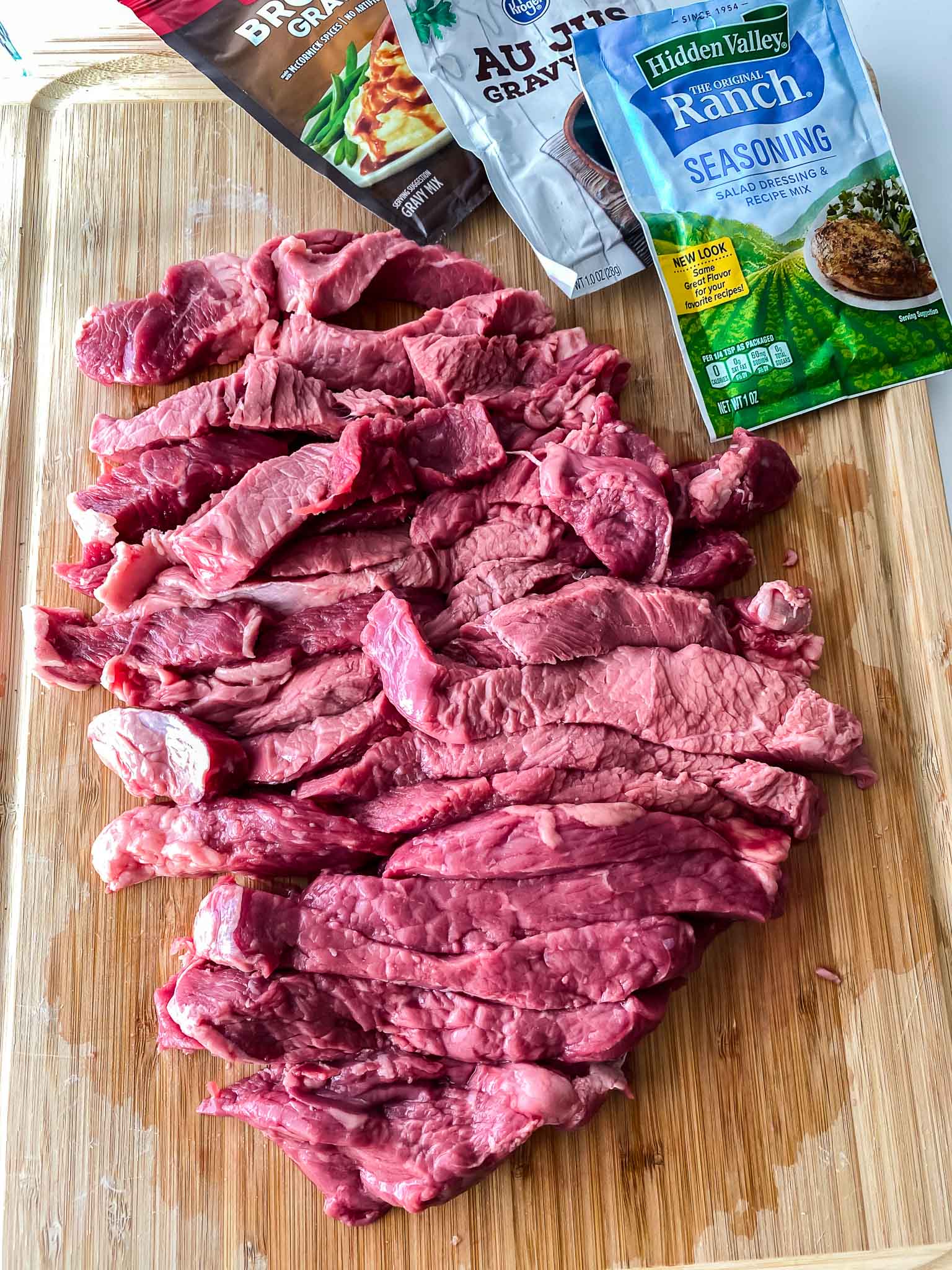 top sirloin steak or London broil sliced thin – you can slice it yourself or if you are like me you ask the butcher to do it to save some time!

brown gravy mix – this will help with the rich flavor
Au Jus mix – Yes please!
ranch seasoning – There are so many crockpot recipes that require ranch seasoning, and for good reason! It saves a lot of time and packs a lot of flavor.
water
You won't need any red wine vinegar, onion powder, soy sauce, or beef stock for this easy recipe. This will be one of your favorite slow cooker meals!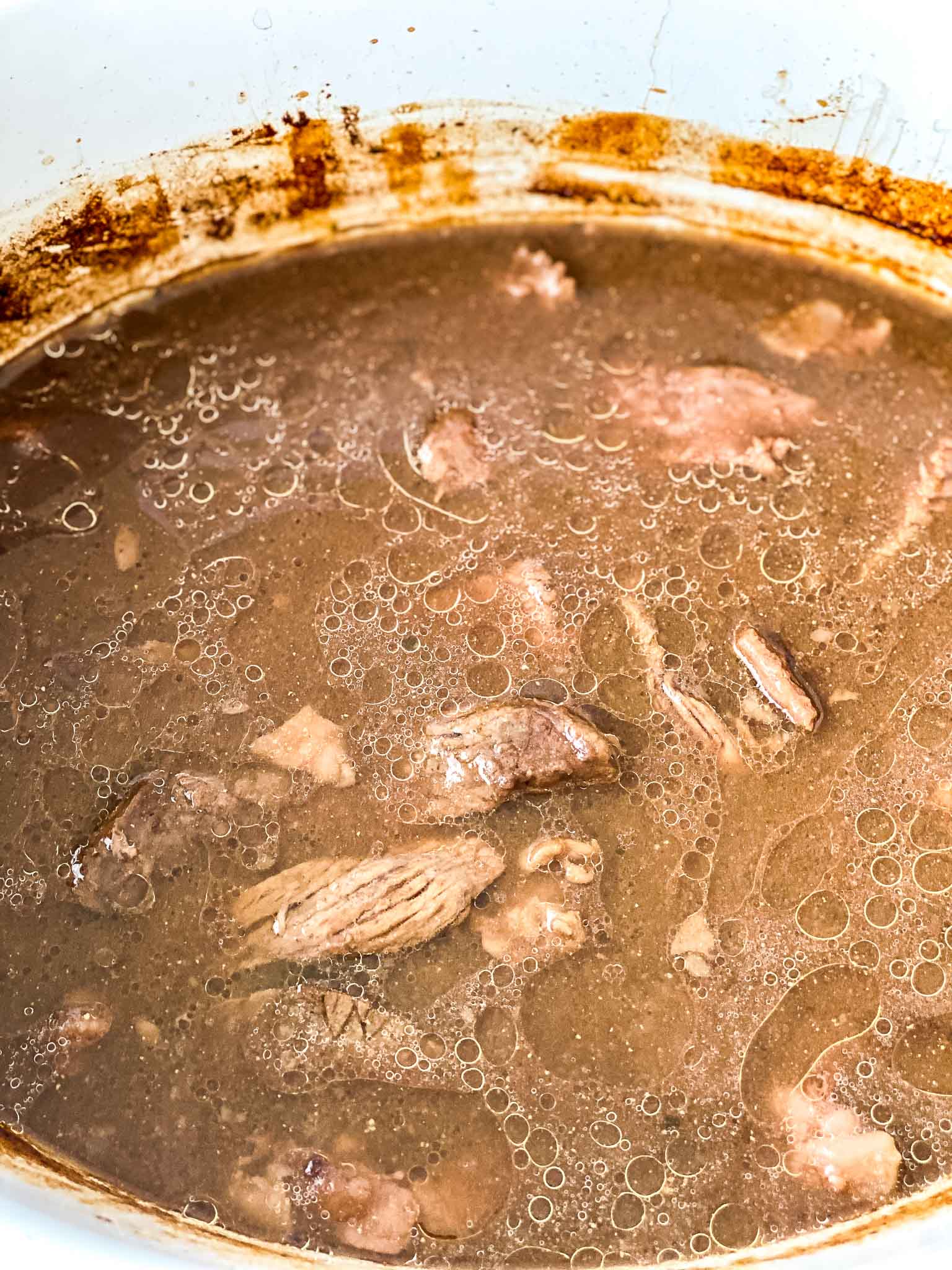 How do I make this Crockpot Sirloin Steak?
All you have to do is layer the meat, the seasoning packets and the water. It couldn't get any more simpler! The best part is that you can make this delicious meal and leave it on warm until you are ready to dig in! This slow cooker fork tender great recipe is great with some buttery mashed potatoes–the delicious gravy and the flavors of the meat make this one yummy dish! It's an easy weeknight meal and the best way to unwind after a long day.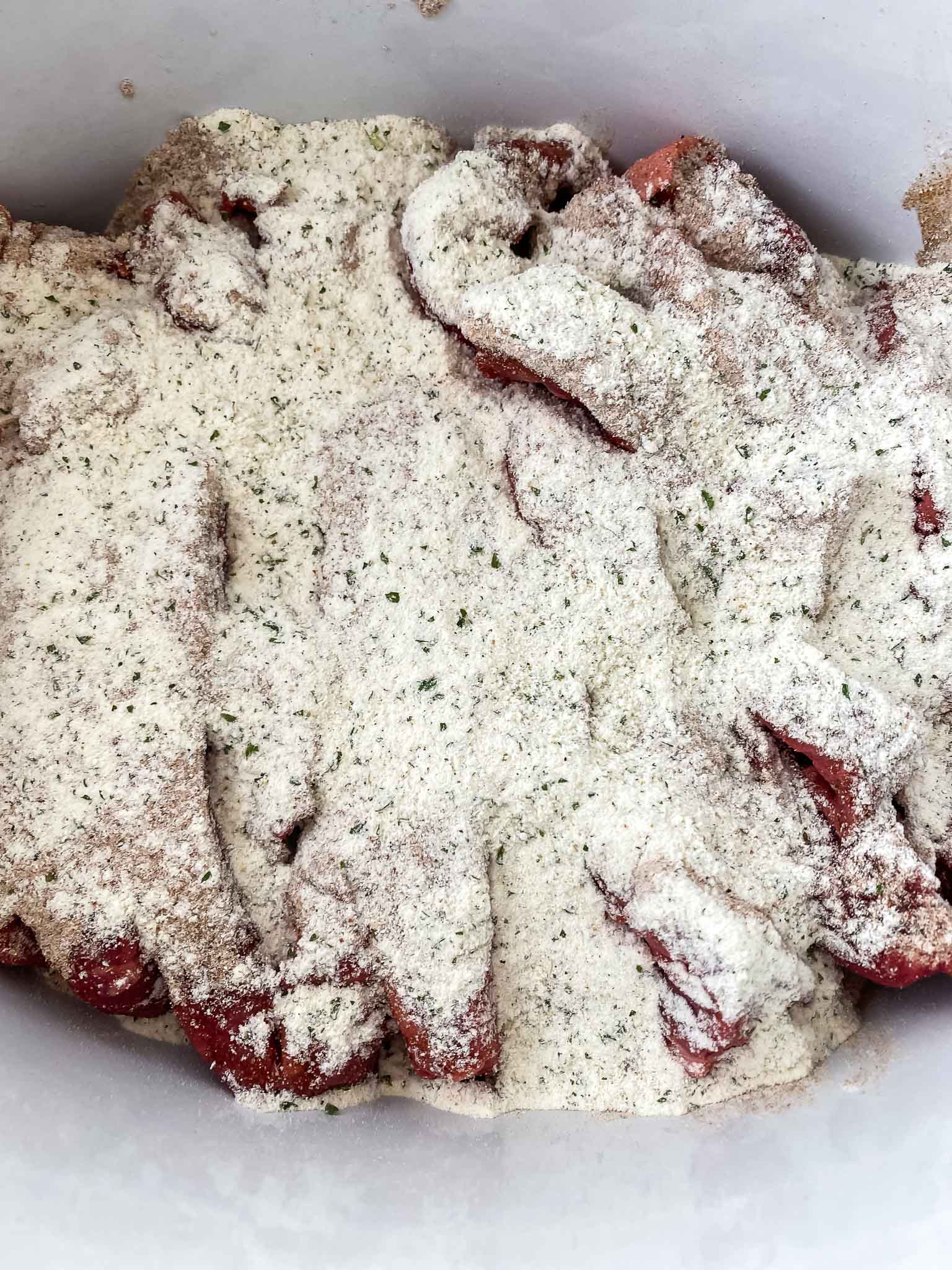 What can you serve with Slow Cooker Sirloin Steak?
There are a variety of sides that pair nicely with slow cooker sirloin steak. Roasted vegetables such as potatoes, carrots, and bell peppers go great with this dish. You can also serve it with creamy mashed potatoes or crispy french fries for a more indulgent meal. Rice dishes like jambalaya and paella are also a great accompaniment for the steak. For a lighter side, a fresh green salad with a simple vinaigrette dressing is always nice to pair with steak.
If you are looking for something extra special, then try serving it alongside an herbed couscous or quinoa pilaf. Finally, no meal is complete without a delicious sauce. A chimichurri sauce, mushroom gravy, or a simple béarnaise sauce will bring all the flavors together for an amazing feast.
What are some helpful tips for making sirloin steak?
When cooking sirloin steak, it's important to remember that the key is in the timing. You want to make sure that your steak is cooked just right and not under or overcooked.
For a slow cooker sirloin steak, the recommended cook time is about six hours on low heat. It's also important to use the right cut of steak. Sirloin is a great option because it's more tender than other cuts of beef, so you don't have to worry about overcooking this simple recipe.
For this crockpot recipe you can use so many different side dish options like green beans or more! You don't need to worry about a gravy recipe because a delicious gravy comes together at the bottom of the crock pot.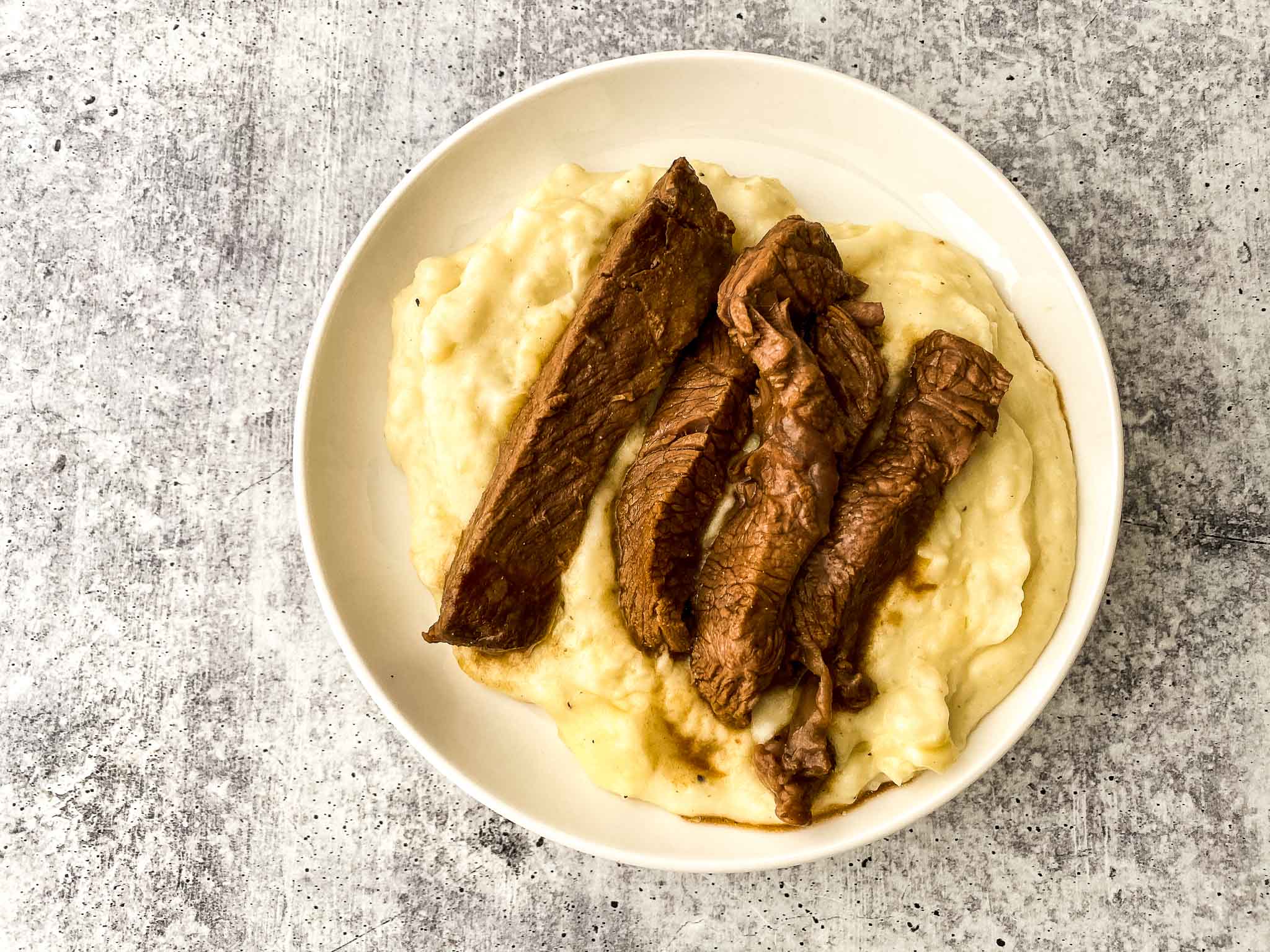 Lastly, when it comes time to serve the steak, let it rest for at least five minutes before slicing into it. This will ensure that all the juices stay in and your steak will be juicy and tender.
How can you store sirloin steak leftovers?
Once your sirloin steak is cooked, it's important to store any leftovers properly. Cut the steak into small cubes or strips and place in an airtight container. This will help keep the steak fresh for up to four days in the refrigerator. If you'd like to keep it fresh longer, try freezing the steak. Make sure it's tightly wrapped in plastic wrap and place in a freezer-safe container. It should stay fresh for several months when frozen.
No matter how you store your steak, make sure to reheat it properly before eating. Place the steak on a baking sheet and bake in the oven at 350 degrees Fahrenheit until it is warmed through. This will ensure that your steak is safe to eat and as delicious as when it was first cooked.
What are some other amazing crockpot recipes?
Is Crockpot Sirloin Steak healthy?
Yes, Crockpot Sirloin Steak is a healthy option. It's an excellent source of protein and provides many essential vitamins and minerals. In addition, sirloin steak is low in fat and calories, making it a healthier choice than other cuts of beef.To make the dish even healthier, try serving it with vegetables or a side salad. This will add extra dietary fiber and nutrients to your meal.
It's important to remember that even though Crockpot Sirloin Steak is healthy, you should still keep an eye on portion sizes. Too much of any food can lead to weight gain and other health issues, so make sure to practice moderation when eating this dish.By following these tips, you can enjoy Crockpot Sirloin Steak as a delicious and healthy meal any night of the week!
Is this crockpot sirloin steak juicy?
Yes, crockpot sirloin steak is juicy when cooked properly. The key to achieving a juicy steak is to not overcook it. Depending on the size and thickness of the steak, cook it for about six hours on low heat in the slow cooker.
Enjoy and let me know how much you love it!
If you are looking for some more delicious dinner ideas be sure out check out this comprehensive list: Easy and Tasty Dinner Ideas For The Whole Family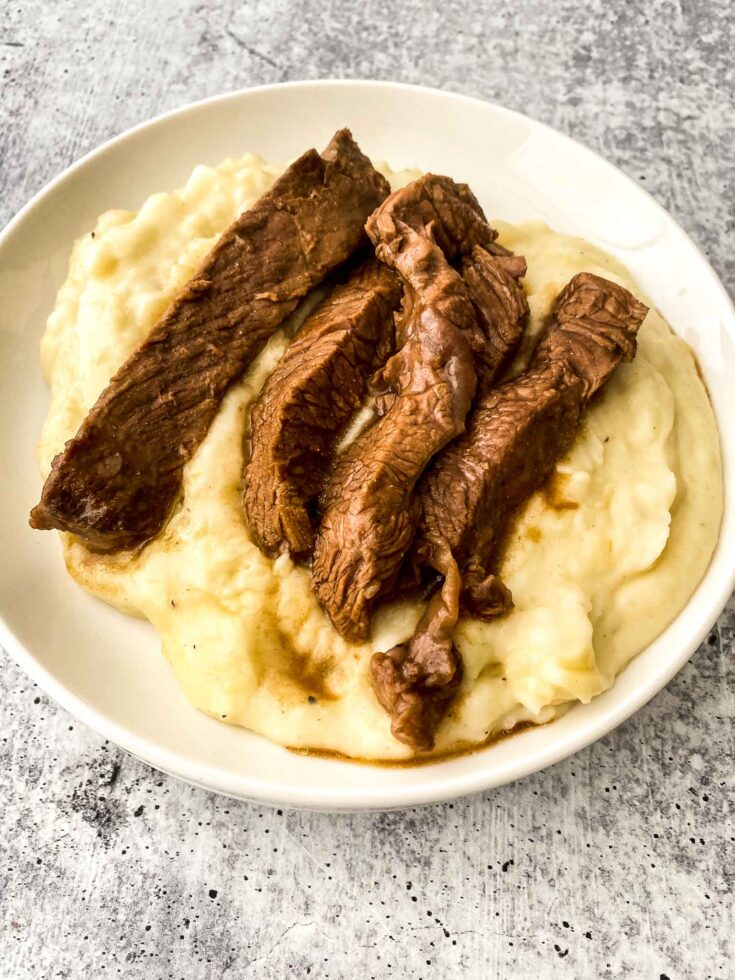 Yield:

8 servings
Easy Crockpot Sirloin Steak
Total Time:
5 hours
5 minutes
This amazing crockpot sirloin steak is super easy to make in your slow cooker with a few ingredients.
Ingredients
2 to 3 pounds top sirloin steak or London broil sliced thin 1 packets brown gravy mix
1 packet Au Jus mix
1 packet ranch seasoning
2 1/2 cups water
Instructions
Layer meat on the bottom of the crockpot.
Sprinkle the three packets of seasoning over the meat.
Pour the water over it and stir coating all of the meat.
Cook on high for 4-5 hours or low for 8-10 hours.
Stirring occasionally.
Serve with rice, pasta, or mashed potatoes.
Nutrition Information
Yield
6
Serving Size
1
Amount Per Serving
Calories

646
Total Fat

37g
Saturated Fat

15g
Trans Fat

0g
Unsaturated Fat

17g
Cholesterol

232mg
Sodium

809mg
Carbohydrates

5g
Fiber

0g
Sugar

1g
Protein

68g
If you loved this crockpot recipe be sure to check out these fun recipes:
Hi! I'm Nellie. I am a busy mama of three, wife to my high school sweetheart who loves to cook, workout and stay organized! I love to share helpful printables, the best recipes and fitness tips for the modern mom. I strongly believe that every mom can feed their family well, take proper care of themselves and have fun along the way! Read my story.
Get comfortable and be sure to come hang out with me on social. Don't grab your free fitness journal before you go!