5 Free Halloween Costume Ideas
It's never too early to start thinking about Halloween, am I right? Did you know that the average American spends close to $100 on Halloween? Let's not be average! I don't know about you, but I hate spending money like that just so I can be dressed up for a day. Don't worry, I got you! Today I've got 5 pretty cool free halloween costume ideas!
I'll give you an example…my mom was a teacher before she became a Vice Principal and during her teacher days she was able to score me a cheerleader skirt from her school. That year I put on a matching purple sweater, leggings a little makeup, my hair in a pony and BOOM I was the cutest cheerleader–and for free! It's one of my favorite Halloween memories!
I'm all about making one day costumes as cheap as can be. If you are too, check out this list of free Halloween Costume Ideas:
5 Free & DIY Halloween Costume Ideas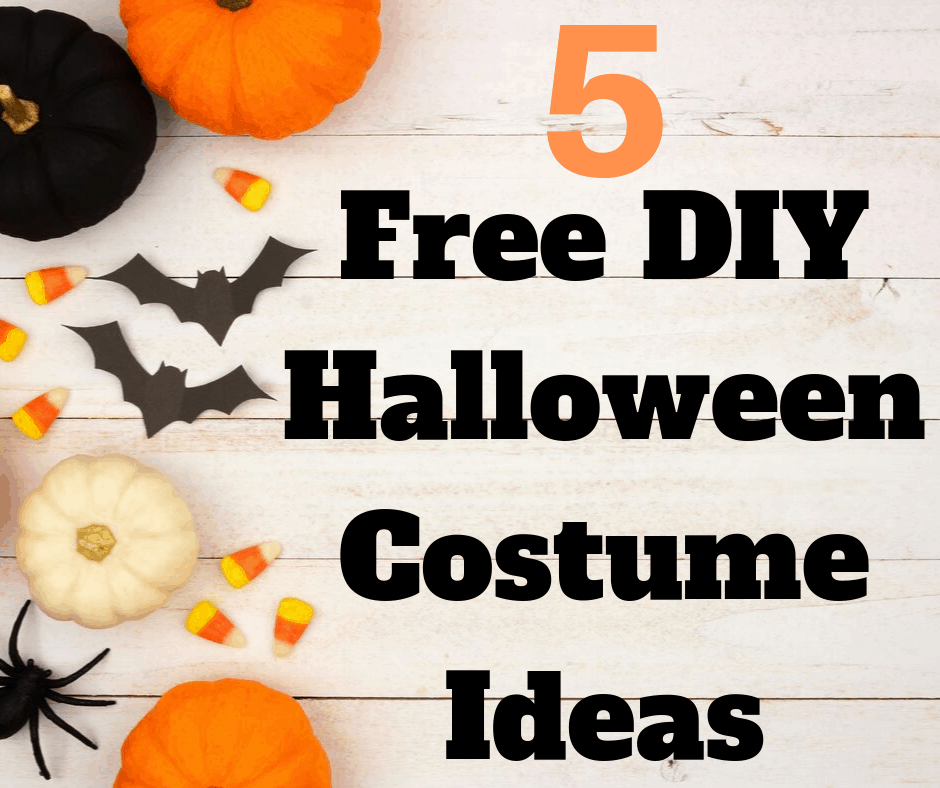 Ghost. You are bound to have at least one old sheet laying around the house somewhere that you no longer need, right? Turn it into your costume. You can make it as simple as cutting out some eye holes and BAM! You've got yourself a ghost costume! Just make sure that if you do this for the kids that the sheet isn't too long and won't swallow them whole!
Cat. With nothing more than a black outfit and some eyeliner you can make yourself a cute (or sexy, if that is what you are going for) cat costume. Be sure to draw on some whiskers and color in that nose for the best, cat-like effects!
Tourist. Do you have an I <3 NY shirt, or maybe a Hawaiian shirt? Throw these on and call yourself a tourist. If you have a camera with a strap, that will help complete the true tourist look.
Zombie. You can make a zombie out of just about anything. I personally like the idea of taking last year's costume, ripping it up a bit and adding some pale and/or bloody looking makeup to the clothes, your face and body and all of a sudden, you are a zombie! You have complete artistic free range with this one!
80s. That's right, just go as the 80s. A sideways ponytail and some blue eyeshadow will go far in creating an 80s themed costume. If you have any neon colored clothes that will help too! What a classic and fun decade.
Bonus:
A couple more ideas for you include buying some purple balloons and taping them to yourself for the look of a bunch of grapes, writing BOOK on your face with some eyeliner and you can become FACEBOOK. The possibilities are endless for a free and/or super cheap Halloween.
If you are looking to have a fun and friendly Halloween Party check out these tips!
Don't forget this Frankenstein Green Cocktail recipe that is SO perfect and festive for Halloween!
Or maybe these awesome and fun graveyard Rice Krispie Treats?
What is your favorite free halloween costume?
Hi! I'm Nellie. I am a busy mama of three, wife to my high school sweetheart who loves to cook, workout and stay organized! I love to share helpful printables, the best recipes and fitness tips for the modern mom. I strongly believe that every mom can feed their family well, take proper care of themselves and have fun along the way! Read my story.
Get comfortable and be sure to come hang out with me on social. Don't grab your free fitness journal before you go!