This jello treat is made with blue jello, pretzels, swedish fish and whipped cream. A super fun treat for Independence Day or anytime!
A Fourth of July picnic or bbq is a great way to celebrate this fun holiday. I personally LOVE a great themed BBQ. There are so many ways that you can be creative with the food!
The Red White and Blue theme is really cool and cohesive if you take some time to plan out each dish. Check out these easy 4th of July food ideas plus I have included a fun kid friendly Deep Sea Fishing dessert that can be used on July 4th and beyond!
Try the following fun 4th of July themed food ideas for a super fun gathering.
Red, white and blue pasta
It is simple to make red, white and blue pasta. Simply make your favorite kind of pasta. You can make little stars if you want it to be festive or spaghetti or angel hair.
You can then place them in three separate bowls after they have been cooked. One of them can be pasta that is plain with just a little butter or oil. To another add tomato sauce to so that it is red. You can add a cream sauce to the last one but instead of leaving it white add a little blue food coloring so that it is blue.
You will then have red, white and blue pasta to celebrate the fourth of July. Cute right?
You can have different yummy side dishes to make up the red, white and blue motif
A popular option is yogurt with strawberries and blueberries in it.
You can serve fresh strawberries and blueberries.
You can make an American flag design with sandwiches. Take sandwiches and cut some of them into the shapes of little stars. Then take other sandwiches that are rectangular in shape. Arrange the stars and stripes sandwiches so that they resemble an American flag.
Pizza can also be patriotic! Take some sort of topping such as mushrooms and use them to spell out "U.S.A." You can also place designs on other things such as a quiche. You can use cheese that you get out from a can to draw fireworks on a cheese quiche.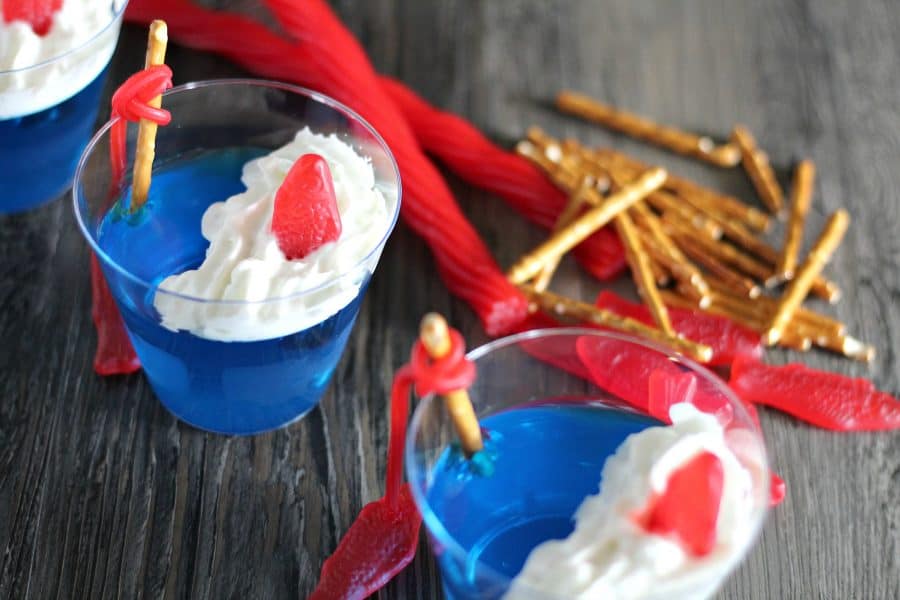 American flag cake & other July 4th Desserts
Of course, no Fourth of July party is complete without dessert. You can make a cake and decorate it with some sort of American motif such as an American Flag. You can also put red, white and blue stars on it. You can even try to draw in a picture of the White House or George Washington if you have artistic ability.
You can also place patriotic sayings on it such as "Go U.S.A." or "Happy Fourth of July." Alternatively you could make cupcakes with red, white and blue icing or little stars or sprinkles in these colors.
Another option is to let people make their own ice cream sundaes with vanilla ice cream and strawberry and blueberry toppings.
You can create whatever your mind can imagine for a Fourth of July picnic. Try the above ideas when planning your menu.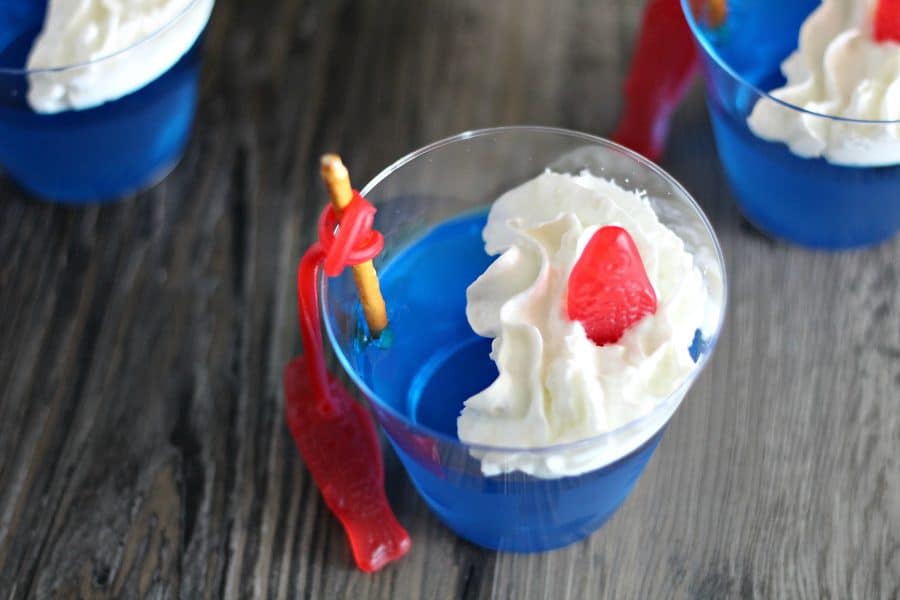 Or you can get super creative with this deep sea fishing dessert! The kids will love this one! There is jello, swedish fish and pretzels?! Check it out!
Yield:

6 cups
Deep Sea Fishing Jello Cups
A fun treat for kids with jello, whip cream and swedish fish. Perfect for July 4th!
Ingredients
Clear Plastic Punch Cups
1 Family Size Box of Blue Jello
Pretzel Sticks
Swedish Fish
Cherry Pull-n-Peel Twizzlers
Whip Cream
Instructions
Prepare jello in a large sauce pan as advised on box.
Let cool briefly and place into plastic punch cups. Fill each cup almost to the top, as shown.
Place cups in the refrigerator and let jello set for several hours until firm. (I let mine set over night.)
Pull one "string" off your Twizzler and cut in half.
Push on end through the end of your Swedish Fish. I pushed mine through with a fork.
Wrap the other end of the Twizzler around the end of a pretzel, as shown.
Push the end of the pretzel through the jello at the side of the cup, as shown.
On the opposite side of your jello cup, create waves with your whip cream, and place one Swedish Fish in the middle.
Serve and enjoy!
For more kid friendly desserts check out:
Super Fun Captain Marvel Popcorn Recipe + Reaction From The Movie!
Disney Inspired Snack: Aladdin Magic Carpet Recipe
25 Amazing and Drool-Worthy Disney Inspired Recipes