The beloved Toy Story franchise is so fun! Check out this Toy Story 4 Printable Activity Pack + A Simple Alien Jello Cup Recipe!
Toy Story 4 Printable Activity Pack
The first Toy Story movie was released when I just 12 years old. I remember being super excited to go see it in the movies because it was a real HOT MUST SEE movie. My mom was very strict about me not seeing PG-13 movies before I was actually 13 so I was over the moon that I was "allowed" to see this one!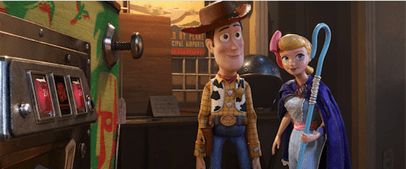 Can you imagine that we get to enjoy a franchise that was created when WE were kids and now we get to enjoy it with our own. Toy Story 4 is in theaters Friday June 21st and we can't wait to see it! Today I've got for you a Toy Story 4 Printable Activity Pack + a super easy Alien Jello Cup Recipe.
Fans around the world thought the toys' story had ended when Andy brought his long-loved pull-string cowboy Woody and the gang— Buzz, Jessie, Slinky, Rex and the rest—to live with Bonnie, a young friend of the family who—like Andy—has a huge imagination when it comes to her toys. "Like most people, I assumed that 'Toy Story 3' was the end of the story," says director Josh Cooley. "Turns out it was only the end of Woody's story with Andy. Just like in life, every ending is a new beginning. Woody now being in a new room, with new toys and a new kid, was something we have never seen before. The question of what that would be like became the beginning of an entertaining story worth exploring."
Woody, Buzz Lightyear and the rest of the gang embark on a road trip with Bonnie and a new toy named Forky. The adventurous journey turns into an unexpected reunion as Woody's slight detour leads him to his long-lost friend Bo Peep. As Woody and Bo discuss the old days, they soon start to realize that they're worlds apart when it comes to what they want from life as a toy.
ALL ABOUT THE CHARACTER FORKY!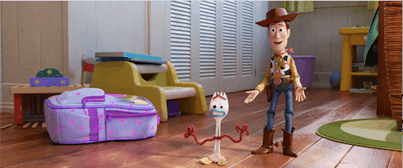 According to Disney Fandom:
Forky is an adorable, tiny, little spork outfitted with pipe-cleaner arms and a cute, squiggly face that was made by Bonnie herself. It's the type of toy that could only be loved by a child who spent 20 whole minutes making it, and it's obvious from the teaser trailer that he doesn't belong with the rest of Andy and Bonnie's precious toys. Even Forky admits it, frantically crying out that he isn't a toy — which feels like a callback to the first Toy Story movies' central plot, where Buzz Lightyear thought that he was a real Space Ranger, even though Woody tries to tell him that he's just a toy.
I can't wait to see how forky blends in with the rest of the toys!
To help the kids get excited and enjoy the movie even long after they have seen it–I have two fun activities for them to enjoy!
Toy Story 4 Printable Activity Pack
Coloring pages of all your favorite Toy Story 4 characters
Memory Game Cards
Road Trip Snack Mix Recipes
Road Trip Bingo Games
Bo Peep Maze
How to Make Your Own Forky Craft
"Who Said That" Toy Story 4 Quote Game
Download it here!
Toy Story-Inspired Jello Cups: A Playful Treat for All Ages
Who says you can only enjoy the magic of Toy Story through the screen? Bring the whimsy into your kitchen with these adorable Toy Story Jello Cups! Made with vibrant Lime Jell-O and playful candy eyes, these cups are more than just a tasty treat—they're an adventure in every spoonful. Perfect for kids and adults alike, these Jello Cups are guaranteed to take your tastebuds "to infinity and beyond!"
FAQs
1. Can I use a different flavor of Jell-O?
Yes, you can absolutely use a different flavor. However, the lime gives it that iconic green color reminiscent of characters like Buzz Lightyear and the aliens.
2. Are candy eyes safe to eat?
Yes, candy eyes are edible and safe for all ages.
3. Can I make these ahead of time?
Absolutely! These Jello Cups keep well in the fridge.
Variations
Galactic Berry Mix: Use mixed berry Jell-O to represent the different characters from the movie.
Woody's Orange Cream: Blend in a layer of whipped cream with orange Jell-O for a Woody-inspired look.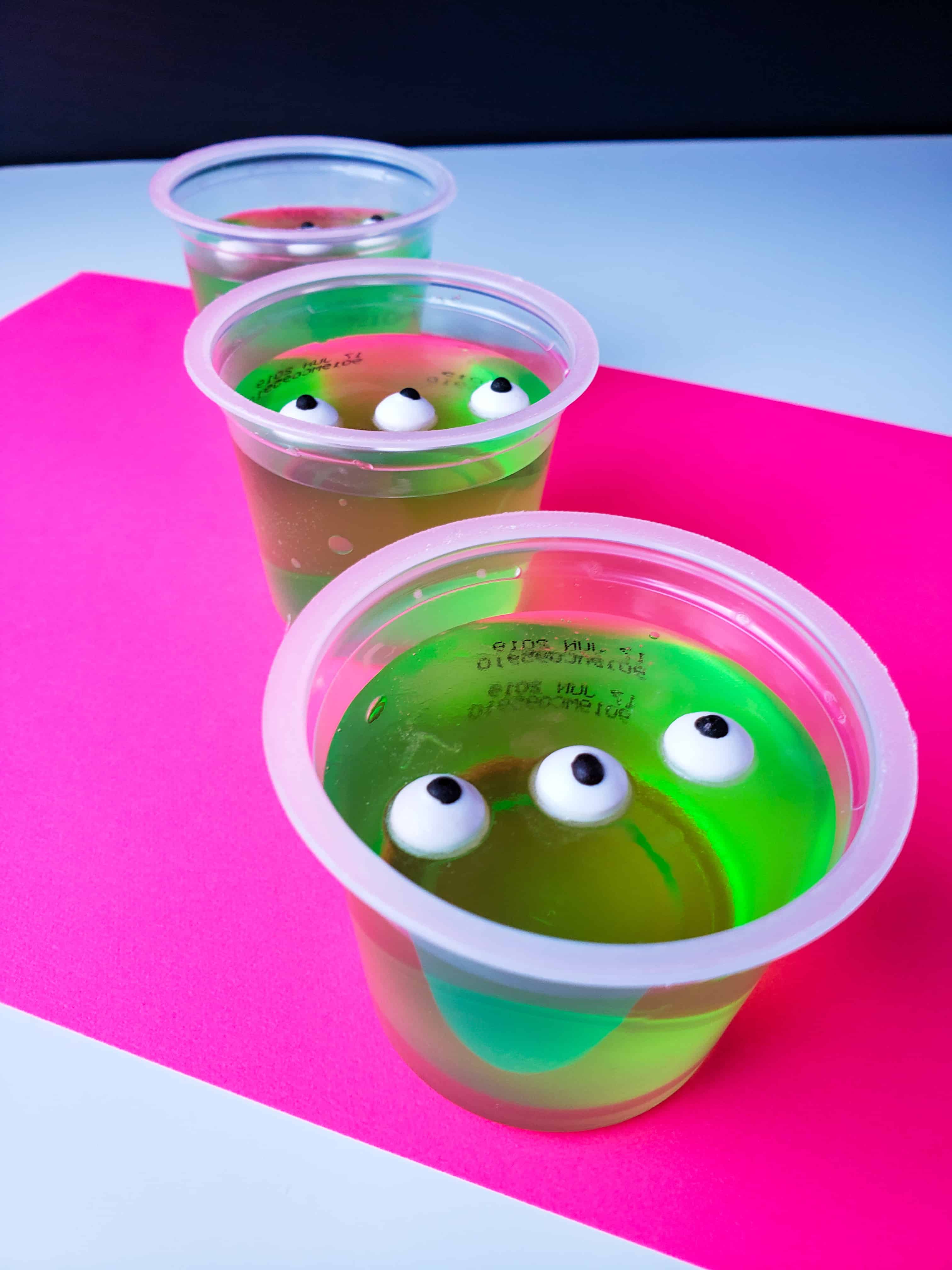 Where to Serve
These Jello Cups are incredibly versatile and perfect for:
Kids' Birthday Parties
Movie Nights
Themed Events
Weekend Treats
Storage
Refrigerator: Store in an airtight container for up to a week.
Freezer: Not recommended, as Jell-O doesn't freeze well.
Common Problems and How to Avoid Them
Jell-O Not Setting: Make sure to follow the setting instructions on the Jell-O package.
Candy Eyes Sinking: Place the candy eyes after the Jell-O has partially set to keep them from sinking.
Tips for Making This Recipe with Kids
Stirring the Jell-O: Let the kids stir the Jell-O mix; it's a fun way to get them involved.
Placing the Eyes: Have the kids gently place the candy eyes on the Jell-O. It's like a mini art project!
Topping Options
Whipped Cream: For an added layer of texture.
Sprinkles: To make it even more festive.
Gummy Worms: For a playful touch.
Why This Recipe Works
Easy to Make: With just two main ingredients, it's simple enough for even the youngest chefs in your household.
Versatile: It can be adapted to fit any theme or flavor preference.
Engaging for Kids: From stirring the Jell-O to placing the candy eyes, kids will love being a part of the process.
Nostalgia Factor: For adults, it's a fun throwback to a beloved movie, making it a hit for all ages.
So there you have it—a Toy Story treat that's sure to be a hit, whether you're a novice in the kitchen or a seasoned chef. These Jello Cups offer a perfect blend of simplicity and creativity, making them a go-to for any Toy Story-themed occasion!
What are some other fun Disney recipes to try?
Yield:

3 Jello Cups
Toy Story 4 Printable Activity Pack + An Alien Jello Cups Recipe!
These super fun Jello cups are really easy to make and are great for a Toy Story themed party!
Ingredients
3 Lime Jell-O Cups
3 Candy Eyes per Jell-O Cup
Instructions
Take the lid off of each Jell-O cup.
Use a paper towel or napkin to gently blot off any excess liquid on top of the Jell-O.
Place 3 candy eyes in a straight line across the Jell-O.
Serve immediately!
Note: Do not make these ahead of time, or the candy eyes will melt! Place the candies on right before serving.
Nutrition Information
Yield
3
Serving Size
1
Amount Per Serving
Calories

100
Total Fat

1g
Saturated Fat

0g
Trans Fat

0g
Unsaturated Fat

0g
Cholesterol

0mg
Sodium

91mg
Carbohydrates

246g
Fiber

6g
Sugar

146g
Protein

2g
For more fun and easy Kid friendly recipes and printables check out:
Hi! I'm Nellie. I am a busy mama of three, wife to my high school sweetheart who loves to cook, workout and stay organized! I love to share helpful printables, the best recipes and fitness tips for the modern mom. I strongly believe that every mom can feed their family well, take proper care of themselves and have fun along the way! Read my story.
Get comfortable and be sure to come hang out with me on social. Don't grab your free fitness journal before you go!