There are two things that I love in this world and that is my air fryer and potatoes. I am so excited to bring you these amazing Air Fryer Baby Potatoes that you can use as a delicious side dish to your meals!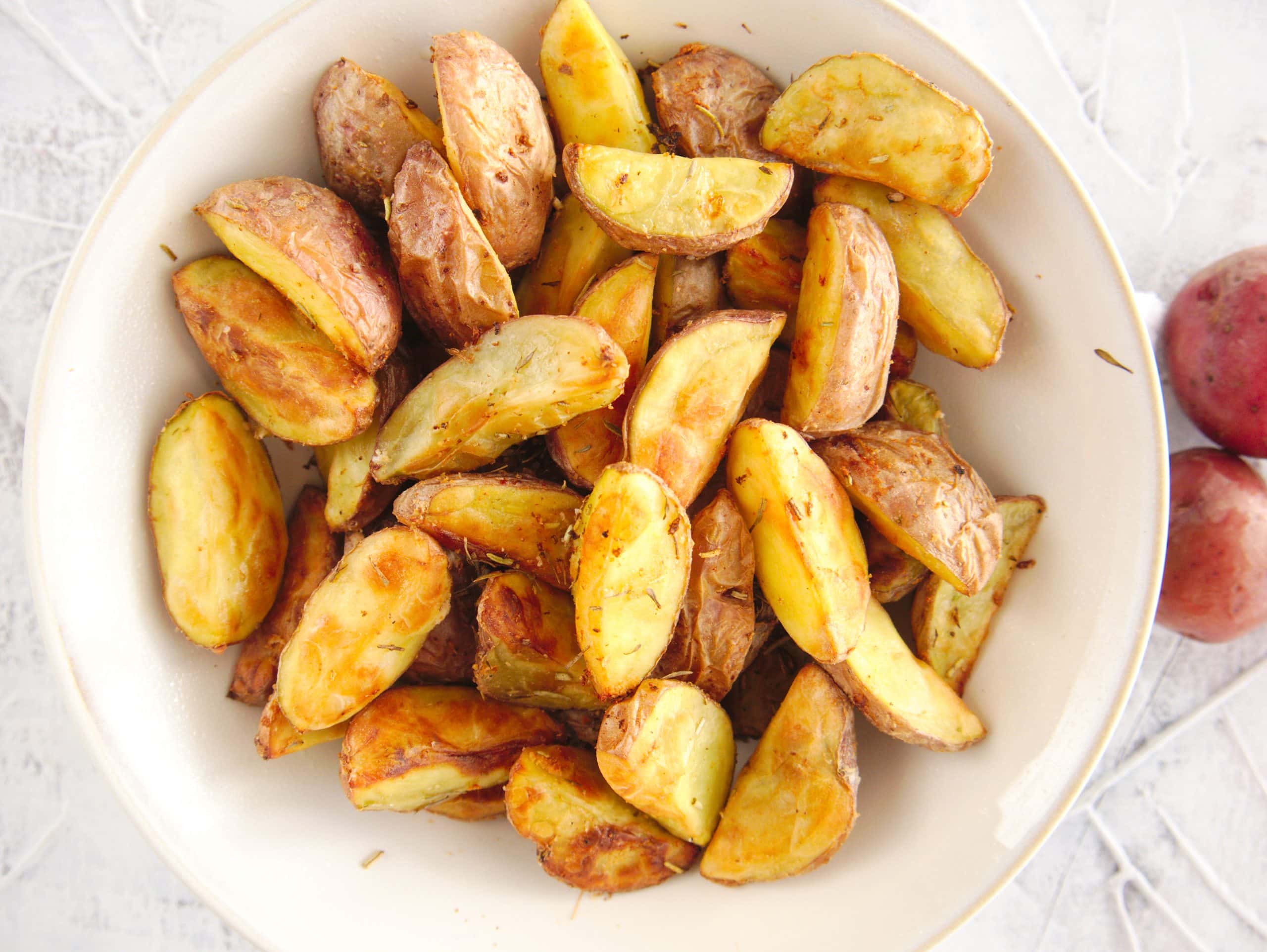 My favorite thing to do is throw a recipe in the air fryer and forget it. My absolute favorite thing to make in the air fryer is bacon believe it or not. I literally throw it in (in an organized fashion of course) and boom 7 minutes later, perfect bacon!
I've already given you guys these amazing Air Fryer Mozzarella Sticks, Air Fryer Buffalo Cauliflower and of course the super popular Air Fryer Roasted Vegetables. Today we are adding Air Fryer Baby Potatoes to the army!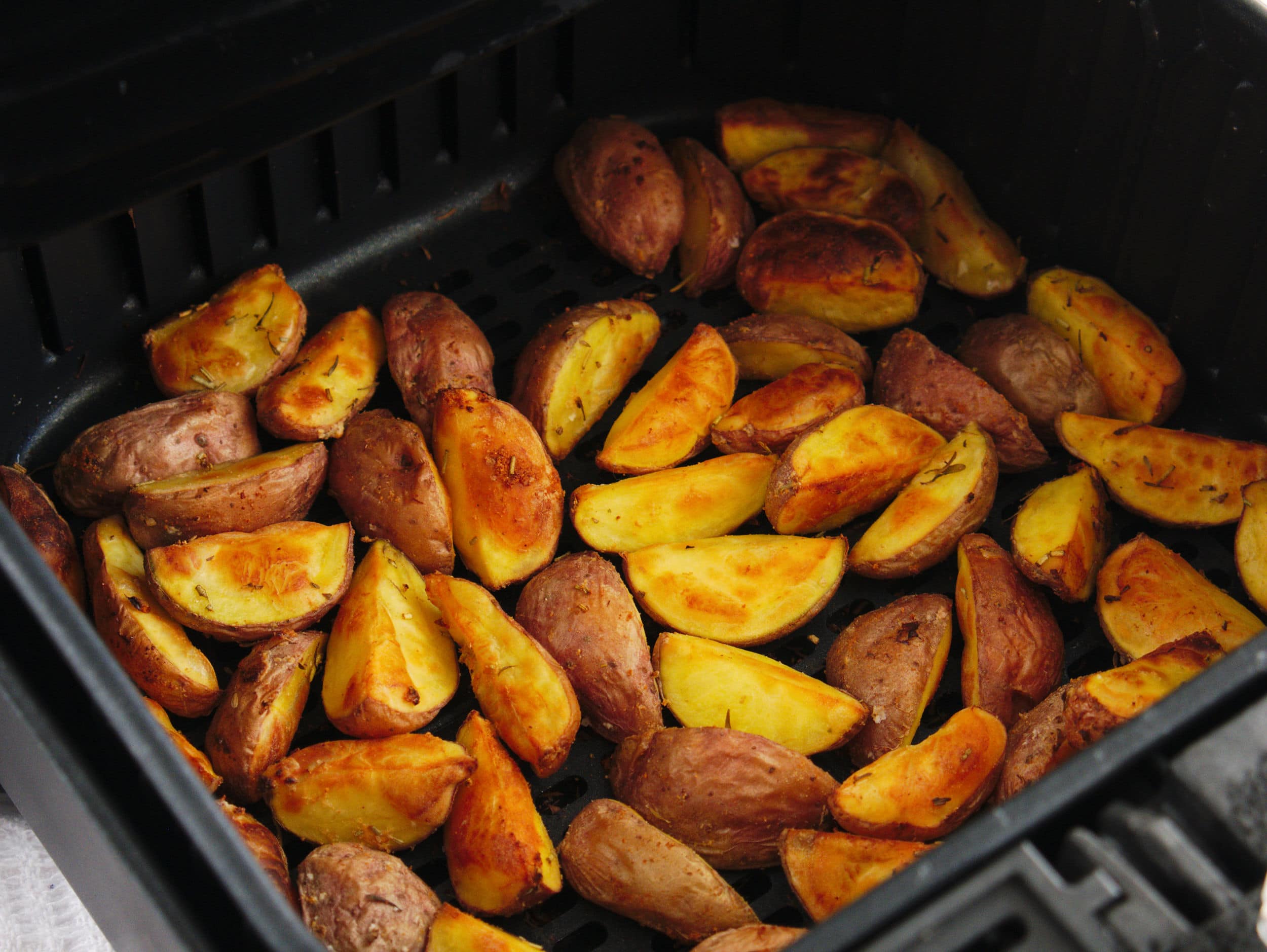 Where should I serve this dish?
Holidays and family gatherings are fantastic for this dish, but honestly it's great on an average regular day too. I would personally serve with a rib eye steak or even with this crockpot balsamic pork!
Another great way to eat these is like breakfast potatoes! I'd personally add some chopped onions and peppers but that's me 😉 They are the perfect brunch addition!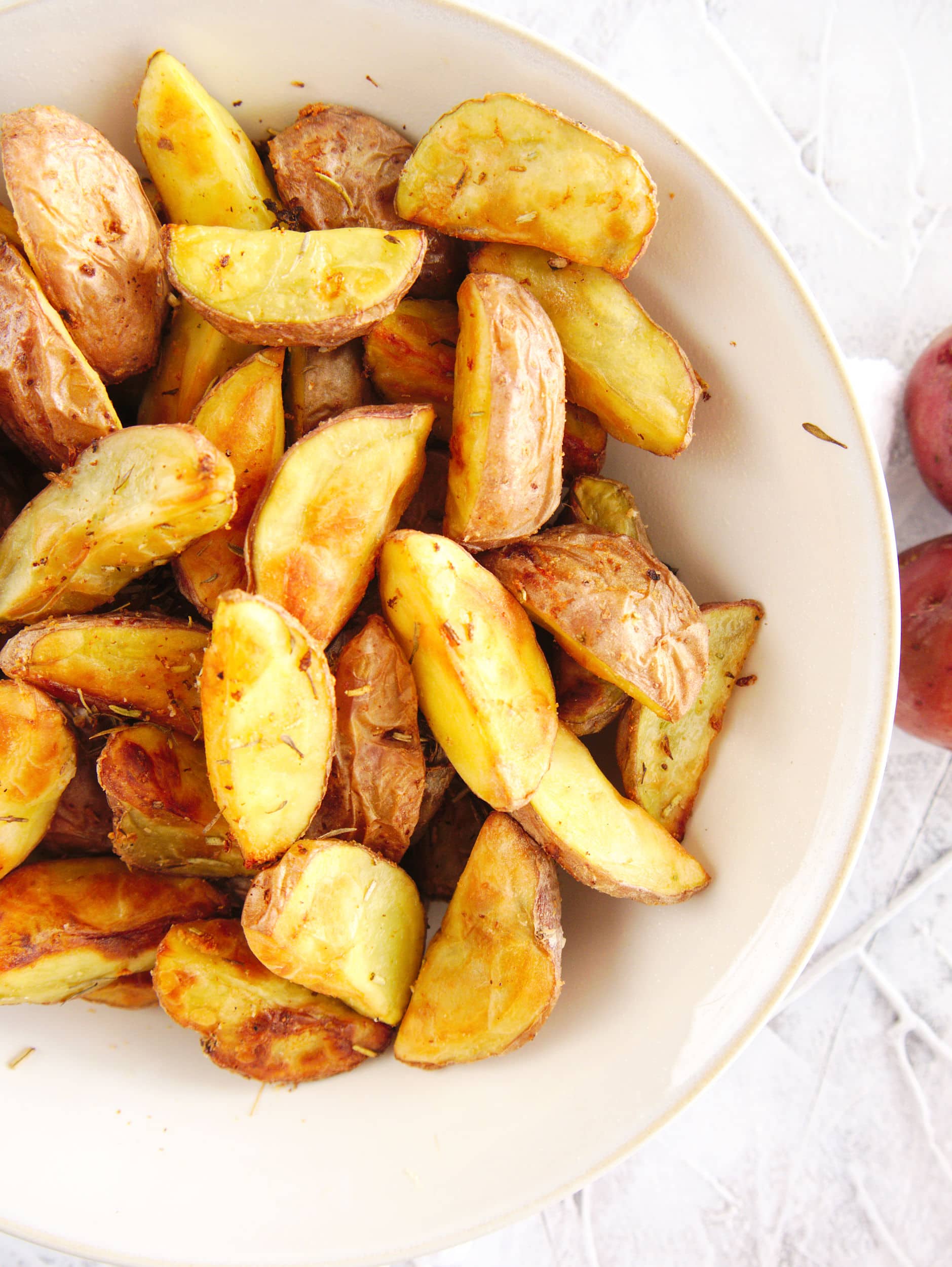 What type of spices are used on the potatoes?
The great news is that you likely have everything you need in your pantry!
–garlic powder
–dried thyme
–rosemary
–salt
–olive oil spray
The cool thing is you can double the spices for a stronger tasting dish! These potatoes are such a great addition to any meal–for example my family loves spicy food, especially my middle child. The more heat the better!
Yield:

1lb potatoes
Easy Air Fryer Baby Potatoes
Potatoes are delicious and very nutritious, but they can take a long time to cook. With an air fryer you can cut cooking time by a lot so you can enjoy these little baby potato wedges as a snack or as a side dish.
Ingredients
1 lb. raw baby red potatoes
¼ teaspoon garlic powder
¼ teaspoon dried thyme
¼ teaspoon dried rosemary
½ teaspoon of salt
olive oil spray
Instructions
Choose baby potatoes which are similar in weight and
circumference for even cooking.
Cut each potato into quarters to make small wedges. Place in a bowl and spray with oil until they are well coated on all
sides.
Add the garlic powder, dried thyme and rosemary, and salt and stir until well combined and the potatoes are well coated.
Allow to sit for 5 minutes.
Set air fryer to 400F place the potato pieces into the air
fryer basket and set time for 10 minutes.
After the 10 minutes carefully flip the potatoes, don't shake because too much of the seasoning may fall off. Cook for another 7 to 10 minutes depending on the size and crispiness you'd like.
Serve as a side dish or with your favorite dipping sauce for a healthy and quick snack. The potatoes are also great on the side of a scramble eggs or with steak or even a salad. Enjoy!