What are you going to do with all of those leftover zucchinis from the garden? You could allow them to sit on your counter until they are no good. You can also put them to good use! I'm going to teach you how to make Zucchini Brownies and they are going to be amazing. These are a healthier spin on regular brownies, so you don't have to sit there and guilty about eating more than one!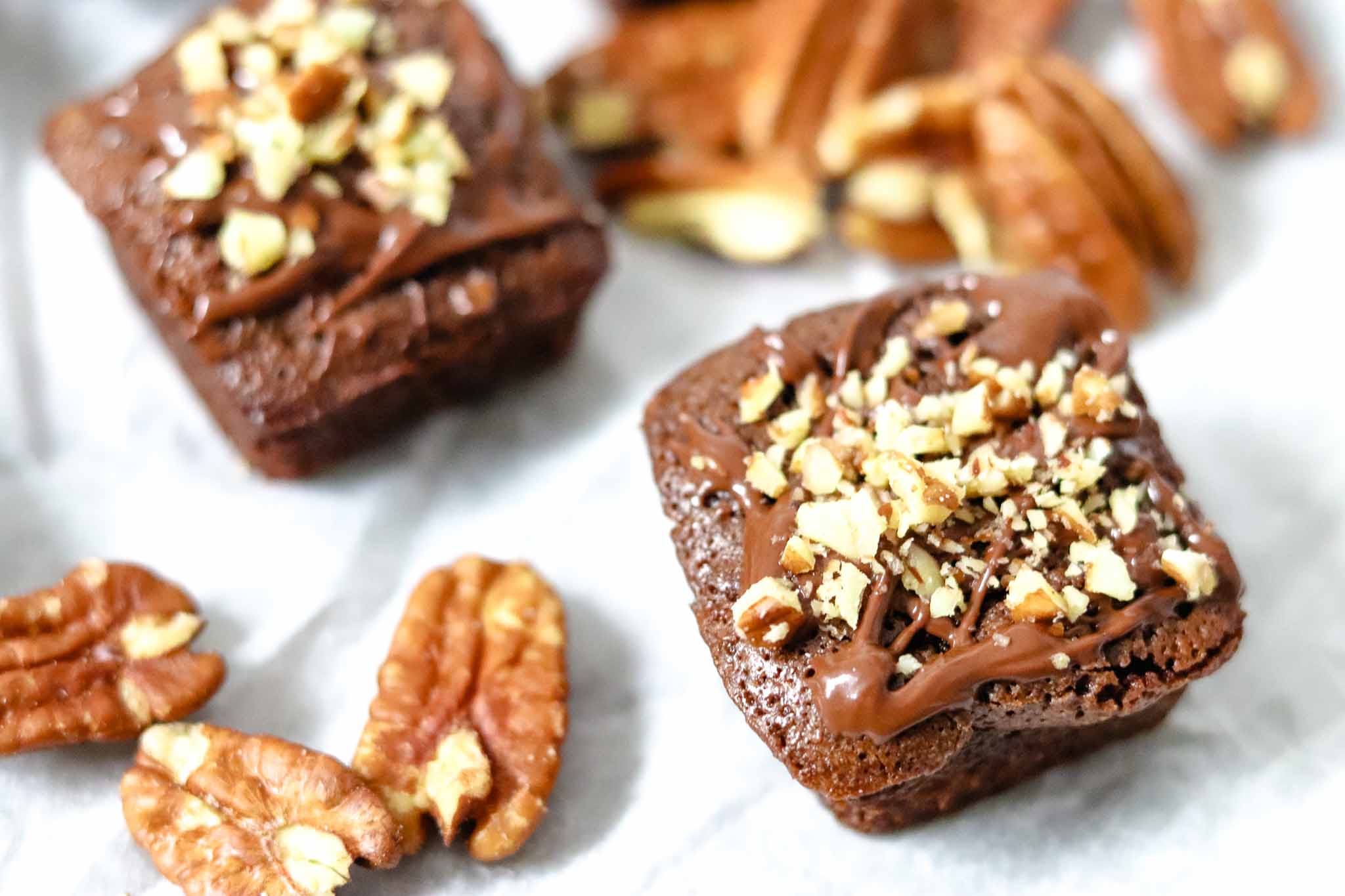 It's been a while since I went into the kitchen to make these Zucchini Brownies, but I knew when I did, I needed to tell everyone about them. They are so good, anyone I make these for LOVE them. I could take them to a potluck, birthday party, or even a block party, and everyone gobbles them right up!

Ingredients for Zucchini Brownies
Now, you may be wondering what ingredients make these so delicious? What could I possibly put in here that would make these brownies taste so rich and yummy?
Shredded Zucchini – Yes, you do have to shred the zucchini, but this is a small price to pay for how delicious these brownies are. Plus, you don't want to bite into super large pieces of veggie in your brownies, trust me.
Semi-sweet chocolate morsels – One of the secret ingredients in this dessert is the chocolate. I don't know about you, but I could eat chocolate every single day of my life.
Unsweetened cocoa – That cocoa helps make these brownies so rich and decadent. Don't leave this ingredient out when you make these brownies.
The next time you're craving something delicious, but you don't want to feel guilty, make these! You won't ever throw away zucchini again, once you try a healthier twist on regular brownies. Let me know what you think in the comment section.
Yield: 35-40 mini muffins
Rich and Amazing Zucchini Brownies
You will absolutely love this rich and chocolatey zucchini brownies! Add veggies to your favorite treats and keep the amazing taste!
Ingredients
• 1 1⁄2 cup shredded zucchini
• 1 stick butter
• 12 oz semi sweet chocolate morsels
• 3⁄4 cup granulated sugar
• 1⁄2 cup packed brown sugar
• 3 eggs
• 1 1⁄2 tsp vanilla
• 3⁄4 tsp salt
• 1⁄2 cup flour
• 3 Tbsp unsweetened cocoa
• 1⁄2 cup chopped pecans for topping
• Spray oil for pan
Instructions
Create a double boiler with two saucepans. Fill the bottom halfway with water. Melt the butter in the top pan over medium heat.

In a medium bowl, lightly beat together eggs, sugars, vanilla, and salt. Blend in shredded zucchini.

Combine flour and cocoa into the brownie mixture.

When butter is melted, add in 1⁄2 cup semi sweet chocolate. Stir to melt. Remove from heat and
pour into brownie mixture.

Spray brownie pan with oil. This can also be made in a greased cake pan.

Bake 375° for 20 minutes. Use a cake tester or toothpick to test for doneness. Brownies are
ready when tester or toothpick inserted into center comes out clean.

Sit pan on wire rack until cooled, approximately 10 minutes. Carefully remove brownies from
mold with a knife.

Melt remaining 1⁄2 cup semi sweet chocolate in double boiler as done previously. Finely chop
pecans. Drizzle chocolate over brownie tops and top all or some with nuts.

Serve warm and store in a sealed container for 3 days if they last that long!

Recipe can be doubled and tripled for freezer prep. To thaw, just remove from the freezer and set on the counter.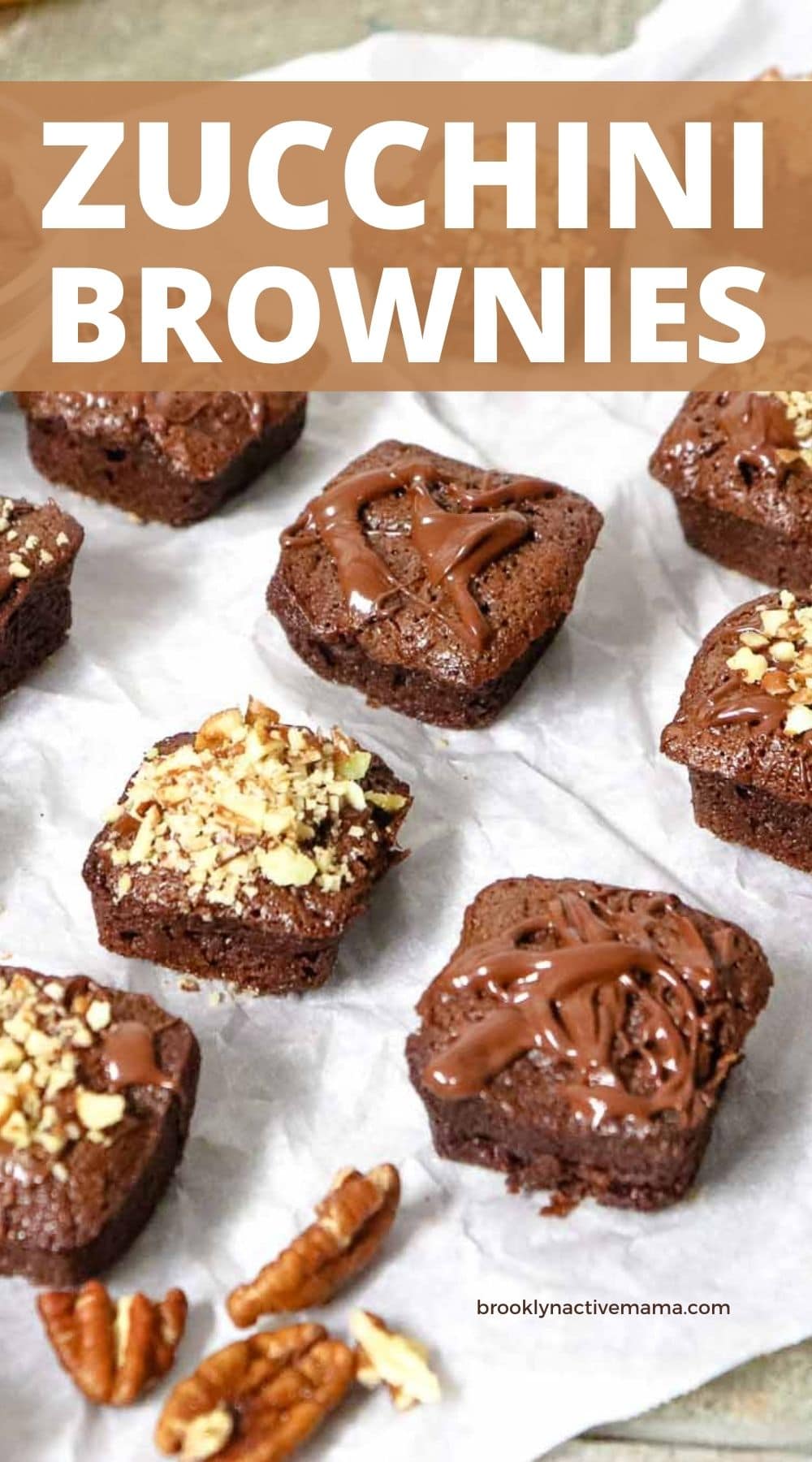 Hi! I'm Nellie. I am a busy mama of three, wife to my high school sweetheart who loves to cook, workout and stay organized! I love to share helpful printables, the best recipes and fitness tips for the modern mom. I strongly believe that every mom can feed their family well, take proper care of themselves and have fun along the way! Read my story.
Get comfortable and be sure to come hang out with me on social. Don't grab your free fitness journal before you go!