The holiday season is quickly approaching! Before you know it, it'll be time to make your Thanksgiving turkeys and whip up your famous mashed potatoes! Planning your holiday dinner can start to become a little overwhelming, especially if you have small kids around your feet while trying to mix and cook. Today I've got a fun Activity Thanksgiving Placemat that will keep them busy!
This year, it doesn't have to be! I designed these Thanksgiving Placemats to be the perfect activity to keep your kids busy while you cook, or to keep restless kids behaved during Thanksgiving dinner!
If you are looking for a fun way to keep your kids busy during the long meal that is Thanksgiving dinner, without turning to a device, these printable Thanksgiving Placemats are the perfect solution.
Thanksgiving is a special time for gratitude, togetherness, and feasting. To enhance the festive spirit and keep everyone engaged, especially the younger ones, incorporating free printable Thanksgiving placemats can be both functional and fun. Let's delve into the variety and the added value these placemats can offer:
Thanksgiving Placemat Activities
Tic Tac Toe: A classic game that's always a hit. With a Thanksgiving twist, players could use turkey and pumpkin stickers or drawings as their game pieces.
Word Scramble: Challenge the brain while waiting for the turkey. Scrambled words could be Thanksgiving-themed like "Pilgrims," "Harvest," or "Cornucopia."
Maze: The journey to the Thanksgiving feast can be turned into a fun-filled adventure with a turkey or pumpkin maze.
Word Search: Hidden within a grid could be words associated with Thanksgiving. From "Gratitude" to "Stuffing," kids and adults alike can hunt for them.
Fill in the Missing Letter: This is both educational and festive. Words like "Th_nksgiving" or "T_rkey" can be included to challenge and entertain the young ones.
Coasters: These printable coasters not only protect the table but can also be adorned with festive designs or conversation starters about what everyone is thankful for.
Making Your Thanksgiving Placemats Reusable:
Materials:
Printed Thanksgiving placemats
Laminating pouches (available at office supply stores)
Laminator
Scissors or a paper cutter
Instructions:
Print: Begin by printing your chosen designs on sturdy paper for best results. This ensures they hold up well during the laminating process and subsequent usage.
Prep the Placemats: Trim any excess white space around your printed placemats using scissors or a paper cutter for a clean look.
Laminating:

Turn on your laminator and allow it to fully heat up.
Place your trimmed placemat inside a laminating pouch, ensuring it's smooth and free from wrinkles.
Feed the sealed end of the pouch into the laminator. Allow the laminator to pull the pouch through on its own. Keep the placemat straight as it goes through.
Once fully laminated, remove the placemat and lay it flat to cool for a few minutes.

Trim and Finish: Using scissors or a paper cutter, trim any excess laminate, leaving a small border around the edge of the placemat. This ensures it remains sealed.
Enjoy and Store: Once laminated, your placemats are ready for the festive feast! They're easy to wipe down with a damp cloth, making them reusable for years to come. After the festivities, store them flat in a cool, dry place to keep them in perfect shape for the next Thanksgiving.
With these free printable Thanksgiving placemats, you're adding an extra touch of festivity and entertainment to your holiday table. Not only are they aesthetically pleasing, but the games and puzzles also provide amusement and bonding moments for family and friends. The added advantage of laminating them ensures you can continue this lovely tradition year after year.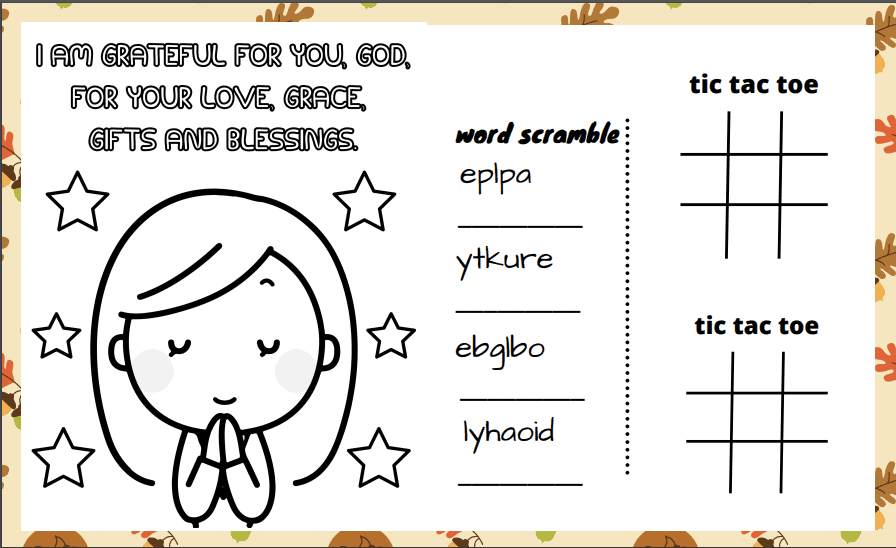 They are not only a great way to keep your kids engaged while you cook, but you can even use them to keep your kids active when they're done eating or waiting for dinner. There are six pages packed full of Thanksgiving puzzles and fun that will keep your kids plenty busy during Thanksgiving Day!
Classroom Thanksgiving Printables
You can even use these in your classroom or for your classroom Thanksgiving feast too! While these are made with elementary-aged kids in mind, your older or younger kids might still find this fun. You may even catch some of the adults joining in on the mazes and word scrambles.
These Thanksgiving Placemats are the perfect way to make your Thanksgiving meal a little extra special for your little ones! Plus if you are looking for more fun activities try this Easy DIY Thanksgiving Craft For Kids: Turkey Feathers Craft.
These are a fun way to decorate a kid's table (if you aren't having everyone at one table) or a cool way to get your kids to stay quiet while trying to chat with some of the adults the table for a change.
If you don't want to use these during your Thanksgiving meal, they can be a fun activity for your kids to look forward to after dinner. This five page PDF printable has so many fun things for the kids and even comes with special thanksgiving coasters!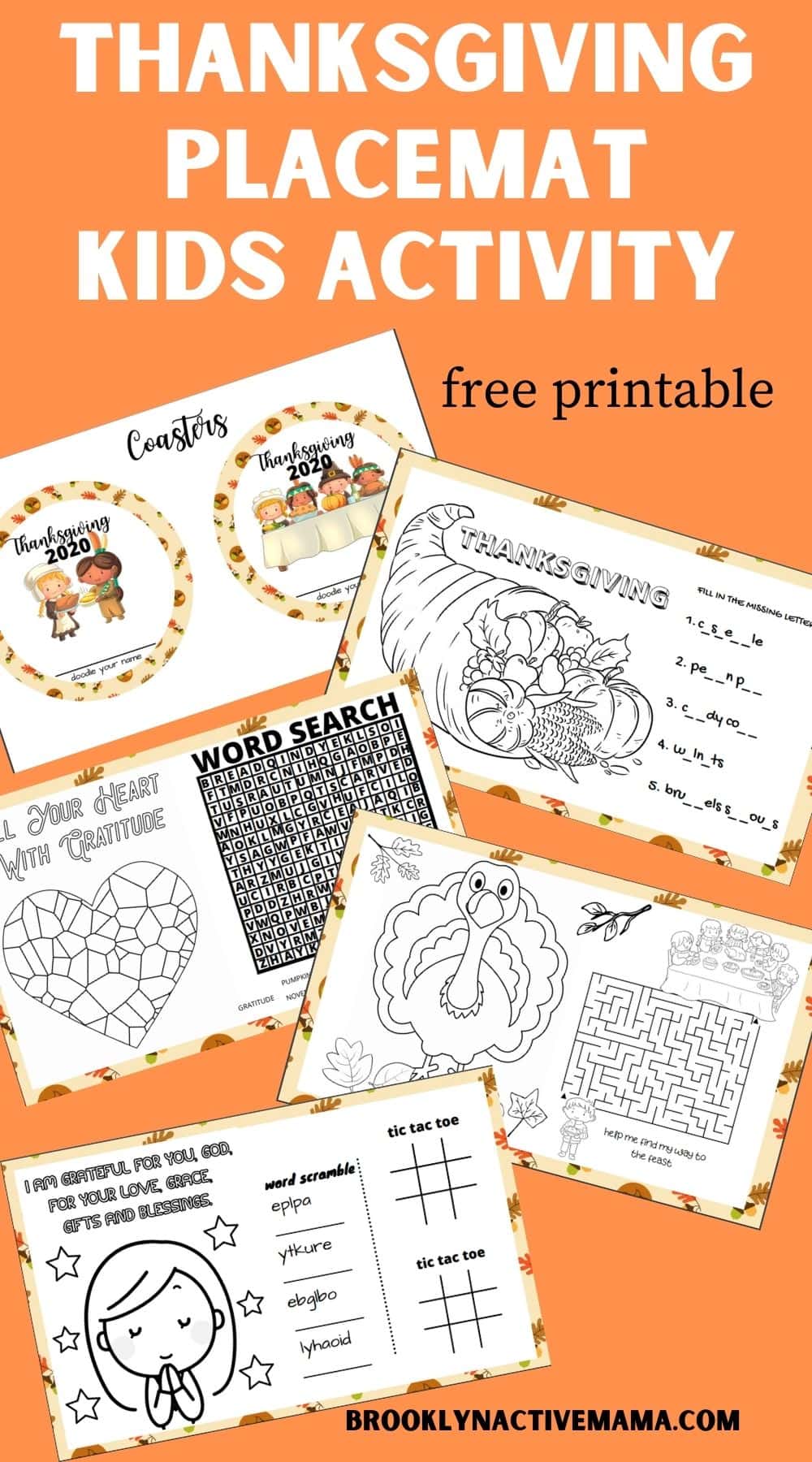 If you liked this Thanksgiving placemat be sure to check out this awesome Thanksgiving Gratitude Game for the family!
Hi! I'm Nellie. I am a busy mama of three, wife to my high school sweetheart who loves to cook, workout and stay organized! I love to share helpful printables, the best recipes and fitness tips for the modern mom. I strongly believe that every mom can feed their family well, take proper care of themselves and have fun along the way! Read my story.
Get comfortable and be sure to come hang out with me on social. Don't grab your free fitness journal before you go!