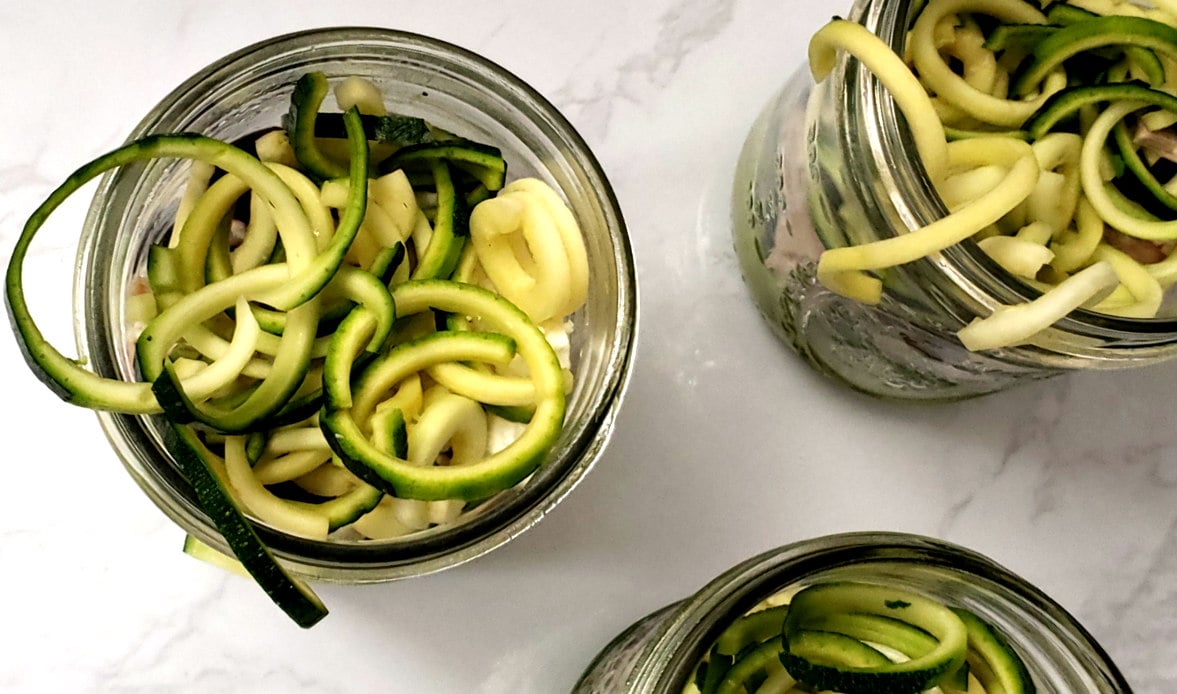 With everything adults face on a daily basis, eating well while at work is sometimes overlooked. Making a few small changes can help adults improve health. It often feels as if there isn't enough time during the day to eat healthy meals at work. Today I'm sharing a few tips on how to eat healthy during the workday as well as a Zucchini Noodle Chicken Salad In A Mason Jar Recipe!
Between scrambling to meet deadlines, feeding children, and completing housework, there is little time left for adults to plan a healthy diet and prepare their meals for lunch at their 9-to-5 job. More often than not, adults fall into the cafeteria or vending machine trap because it's cheap, easy, and quick. Unfortunately, the same trap can often be fattening and full of sodium.
Fortunately, eating during work does not have to be unhealthy. With a little planning, adults can prepare easy and nutrient-rich meals to improve health and get them through the work week. I've got some tips for you today as well as a great Zucchini noodle salad with chicken that you can throw in a mason jar and go!
Make a Plan: Prepare Meals to Improve Health
Before the week begins, make a big dish of something they love: low-fat chili, whole grain pasta, chicken, or vegetables, for example. Take the first helping on Monday, and put the rest in the refrigerator or freezer for the rest of the week.
With this method, you will not only save time because lunch has already been made for each day, but the money saved will add up as well. Skipped trips to the cafeteria and vending machine will improve not only physical health, but financial health as well.
Stock Desk-Area with Fruits, Nuts, Other Healthy Snacks
Often feel hungry before lunch, or mid-way through the afternoon? An easy solution is to stock desk drawers with healthy snack foods, such as almonds, walnuts, sunflower seeds, fruits, or yogurts. Nuts and seeds are filled with protein and healthy fats, helping to ward off hunger for longer, while fruits are filled with carbohydrates, which will do the same. Fruits also are filled with natural sugars, which provide a sweet taste for those craving sugary snacks.
If the sweet tooth simply cannot be ignored, reach for a small quantity of dark chocolate, made up of at least 65 percent cacao. Dark chocolate has many antioxidants and may help to lower blood pressure, which makes it healthier than milk chocolate, but even dark chocolate it packed full of saturated fat.
Be Adventurous When Choosing Meals
International foods, when prepared properly, are great for mid-day meals, as they often focus more on fruits and vegetables than traditional American cuisines. Stir-fry choices are great, but buttered and battered meals should be avoided. Choose grilled meat, which has a lower fat-content than deep-fried meat.
Trying new foods will help broaden horizons and present more options for healthy meals. Ever had pomegranate? See a fruit in the grocery store or cafeteria that is unrecognizable? Try it. Though sometimes difficult to eat, the fruit is high in anti-oxidants and satisfies even the most intense sweet-tooth.
Also, mix and match fruits, vegetables, and lean meats that may not traditionally be served together. Variety will help adults to stick to their healthy diet for longer, so try something new, even if it looks less than appetizing.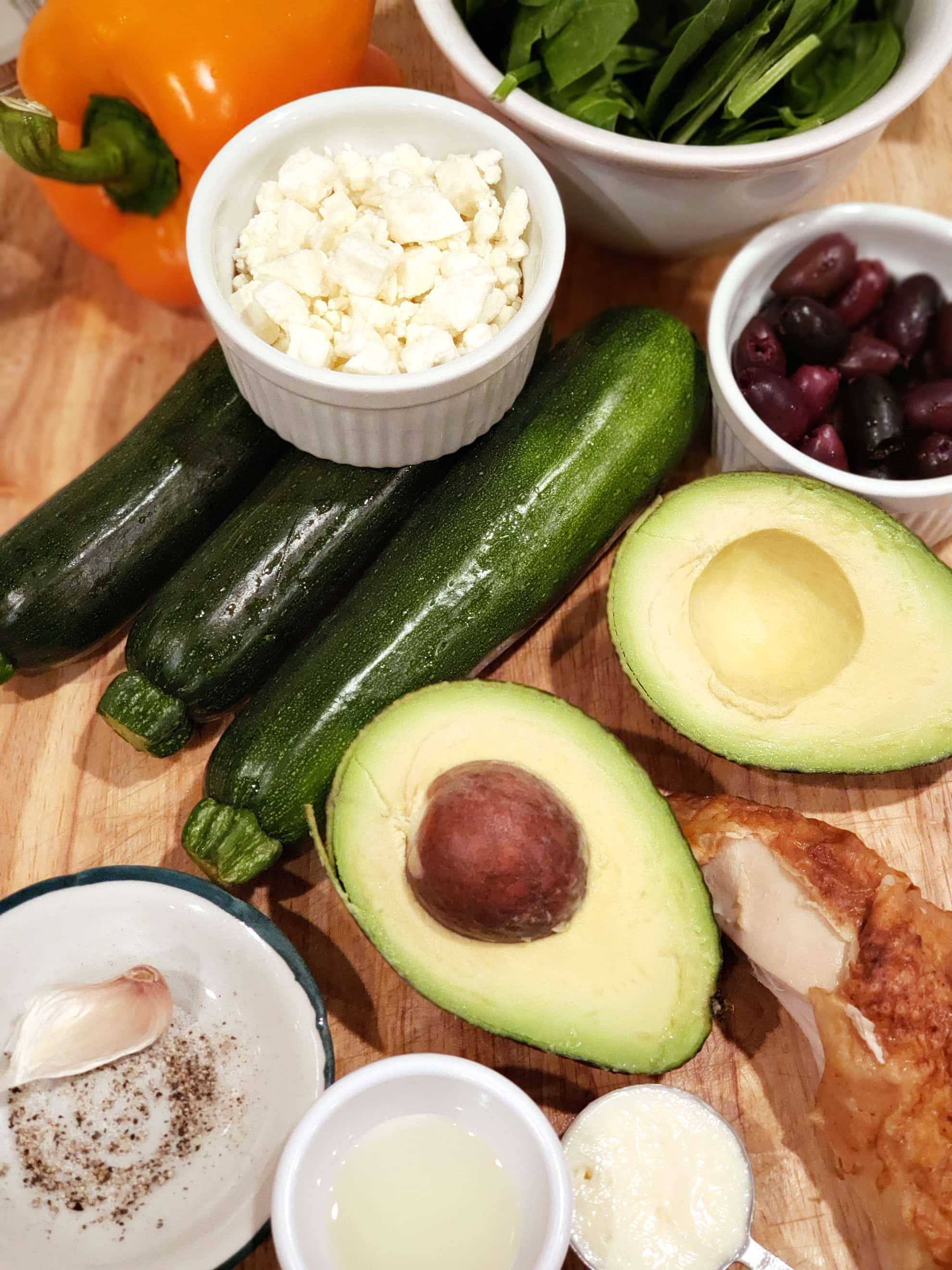 Portion Control for Health
Even if the meal is healthy, too much can cause problems. Do not pack two sandwiches for lunch when only one is needed. Even if the plan is to save the second for an afternoon snack, many adults will find themselves famished and eat both at lunch. Instead, if two sandwiches are necessary, pack them in separate bags and only take one of the bags to the lunchroom.
Another idea is to pack a lunch to share with a friend. Hunger pangs later in the day can be reduced by eating the healthy desk snacks like this Cinnamon Vanilla Granola.
Prepare for Each Day of Healthy Eating
Before an adult even leaves their home for work, they should do two things if they plan to be successful with their eating habits throughout the day. First, and perhaps most important, breakfast must be eaten. Eating breakfast helps to keep people feeling full longer and reduces binge eating later in the day. Breakfast can be as simple as a smoothie bowl or even oatmeal!
Second, a large water bottle should always be present on or near the desk. Often, when someone things they are hungry, they are no more than dehydrated. Drinking 64 ounces of water each day will help you to feel fuller longer, reducing hunger flashes and helping to focus on work longer.
Initially, following some of these tips may be difficult and time consuming. Making them part of a daily lifestyle will turn them to habits, and the amount of time spent planning and preparing will be greatly reduced. Following just a few of the tips can help to improve both physical and mental health, improving productivity throughout the work day.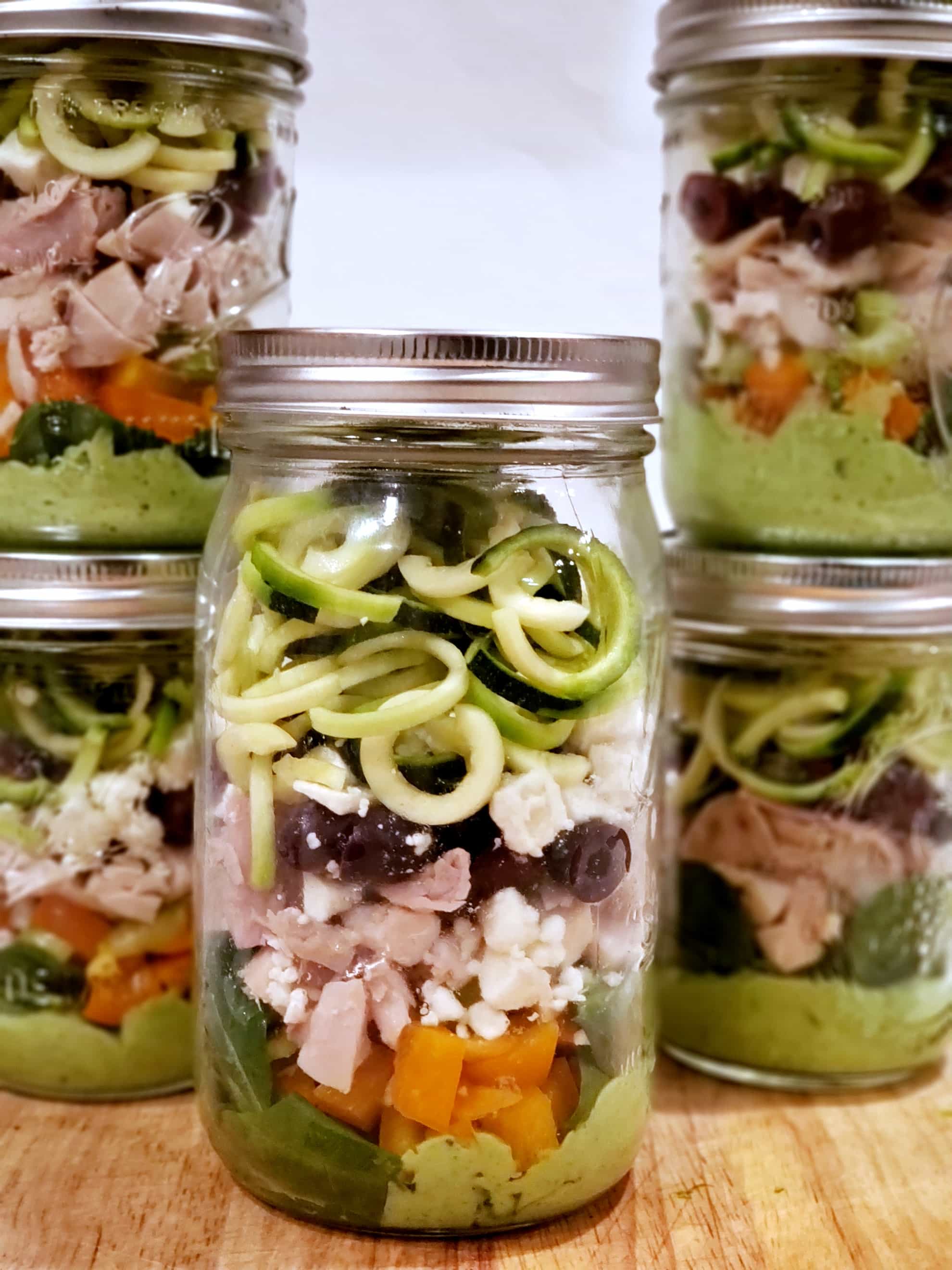 Check out this Zucchini Noodle Salad with Chicken Recipe that is perfect to prepare for meal prepping!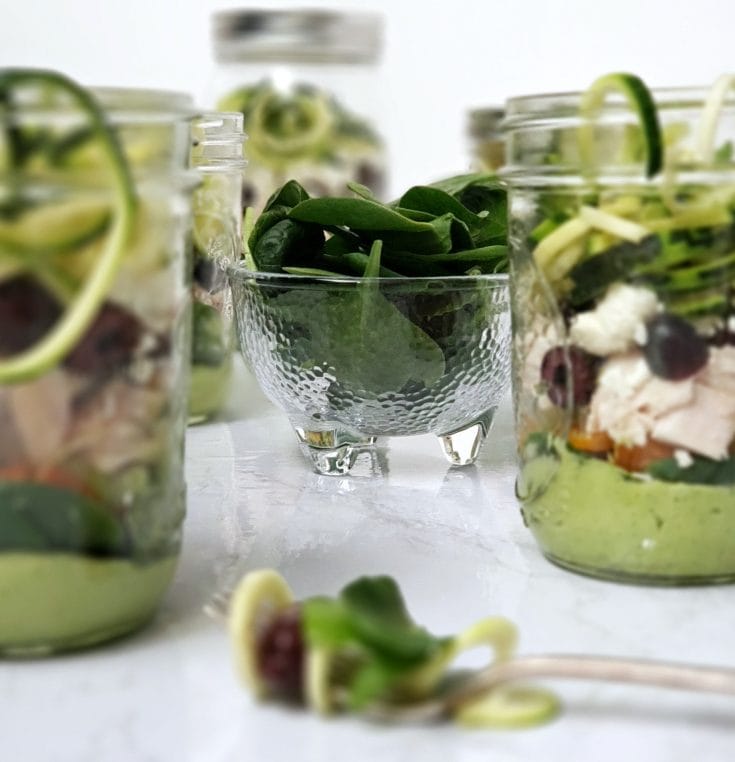 Yield:

4 pint jars
Zucchini Noodle Chicken Salad In A Jar Recipe + How To Eat Healthy At Work
Ingredients
• Canning jars with lids
• 1 large chopped cooked chicken breast, leftover rotisserie is perfect!
• 1 avocado
• 3 small spiraled zucchini
• 1 stalk chopped celery
• 1 chopped orange bell pepper
• ½ cup feta cheese
• ½ cup sliced kalamata olives
• 1 minced garlic clove
• ½ tsp black pepper
• 1 tbsp mayonnaise
• 1 ½ cups fresh spinach
• 1 tbsp fresh lemon juice
• 2 tbsp olive oil
Instructions
Spiral or thinly slice zucchini. Set aside.
In a blender, combine avocado, mayonnaise, lemon juice, olive oil, minced garlic, black pepper, and a cup fresh spinach. Blend until smooth.
Carefully scoop avocado puree into bottom of each jar.
Dividing remaining ingredients between jars in layers:
Add 1 cup spinach leaves between jars and layer on top of avocado.
Add celery and bell pepper.
Top with cup up chicken breast.
Next add feta cheese and kalamata olives.
Top with zucchini noodles.
Seal and keep cold in refrigerator.
Notes
Optional. Before eating, add your favorite vinaigrette to the top.
Hi! I'm Nellie. I am a busy mama of three, wife to my high school sweetheart who loves to cook, workout and stay organized! I love to share helpful printables, the best recipes and fitness tips for the modern mom. I strongly believe that every mom can feed their family well, take proper care of themselves and have fun along the way! Read my story.
Get comfortable and be sure to come hang out with me on social. Don't grab your free fitness journal before you go!