Sometime you are just in the mood to bake something yummy with what you have in the pantry. Today I've got a really yummy cranberry walnut zucchini bread that with satisfy your sweet tooth!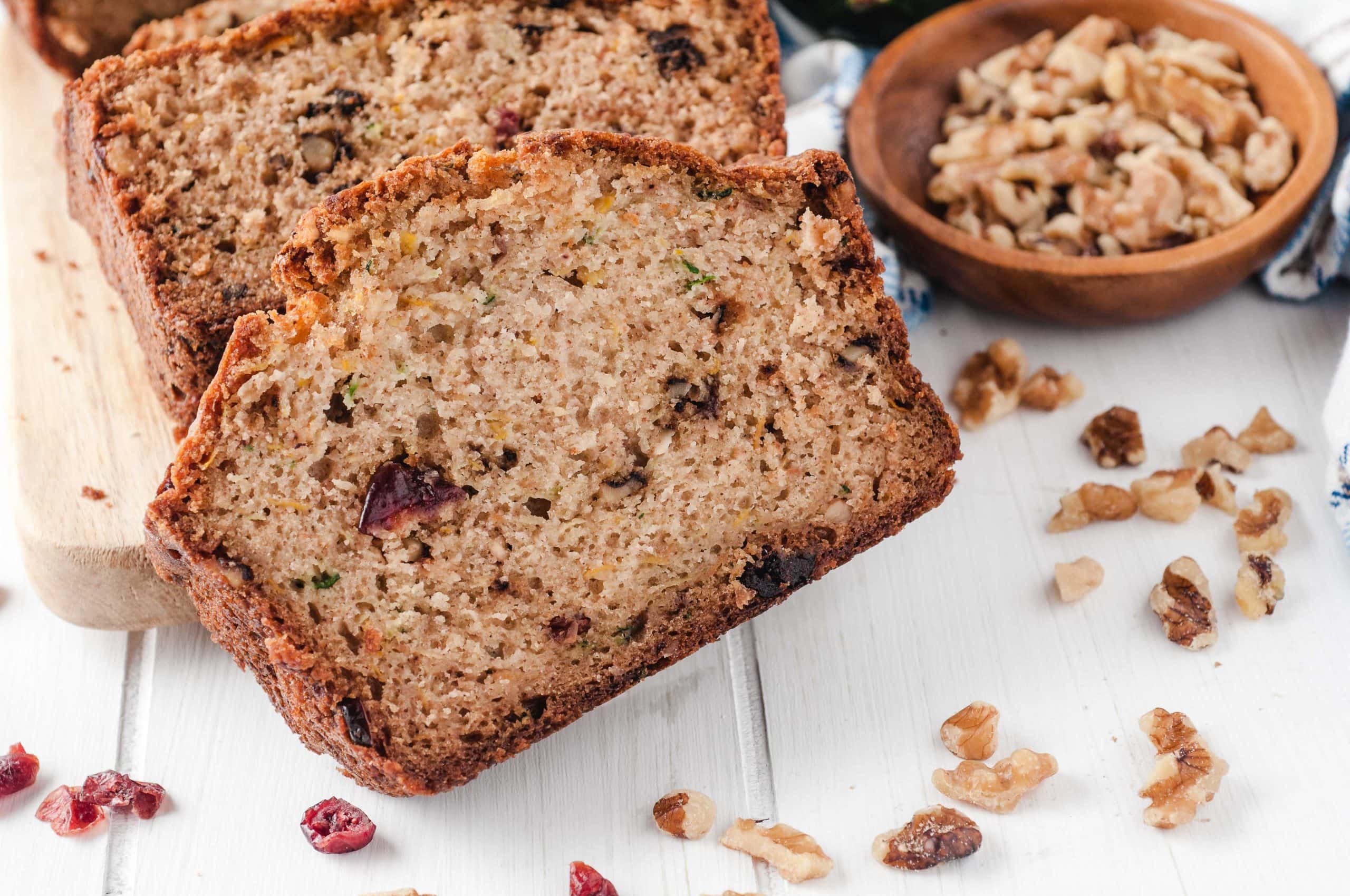 Baking has always been my jam. Something about measuring ingredients to perfection is very soothing to me. The first place I learned how to bake was in Home Economics class (do they still have that class in high school?) I had been cooking for a little bit. Easy things like rice and ground beef because my mom worked late every night, but home economics opened me to a whole new world.
I still give all the credit to Ms. Kennedy for teaching me so much about cooking. I made so many different dishes in that classroom that I never would have made on my own like muffins and even crepes!
She would teach me about being exact, and following directions to a tee. She even enrolled me in a cooking competition once that I failed miserably at but learned SO much at the very same time. I go down memory lane today because baking different kinds of "breads" is one of my favorite things to do!
This cranberry walnut zucchini bread is one of my favorite recipes ever! I love baking these types of recipes because you can have it as a snack by itself or with jam or even a little butter. It's really great to serve on the table post meal, and even great to nosh on as an appetizer. This is a super versatile recipe! (I also love how Zucchini is such a fun vegetable that can be used in so many ways–like this Zoodle Chicken Salad in a Mason Jar recipe!)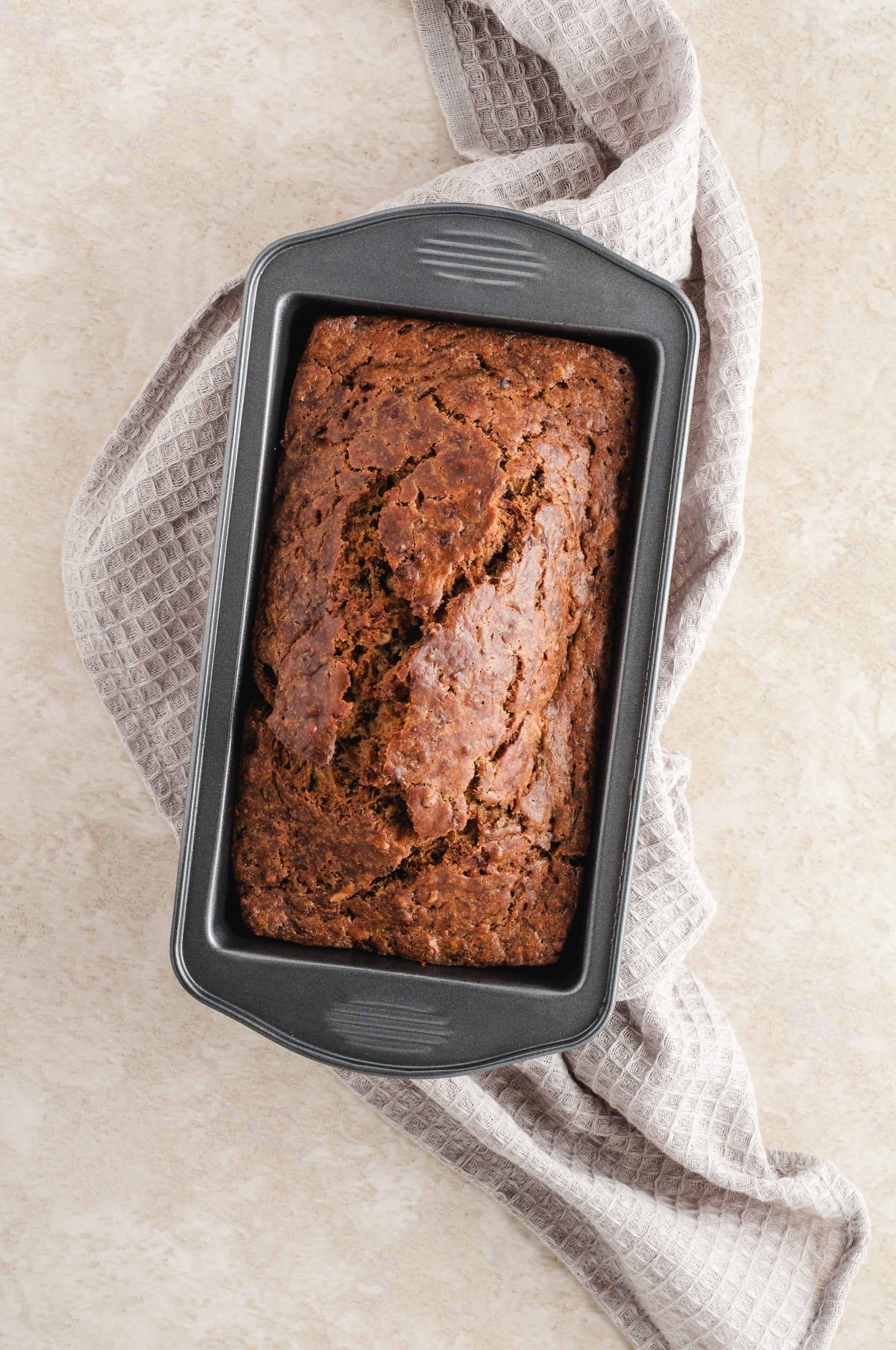 I recommend this for dinner parties and even holidays. Honestly, I'd make this for no good reason because it is just that good!
Yield:

8-10 servings
Cranberry Walnut Zucchini Bread
Total Time:
1 hour
10 minutes
A tasty cranberry walnut zucchini bread that is perfect to serve anytime!
Ingredients
2/3 cup butter, softened
1 cup sugar
4 eggs
3 cups shredded zucchini
2/3 cup water
3 1/3 cups flour
2 teaspoons vanilla
2 teaspoons baking soda
1 teaspoon baking powder
½ teaspoon salt
2 teaspoons ground cinnamon
2 teaspoons ground cloves
2/3 cup dried cranberries
2/3 cup chopped walnuts
Instructions
Preheat oven to 350F.
Grease a 9x5 inch loaf pan. Set aside.
Mix butter and sugar in a large bowl.
Stir in eggs, zucchini, water and vanilla.
Add flour, baking powder, baking soda,
salt, cinnamon, and cloves and mix until well blended.
Stir in cranberries and walnuts.
Pour batter into the prepared pan.
Bake for about 1 hour, until toothpick
comes out clean.
Cool 10 minutes before removing from pan.
Cool completely on a wire rack before slicing.
May be stored wrapped in the refrigerator
for up to 4 days.
Enjoy!
Hi! I'm Nellie. I am a busy mama of three, wife to my high school sweetheart who loves to cook, workout and stay organized! I love to share helpful printables, the best recipes and fitness tips for the modern mom. I strongly believe that every mom can feed their family well, take proper care of themselves and have fun along the way! Read my story.
Get comfortable and be sure to come hang out with me on social. Don't grab your free fitness journal before you go!