Three Ingredient Slow Cooker Appetizer Meatballs
I am all about making party prep and food prep easier. This is why I am so in love with my kitchen gadgets! Today I've got some amazing and delicious Three Ingredient Slow Cooker Appetizer Meatballs that are easy, inexpensive and doesn't require many brain cells to make. 🙂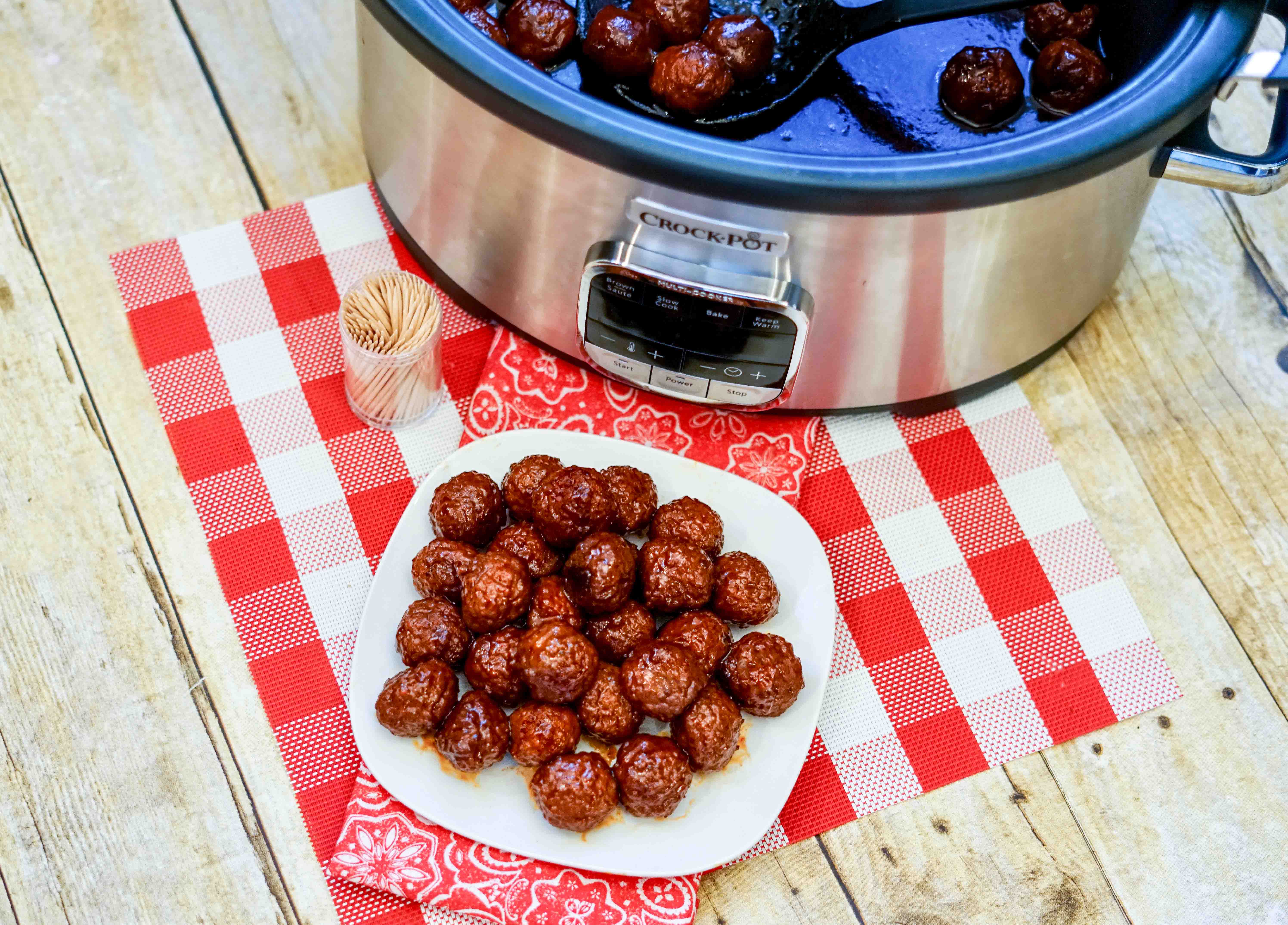 There is a magical alchemy that happens when you combine frozen meatballs, tangy chili sauce, and sweet grape jelly in a slow cooker. It's a simple yet delectable recipe that yields tender, juicy meatballs slathered in a robust, spicy-sweet sauce that's too good to resist. You might be skeptical about the grape jelly, but trust me, it all comes together in the most unexpected and delicious way.
Slow Cooker Appetizers
When you are planning a party, whether it is for the big game like the Super Bowl, or March Madness, Thanksgiving or even just a fun party at home-it can be hard to choose the appetizers! You want to make sure that the food choices aren't too much where the guests won't want the full main dinner but just enough to keep the hunger monster away.
These air fryer mozzarella sticks are always a great hit for easy appetizers too!
FAQs
Q: Can I use homemade meatballs?
A: Absolutely, you can use homemade meatballs if you prefer. However, frozen meatballs are a quicker and more convenient option, especially when you're pressed for time.
Q: Can I use different sauces?
A: Yes, while this recipe calls for chili sauce and grape jelly, feel free to experiment with different sauces according to your preference.
Tips and Tricks
Stir gently: Be careful when stirring the meatballs in the slow cooker to keep them from breaking apart.
Uniform Cooking: For uniform cooking, make sure the meatballs are all submerged in the sauce.
Variations
You can add a personal twist to the recipe by including additional ingredients. Some options include:
Spice It Up: Add crushed red pepper flakes for an extra kick.
Herb It: Add in dried herbs like oregano or basil for additional depth of flavor.
Sweet Twist: Add a tablespoon or two of brown sugar to sweeten the sauce.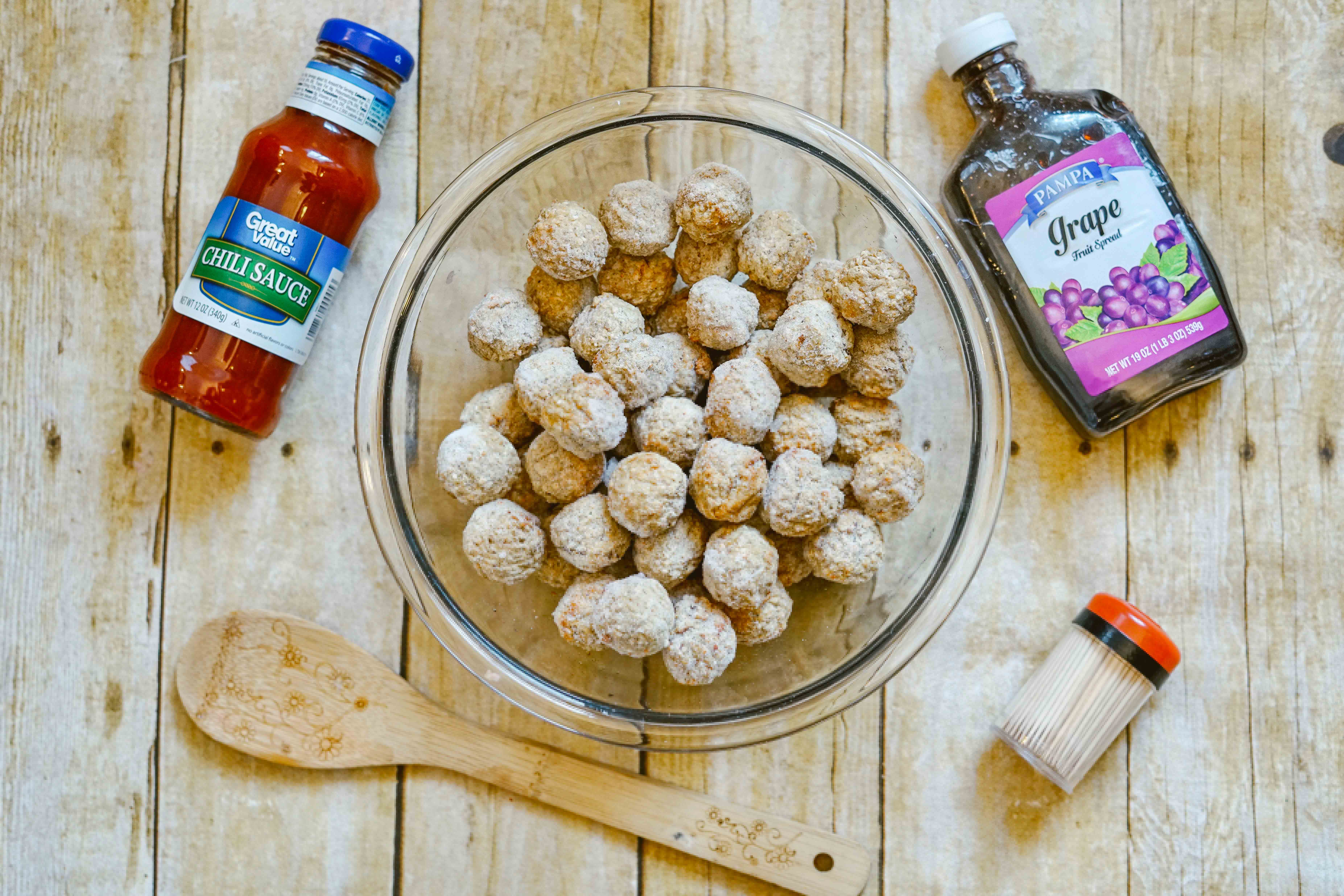 The best kinds of appetizer is the one that is easy to grab. One bite, if you can. The best part about these slow cooker appetizer meatballs is that you can put a toothpick in them and boom! One bite of deliciousness coming your way.
If you are making a large meal, this recipe for cocktail meatballs is perfect. All you have to do is throw the chili sauce, the grape jelly and meatballs inside of the slow cooker for 3 hours and do everything you need to do. Whether that means you can tend to your stove, marinate some food for cooking, season meats or even take a nap.
Where to Serve
These meatballs make a perfect appetizer for parties or potlucks. They're also great as a main dish, served over rice or pasta.
Storage
Store leftover meatballs in an airtight container in the refrigerator for up to 4 days. You can also freeze them for up to 3 months.
Common Problems and How to Avoid Them
Problem: The meatballs fall apart.
Solution: If you're using homemade meatballs, make sure they're well bound with ingredients like egg and breadcrumbs. If using frozen, handle them gently to avoid breaking them up.
Problem: The sauce is too thin.
Solution: You can thicken the sauce with a cornstarch slurry (a mix of cornstarch and water) at the end of cooking.
Making this Recipe with Kids
This recipe is great to make with kids as it's straightforward and safe – no sharp knives or hot stoves. They can help by:
Pouring Ingredients: Let them pour the chili sauce and grape jelly into the slow cooker.
Stirring: They can gently stir the sauce until well combined.
Adding Meatballs: They can add the frozen meatballs to the sauce.
The meatballs don't need to be watched as they come out into perfection every single time. Some of my favorite crockpot recipes includes this pepper steak recipe that we make at least once a month and this balsalmic pork tenderloin recipe that is a crowd pleaser!
If you are looking for a side dish to complete your menu, Don't forget this Crockpot Cheesy Mashed Potatoes recipe that is just amazing!
Should I brown the meatballs before cooking?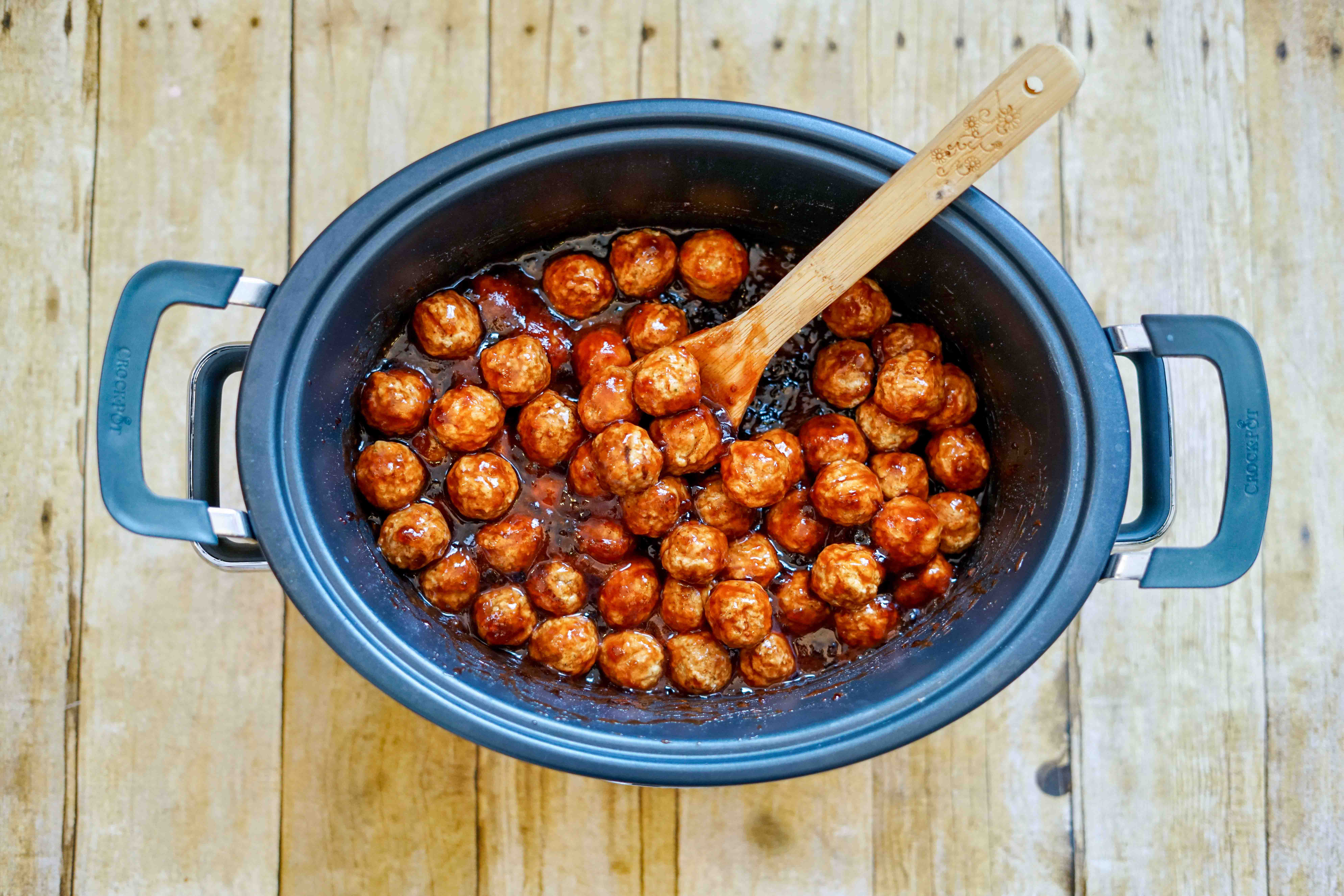 You can, but why add more work? The meatballs come out tasting delicious with or without searing them.
Should I thaw the meatballs before putting them in the crockpot?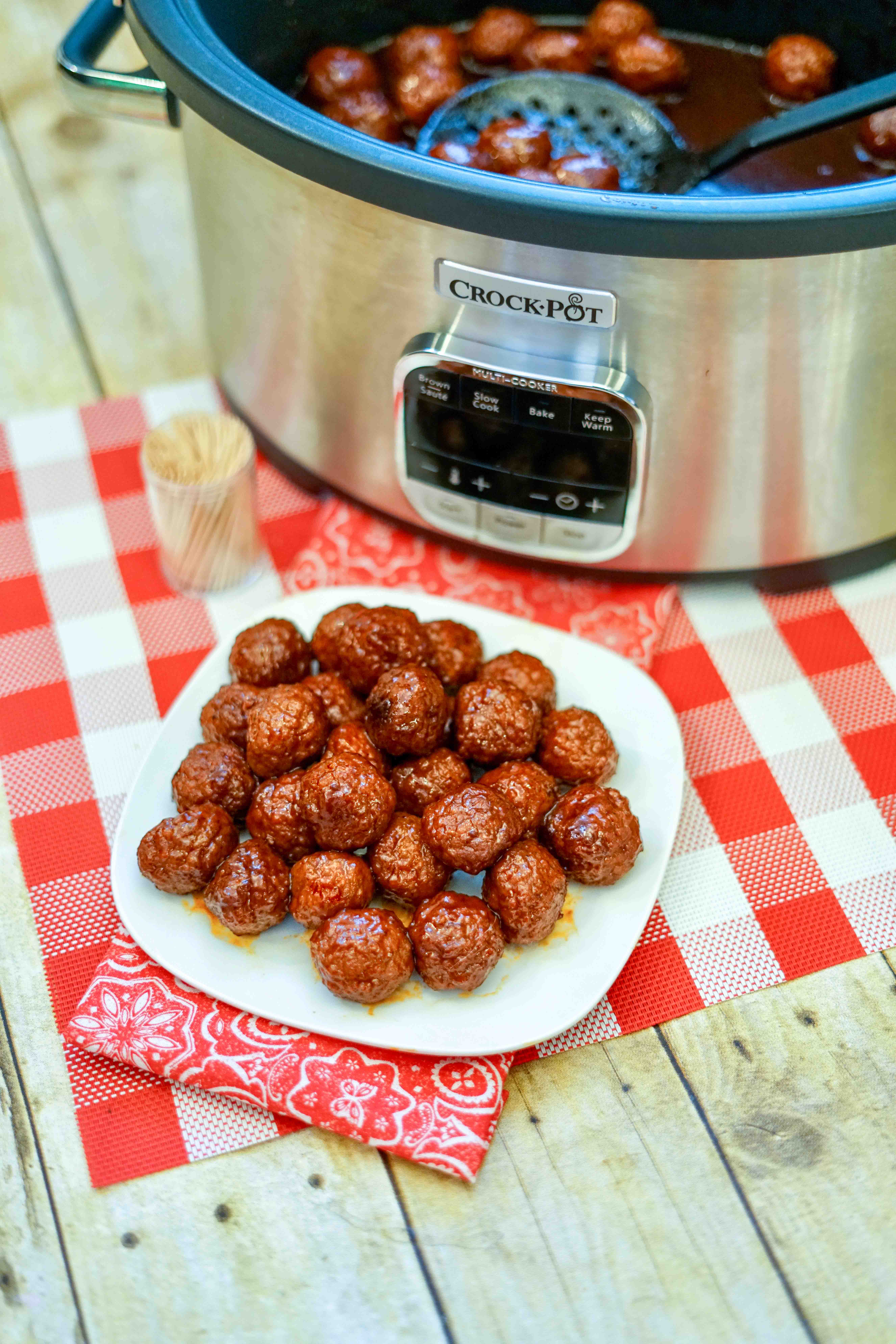 Naw! Let the slow cooker do all the work for you. It's really just as simple as dumping all 3 ingredients in the crockpot and letting the magic happen on it's own! It's a fool proof recipe that is just so yummy!
Topping Options
You can top these meatballs with:
Fresh herbs: Sprinkle freshly chopped parsley or cilantro for a fresh pop of color and flavor.
Cheese: A dusting of grated Parmesan or a mild cheddar can add a pleasant savory note.
Why This Recipe Works
The beauty of this recipe lies in its simplicity and versatility. The frozen meatballs save time and effort, while the chili sauce and grape jelly combo create a perfect blend of sweet, sour, and spicy flavors. It's a crowd-pleaser and sure to be a hit at any gathering.
What are some other fun appetizer recipes?
If you are looking for some more amazing delicious appetizers be sure to check out this comprehensive list The Best Party Appetizers For Entertaining!
Yield:

Bag of meatballs
Three Ingredient Slow Cooker Appetizer Meatballs
Total Time:
6 hours
3 minutes
Super easy 3 ingredient appetizer meatballs that you can throw in your slow cooker and impress your guests!
Ingredients
12oz Bag Frozen Meatballs
12oz Chili Sauce
19oz Grape Jelly
Instructions
Place meatballs in the crockpot.
Pour in the grape jelly and chili sauce.
Cook in crockpot on high for 3 hours.
Serve & enjoy!
Nutrition Information
Yield
8
Serving Size
1
Amount Per Serving
Calories

340
Total Fat

10g
Saturated Fat

3g
Trans Fat

0g
Unsaturated Fat

5g
Cholesterol

28mg
Sodium

872mg
Carbohydrates

59g
Fiber

3g
Sugar

42g
Protein

7g
If you enjoyed this recipe be sure to check out my Instagram Page for the latest posts!
Before you go, check out these great posts!
Easy Slow Cooker Italian Meatball Subs Recipe
Amazing Copycat Cheesecake Factory Brown Bread Recipe
Easy and Delicious Cheeseburger Egg Rolls Recipe For Appetizers
Hi! I'm Nellie. I am a busy mama of three, wife to my high school sweetheart who loves to cook, workout and stay organized! I love to share helpful printables, the best recipes and fitness tips for the modern mom. I strongly believe that every mom can feed their family well, take proper care of themselves and have fun along the way! Read my story.
Get comfortable and be sure to come hang out with me on social. Don't grab your free fitness journal before you go!