So I interrupt this week's Friday Fitness Check In to make fill you guys in on a new fitness program that I have started.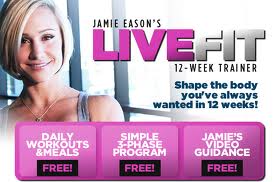 I first heard about the Jamie Eason program from my beautiful Fitbloggin tribe of ladies. (I swear I am always the last to know!) They told me about the Jamie Eason program and I was immediately turned off because they told me that I would not be allowed to do cardio for a month. Say what now?!
Change of Heart
Lately I have been so bored with my routine. While I love the classes that I take–I've been itching to do something different. I think that actually might have contributed to my blah week last week.
So on a whim I researched this program. Jamie Eason gives you detailed set of exercises to do every single day and they are no joke! I have been trying to add some variation to my strength training over the past few weeks by randomly adding new exercises–this is amazingly perfect because it gives me the exact structure that I need, day by day–instead of running from random machine to random machine.
This is so much more different than the HIIT training that had to get cut short because of injury. Since the first month is pure strength training I don't really have to worry about the impact that my knee was taking with the running.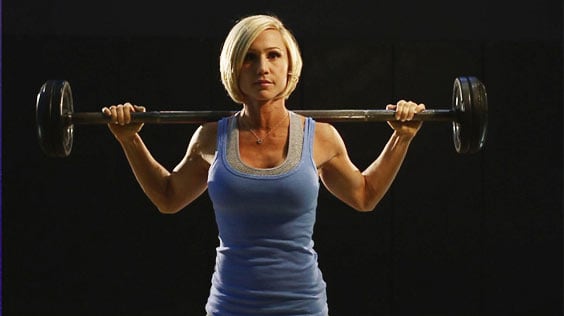 Jamie Eason Program with a twist
Since the program calls for no cardio during the first month, I will have to do things differently because I am teaching Zumba every Saturday. (I also just discovered a NEW spin class near my job that I am seriously obsessed with…so I will be attending :)) so my first month won't be cardio free per say but I will be following the plan to a tee otherwise!
My Goals
The program is for 3 months. First I would like to complete it (!) Second I would LOVE to lean out on this program. Since I am taking a vacation from the scale I won't measure weight. I have taken a before picture and I really hope to make some significant changes in the next 3 months.
Here is my before picture…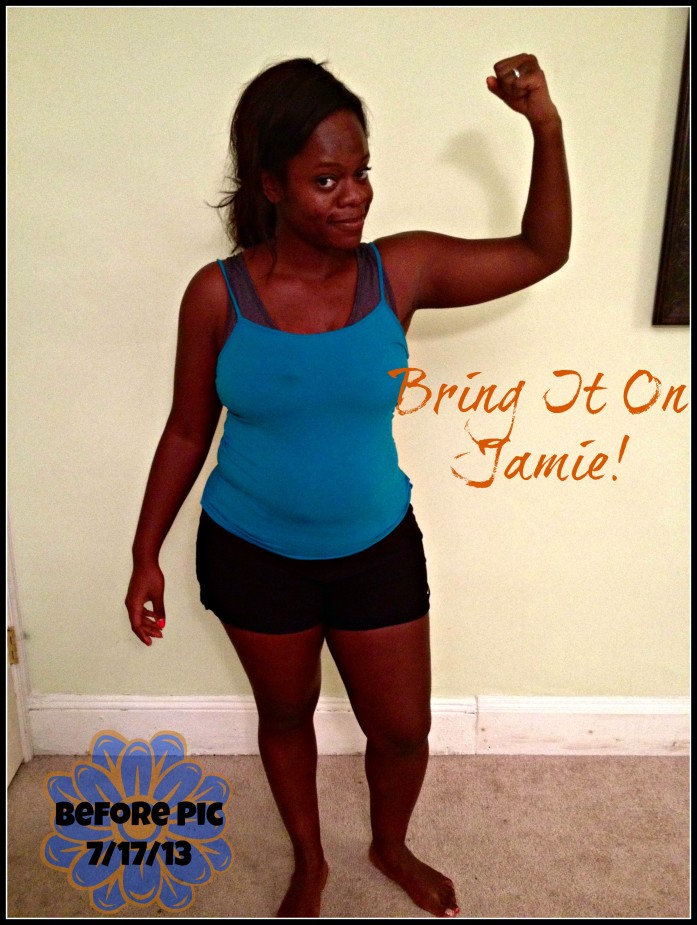 (Sidenote: I am actually okay with my before pic, my fitness journey has been long but I am so happy to be where I am today)
The first day
Yesterday morning I started the program and it was pretty intense. My triceps and chest were aching all day. I started out on my toes doing pushups but by the time I got to the narrow pushups I could barely knock them out, but I did (on my knees!).
I am totally looking forward to completing the program, and even though the end of the program calls for sprints, I will see if my knee can handle it by then. Also, there is only 3 months until Blogalicious in Atlanta so it is perfect timing for a new challenge.
Not doing cardio is a breakthrough for me because I am so conditioned to believe that I need to have cardio all the time–these next three months are dedicated to my muscles! It's also the perfect middle of the year fitness shakeup!
Check out more about how the program went for me!
Here are some more fun strength training workouts to check out before you go:
What do you think of Jamie Eason's Program? Do you have a heavy strength training routine, or are you a cardio bunny?
Hi! I'm Nellie. I am a busy mama of three, wife to my high school sweetheart who loves to cook, workout and stay organized! I love to share helpful printables, the best recipes and fitness tips for the modern mom. I strongly believe that every mom can feed their family well, take proper care of themselves and have fun along the way! Read my story.
Get comfortable and be sure to come hang out with me on social. Don't grab your free fitness journal before you go!