This classic appetizer is light and delicious. Using fresh ingredients today I will show you how to make classic bruschetta that will wow your guests!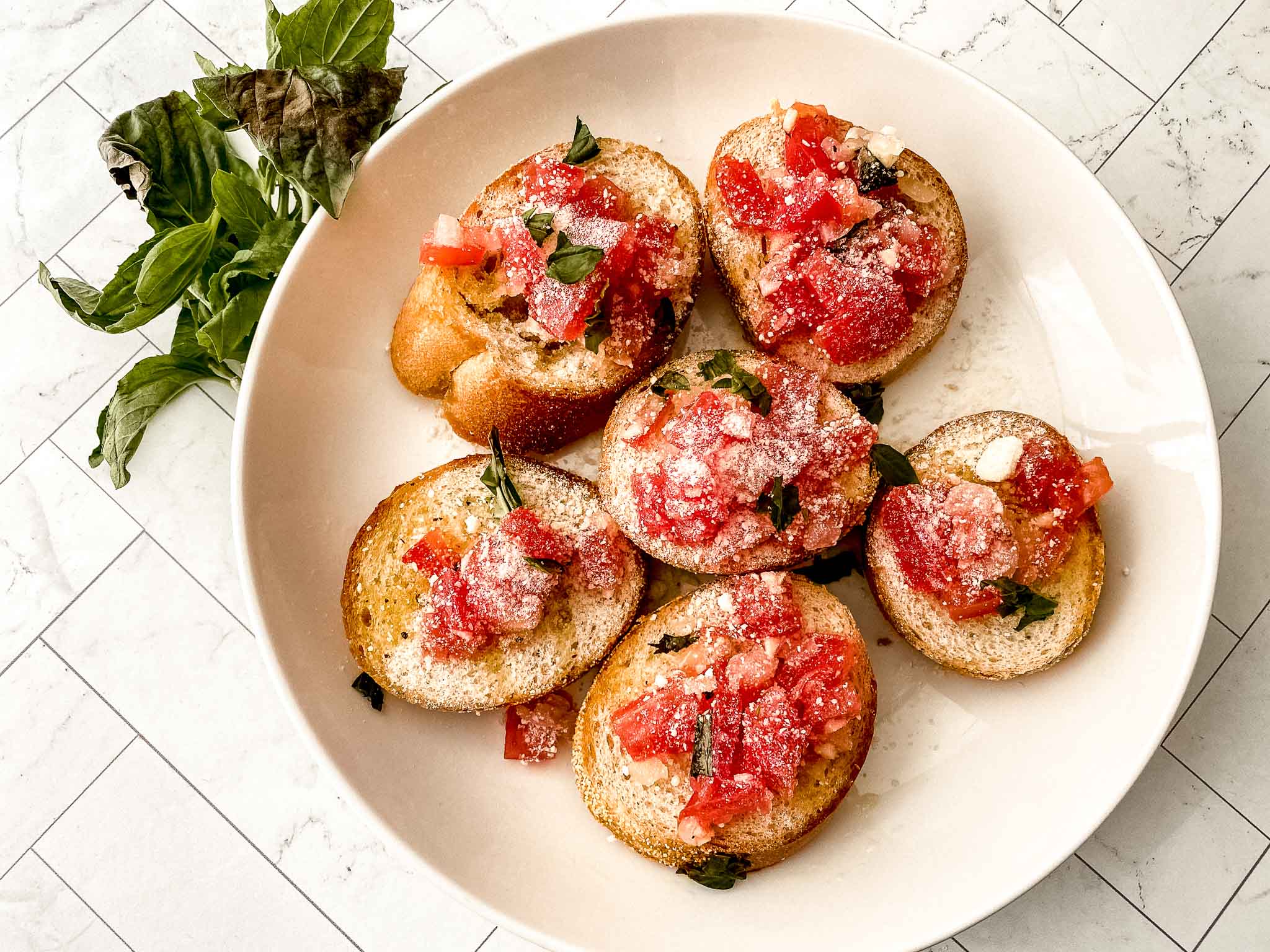 I can't remember the first time I had bruchetta. I think it was an event of some sort. I grabbed one not knowing what I was getting into and omg the explosion of flavor from the tomatoes, olive oil and perfectly toasted bread was just *chef's kiss*.
I always thought that these types of delectable bites only were available at fancy restaurants or at events. I didn't realize how easy it was to make until recently!
What is tomato bruschetta?
Tomato bruschetta is an Italian appetizer made of grilled or toasted bread slices topped with diced or sliced tomatoes, garlic, olive oil and basil. It is typically served as a starter before a meal or as a snack.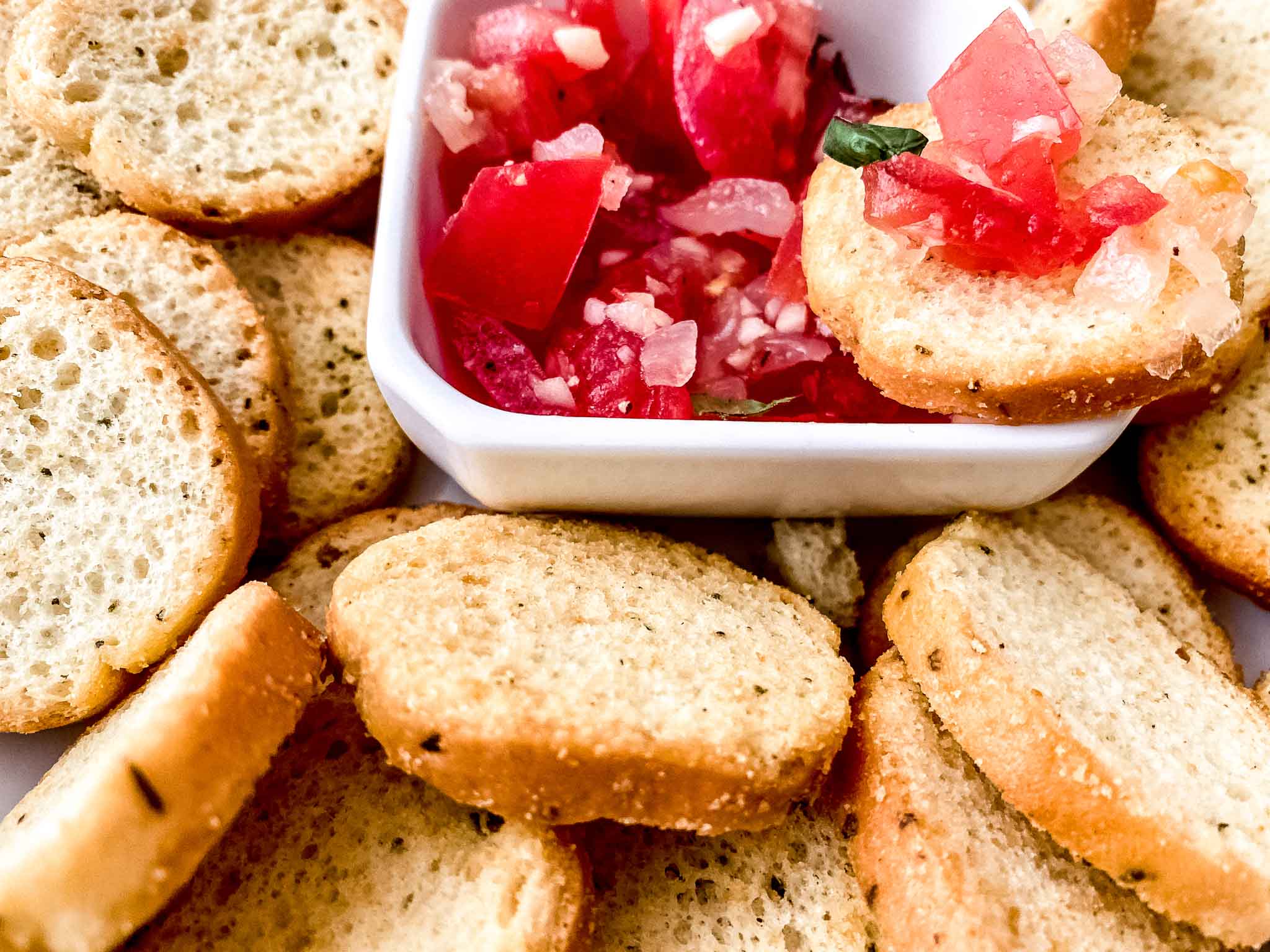 The combination of the tomato's sweetness combined with the savory flavors of garlic, olive oil and basil create a delicious and flavorful dish. Tomato bruschetta is also very easy to make, taking only minutes to prepare.
It can be served hot or cold and can easily be adapted to fit any dietary preferences or cuisine. Whether you serve it as a standalone appetizer or as part of a larger meal, tomato bruschetta will be sure to please! It's great for the summer months as it's a traditional italian appetizer. You can make a large platter with chopped tomatoes and a drizzle of olive oil and even roasted garlic if you wish!
Tomato bruschetta can be served in many different ways. It can be topped with a variety of ingredients, such as feta cheese and olives, or even grilled vegetables. You can also turn it into a main dish by adding cooked meats, cheeses or other grains to the mix. If you want it to be a bit more indulgent, try adding some balsamic glaze for a unique and delicious twist.
No matter how you serve it, tomato bruschetta is sure to become one of your favorite go-to appetizers or snacks! It's easy to make, packed with flavor, and can easily be adapted to fit any dietary preference.
Can you make this appetizer ahead of time?
Yes! You can make the tomato bruschetta ahead of time and store it in an airtight container for up to three days. To serve, simply re-heat or serve cold.
What do you do with leftovers?
Leftovers can be stored in an airtight container and kept in the refrigerator for up to three days. They can also be frozen for up to two months. To reheat, simply place the tomato bruschetta on a baking sheet and bake at 350F until heated through. You can also use them as a topping for pizza or a great addition to salads and sandwiches.
We don't have a lot of Italian restaurants around here that serve this so I really wanted to bring you a recipe that you can make anytime you want it.
Bruchetta is so great for appetizers, they are light enough not to fill you up but come with a great dose of flavor to keep you wanting more.
The tomato mixture uses fresh tomatoes and slices of bread for an easy appetizer. It's the perfect dish to serve at a dinner party. You can use any kind of rustic bread for the bruschetta topping including a french baguette, toasted italian bread, wholegrain baguette or even stale bread.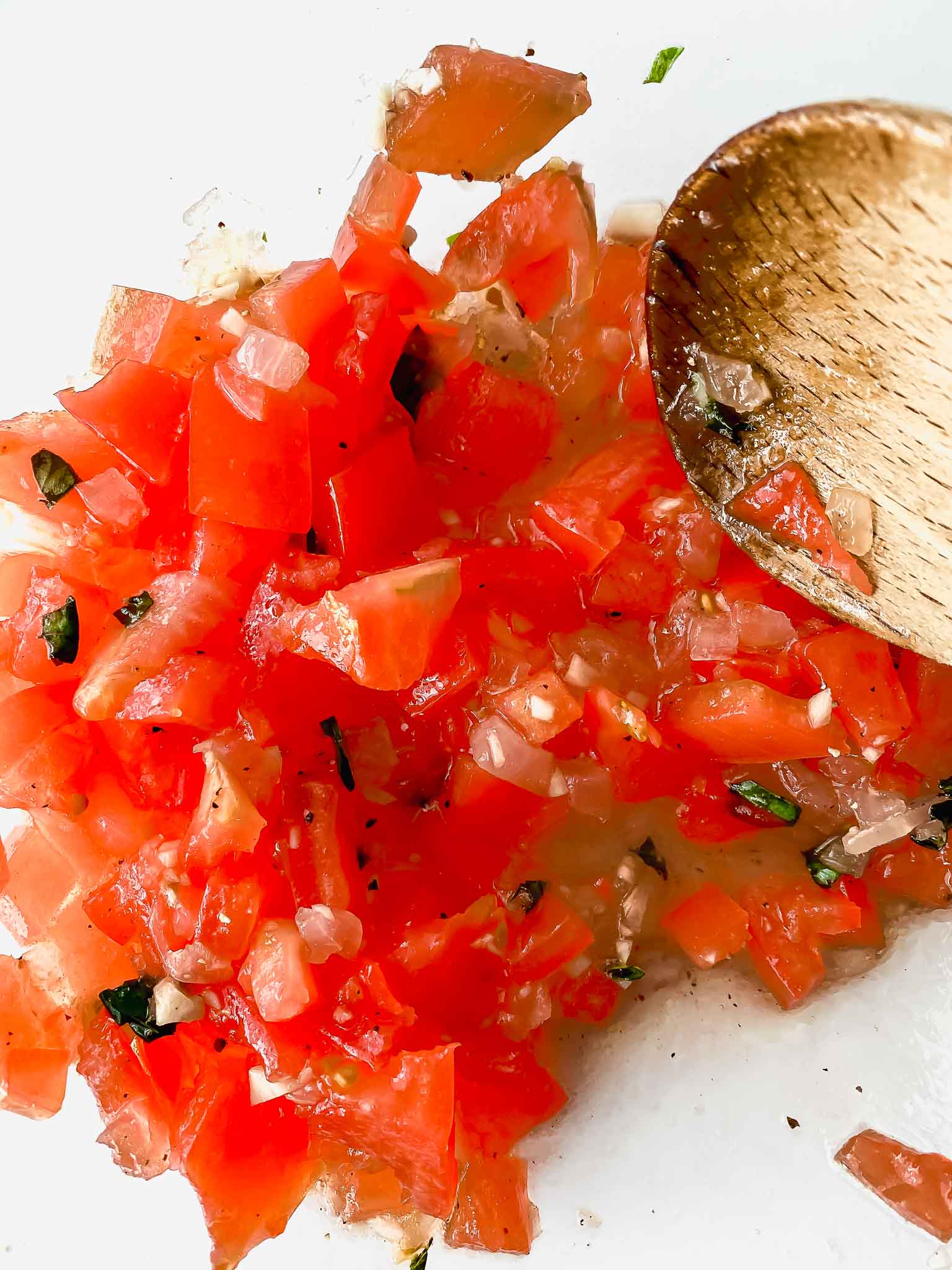 What ingredients do you need for this easy bruschetta recipe?
Ingredients:
2 pounds ripe tomatoes (small-medium dice) (fresh roma tomatoes, organic tomatoes or a good quality of tomatoes)
¾ cup fresh basil
¼ red onion, diced
2 garlic cloves, minced
1 whole garlic clove
¾ tbsp extra-virgin olive oil
1 tsp kosher salt
1 tsp fresh black pepper
Italian Style bread loaf
Parmesan Cheese (optional)
You can also add balsamic vinegar if you like that flavor. This classic bruschetta recipe with juicy tomatoes is a great recipe with basic ingredients. It's a simple recipe and the perfect appetizer!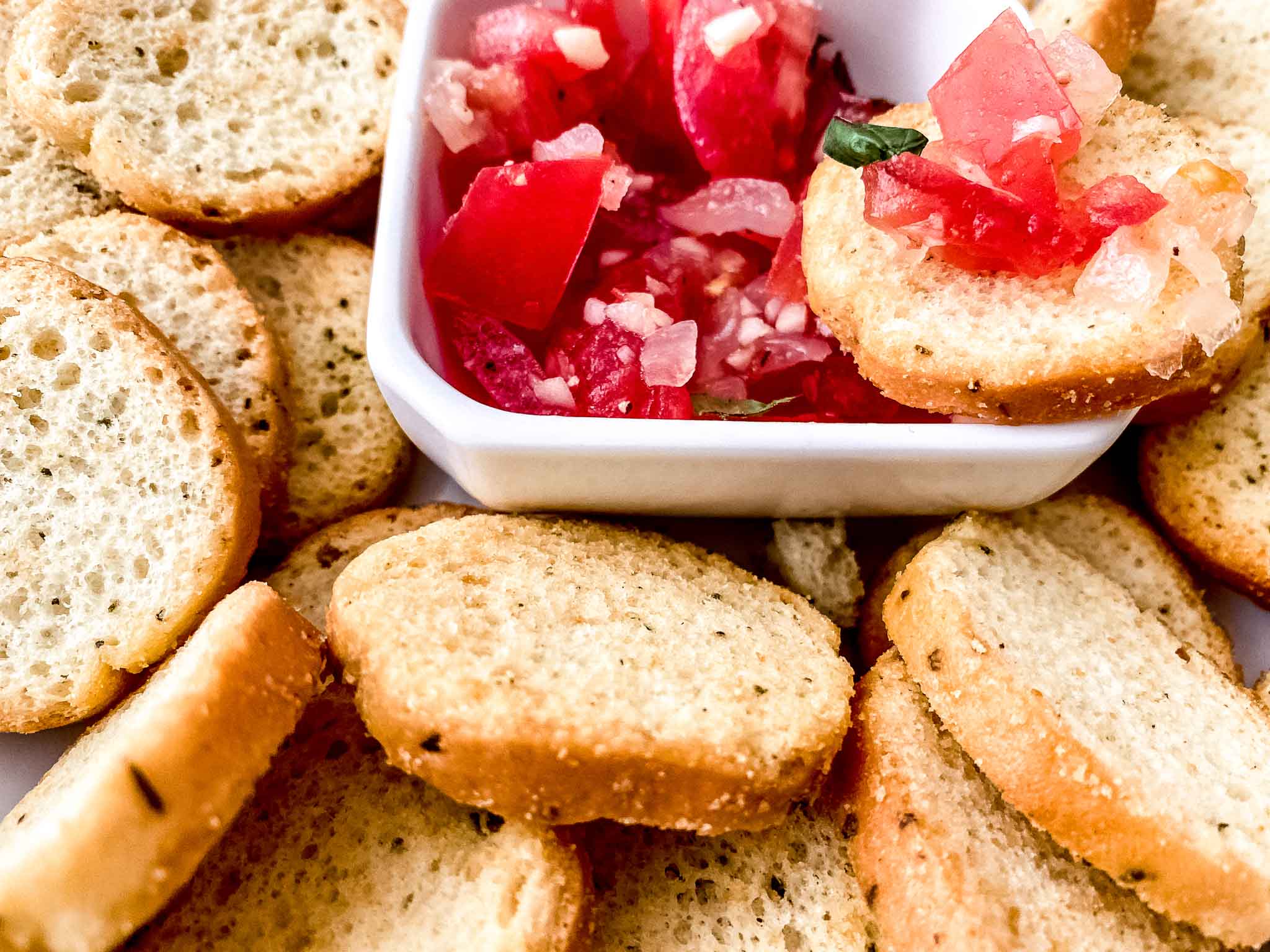 What kitchen tools do you need to make this perfect bruschetta easy italian appetizer?
Equipment
Bowl
Chef Knife
Cutting Board
Wood Spoon or Spatula
This is a super simple and yummy dish to serve before your Italian feast, but I'll be honest, I love it anytime. It's just so good!
This is a great appetizer for girls brunch, or even bbqs. They are easy, low maintenance and they are beautiful too! This classic italian appetizer will become one of your favorite recipes because it has delicious flavors! Serve this classic recipe at your next party or get together!
What are some other easy italian recipes to try?
Let me know how much you love this recipe!
Yield:

8-10 servings
How To Make Classic Bruschetta
Ever wondered how to make easy bruschetta for appetizers? Using yummy fresh ingredients, this is an awesome appetizer!
Ingredients
2 pounds tomatoes (small-medium dice) 3⁄4 cup fresh basil
1⁄4 red onion, diced
2 garlic cloves, minced
1 whole garlic clove
3⁄4 tbsp olive oil
1 tsp kosher salt
1 tsp fresh black pepper
Italian Style bread loaf Parmesan Cheese (optional)
Instructions
Preheat the oven to 400 degrees

Dice tomatoes, mince garlic and dice onion

Combine all ingredients minus bread and cheese in a bowl.

Let sit a room temperature

Slice the bread and drizzle with olive oil

Toast until crisp and golden

Rub with garlic clove, and season with salt right out of the oven. Top with tomato and basil mixture.
Notes
Notes: Drizzle with balsamic vinegar or add crumbled cheese for elevated flavor

Nutrition Information
Yield
10
Serving Size
1
Amount Per Serving
Calories

39
Total Fat

1g
Saturated Fat

0g
Trans Fat

0g
Unsaturated Fat

1g
Cholesterol

0mg
Sodium

261mg
Carbohydrates

6g
Fiber

1g
Sugar

3g
Protein

1g
If you liked this Classic Bruschetta recipe be sure to check out these recipes too!
Three Ingredient Slow Cooker Appetizer Meatballs
Air Fryer Dry Rub Chicken Wings
Savory Jarcuterie Individual Charcuterie Servings
How To Make A Meat Flower Charcuterie Board
Hi! I'm Nellie. I am a busy mama of three, wife to my high school sweetheart who loves to cook, workout and stay organized! I love to share helpful printables, the best recipes and fitness tips for the modern mom. I strongly believe that every mom can feed their family well, take proper care of themselves and have fun along the way! Read my story.
Get comfortable and be sure to come hang out with me on social. Don't grab your free fitness journal before you go!