It's crazy how quickly we forget about how important self care is! We are all very busy humans with so much to do. Today I've got 20 no spend ways to Self Care including a printable Checklist that will help keep YOU first on a daily basis.
20 Things You Can Do To To Prioritize Your Self Care
GET ENOUGH SLEEP
This one might be hard with all that is in the news right now but be sure to take advantage of the fact that the kids don't have to get up early to go to school! Try to get a good nights sleep.
EAT FOOD THAT FUELS YOUR BODY
It is SUPER easy to eat comfort food when you are stressed out but be sure to have some healthy options around as well.
WEAR CLOTHES THAT MAKE YOU FEEL GOOD
I have my indoor clothes, and my clothes that make me feel amazing every time I put them on. Whether it's a special graphic tee or a special sweater — wear it!
TAKE A WALK OUTSIDE
Fresh air always wins!
TAKE A NAP WHEN YOU NEED IT
This one is if you can, I know naps are hard to come by when you are working at home, or parenting. But on the rare chance that you get the opportunity–take it! The renewal will be good for your body.
LISTEN TO MUSIC THAT MAKES YOU HAPPY
We've all got that special playlist.
SET BOUNDARIES WITH TOXIC PEOPLE
You know in your gut when you are interacting with someone that makes you uncomfortable, let them go–block them sis.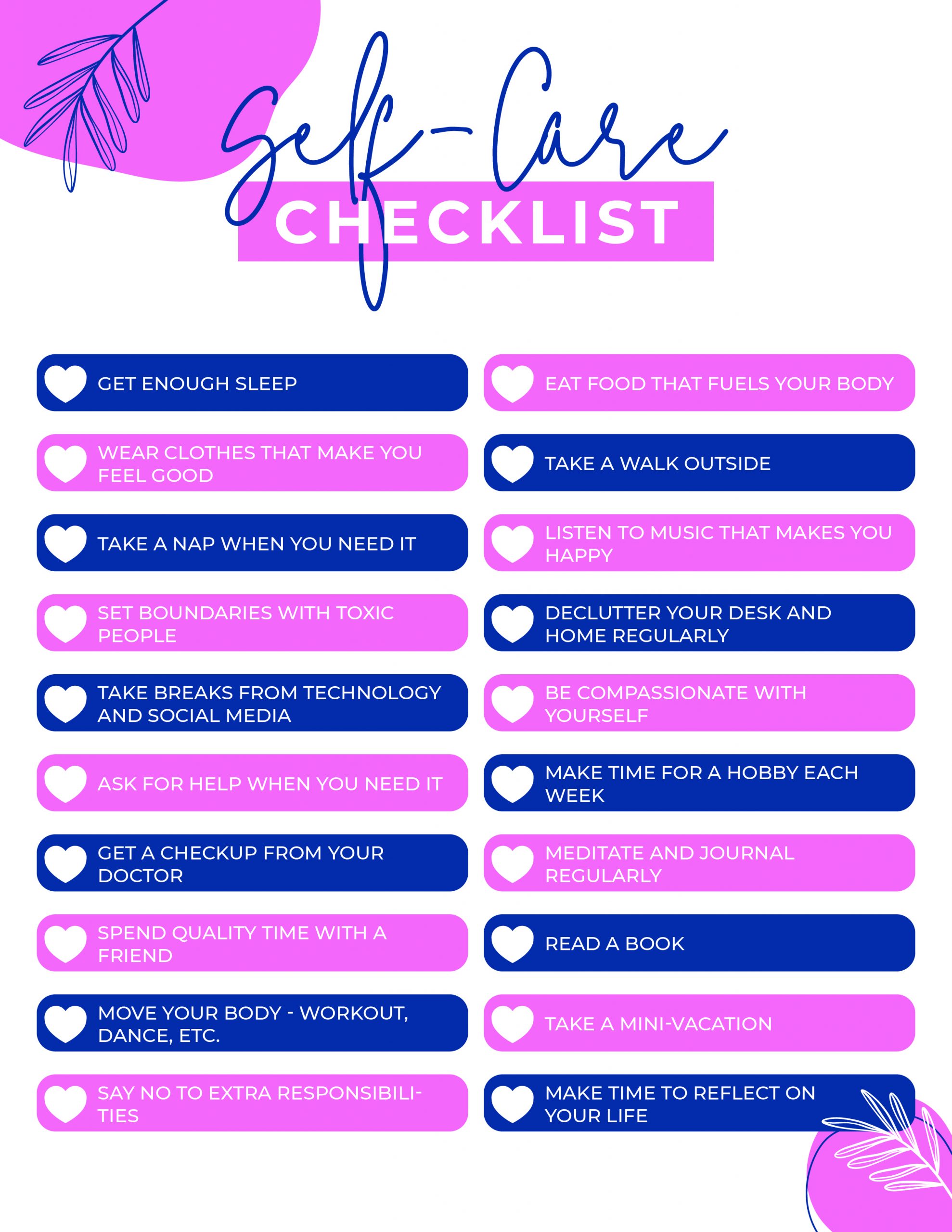 DECLUTTER YOUR DESK AND HOME REGULARLY
I am constantly decluttering my desk. I always have a bunch of things on there but keeping it clean gives me peace. Here is a 21 Day Declutter Challenge to get you started!
TAKE BREAKS FROM TECHNOLOGY AND SOCIAL MEDIA
This one is so hard but necessary! You can do this with books, or working out.
BE COMPASSIONATE WITH YOURSELF
You are not perfect, no one is. Know that you are doing your best every single day.
ASK FOR HELP WHEN YOU NEED IT
This one is tough, but you definitely don't need to do it all. Ask for help.
MAKE TIME FOR A HOBBY EACH WEEK
Whether it's painting, or reading, or decorating–take a small time out each week to explore your hobbies!
GET A CHECKUP FROM YOUR DOCTOR
Moms and women are known for brushing things off, take the time and get the check up.
MEDITATE AND JOURNAL REGULARLY
Meditation is one of my favorite ways to get through a tough time. Check out these 5 Minute Meditations for Busy Women.
SPEND QUALITY TIME WITH A FRIEND
Virtual meetings count too!
READ A BOOK
This one isn't easy but setting a time before kids wake up and after the kids go to bed is a great time for me!
SAY NO TO EXTRA RESPONSIBILITIES
Do what you can friends, no is a full sentence.
MAKE TIME TO REFLECT ON YOUR LIFE
Take some time to reflect on the good in your life!
Which one of these no spend ways to self care do you use?
Hi! I'm Nellie. I am a busy mama of three, wife to my high school sweetheart who loves to cook, workout and stay organized! I love to share helpful printables, the best recipes and fitness tips for the modern mom. I strongly believe that every mom can feed their family well, take proper care of themselves and have fun along the way! Read my story.
Get comfortable and be sure to come hang out with me on social. Don't grab your free fitness journal before you go!