Have you always wanted to impress family members with a dish that you could bring with you to gatherings and family barbeques? If so, you need this perfectly seasoned Potato Salad recipe in your life! It's easy to put together and absolutely delicious.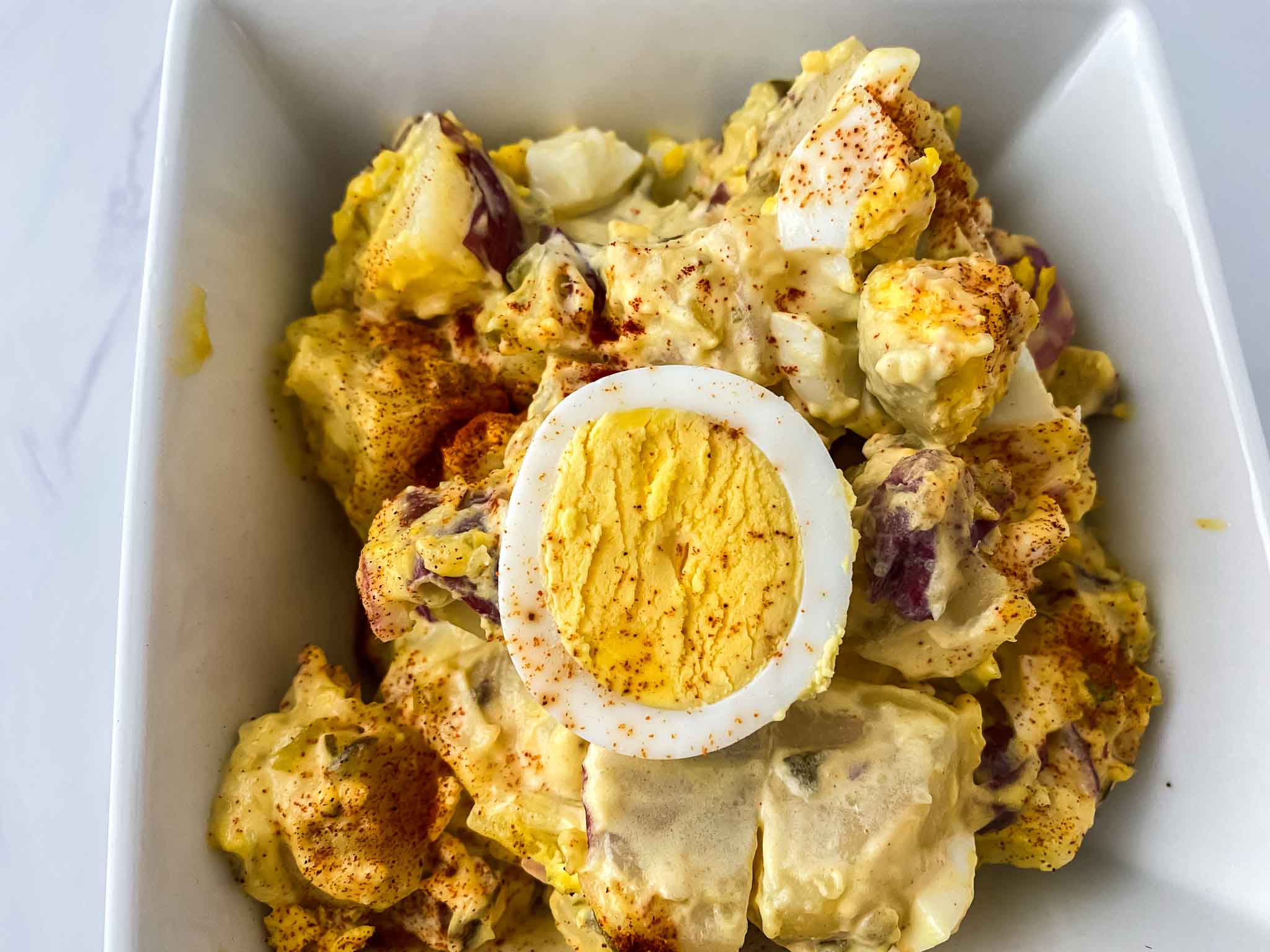 Potato Salad is the perfect side to serve with some of your favorite foods on a hot day, such as hot dogs, hamburgers, ribs, and grilled chicken.
However, it's important to know how to make it well enough. Some people boil their potatoes too long, some people don't use enough mayo, and some people make their potato salad way too plain.
If you'd like to make a flavorful side dish that will impress all your family and friends, this recipe is the perfect one to follow.
What Makes It Different?
You're probably wondering what sets this recipe apart from other potato salad recipes. There is nothing too difficult about this recipe, but it is all about using the perfect combination of ingredients.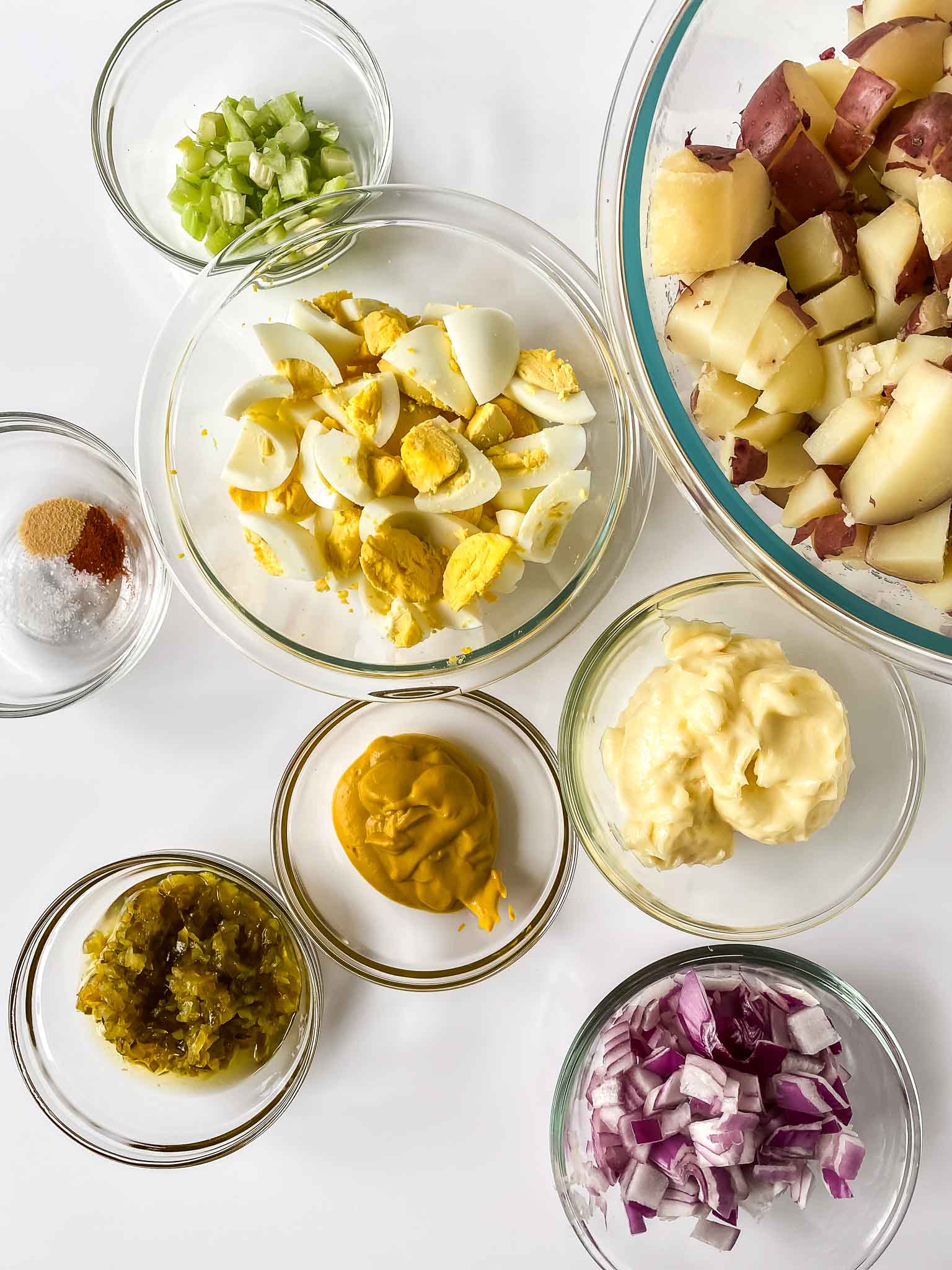 With the right ingredients added to the salad, including mayo, paprika, hard-boiled eggs, sweet pickle relish, and yellow mustard, you'll have a flavorful side perfectly seasoned potato salad that tastes great with everything.
Not everyone knows how to master the art of preparing the perfect potato salad, but when you follow this recipe, you'll make a unique and tasty salad that will have your loved ones asking you for the recipe.
When to Make the Potato Salad
You can make this potato salad whenever you want to. It's the perfect spring and summer salad. It's commonly served during the warmer weather when people are outside grilling some of their favorite foods.
Prepare this salad for various occasions, including family reunions, baby showers, and birthday parties.
Make the most impressive potato salad by following this easy recipe. You'll love the way it tastes!
Yield:

10-12 servings
Perfectly Seasoned Potato Salad For Every Event
This perfectly seasoned potato salad is so great to serve at any event! Made with with flavorful ingredients, that will be a hit at the next party!
Ingredients
5 pounds red potatoes
1/3 cup sweet pickle relish
1/4 cup yellow mustard
1/4 teaspoon garlic powder
1/4 teaspoon smoked paprika, plus additional for garnish Salt and Pepper, to taste
1/4 red onion, diced
1-2 cups mayonnaise
6 large hard-boiled eggs, quartered
Instructions
Fill a large stockpot with heavily salted water, add the potatoes (unpeeled) and bring to a boil.
Cook until fork tender, 20 to 25 minutes.
Drain the potatoes and quarter when cool enough to handle.
In a large bowl, mix together the relish, mustard, garlic powder, smoked paprika, eggs, onion, mayonnaise and a pinch of salt and pepper.
Add the potatoes and toss until combined.

Add additional mayo if it looks dry.

Garnish with smoked paprika.

Serve immediately or cover and refrigerate until ready to eat.
Nutrition Information
Yield
10
Serving Size
1
Amount Per Serving
Calories

563
Total Fat

37g
Saturated Fat

6g
Trans Fat

0g
Unsaturated Fat

29g
Cholesterol

130mg
Sodium

508mg
Carbohydrates

49g
Fiber

4g
Sugar

6g
Protein

10g
If you liked this potato salad recipe be sure to check these out too!
Grilled Steak Kabobs with Homemade Teriyaki Sauce
Tomato Cucumber Greek Pasta Salad Recipe
Easy and Amazing BLT Pasta Salad
Healthy and Tasty Chickpea Salad