Got Muscle? 9 Beginner Strength Training Routines For Women
When I tell my friends about how much I love to lift, I often hear "I don't know where to start". Don't worry! I got you covered. Last year I wrote a pretty popular post about 7 Easy Strength Training Exercises, now you can take these women's strength training moves to the next level by putting them into workout programs consisting of 8-12 weeks.
Lifting weights is critical for any total body weight loss journey. A lot of times women spend a lot of time on cardio machines because they are trying to burn fat as quickly as possible. It's super easy to pay attention to the amount of calories burned.
While cardio is great for weight loss–resistance training by lifting weights is the secret key to building muscle and getting your body to burn body fat over a longer period of time.
There are so many different types of strength training moves for legs, arms and pretty much all parts of the body!
What is the main goal of strength training for women?
How to put them all together can be quite confusing. There are a lot of women's gym workout routines to choose from. These beginner weight lifting workout routines for women are perfect for ladies that like to plan their workouts!
Plus I put together some really helpful strength training printables for women that will help keep you organized!
How many days a week should a woman be doing a weight lifting routine?
Most people like personal trainers and doctors recommend that you do some sort of strength program at least 3 times a week. If this seems feasible for you then go for it!
To start out, I would recommend for the best results doing full body workouts more along the lines of 2 times a week to give your entire body enough recovery time to feel better and not be too sore. As your body gets used to it, you can start doing full strength training routines that call for 3-4 days of the week.
What about weight training for women who are of a "certain age"?
I've got you covered with these 7 Best Strength Training Exercises for Women Over 35.
I have gathered some of these weight lifting routines for women for you because I am a person that loves to follow a plan! These plans vary from beginner to advanced. As always you can modify to your needs.
Each plan has full-body workouts that include free weights, compound exercises that you can do in a controlled manner. These functional strength workouts are great for any body type. They help build more muscle tissue and build muscular endurance. These are some of the best strength training programs on the internet. Best part? They are all free!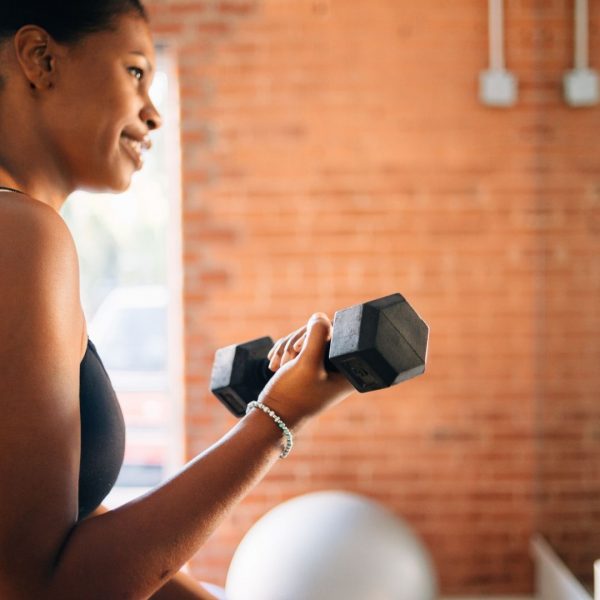 Chat with anyone in the fitness industry and they will tell you to try strength training, and for good reason! Using heavier weights promotes muscle growth and it's great for building strength overall. Adding this to your general fitness routine during alternate workout days is a nice way to shake things up!
The plans below promote working on upper body strength and lower body strength exclusively to get the maximum benefit on training days. Core strength is also incredibly important too!
The best part is you can choose which strength training plan suits your schedule and your fitness level the best. Weight lifting doesn't have to be intimidating! With the right plan, you can get toned (in a good way) in no time! This type of physical activity is good for ANY body. Try these for your next workout!
You can use light weights, heavy weights and even resistance bands to hit all of the major muscle groups! It's a great way to build muscle, just make sure to use proper form and of course don't forget the rest days. You will start seeing those strength gains in no time! Just make sure you have good form!
Why These Strength Training Plans Work
You can become your own personal trainer with these great routines!
Much weight isn't needed to create a workout program. You can actually do a lot of good with a lighter weight. Muscle gain can come from smaller weights too!
Each routine tells you how many sets of each exercise to do. Over the long term you can increase your weights but the first week, in the starting position, you should have enough weight to feel something but not wear you completely out.
A good program includes a progressive overload of muscles. Lots of these beginner workouts use compound movements in different ways. Risk of injury is an important factor so make sure you include a day of rest, it's a effective way to get your training started on the right foot.
You don't need much for these workouts, perhaps a pair of dumbbells that you can use for upper body exercises, to build strength and an important part of cardiovascular fitness. For some of these routines you need some basic equipment to work all of your body parts. You can use your own body weight also for some great hard work.
These free workouts include core exercises that make for stronger muscles. It helps to workout in front of a mirror so you can see how you are doing. You don't need to spend much time on consecutive days for lean muscle mass.
Each of these links have a different week to week program. In the long run strength training is really great for bone density, blood pressure and muscle confusion (especially if you love your cardio!). You'd be surprised how high your heart rate can go while strength training. These programs are such a great place to start. Let me know when you try your first workout!
Finding the right weight is up to you. I always choose the lightest weight and move on from there in the second week.
Cardio and interval training is amazing for fat loss but if you want your full body tight and toned? Strength Training is the way to go!
Don't forget to download your Free Fitness Journal so you can keep track of all your progress! Plus you can grab this Healthy Habit Tracker to keep track of your exercise, sleep, water intake, nutrition and more!
Plus if you want to read more about building muscle for women don't forget to check out An Easy Guide To Building Muscle For Women!

9 Weight Training Plans For Women
(Updated 2022)
Women's Strength Training Guide from BodyBuilding.com: I really love this strength training workout guide because it offers many specific exercises for women, plus they give specific sets on what to work on and how many reps to do for each.
From light weights to heavy weights, this guide of women workout routines for beginners shows how much you should be doing and how not to over strain yourself with rep maxes with a new program.
Workout Routines For Women – 4 Week Training Plan: This program from SHAPE encourages you to cut back on the cardio and push the weights to increase metabolism and build more muscle.
This plan doesn't give you a specific list of workouts and leaves the flexibility to adjust as you go. It is a great beginner workout plan. The plan changes to circuit training halfway through switching up the plan of just lifting.
The Transformation Workout Plan – Muscle & Fitness: Unlike the previous two this plan encourages cardio right along with the weightlifting. This plan uses a lot of supersets to get the job done.
The Ultimate Female Training Guide – Simply Shredded: I really like this plan because it spends a great deal of time debunking the myths of how women should train.
High cardio/no weights is what we are mostly taught when it comes to working out. This plan gives a very specific 12 week plan on how to lift weights daily and safely especially if it's your first time.
Women's Workout Routine To Get You Strong and Toned: This plan is full of weight lifting for women but also includes HIIT (High Intensity Interval Training) and Low Intensity Steady State Cardio so you cardio bunnies can get your aerobic exercise fix. 🙂
How To Make A Strength Training Plan (and keep it!) – Greatist : I like this plan that you can build on your own following some of the most basic principles of weight training.
Whole Body Conditioning Workout For Women – Muscle & Strength: This plan alternates full cardio with weight lifting with the intent of building muscle. This is a full 7 day routine with different exercises!
Beginning Weight Lifting Routine For Women – LIVESTRONG: This is the most simplest of the routines that incorporates 3lb, 5lb and 8lb weights. These can go from 8 reps to even 12 reps.
Beginner's Strength Training – How To Get Started: This is a great guide with lots of general starter information, it also lists some great exercises that you can do with resistance bands, and no weights at all.
For more Strength Training/Fitness Posts Check out:
10 Strength Training Exercises for Strong Legs
The 10 Minute Buff Bride Arm Workout
5 Practical Reasons Why All Women Should Be Lifting Weights
20 Effective Bodyweight Exercises & No Equipment Required
Do you lift with a program or do you lift as you feel?
Grab your free Fitness Journal Health Goals Tracker here!
Hi! I'm Nellie. I am a busy mama of three, wife to my high school sweetheart who loves to cook, workout and stay organized! I love to share helpful printables, the best recipes and fitness tips for the modern mom. I strongly believe that every mom can feed their family well, take proper care of themselves and have fun along the way! Read my story.
Get comfortable and be sure to come hang out with me on social. Don't grab your free fitness journal before you go!