When I was a kid I remember eating a LOT of sandwiches for lunch. There is absolutely nothing wrong with that of course, but lunch box ideas for kids have gotten so much fancier these days that sandwiches are no longer the only option for packed lunches! Last week I shared 5 Easy Lunch Box Ideas and today I'm sharing 10 more!
Nut free options are also super important because these kids are SO known for sharing lunches. It's best to stay away from the peanuts in case there are any life threatening allergies around!
Today I have gathered 10 Nut Free and Sandwich Free Lunch Box Ideas for kids! Enjoy!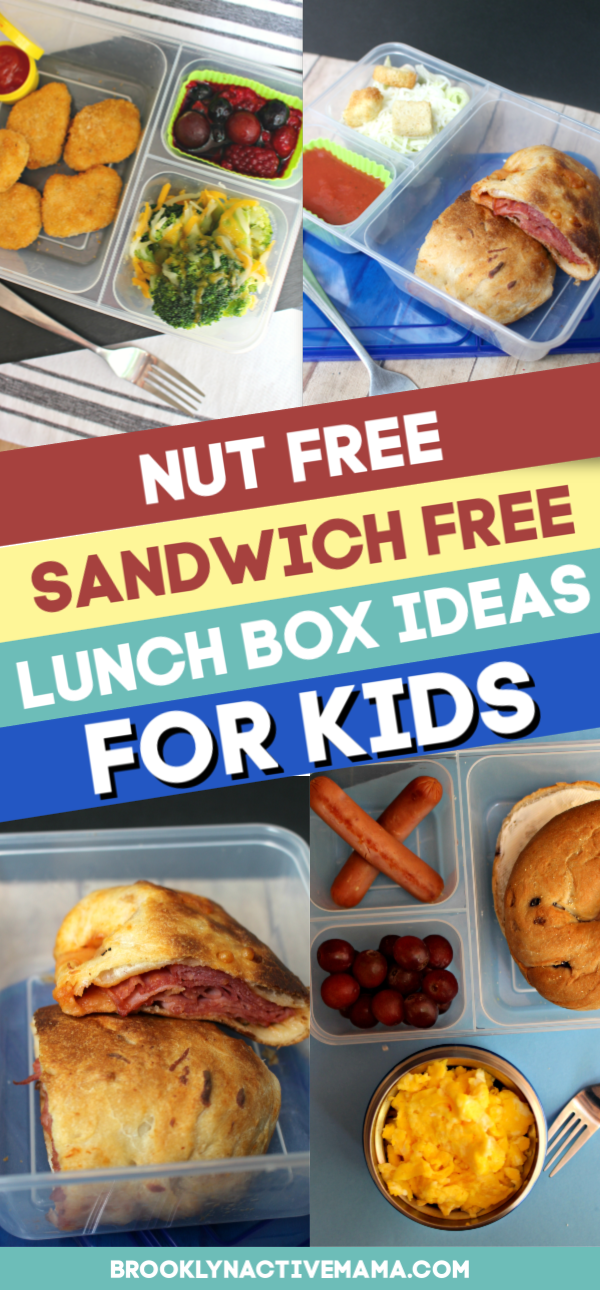 Packing tips: To keep things warm, try Funtainers. They come in a variety of sizes and will keep food warm or cold all day!
Stromboli, caesar salad. Kids love food that they can dunk and eat with their hands. And these stromboli pockets are both! Make ahead using premade pizza dough and fill with ham, salami and cheese. Pack with a side of marinara sauce and a caesar salad for a yummy and fun meal. Salad dressing and marinara cups can be found here.
Scrambled eggs, bagel, sausage, grapes. My kids LOVE breakfast – for breakfast, lunch or even dinner! Pack a bagel with cream cheese, sausage links and grapes in their lunch box and fill a funtainer with scrambled eggs for a protein filled breakfast. Plus, the Funtainer will keep the eggs warm until lunch time!

Chicken nuggets, fruit salad, broccoli and cheese. This kid friendly lunch is also a breeze to pack! Frozen chicken nuggets get pre-cooked and added to their box (or funtainer). Broccoli with melted cheese can be added to a smaller Funtainer to keep it nice and warm. (Depending on your child's lunch time, with the lid of your lunchbox it may stay warm enough in the lunch box. However, to keep the fruit salad from getting warm, packing the warm items separate is ideal.)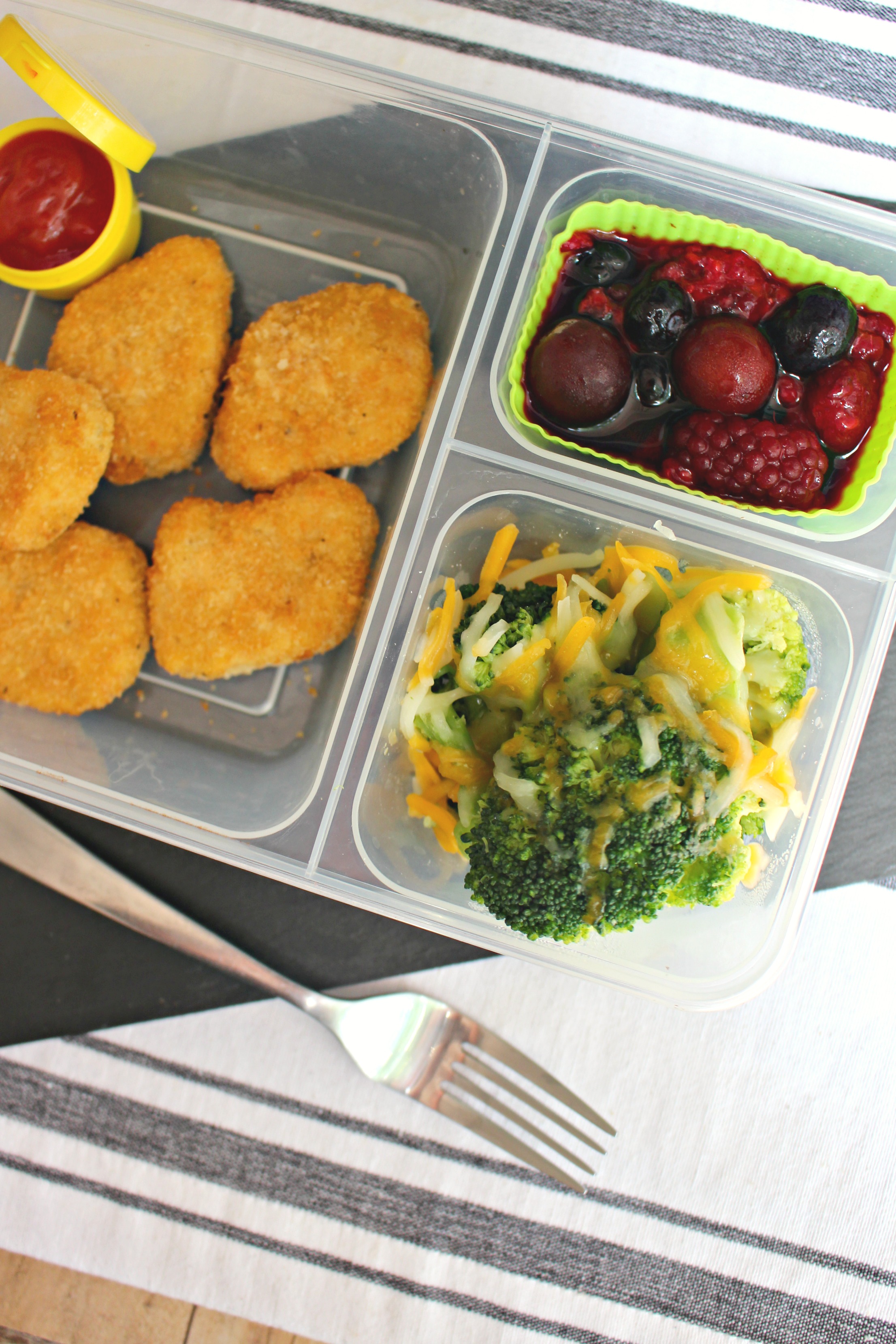 Turkey and hummus pinwheel, applesauce, pretzel sticks. Hummus is a great, healthy lunch item! Spread hummus on a tortilla and top with turkey. Roll tightly and cut into pinwheel shapes. Keep them in place, use a pretzel stick as a toothpick alternative. Kids LOVE eating this fun finger food.
Pigs in a blanket, carrots, celery, cheese cubes. My kids adore this lunch. To make pigs in a blanket, use premade crescent dough to roll 2 Lit'l All Beef Smokies. Bake according to package instructions. Don't forget to include ketchup (many schools will have some available, but if yours doesn't) and ranch for your veggies!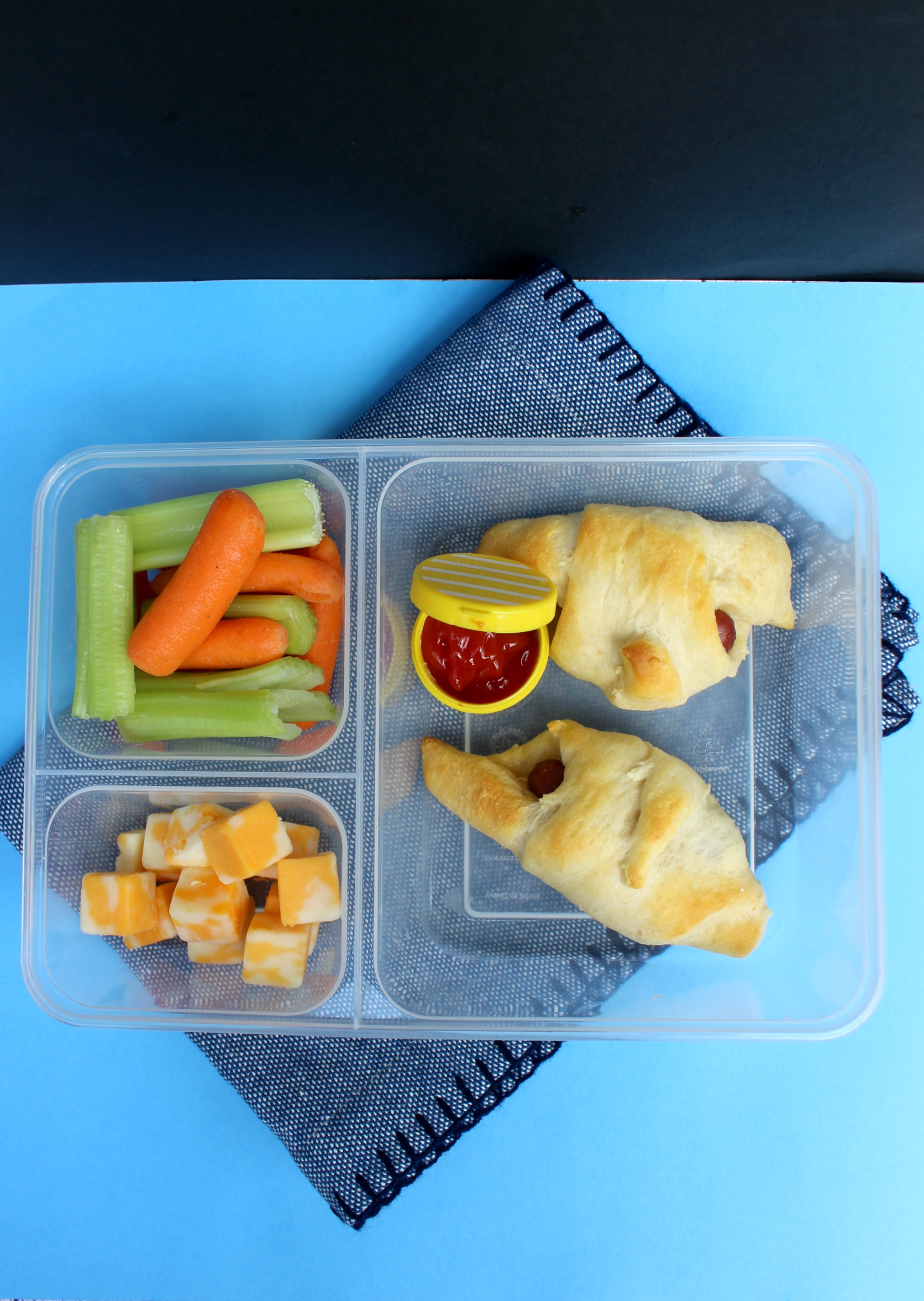 Toasted Ravioli, peas and carrots, apples: This lunch may sound fancy, but it's actually one of the easiest and a fun 'new' lunch that is unexpected. You can buy toasted ravioli in your frozen section of your grocery store. Just cook and pack!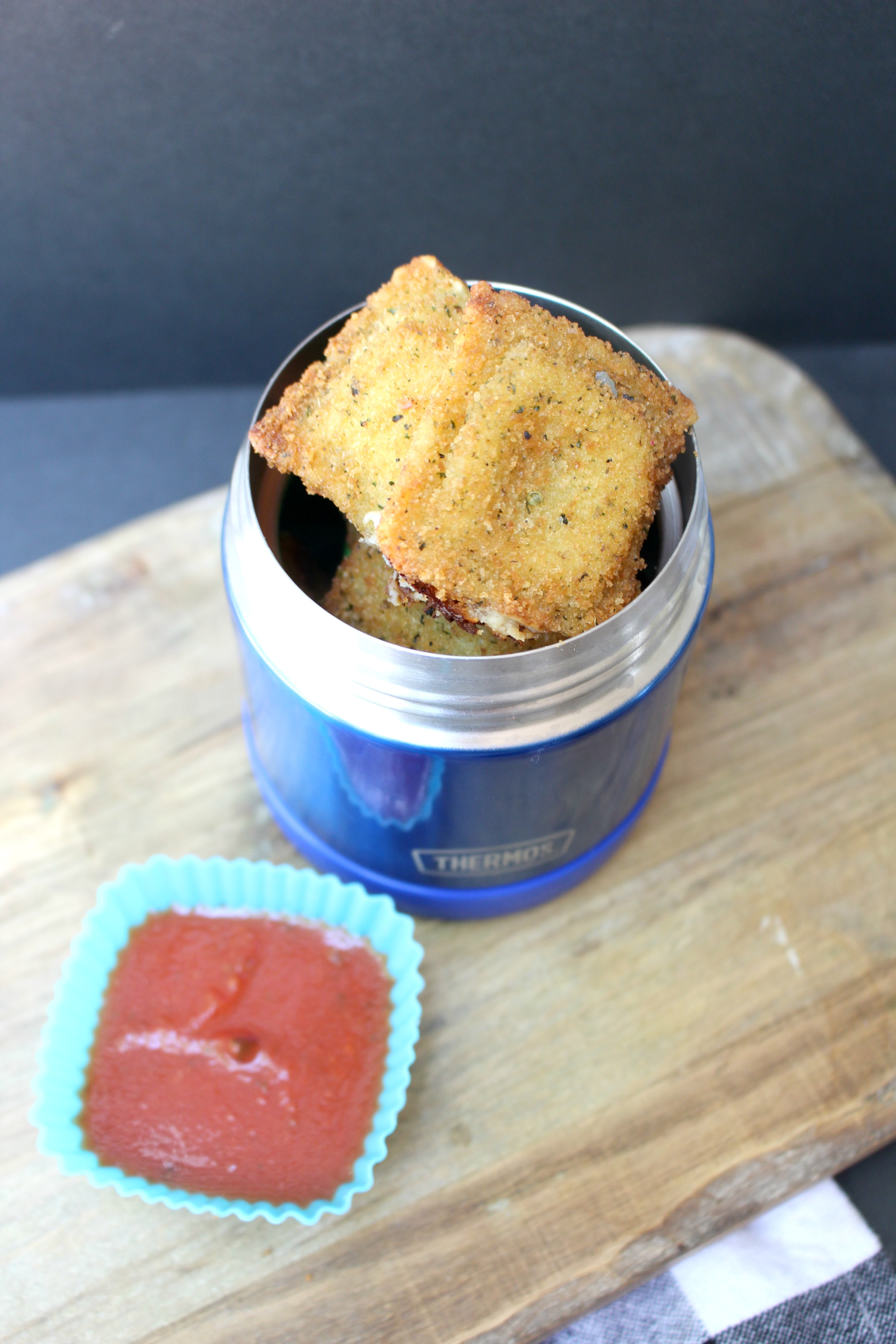 Waffles, bacon and strawberries.
Packing tips: Cutting your waffles into strips makes them perfect for hands to grab and dunk in the syrup. Which is much more fun than eating with a fork! These are great syrup containers!
Make your own pizza, salad, pineapple. Everyone loves pizza! And kids love being able to layer on their own toppings.

Packing tips: What to do for the crust? Buy a premade crust and cut into squares that fit into your containers and pre-cook.
Chicken salad, croissant, grapes, kiwis. Dunk into the chicken salad or spread as a sandwich – either way, chicken salad is a great lunch item! Add fresh fruit and you have a yummy healthy lunch!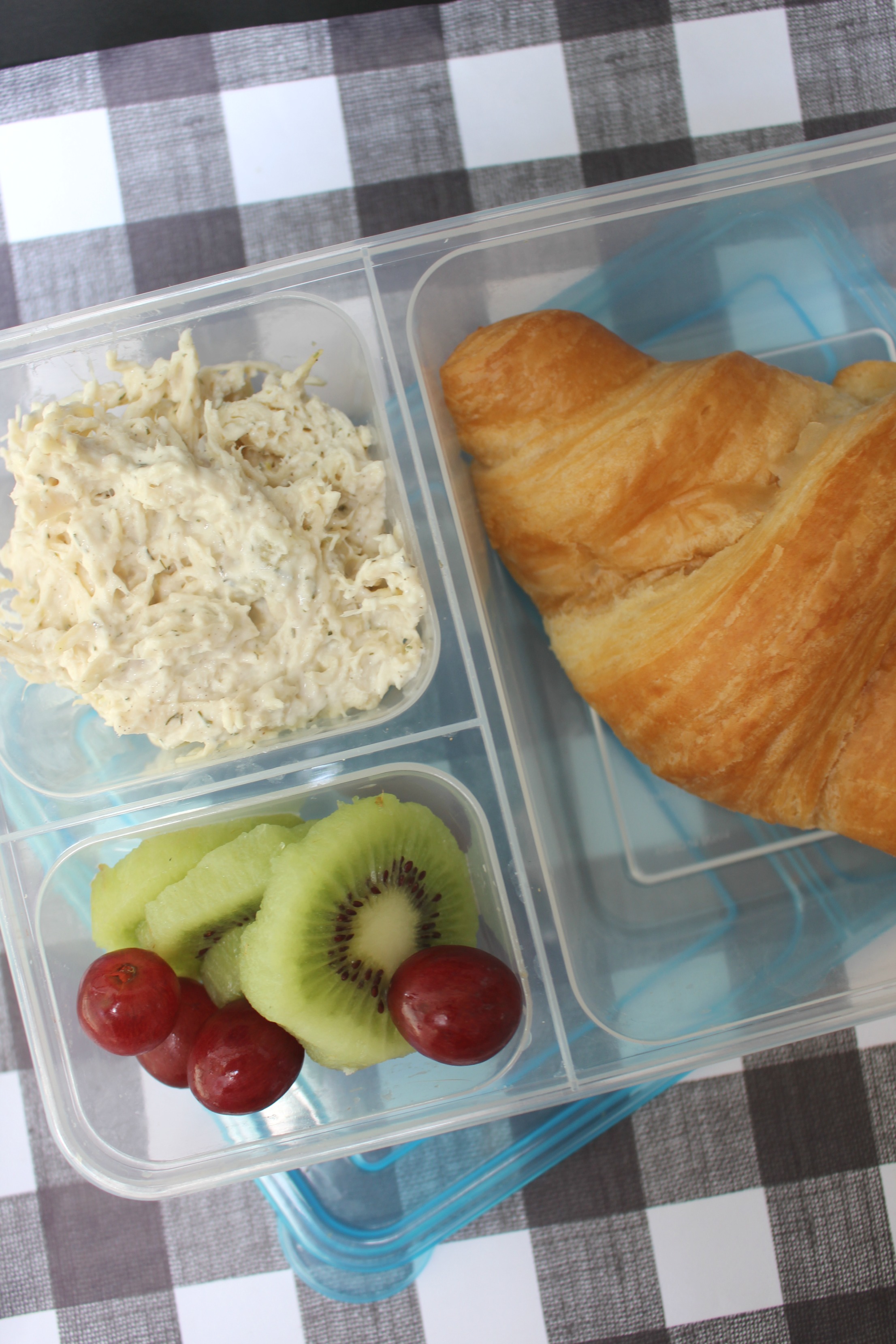 Chicken nachos, banana. Who can say no to nachos? Customize your lunch based on your child's preference. Make a chicken breast ahead of time, shred and include toppings they love! Cheese, tomatoes, lettuce, sour cream, guacamole….the sky is the limit! Kids will love loading up their nachos.
Looking for some more ideas? Don't forget to check out these 5 Lunch box Ideas too!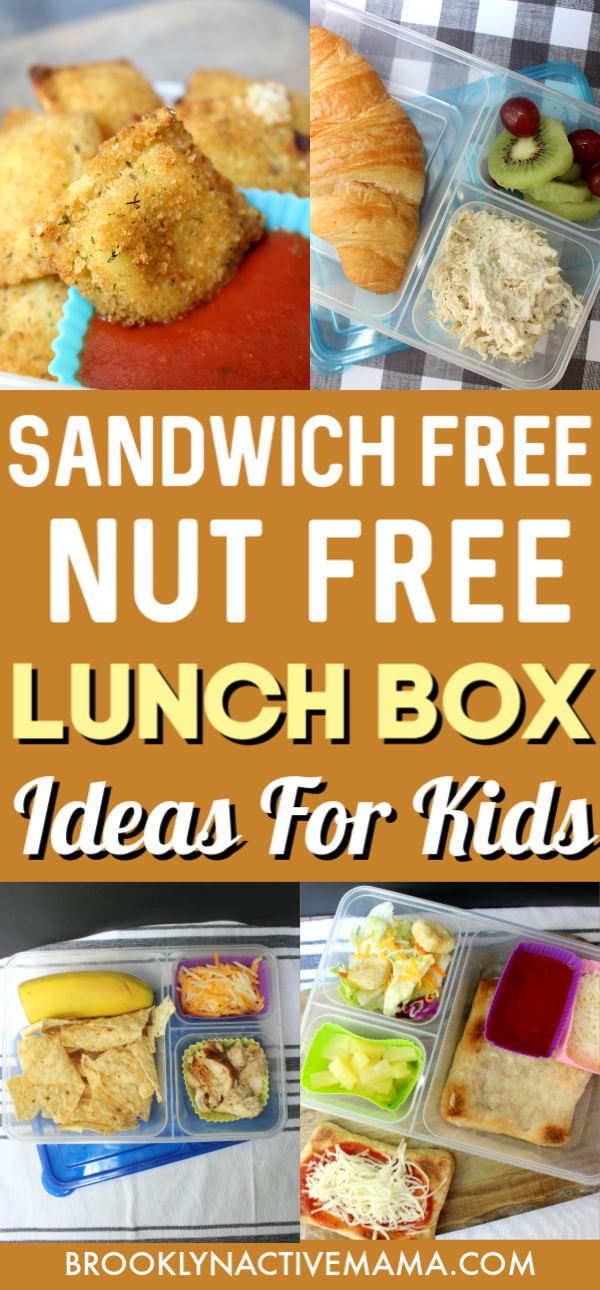 Check out these awesome school related posts!
20 Can't Miss Deals On Back To School Supplies
7 Back To School Traditions To Start With Kids + Chalkboard Rice Krispie Treats
First Day Of School Printables For Every Grade
Hi! I'm Nellie. I am a busy mama of three, wife to my high school sweetheart who loves to cook, workout and stay organized! I love to share helpful printables, the best recipes and fitness tips for the modern mom. I strongly believe that every mom can feed their family well, take proper care of themselves and have fun along the way! Read my story.
Get comfortable and be sure to come hang out with me on social. Don't grab your free fitness journal before you go!