Here is a fun recipe that teaches you how to make easy veggie tacos. These are super fun to make with kids while they get the health benefits of lots of great vegetables!
Getting the kids to eat well is no easy feat, so I've included some easy tips to get the kids to eat more fruits and vegetables.
Fruits and vegetables are tremendously vital in order for the body to function at its peak performance. They are filled with essential vitamins, minerals, antioxidants and a host of other nutrients.
Because they belong to the soluble food group they assist with flushing out toxins from the body. Hence, they are excellent for proper weight management.
A diet that includes a daily supply of fruits and vegetables will ultimately wards off chronic illnesses such as obesity, diabetes, stroke, heart attacks and other chronic diseases.
Unfortunately, today's kids are not obtaining the right amount of fruits and vegetables in their daily diet. It has been reported by the American Heart Association that many of them will not outlive their parents. Can you imagine? This is serious!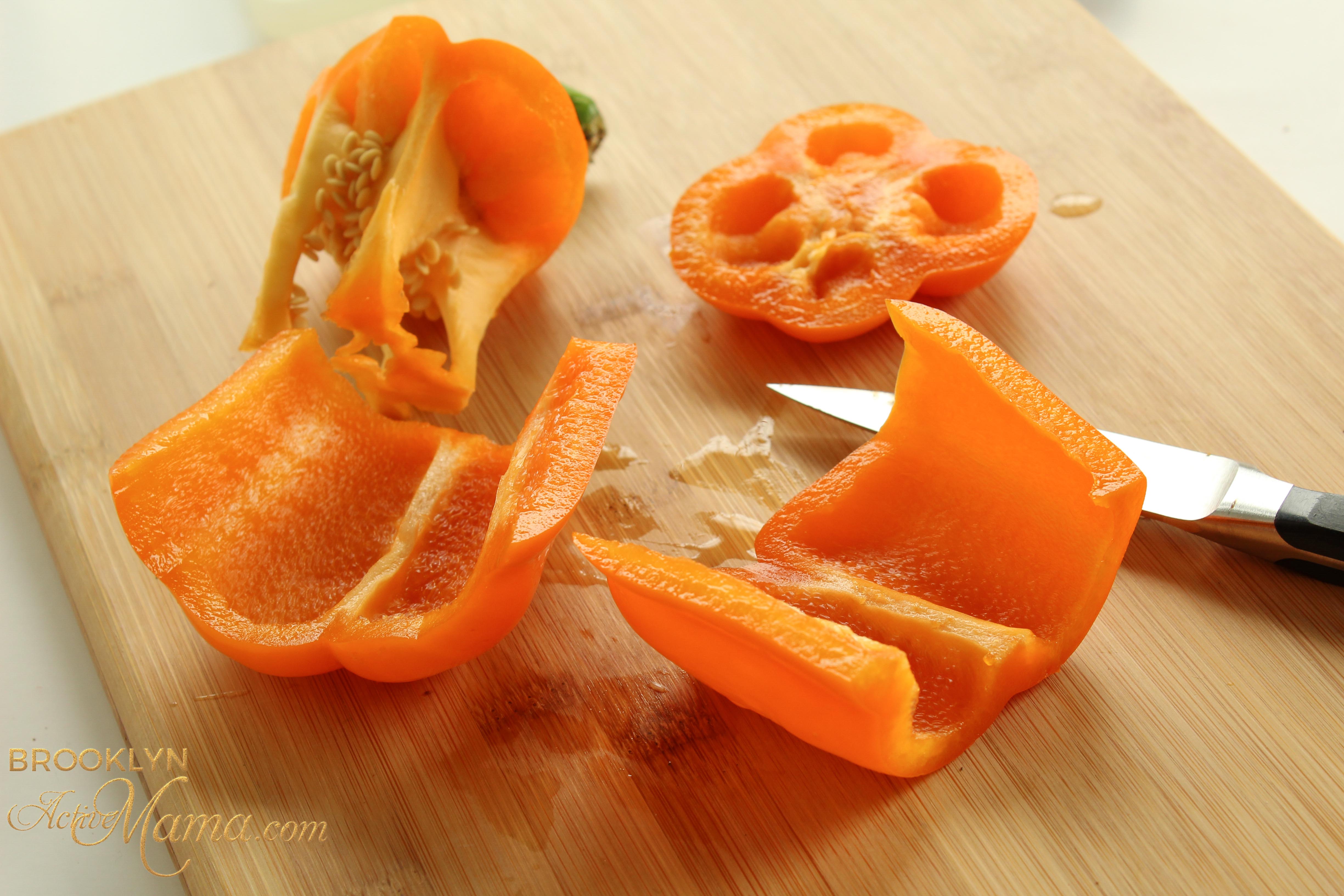 Although government bodies and various health organizations are actively embarking on ways to stamp out obesity (Thank you Michelle O.!), it's important that we at home find devise tips for getting kids to eat more fruits and vegetables. Some of the tips to get kids excited and devour fruits and veggies are:
Get them involved
One of the best things a parent or guardian can do for their kids is to take them shopping to a farmers' market. Here, they can observe the huge and wide collection of fruits and vegetables. They can even pick out the veggies needed for this meatless taco recipe!
The different aromas will get to their senses. They will gain a great knowledge just by viewing and touching the varied shapes, colors and sizes.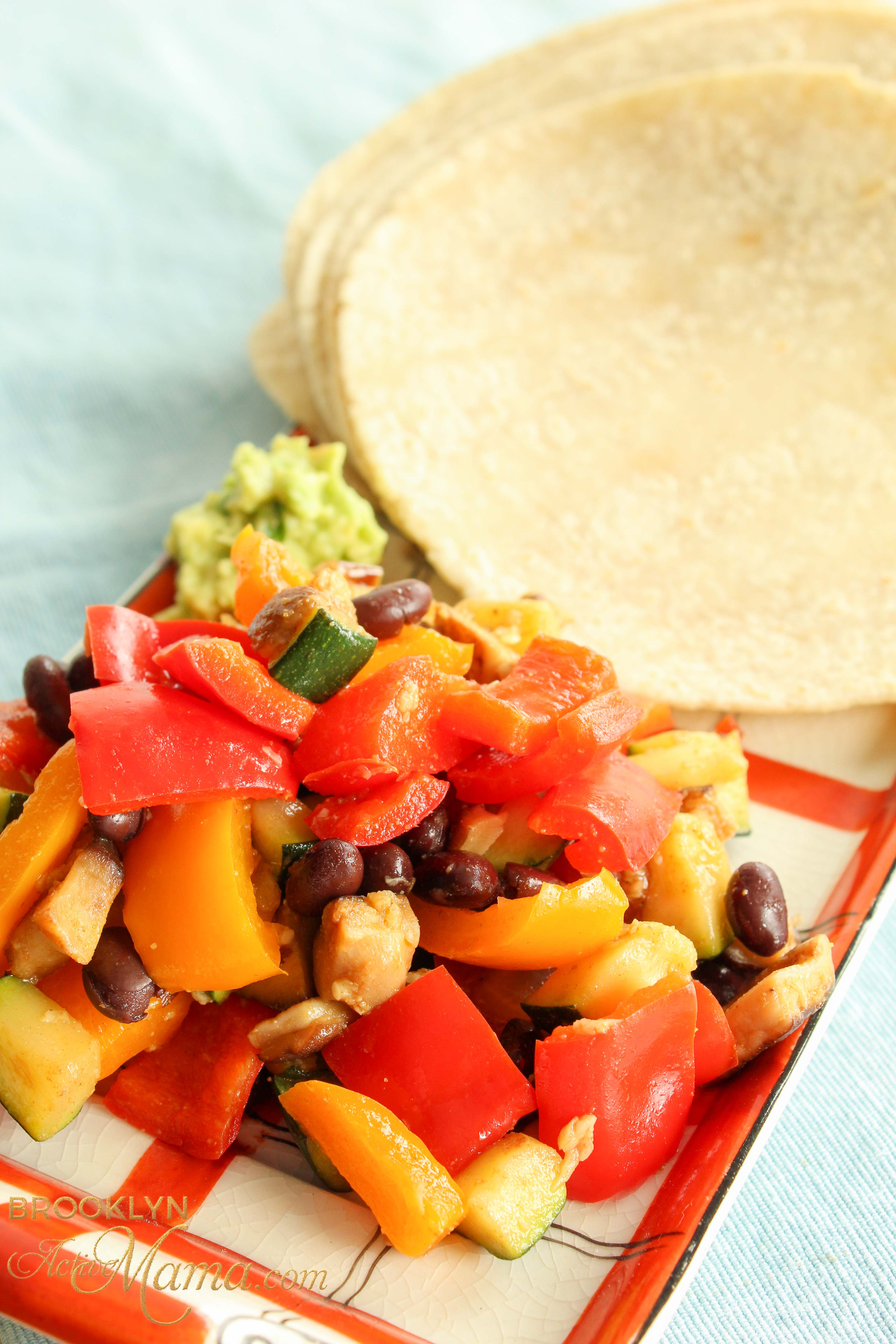 Better yet, you could take them to the source of these healthy foods by making it fun in visiting a farm. They will certainly be intrigued just to learn of the origin of these fruits and vegetables.
Plant a fruit and veggie garden
An excellent way to get kids more appreciative of fruits and vegetables and consume more is to plant a garden. Studies have shown that kids will consume more if they know that they actually have an input in planting their own products.
Offer healthy foods variety
Children get bored easily. Therefore, if you present a boring looking fruit or vegetables plate, they will overlook same. It is imperative that you shop for a wide assortment for fruits and veggies.
Do make a concerted effort to garner bright and colorful products that will grab their attention. Remember that they first eat with their eyes. Presentation is key. Plant these products in attractive dishes so as to lure them to the table.
What Vegetables Are In This Vegetarian Taco Recipe?
1 Red bell pepper
One Orange or yellow bell pepper
1 Zucchini
1/2 Cup chopped red onion
1 1/2 Cups chopped shitake mushrooms
3 Cloves of garlic
1 tsp cumin
1 can black beans, well rinsed
Fruits and vegetables are very essential to overall health; and the sooner you expose your kids to these beneficial foods the more they will devour.
Today I've got a fun kid friendly veggie tacos recipe that will be fun to make with the kids and perfect for Meatless Monday. These tacos are great for toddlers and kids.
Yield: 10-12 tacos
Yummy Veggie Tacos Recipe -- Perfect For Busy Weeknights
Prep Time: 15 minutes

Cook Time: 20 minutes

Total Time: 35 minutes

These can stand on their own as vegetarian tacos, or you can add meat. They're perfect for a taco bar so everyone can do it their own way.

These aren't spicy hot at all. You can add heat with your salsa.

Great option for meatless monday!
Ingredients
1 Red bell pepper
1 Orange or yellow bell pepper
1 Zucchini
1/2 Cup chopped red onion
1 1/2 Cups chopped shitake mushrooms
3 Cloves of garlic
1 Tbs EVOO
1 tsp cumin
1 can black beans, well rinsed
Instructions
Chop the bell peppers. Pro tip: cut off the
bottom first and reach in with your knife to separate the white membrane from the sides. Then when you cut off the top the seeds will come out neatly.
Dice the zucchini. Tip: if you cut it in half first it's easier to work with.
Chop the onion. You could also use a sweet onion, or even a regular one. I like red the best for this because it's a little sweet and looks pretty.
Chop the shitake mushrooms. I buy them presliced, so it's quick to just wash and chop them up smaller. I think the meatiness and flavor of shitakes really "makes" this dish, but you could sub a different type if you want. Portobello mushrooms might also be good.
Press the garlic, or dice it super fine.
Heat the oil in a large skillet over medium high
heat, then add the onion and cook for 1 min.
Move the onions to the side of the pan. Then,
add the mushrooms and let them cook without stirring for about a minute.
Stir and add the bell peppers and zucchini. Stir frequently until the veggies are tender but still crunchy.
Stir in cumin and garlic and cook for another minute or so stirring constantly so that the garlic doesn't burn.
If desired, stir in black beans. Or you can heat those separately and serve them on the side.
Remove to a serving dish and serve with your favorite tortillas and toppings. Ideas for toppings: avocado or guacamole, salsa (roasted salsa is really good with this!), sour cream, grated cheese, lime wedges, cilantro, diced tomatoes, etc.
Nutrition Information
Yield
10
Serving Size
1
Amount Per Serving Calories 83Total Fat 2gSaturated Fat 0gTrans Fat 0gUnsaturated Fat 1gCholesterol 0mgSodium 168mgCarbohydrates 14gFiber 5gSugar 3gProtein 4g
If you like this taco recipe be sure to check these out too:
Instant Pot Taco Stuffed Baked Potatoes
Easy Skinny Flatbread Taco Pizzas
Easy and Delicious Instant Pot Taco Soup
Instant Pot Spicy Black Bean White Chicken Chili
Hi! I'm Nellie. I am a busy mama of three, wife to my high school sweetheart who loves to cook, workout and stay organized! I love to share helpful printables, the best recipes and fitness tips for the modern mom. I strongly believe that every mom can feed their family well, take proper care of themselves and have fun along the way! Read my story.
Get comfortable and be sure to come hang out with me on social. Don't grab your free fitness journal before you go!