Indulge in the vibrant hues and velvety texture of our Moist Red Velvet Pound Cake. Infused with a subtle chocolate flavor, this delicious cake carries the iconic red color, creating a picture-perfect centerpiece for special occasions.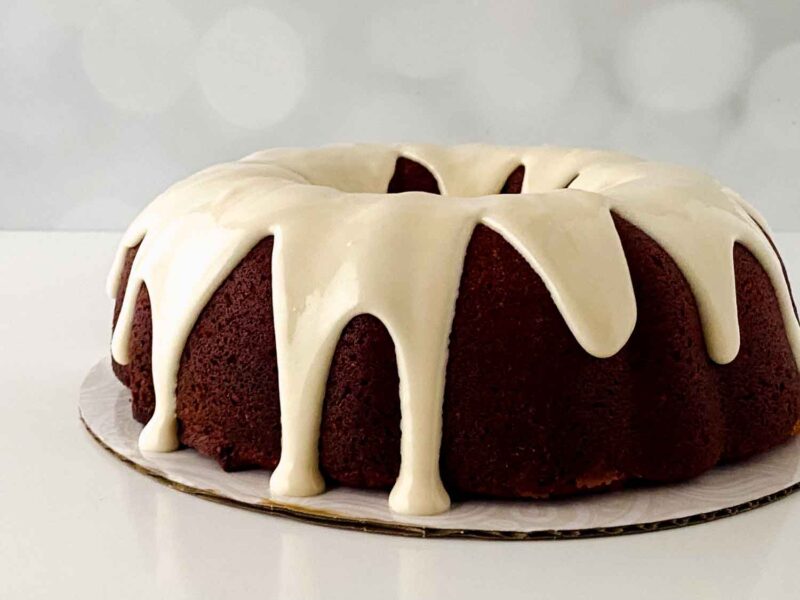 Topped with a rich cream cheese glaze, it boasts a fine crumb and a tender crumb. Scroll down to the bottom of the post to find the detailed recipe card!
I personally love this cake any time of year but thanksgiving really makes this a showstopper dessert.
Let's start with what ingredients you need for this red velvet bundt cake recipe:
RED VELVET CAKE:
3/4 cup vegetable oil: This contributes to the moistness of the cake. Vegetable oil is a fat that doesn't solidify at room temperature, which helps the cake maintain a soft and tender texture.
1/2 cup unsalted butter, softened: Butter gives the cake richness, flavor, and contributes to its soft crumb. Using unsalted butter allows you to control the amount of salt in the recipe.
4 oz cream cheese, room temperature: This adds a slight tanginess and richness to the cake, giving it depth of flavor.
2 cups granulated sugar: This sweetens the cake and also contributes to its texture. Sugar helps in the creaming process, which aerates the batter and gives the cake its lightness.
2 large eggs, brought to room temp: Eggs provide structure, moisture, and richness to the cake. Room temperature eggs mix evenly into the batter and produce a uniform texture throughout.
1 cup buttermilk: Buttermilk brings a slight tang and helps react with the baking soda, which aids in rising. It also tenderizes the gluten in the flour, resulting in a softer crumb.
2 tsp vanilla extract: This adds flavor to the cake.
1 tsp white vinegar: Vinegar reacts with baking soda (an acid reacting with a base) to help the cake rise. It also sharpens the red color in some red velvet recipes.
2 tbsp red food coloring: This gives the cake its iconic red hue.
2 ¼ cups all-purpose flour, scooped and leveled: The main structural component of the cake. It provides the framework for the cake's crumb.
3 tbsp unsweetened cocoa powder: Adds a subtle chocolate flavor to the cake.
1 tsp baking soda: A leavening agent that reacts with the acid (from buttermilk and vinegar) to help the cake rise.
1/2 tsp salt: Enhances flavor and balances the sweetness.
CREAM CHEESE GLAZE:
4 oz cream cheese, room temp: Provides a tangy flavor and creamy base for the glaze. Being at room temperature ensures a smooth consistency when mixed.
2 cups (240g) powdered sugar: Sweetens the glaze and gives it structure.
3 tbsp milk: Adjusts the consistency of the glaze, making it pourable.
1/2 tsp vanilla extract: Adds flavor to the glaze.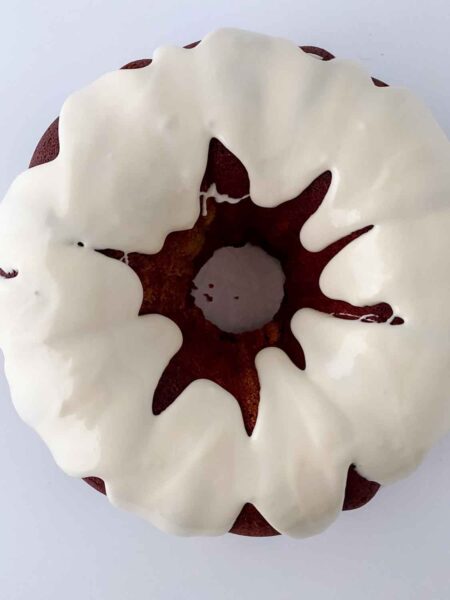 Why This Recipe Works:
The sour cream and vegetable oil render a super moist red velvet cake.
The unsweetened cocoa powder offers a mild chocolate flavor that strikes the sweet spot.
Using cake flour instead of all-purpose flour ensures the best texture for a velvety and tender cake.
FAQs:
What gives the cake its red color?The vivid hue is a combination of good quality red food coloring or gel food coloring.
Can I use a regular chocolate cake recipe?Red velvet cake recipe is not just a chocolate cake tinted red. It has a distinct flavor from the combination of cocoa and other ingredients.
Why add white vinegar?A touch of white vinegar helps enhance the red color of the cake.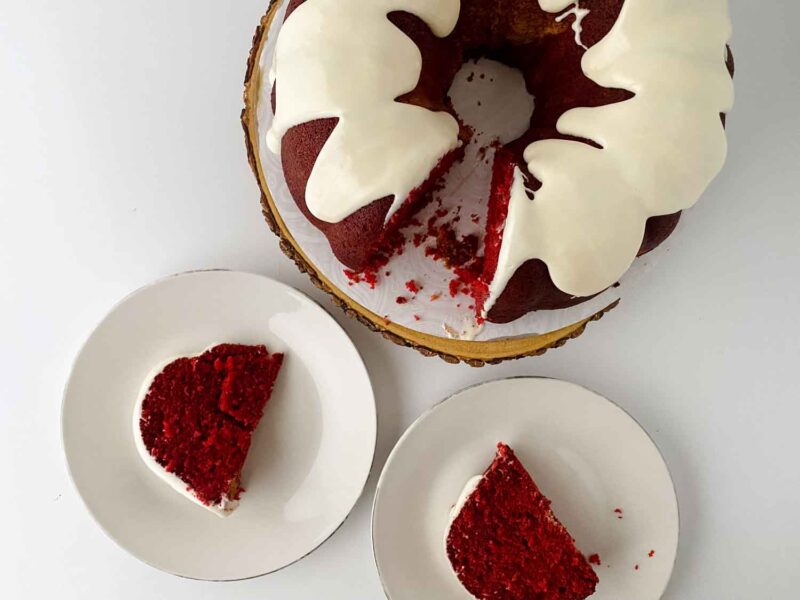 Tips and Tricks:
Always ensure that your ingredients, especially eggs and butter, are at room temperature for the best texture.
When combining the dry ingredients in a large bowl, make sure to sift them to prevent any lumps.
Use a stand mixer or electric mixer for mixing the batter at medium speed. It ensures a smooth batter without overmixing.
To achieve that perfect cake, always scrape the sides of the bowl with a rubber spatula to incorporate everything evenly.
Variations:
Red Velvet Brownies: Convert this pound cake recipe into brownies by pouring the cake batter into rectangular cake pans and adjusting the bake time.
Sweet Cream Cheese Filling: Instead of a glaze, consider filling the cake with a sweet cream cheese filling for a delightful surprise.
Use Red Velvet Cake Mix: Short on time? Grab a box from the grocery store and customize it with the tips from this post for a near-homemade taste.
Where to Serve:This beautiful cake is the perfect centerpiece for Valentine's Day, anniversaries, or any special occasions where a touch of red makes everything more magical.
Storage:
Store in an airtight container for up to 3 days at room temperature.
For longer storage, wrap with plastic wrap and aluminum foil, and refrigerate.
You can freeze the cake, without the cream cheese icing, for up to a month.
Common Problems and How to Avoid Them:
Dry Cake: Overbaking leads to a dry cake. Always use a cake tester to check the center of the cake.
Sides of the Cake Stick: Use nonstick spray or butter and lightly flour your prepared bundt pan to ensure easy removal.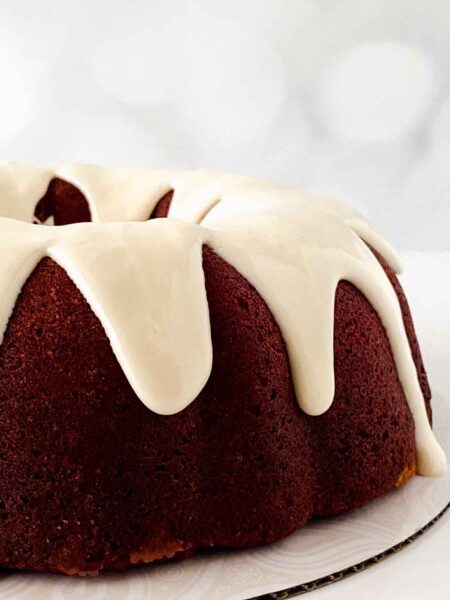 Making This Recipe with Kids:
Let them help with measuring ingredients.
They can pour the red food dye into the small bowl.
Teach them to combine flour mixtures the second time to see how they progress.
Always supervise when using the electric or hand mixer.
Topping Options:
Cream Cheese Icing: A classic pairing. The tangy, sweet flavor complements the subtle chocolate undertones of the cake.
Heavy Cream: Whipped to soft peaks, it adds a lightness to each bite.
What are some other red velvet recipes to check out?
Incredible Red Velvet Pound Cake
Additional Time:
10 minutes
Total Time:
1 hour
20 minutes
This red velvet pound cake is so good and great for any occasion. A soft delicious cake that will be perfect on any dessert table!
Ingredients
RED VELVET CAKE
3/4 cup vegetable oil
1/2 cup unsalted butter, softened
4 oz cream cheese, room temperature
2 cups granulated sugar
2 large eggs, brought to room temp
1 cup buttermilk
2 tsp vanilla extract
1 tsp white vinegar
2 tbsp red food coloring
2 ¼ cups all purpose flour, scooped and leveled
3 tbsp unsweetened cocoa powder
1 tsp baking soda
1/2 tsp salt
CREAM CHEESE GLAZE
4 oz cream cheese, room temp
2 cups (240g) powdered sugar
3 tbsp milk
1/2 tsp vanilla extract
Instructions
Preheat your oven to 350F
Whisk together your dry ingredients (flour, cocoa powder, baking soda, and salt) and set aside.
In a large mixing bowl, beat together the oil, melted butter, and sugar until well combined.
Add in the eggs, buttermilk, vanilla, and food coloring
Add half of the dry ingredients and mix until just combined.
Scrape down the bowl before adding the remaining dry ingredients.
Add the vinegar last, fold in with a rubber spatula and then pour immediately into the prepared pan.
Bake for 45-50 mins, or until a skewer comes out clean.
Let it rest for about 10 minutes, then turn it out onto a cooling rack and let it sit for another 30 minutes to cool completely.
While it's cooling, make your glaze.
Mix together the cream cheese and powdered sugar, adding a little milk as you go.
Once smooth, mix in the vanilla.
This should be pourable not spreadable.
If it's too thick, add 1/2 tbsp of milk at a time until thinned. If too thin, add 1 tbsp of powdered sugar at a time until thickened.
Pour over your cooled bundt cake and serve!
Nutrition Information
Yield
14
Serving Size
1
Amount Per Serving
Calories

471
Total Fat

27g
Saturated Fat

10g
Trans Fat

0g
Unsaturated Fat

15g
Cholesterol

70mg
Sodium

300mg
Carbohydrates

52g
Fiber

1g
Sugar

35g
Protein

5g
If you enjoyed this recipe be sure to check out my Instagram Page for the latest posts!
Before you go, check out these great posts!
Hi! I'm Nellie. I am a busy mama of three, wife to my high school sweetheart who loves to cook, workout and stay organized! I love to share helpful printables, the best recipes and fitness tips for the modern mom. I strongly believe that every mom can feed their family well, take proper care of themselves and have fun along the way! Read my story.
Get comfortable and be sure to come hang out with me on social. Don't grab your free fitness journal before you go!