Indulge in the ultimate sweet treat that is sure to satisfy every chocolate lover's dream – Snickers Cupcakes! Imagine the perfect marriage of moist chocolate cupcakes, gooey caramel filling, and crunchy peanuts, topped with the creamiest frosting. This recipe embodies the essence of the world's favorite candy bar, Snickers, in a delicious cupcake form.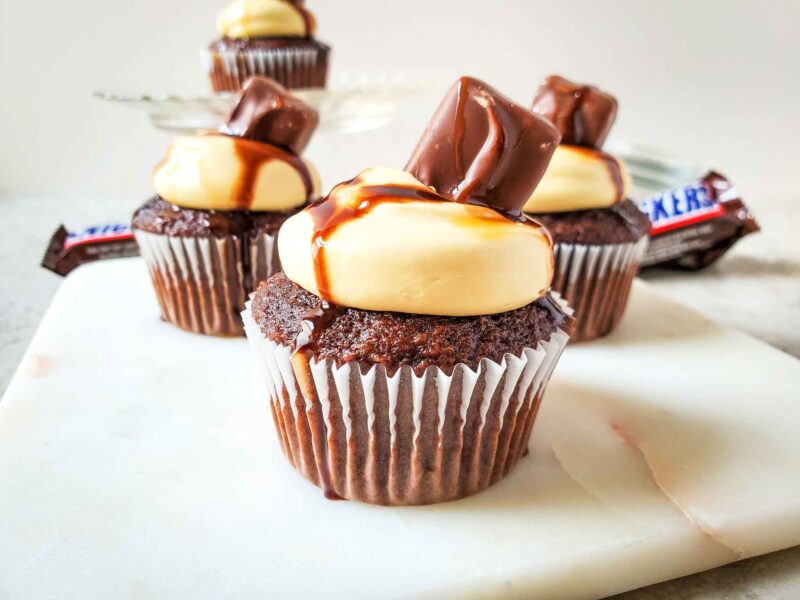 This amazing snickers cupcake recipe is the perfect choice for a birthday party.
FAQs
Do I use actual Snickers bars in this recipe?
Absolutely! Chopped Snickers bars infuse the cupcake batter with that authentic caramel and peanut nougat flavor we all adore.
Can I use a boxed cake mix for the base?
Certainly! Opt for a good quality chocolate cake mix, but remember to customize it with our special additions for that perfect Snickers touch.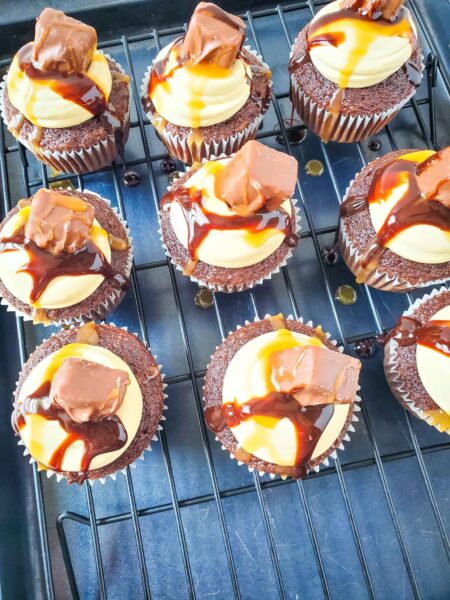 Ingredients:
15.25oz box Chocolate Cake Mix: This serves as the primary base for the cupcakes. The boxed mix contains all the essential dry ingredients (like flour, sugar, cocoa powder, and leavening agents) required to create a cake's structure, saving you the hassle of combining individual ingredients.
1 cup Water: The water acts as the primary wet ingredient that combines with the cake mix to form a smooth batter. It hydrates the ingredients in the cake mix, activating the leavening agents and ensuring even distribution of flavors.
½ cup Vegetable Oil: Fat is crucial in baking for moisture and tenderness. Vegetable oil makes the cake soft and moist, improving its texture. It also aids in creating a tender crumb.
3 Eggs: Eggs introduce structure, moisture, and richness to the cake. The proteins in eggs set during baking, giving the cake its structure. They also trap and stabilize the air bubbles, aiding in the leavening process.
⅓ cup Chopped Peanuts: Peanuts add crunch and a nutty flavor, providing a contrast to the soft and moist texture of the cake. It also mimics the texture found in Snickers candies.
3 tbsp Caramel Sundae Sauce: This enhances the overall flavor profile, introducing a sweet and slightly salty element that complements the chocolate. It also imparts moisture to the cake.
16 oz can Buttercream Frosting: A classic choice for cupcakes, buttercream provides a rich, creamy, and sweet layer on top, complementing the flavors of the cake and enhancing its visual appeal.
16 oz can Salted Caramel Frosting: This frosting variation introduces a delightful sweet and salty combination, further enhancing the caramel notes in the cupcakes.
12 Fun Size Snickers Candies: Snickers, being a blend of caramel, nougat, peanuts, and chocolate, accentuates the theme of the cupcakes. They can be used as a surprise filling inside or as a garnish on top.
Caramel Sundae Sauce (for drizzling): Drizzling extra caramel sauce on top not only boosts the caramel flavor but also adds a gourmet touch, making the cupcakes look more appealing.
Chocolate Sundae Sauce (for drizzling): The chocolate drizzle further enhances the rich chocolatey essence of the cupcakes and provides a glossy, inviting finish.
Together, these ingredients harmoniously blend the flavors and textures of a Snickers candy bar into a delightful cupcake form, making each bite a celebration of chocolate, caramel, and peanuts.
Tips and Tricks
For First-Timers: Always combine dry ingredients in a medium bowl, and wet ingredients in a large bowl. This ensures even distribution and avoids over-mixing.
Mixing: When combining ingredients, start at low speed and gradually increase to medium speed in a stand mixer using the paddle attachment. This method guarantees fluffy chocolate cupcakes.
Cupcake Consistency: If your batter feels too thick, a drizzle of caramel sauce can adjust the consistency. Conversely, a bit more cocoa powder can be added if too thin.
Variations
Snickers Mini Cupcakes: Use mini cupcake tins and adjust baking time accordingly for bite-sized delights.
Chocolate Ganache Topping: Instead of regular frosting, top with chocolate ganache for an even richer chocolate flavor.
Milky Ways Cupcakes: Swap Snickers bars with Milky Ways for a different candy bar experience.
Where to Serve
Perfect for bridal showers, birthday parties, or simply to appease your sweet tooth after dinner. A crowd pleaser, these cupcakes are every chocolate lover's dream come true.
Storage
Keep in an airtight container and consume within a week for the best taste. They often taste even better the next day when flavors have melded.
The Popularity of Snickers
The Snickers bar, with its gooey caramel, rich chocolate, and salty peanuts, has been a favorite candy bar for generations. Its irresistible combination of flavors and textures has inspired a range of desserts, from cakes to ice creams. Our Snickers cupcakes are just another delicious homage to this beloved treat.
Common Problems and How to Avoid Them
Dense Cupcake: Make sure to mix at the right speeds, and avoid overmixing. Each ingredient should be at room temperature to ensure even distribution.
Uneven Frosting: Use a piping bag for a more professional look. Make sure the caramel buttercream frosting is at the right consistency before piping.
Tips for Making This Recipe with Kids
Decorating Fun: Let kids garnish with mini Snickers, drizzle caramel sauce, and sprinkle chopped peanuts.
Teaching Moment: Explain the science behind achieving the perfect cupcake – how baking powder aids in rising, and the role of egg whites.
Topping Options
Classic: Creamy peanut butter frosting with a caramel drizzle and crunchy peanuts on top.
Gourmet: A combination of swiss meringue buttercream and chocolate drizzle with a sprinkling of sea salt.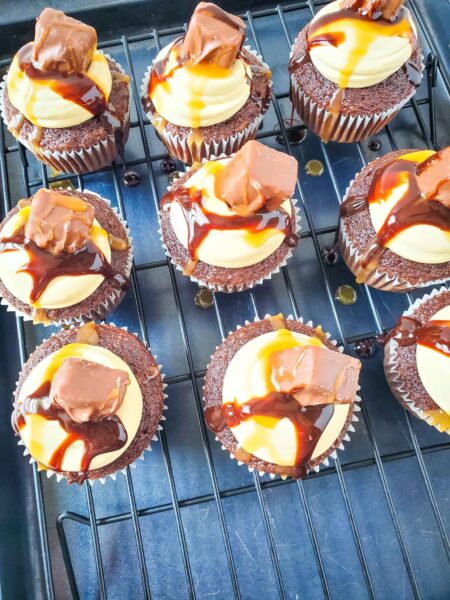 Why This Recipe Works
The magic lies in the perfect balance of textures and flavors. The moist base of the chocolate cupcake contrasts beautifully with the creamy frosting and the crunchy peanuts. The caramel filling adds a surprise element, giving you a burst of gooey sweetness with every bite. It's everything you love about the Snickers bar in a cupcake!
What are some other fun cupcake recipes to try?
If you are looking for more cupcake recipes be sure to check out The Best Cupcake Recipes You Will Ever Try!
Yield:

24 cupcakes
The Best Snickers Cupcakes
Total Time:
1 hour
32 minutes
Ingredients
15.25oz box Chocolate cake mix 1 cup water
½ cup vegetable oil
3 eggs
⅓ cup chopped peanuts
3 tbsp caramel sundae sauce
16 oz can buttercream frosting
16 oz can salted caramel frosting
12 fun size Snickers candies
Caramel sundae sauce (for drizzling)
Chocolate sundae sauce (for drizzling)
Instructions
Preheat the oven to 350 degrees. Line a cupcake pan with 24 cupcake liners.
In a large bowl, beat the cake mix, water, oil, and eggs for 3 minutes.
Divide the mixture between the cupcake liners. Transfer to the oven and bake for 12-15 minutes, until a toothpick comes out clean.
Transfer to a cooling rack for one hour to cool.
Once cupcakes are completely cooled, use a knife or skewer to remove a small piece from the center of each cupcake. Set aside the top piece, but discard the rest.
Add the peanuts and 3 tbsp sundae sauce to a small bowl and stir. Fill each center hole that you made with the filling. Stuff the top piece back on.
Add both cans of frosting to a bowl and beat for 2 minutes, until light and fluffy. Fill a piping bag equipped with the frosting tip, and pipe frosting onto cupcakes.
Chop the Snickers bars in half, then place a piece into each frosted cupcake. Drizzle with caramel and chocolate sauce.
Nutrition Information
Yield
24
Serving Size
1
Amount Per Serving
Calories

408
Total Fat

20g
Saturated Fat

7g
Trans Fat

0g
Unsaturated Fat

11g
Cholesterol

42mg
Sodium

322mg
Carbohydrates

52g
Fiber

2g
Sugar

38g
Protein

5g
If you enjoyed this recipe be sure to check out my Instagram Page for the latest posts!
Before you go, check out these great posts!
Easy and Fun Mermaid Candy Popcorn Recipe
Super Fun Colorful Cotton Candy Cupcakes
Hi! I'm Nellie. I am a busy mama of three, wife to my high school sweetheart who loves to cook, workout and stay organized! I love to share helpful printables, the best recipes and fitness tips for the modern mom. I strongly believe that every mom can feed their family well, take proper care of themselves and have fun along the way! Read my story.
Get comfortable and be sure to come hang out with me on social. Don't grab your free fitness journal before you go!