Hey there, Super Moms! The back-to-school season is upon us, and let's face it, we need all the help we can get to survive this organized chaos. But worry not, because I've got just the thing for you – Back To School Free Printable Organizer!
Picture this: You're a multitasking wizard, juggling a gazillion things at once – from extracurricular activities to packing those lunchboxes and keeping tabs on homework. It's like running a marathon every day, and you totally deserve a gold medal for it!
That's where the Back-to-School Survivor Printable swoops in to save the day! It's not just any printable; it's the organizational lifehack that every mom dreams of. Let's dive into its magnificent features, shall we?
Extra Curricular Activities Section: The struggle is real when it comes to keeping track of the kids' after-school engagements. Fear not, dear moms, for this section will be your ultimate savior. From soccer practice to ballet recitals, you can jot down all the events in one place and avoid those "Oops, I forgot" moments.
Breakfast, Lunch, and Snacks Planner: Feed those hungry minds with the right fuel! The Back-to-School Survivor Printable will be your culinary compass, helping you plan balanced and delicious meals for your little ones. Say goodbye to last-minute sandwich scrambles!
Homework Headquarters: Ah, the dreaded homework battles. Fear not! This printable will help you create a designated space for your kids to conquer their academic quests. From spelling tests to science projects, this section will keep you on top of the scholastic game.
Chore Chart Corner: Want your kids to be little household helpers? This section will be your secret weapon! Chore time will become a breeze with the Back-to-School Survivor Printable. Clean rooms? Check! Empty dishwasher? Check! Well, that's a load off your plate!
Checklist Galore: Feeling overwhelmed with screen time debates and time management dilemmas? This checklist will sort it all out! From balancing screen time limits to teaching your kids the art of time management and goal setting, you'll be the mom with the master plan.
Preparation is Key: The Back-to-School Survivor Printable will be your partner-in-crime when it comes to preparing in advance. Get a head start on the week by planning outfits, prepping school supplies, and organizing all the necessities.
We know that the new school year can be a whirlwind, but you've got this, Super Moms! This printable is not just a piece of paper; it's your ultimate ally in the battle against chaos. With it by your side, you'll slay the school year like the true superhero you are.
So, what are you waiting for? Get your hands on the Back-to-School Survivor Printable now and embrace the organized mom life. Remember, being organized doesn't mean sacrificing spontaneity; it means creating more time for the moments that truly matter – like those precious giggles and after-school hugs.
Here's to a smooth, stress-free school year filled with laughter, love, and plenty of well-deserved "me" time. You've got this, and the Back-to-School Survivor Printable has got you! Happy organizing, Super Moms!
What are some other must have back to school printables?
Pin it for later!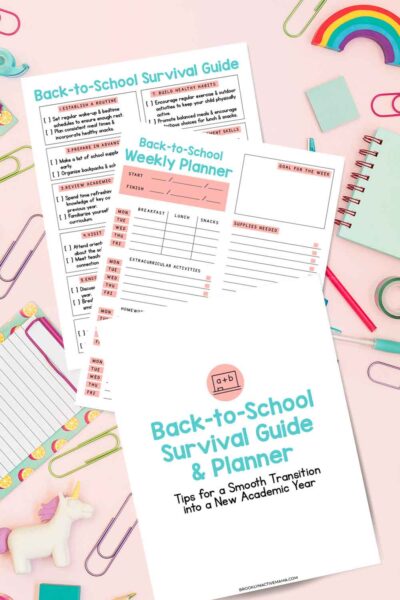 If you enjoyed this recipe be sure to check out my Instagram Page for the latest posts!
Before you go, check out these great posts!
33 Really Good After School Snack Recipes
7 Back To School Traditions To Start With Kids
Easy Back To School Themed Rice Krispie Treats
Hi! I'm Nellie. I am a busy mama of three, wife to my high school sweetheart who loves to cook, workout and stay organized! I love to share helpful printables, the best recipes and fitness tips for the modern mom. I strongly believe that every mom can feed their family well, take proper care of themselves and have fun along the way! Read my story.
Get comfortable and be sure to come hang out with me on social. Don't grab your free fitness journal before you go!