This easy 3 ingredient slow cooker hawaiian chicken recipe is made with simple ingredients and is great for a weeknight meal.
Slow Cooker Hawaiian Chicken Recipe Description
If you're looking for minimal effort but maximal flavor, this slow cooker Hawaiian chicken recipe has got you covered. With tender chicken pieces enveloped in a tangy sauce made from BBQ sauce and crushed pineapple, this dish brings a burst of tropical delight to your table. Serve it over jasmine rice for a delicious dinner recipe that the whole family will love!
What ingredients do you need for this slow cooker chicken recipe?
Boneless, Skinless Chicken Breasts (Cut into Cubes)
The boneless, skinless chicken breasts serve as the protein-packed canvas for all the other flavors. Cutting them into cubes ensures that they cook evenly and absorb the savory sauce thoroughly.
Crushed Pineapple (1 – 8 oz can, drained)
Crushed pineapple offers that essential Hawaiian flavor. The sweetness and acidity of the pineapple contrast nicely with the savory elements, and its moisture helps create a juicy chicken dish.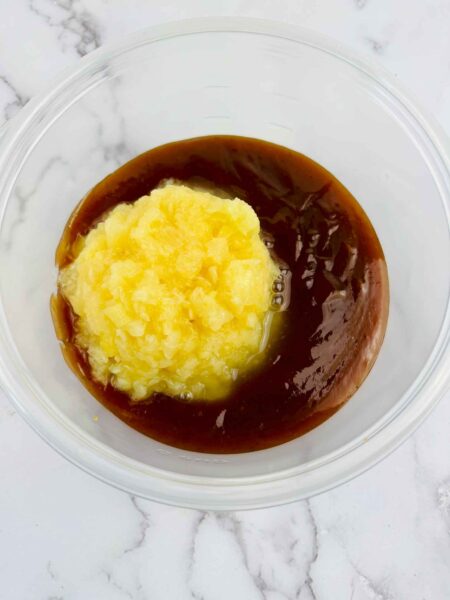 BBQ Sauce (1 bottle of your choice)
BBQ sauce is a cornerstone for providing both sweetness and tanginess. It works in tandem with the pineapple to create a multi-layered flavor profile, enveloping the tender chicken pieces in a sticky sauce.
Why Each Ingredient is Necessary
Boneless, Skinless Chicken Breasts: Using boneless and skinless chicken breasts (or thighs, if you prefer) allows for more even cooking and easier eating. The chicken serves as the protein base that soaks up the delicious flavors.
Crushed Pineapple: This ingredient infuses the dish with its natural sweetness and tropical flair. The pineapple pairs excellently with the BBQ sauce, adding complexity to the tangy sauce that coats the chicken.
BBQ Sauce: BBQ sauce brings a smoky, tangy, and sweet element to the dish. It acts as the liquid component in the slow cooker, helping to tenderize the chicken while also providing a robust flavor base.
FAQs
Can I Use an Instant Pot?
Sure can! You'll need to adjust the cooking time according to your Instant Pot settings, but the flavors will be just as delicious.
Could I Use Boneless Skinless Chicken Thighs Instead?
Absolutely! Chicken thighs can add an extra layer of juicy goodness. Just be mindful that thighs might have a slightly longer cooking time.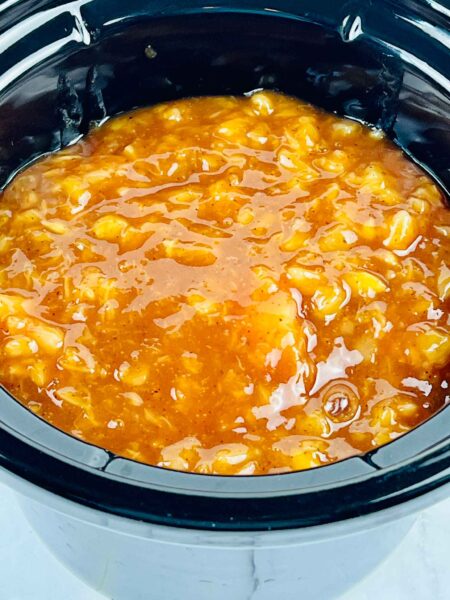 Is it Possible to Add Vegetables to the Mix?
Yes, bell peppers would be a great addition for extra color and flavor. Cut them into chunks and add them to the slow cooker along with the chicken pieces.
Tips and Tricks
Brown the Chicken
While it's an extra step, browning the chicken in olive oil before adding it to the slow cooker can lend a rich, savory flavor to the dish.
Use Slow Cooker Liners
To make cleanup a breeze, consider using slow cooker liners. They will save you much time during the last-minute scramble to serve dinner.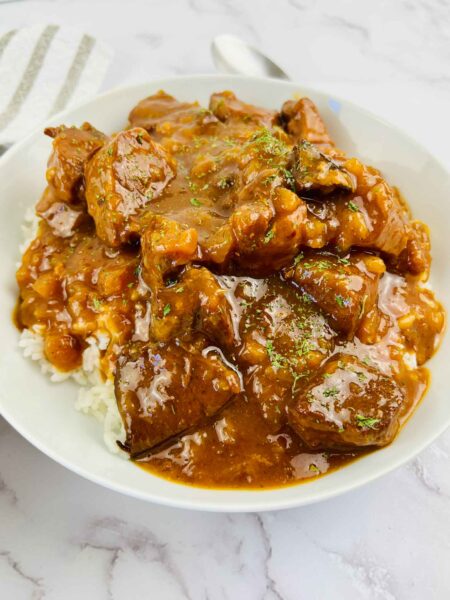 Add a Cornstarch Slurry
If you find that the sauce isn't as thick as you'd like, mix a tablespoon of cornstarch with a small bowl of water to create a slurry. Add this to the slow cooker about 30 minutes before serving.
Variations
Substitute the BBQ Sauce
Not a fan of BBQ sauce? Teriyaki sauce or even a mixture of soy sauce, brown sugar, and apple cider vinegar can make a delicious alternative.
Grain-Free Options
For those looking for grain-free options, serve the chicken over a bed of crunchy slaw instead of rice.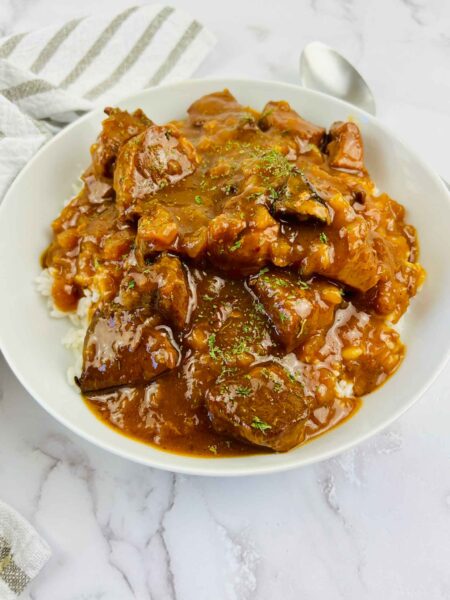 Switch Up the Pineapple
You could use pineapple chunks instead of crushed pineapple, or even pineapple preserves for a stickier sauce.
Where to Serve
This easy chicken recipe is perfect for busy day family dinners, meal plans, or potlucks. The slow cooker pineapple chicken also makes a great sandwich filler for next day lunches.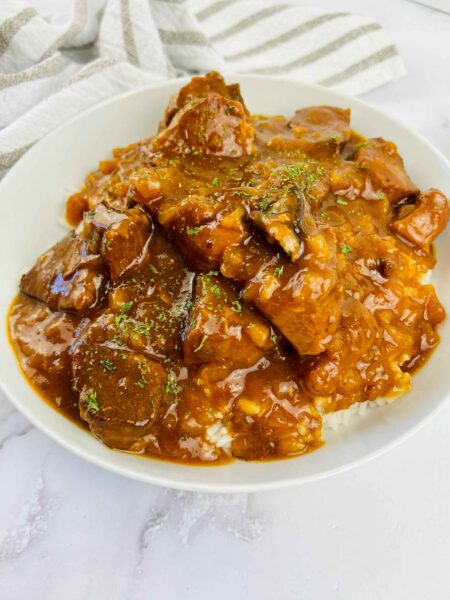 Storage
Store any leftovers in an airtight container and they'll still taste great the next day. If you've prepared a large batch, shredded chicken can also be frozen for future use.
Common Problems and How to Avoid Them
Chicken Turning Out Dry
To avoid dry chicken, make sure you're not overcooking it. Check for doneness around the minimum cooking time recommendation.
Sauce Not Thickening
As mentioned earlier, a cornstarch slurry is your best way to a thicker, more savory sauce.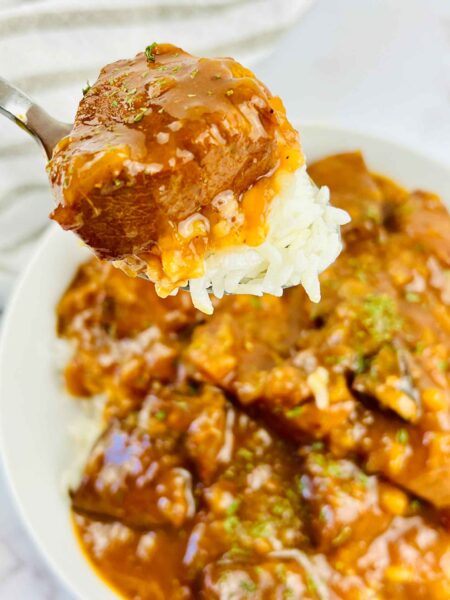 Using Fresh Pineapple in Slow Cooker Hawaiian Chicken
Absolutely, you can definitely use fresh pineapple in your slow cooker Hawaiian chicken recipe! Fresh pineapple can actually impart a more vibrant and authentic Hawaiian flavor compared to canned pineapple. The natural sugars and enzymes in fresh pineapple also help tenderize the chicken, making it even more juicy and flavorful.
How to Incorporate Fresh Pineapple
To replace the 8 oz can of crushed pineapple, you can use about 1 cup of fresh pineapple chunks or finely chopped pineapple. If you want to capture more juice, which is often a main component in canned varieties, consider pulsing the fresh pineapple in a blender or food processor until you get the desired consistency.
Additional Considerations
Adjusting Cooking Time: Fresh pineapple has more water content than its canned counterpart, so you might need to slightly adjust the cooking time or sauce thickness. Keep an eye on the slow cooker to make sure the dish doesn't turn out too watery.
Taste Test: Fresh pineapple can vary in sweetness. Taste your sauce mix before adding it to the slow cooker to see if you need to adjust any ingredients like BBQ sauce or brown sugar.
Acidity: Fresh pineapple is more acidic, which could impact the tenderizing process of the chicken. However, the slow cooking should mitigate most of this.
Customize Further
If you're using fresh pineapple, why not throw in some fresh bell peppers for extra crunch and color? You could even add a splash of pineapple juice or orange juice to intensify the tropical flavors.
By using fresh pineapple, you not only elevate the dish's freshness but also get to control the texture and flavor more precisely. It's a great way to put a personalized spin on an already delicious meal.
Tips for Making This Recipe with Kids
Let the kids help by measuring the BBQ sauce and draining the pineapple. They can also stir the ingredients together in the bottom of the slow cooker, making sure everything is well-mixed.
Topping Options
Sprinkle some sesame seeds for a bit of crunch or add a dollop of sour cream for creamy richness. Pineapple slaw can also add an extra layer of tropical fruits and crunch.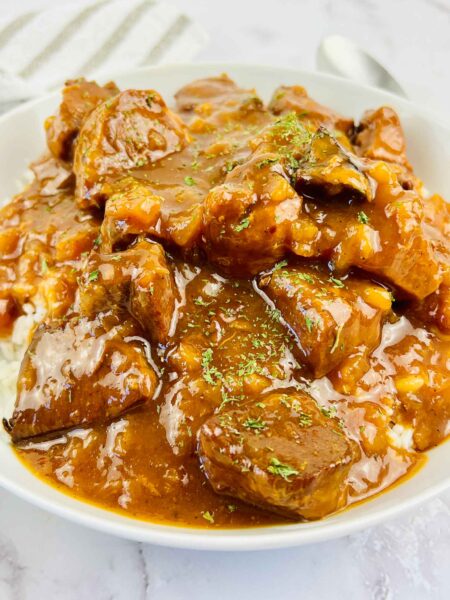 Why This Recipe Works
This slow cooker Hawaiian chicken recipe is a dream for anyone looking for easy meals that don't skimp on flavor. The combination of BBQ sauce and crushed pineapple creates a tangy sauce that soaks into the boneless skinless chicken breasts, making each bite a delightful mix of sweet, sour, and savory.
The slow cooker does most of the work, allowing the flavors to meld over time into a delicious meal that can be served in a variety of ways. All in all, it's a foolproof recipe that packs a ton of Hawaiian flavor with minimal effort, making it a staple in many homes.
What are some other great slow cooker chicken recipes to try?
Slow Cooker Hawaiian Chicken
Total Time:
3 hours
10 minutes
This slow cooker hawaiian chicken only uses 3 ingredients! This sweet sour crockpot chicken is great for a weeknight dinner!
Ingredients
4 boneless, skinless, chicken breasts - cut into cubes
1 - 8 oz can crushed pineapple, drained
1 bottle BBQ sauce of choice
Instructions
In a bowl mix bbq sauce and drained pineapple together
Stir in chicken chunks until well coated
Spoon the mixture into the slow cooker
Cover and cook on low for 6 hours or on high for 3 hours
Serve over rice if desired
Enjoy!
Nutrition Information
Yield
4
Serving Size
1
Amount Per Serving
Calories

250
Total Fat

4g
Saturated Fat

1g
Trans Fat

0g
Unsaturated Fat

2g
Cholesterol

102mg
Sodium

177mg
Carbohydrates

13g
Fiber

1g
Sugar

12g
Protein

38g
If you enjoyed this recipe be sure to check out my Instagram Page for the latest posts!
Before you go, check out these great posts!
Easy Slow Cooker Italian Meatball Subs Recipe
Easy Slow Cooker Italian Pasta Beef Stew
Hi! I'm Nellie. I am a busy mama of three, wife to my high school sweetheart who loves to cook, workout and stay organized! I love to share helpful printables, the best recipes and fitness tips for the modern mom. I strongly believe that every mom can feed their family well, take proper care of themselves and have fun along the way! Read my story.
Get comfortable and be sure to come hang out with me on social. Don't grab your free fitness journal before you go!