Crab Rangoon Dip Recipe Description
Transform your favorite Chinese restaurant appetizer into a crowd-pleaser with this cheesy crab rangoon dip recipe. Filled with fresh lump crab, creamy sour cream, and a hint of sriracha, this dip is a delicious twist on traditional crab rangoon. Served alongside crispy wonton chips, this savory dip is the perfect appetizer for any occasion.
What ingredients do you need for this delicious game day dip?
Cream Cheese (8 oz, Room Temperature)
Cream cheese is the foundational element of your crab rangoon dip. It provides the creamy, rich base that makes the dip so indulgent. Using it at room temperature ensures that it will blend smoothly with the other ingredients.
Sour Cream (1/2 Cup)
Sour cream adds another layer of creaminess to the dip while imparting a tangy note that balances the richness of the cream cheese. It also contributes to the overall texture, making it more scoopable.
Sriracha (1 tbsp)
The sriracha offers a spicy kick that can liven up the creamy base. Its heat complements the sweetness of the crab meat and adds depth to the flavors.
Soy Sauce (1 tbsp)
Soy sauce provides a salty, umami flavor that deepens the taste profile of the dip. It complements the seafood notes from the crab and adds complexity to the creamy base.
Lump Crab Meat (6 oz, Drained and Patted Dry)
The star ingredient, lump crab meat brings in the seafood element that characterizes crab rangoon. Whether using fresh crab or real crab meat, it needs to be well-drained and patted dry to avoid making the dip too watery.
Shredded Mozzarella (1 Cup)
Mozzarella cheese adds a stretchy, gooey element that makes the dip extra indulgent. It melts well into the cream base and pairs excellently with the crab.
Green Onions (2, Sliced Thin)
Green onions provide a burst of freshness and color. They also contribute a mild, earthy flavor that complements the richness of the cheeses and crab meat.
Salt and Pepper (1 tsp each)
Seasoning is key to any successful dish. Salt enhances the natural flavors of the other ingredients, and pepper adds a slight spiciness that adds complexity to the dip.
Egg Roll Wrappers
Egg roll wrappers are fried to make the crispy wonton chips that serve as the dip's vessel. They add a crunchy texture that contrasts beautifully with the creamy dip.
Oil to Fry
Vegetable oil is used for deep frying the egg roll wrappers, ensuring they reach that golden brown state of crispy perfection.
Sweet Thai Chili Sauce
This sauce serves as an optional dipping sauce or drizzle, adding a sweet and spicy element that pairs wonderfully with the savory flavors of the crab rangoon dip.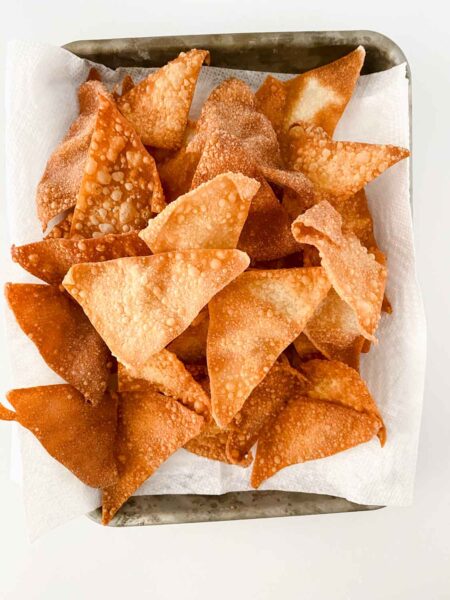 FAQs
What Type of Crab Meat Should I Use?
While fresh crab is always ideal, you can also use imitation crab meat. The key is to make sure whatever crab you're using is drained and patted dry with a paper towel.
Can I Use a Slow Cooker?
Yes, you can easily adapt this crab rangoon dip recipe for a slow cooker. Simply combine all the ingredients in the slow cooker and cook on low until hot and bubbly.
Can I Make This Dip Low Carb?
For a low-carb option, serve this creamy dip with vegetable sticks instead of wonton or egg roll wrappers.
Tips and Tricks
Use Room Temperature Cream Cheese
To ensure a creamy dip, start with softened cream cheese. It's much easier to blend, especially if you're using a hand mixer.
Fry the Wonton Strips in Batches
To achieve that golden brown crispiness, fry the wonton strips in vegetable oil over medium-high heat, making sure not to overcrowd the pan.
Add a Splash of Lemon Juice
For a zesty kick, add a splash of lemon juice to the crab mixture. This will brighten up the flavors.
Variations
Add Worcestershire Sauce
A teaspoon of Worcestershire sauce can add depth to your creamy crab filling.
Use Monterey Jack Cheese
For a different cheesy twist, substitute mozzarella cheese with Monterey Jack.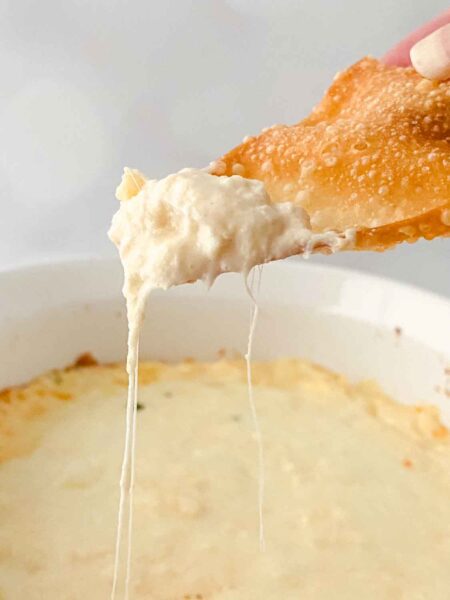 Where to Serve
This cheesy crab dip is a popular recipe for game day, holiday gatherings, or any event where delicious appetizers are welcomed. It pairs well with Chinese food and can be a great addition to a themed dinner night.
Storage
Place any leftover dip in an airtight container and store it in the fridge. For the crispy wontons, wrap them in plastic wrap and keep them at room temperature.
Common Problems and How to Avoid Them
Dip Turns Out Watery
Ensure your crab meat is well-drained and your cream cheese is at room temperature to avoid a watery dip.
Egg Roll Chips Burning
Watch your frying time closely and adjust your heat. Frying in small batches will allow better control over the golden brown outcome.
Tips for Making This Recipe with Kids
Children can help mix the ingredients in a large mixing bowl or even assist in laying out the wonton triangles on a baking sheet. Just make sure to supervise them closely, especially when it comes to deep frying.
Topping Options
Consider adding extra sliced green onions or a sprinkling of Parmesan cheese to the top of the dip. These add a fresh and savory contrast to the creamy and cheesy crab rangoon dip.
Why This Recipe Works
This crab rangoon dip recipe combines the beloved flavors of hot crab dip and traditional crab rangoon into a dip form, making it a versatile and delicious appetizer.
The mix of sour cream and cream cheese creates a creamy base that complements the lump crab meat perfectly. The egg roll wrappers, fried to a crispy perfection, are the perfect vessel for this savory and cheesy dip. Overall, it's a delicious melding of textures and flavors that make it a surefire hit for any gathering.
What are some other delicious dip recipes to try?
If you are looking for even more game day recipes, be sure to check out this comprehensive list: 25 Incredible Dip Recipes For Game Day Appetizers!
Yield:

10 servings
The Best Crab Rangoon Dip With Egg Roll Chips
This crab rangoon dip is so good and easy to make for game day or a delicious appetizer!
Ingredients
8oz Cream cheese, room temperature
1/2 cup sour cream
I tbsp sriracha
I tbsp soy sauce
6 oz lump crab meat, drained and patted dry
1 Cup shredded mozzarella
2 green onions, sliced thin
1 tsp salt
1 tsp pepper
Egg Roll Wrappers
Oil to fry
Sweet Thai Chili Sauce
Instructions
Preheat the oven on 350
Cut egg roll wrappers into triangles and set aside (see photos)
To a bowl add cream cheese and whip until smooth.
Add sour cream, soy sauce, sriracha, salt and pepper.
Mix until well combined.
Gently fold in the crab meat, green onions and 3/4 cup mozzarella (reserving 1/4 cup)
Stir gently to combine.
Transfer to a small baking dish and top with remaining cheese
Bake in pre heated oven for 20-25 mins until cheese is bubbling and brown
While this bakes fry your wonton wrappers:
Place oil in pan and heat on medium high
Drop in 3-4 at a time, it will fry quickly.
About 30 seconds per side.
Lightly salt after frying.
Nutrition Information
Yield
20
Serving Size
1
Amount Per Serving
Calories

103
Total Fat

8g
Saturated Fat

4g
Trans Fat

0g
Unsaturated Fat

3g
Cholesterol

26mg
Sodium

307mg
Carbohydrates

5g
Fiber

0g
Sugar

1g
Protein

4g
If you enjoyed this recipe be sure to check out my Instagram Page for the latest posts!
Before you go, check out these great posts!
Easy Slow Cooker Queso Dip For Game Day Appetizers
Game Day Air Fryer Recipes That Are Simply Perfect
50 Delicious and Healthy Game Day Recipes
Hi! I'm Nellie. I am a busy mama of three, wife to my high school sweetheart who loves to cook, workout and stay organized! I love to share helpful printables, the best recipes and fitness tips for the modern mom. I strongly believe that every mom can feed their family well, take proper care of themselves and have fun along the way! Read my story.
Get comfortable and be sure to come hang out with me on social. Don't grab your free fitness journal before you go!