Slow Cooker Meatball Subs
If you're tired of eating the same thing again and again, then make sure you make these Slow Cooker Meatball Subs!
Looking for a comforting and delicious meal that's easy to make? Look no further than Slow Cooker Meatball Subs!
This recipe takes classic meatball sub ingredients, like juicy meatballs, zesty tomato sauce, and melty cheese, and transforms them into a hearty and satisfying dinner that's perfect for any day of the week.
And the best part? You can let your slow cooker do all the work, leaving you free to go about your day while the aroma of delicious, home-cooked food fills your kitchen.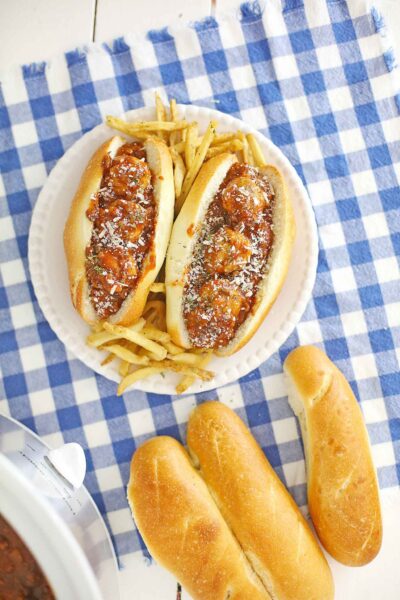 Why You'll Love This Recipe
With just a few simple ingredients and your slow cooker, you can whip up a delicious and satisfying meal that's perfect for a busy weeknight.
Who doesn't love a good meatball sub? This recipe takes all the traditional flavors you love and turns them into an easy-to-eat sandwich.
Want to add some extra veggies like peppers or onions? Go for it! Want to try a different type of cheese? No problem! This recipe is versatile enough to adapt to your tastes and preferences, so feel free to get creative in the kitchen.
Ingredients Needed
Italian style frozen meatballs – For this recipe, I use Italian style meatballs to give our subs that classic flavor. I recommend using good quality frozen meatballs like Farm-Rich, but any brand of Italian style meatballs will work.
Olive oil – This is used to sauté the onions and garlic until they are soft and translucent. It also helps to add some extra flavor to the tomato sauce.
Tomato sauce – A base for the recipe, the tomato sauce is what gives the meatballs their saucy flavor. You can use any store-bought brand you like, or even make your own sauce from scratch. A jar of pasta sauce works too!
Sweet onion – Chopped and sautéed in olive oil, the sweet onion adds a touch of sweetness to the tomato sauce.
Minced garlic – To add some extra flavor to the onion and tomato sauce.
Italian seasoning, sweet basil, ground oregano, brown sugar, garlic salt, and seasoned black pepper: A blend of herbs and spices that give the sauce its classic Italian flavor.
Brown sugar – The brown sugar helps to balance out the acidity of the tomatoes, while the garlic salt and seasoned pepper add some extra depth of flavor.
Sub sandwich buns – Store-prepared sub buns make a perfect vehicle for meatballs and sauce. Make sure to choose buns that are sturdy enough to hold up to the saucy meatballs!
Don't forget the Parmesan cheese for this recipe! You can also feel free to add mozzarella cheese for these meatball sandwiches. Add as many extra cups of sauce that you'd like to the recipe as well!
Optional: Italian sausage, onion powder, garlic powder, ground pork, marinara sauce, cup onion, red pepper flakes.
Serving options: sub sandwiches, side salad, chicken wings, top with bread crumbs…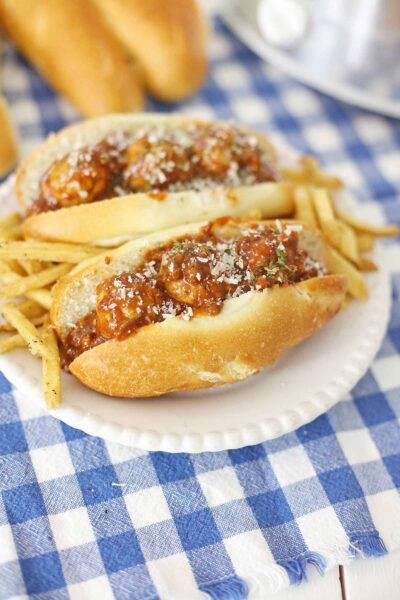 FAQs for Easy Meatball Subs
Why are my slow cooker meatballs falling apart?
There are a few reasons why your meatballs may be falling apart in the slow cooker:
The size and shape of the meatballs – If your meatballs are too large or too round, they may not cook evenly in the slow cooker. Try making smaller, flatter meatballs instead.
The moisture level of the meatballs – Meatballs are too dry? They may crumble in the slow cooker. Try adding a little bit of milk or breadcrumbs to the meat mixture to help keep them moist.
The temperature of the slow cooker – If your slow cooker is too hot, the meatballs may cook too quickly and fall apart. Make sure to cook the meatballs on the low setting to ensure even cooking.
Adding the meatballs too early – Try adding them about halfway through the cooking time so that they have enough time to cook through, but not so long that they become overly soft and mushy.
Cook on a single layer – Another way to ensure your meatball recipe doesn't come out mushy is to cook the homemade meatballs on a layer in the crockpot.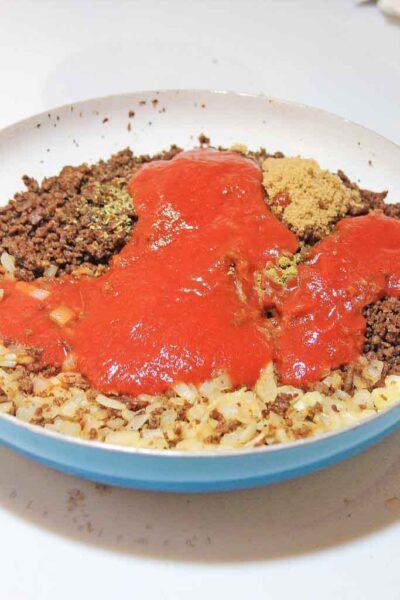 What can I serve these Italian meatballs on?
In our family, we love serving Italian meatballs on hoagie buns. On busy nights when you don't want to spend a lot of time cooking, crockpot meatballs do the trick, and serving them on hoagie rolls is an excellent idea! You can also use sub rolls, crusty bread, or whatever you have on hand.
These easy dinner recipes are great for during the school year, when you don't have a lot of prep time. The Italian-style meatballs in the crockpot come out perfect every single time. I also use crock pot liners to make cleanup even easier. What's your favorite part of this recipe?
If you are looking for more amazing delicious lunch recipes be sure to check out this comprehensive list –> The Best Quick and Easy Lunch Recipes!
Yield:

5-6 meatball subs
The Best Slow Cooker Meatball Subs
Cook Time:
5 hours
45 minutes
Total Time:
5 hours
55 minutes
These slow cooker meatball subs are great for a yummy lunch or dinner!
Ingredients
1 pound of Italian style frozen meatballs - I used Farm-Rich - any good quality Meatballs will be fine
2 Tablespoons of Olive Oil
4 cups of tomato sauce
1 sweet onion - chopped
1 teaspoon of minced garlic
1 1/2 Tablespoons of Italian seasoning
1 Tablespoon of sweet basil
1 1/2 teaspoons of ground Oregano
3 Tablespoons of brown sugar
1/2 teaspoon of garlic salt
1/2 teaspoon of seasoned pepper
Sub sandwich buns - store prepared
Parmesan Cheese to top
Instructions
Turn on the Crock Pot to the highest heat setting, place the lid on the Crock Pot, and let it heat up - you want it hot to place the Meatballs in first.
When Crock Pot is hot, add the Olive Oil, and place the Meat balls in a single layer - if possible - in the bottom of the Crock Pot.
Let the Meatballs cook for about an hour, and turn them to the other side, and let them cook for 45 minutes.
After the Meatballs have heated through, and are a little crunchy on the outside, make the tomato sauce.
In a large bowl, add the Tomato Sauce, Onion, Garlic, Italian Seasoning, Sweet Basil, Ground Oregano, Brown Sugar, Garlic Salt, and Seasoned Pepper, and stir altogether until well blended. Pour the Tomato Sauce in the Crock Pot on top of the Meatballs, and stir gently to mix.
Cook for 4 to 5 hours, until the Sauce is rich and thick. Make sure to taste the sauce after it's cooked, and if you prefer a little more Garlic Salt, Pepper, any of the seasonings, or a little more Brown Sugar, add it at this time, and stir gently to blend, and allow the sauce another 20 minutes to cook.
When ready to serve; slice Sub Buns in half, and place 3 to 4 Meatballs in the bun, top generously with Sauce, and sprinkle with Parmesan Cheese. Serve with French Fries, Potato Chips, or your favorite sides.
Nutrition Information
Yield
6
Serving Size
1
Amount Per Serving
Calories

420
Total Fat

27g
Saturated Fat

8g
Trans Fat

1g
Unsaturated Fat

16g
Cholesterol

63mg
Sodium

1607mg
Carbohydrates

31g
Fiber

6g
Sugar

17g
Protein

17g
Pin it for later!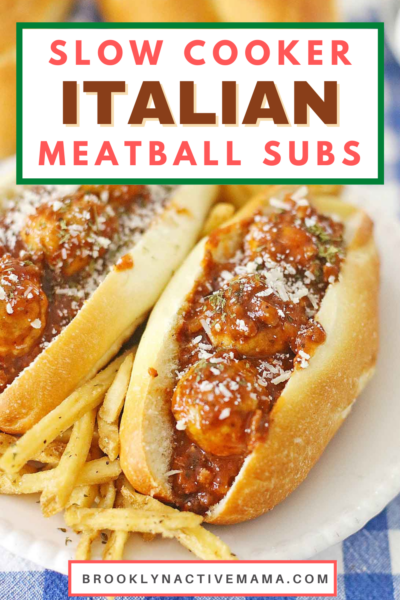 If you enjoyed this recipe be sure to check out my Instagram Page for the latest posts!
Before you go, check out these great posts!
Easy Slow Cooker Deep Dish Pizza Recipe
Easy Slow Cooker Jerk Chicken Thighs
Hi! I'm Nellie. I am a busy mama of three, wife to my high school sweetheart who loves to cook, workout and stay organized! I love to share helpful printables, the best recipes and fitness tips for the modern mom. I strongly believe that every mom can feed their family well, take proper care of themselves and have fun along the way! Read my story.
Get comfortable and be sure to come hang out with me on social. Don't grab your free fitness journal before you go!