There is nothing that I love more than some delicious soup during the cold months! Here is a super yummy and filling kale and tortellini soup that will hit the spot! The family will love this one all winter long.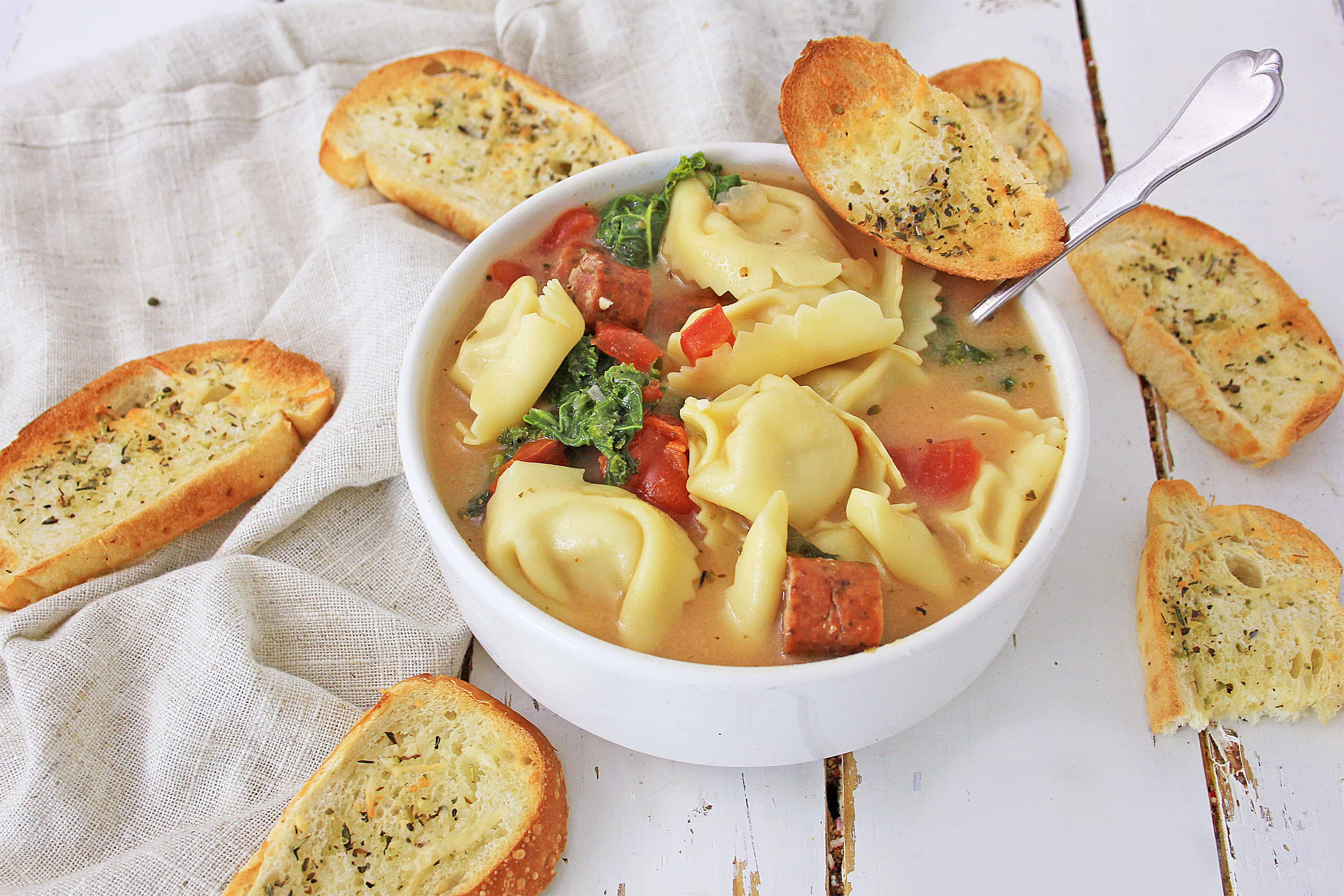 I didn't realize until I was an adult that my favorite kind of soup usually contains pasta. There are so many different combinations of pasta soups that you can make, the options are endless!
Tortellini is one of my favorite pastas to cook in soups because the size of it soaks up the flavor like a boss! The flavor of the sausage, onions, seasonings and kale match perfectly with the tortellini.
Do you need to cook pasta before putting in the soup?
This is a super common question! In this recipe the pasta cooks inside of the pot for 20 minutes and simmers with all of the delicious ingredients for maximum flavor. No need to pre-cook!
Creamy Kale Tortellini Soup
Here is an awesome recipe that the whole family will love! This soup is full of awesome flavor and you don't have to worry about sneaking veggies into it as one of the main ingredients is some delicious kale!
Yield: 6-8 Servings
Delicious and Creamy Kale Tortellini Soup
Prep Time: 20 minutes

Cook Time: 2 hours

Total Time: 2 hours 20 minutes

This is a wonderful hearty soup to make on a cool Fall day, or chilly Winter night. It's packed with spices and flavors that blend together for a delicious bowl of healthy goodness. Serve this with some crusty garlic bread, or bread sticks, and you have a great meal everyone will love.
Ingredients
1 pound of Italian sausage - or Kielbasa sausage - sliced in bite size pieces
1 large sweet onion - chopped
1 Tablespoon of minced garlic
1/3 cup fresh basil - chopped
1 small bunch of Kale - cleaned and chopped in small pieces
6 cups of chicken broth
12 cups of filtered or bottled water
1 can of tomato sauce - 8 ounces
1/2 cup of heavy cream
2 teaspoons of Italian seasoning
1 teaspoon of ground oregano
2 teaspoons of brown sugar
1 teaspoon of garlic salt
1 teaspoon of coarse ground black pepper
2 Tablespoons of flour
1 package of cheese Tortellini - refrigerated - 8 - 12 ounces
2 Tablespoons of butter
Instructions
In a large non-stick skillet, melt the butter, and add the sausage and cook over medium heat until golden brown (about 15 - 20 minutes).
Add the onion, and saute for 5 minutes.
Spoon sausage and onion into a large stock pot, and add the chicken broth, tomato sauce, and water.
Add flour to skillet drippings, and stir to cook, about 2 minutes. Add to stock pot, stir and bring to a boil.
Add Italian seasoning, oregano, brown sugar, garlic salt, and pepper, and turn heat to low and simmer for 30 minutes.
Add the basil, and minced garlic, and cook 10 minutes.
Add the Tortellini and cook for 20 minutes.
Add the Kale and cream, and cook for another 10 minutes, or until Kale is soft.
Let the soup simmer for another 30 minutes, stirring occasionally. Stir well, and serve in bowls with crusty bread. Enjoy!
What is your favorite winter time soup?
Hi! I'm Nellie. I am a busy mama of three, wife to my high school sweetheart who loves to cook, workout and stay organized! I love to share helpful printables, the best recipes and fitness tips for the modern mom. I strongly believe that every mom can feed their family well, take proper care of themselves and have fun along the way! Read my story.
Get comfortable and be sure to come hang out with me on social. Don't grab your free fitness journal before you go!