It's easy to have a clutter filled house when you have kids, or even when you don't! There is just so much stuff out there that piles and piles and before you know it–clutter everywhere! Today I've got some easy tips to help you declutter your home plus a free challenge printable for you to declutter your home in 21 days (or less!).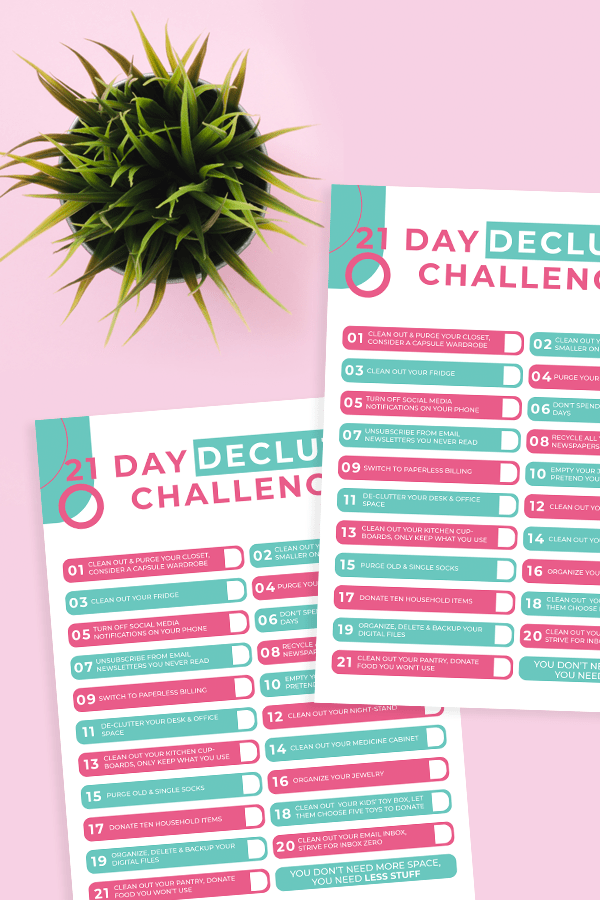 If certain areas of your home are filled with a collection of miscellaneous items or an area such as a storage closet or multi-purpose room looks as if an explosion occurred there, you can reclaim that space by clearing the clutter. Clearing clutter from various areas is a less daunting task if you follow a simple five step plan.
Step One
Select the area you want to regain control over. Even if you have the ambitious goal of organizing your entire house, it's best to begin with one specific area and complete the clearing process there before moving on to a different location.
Step Two
Allow yourself plenty of time to complete your task in this one location. Small areas such as a closet may only require a few hours from start to finish. Clearing the clutter from an entire room may take all day and tackling a basement or garage may actually be a weekend project.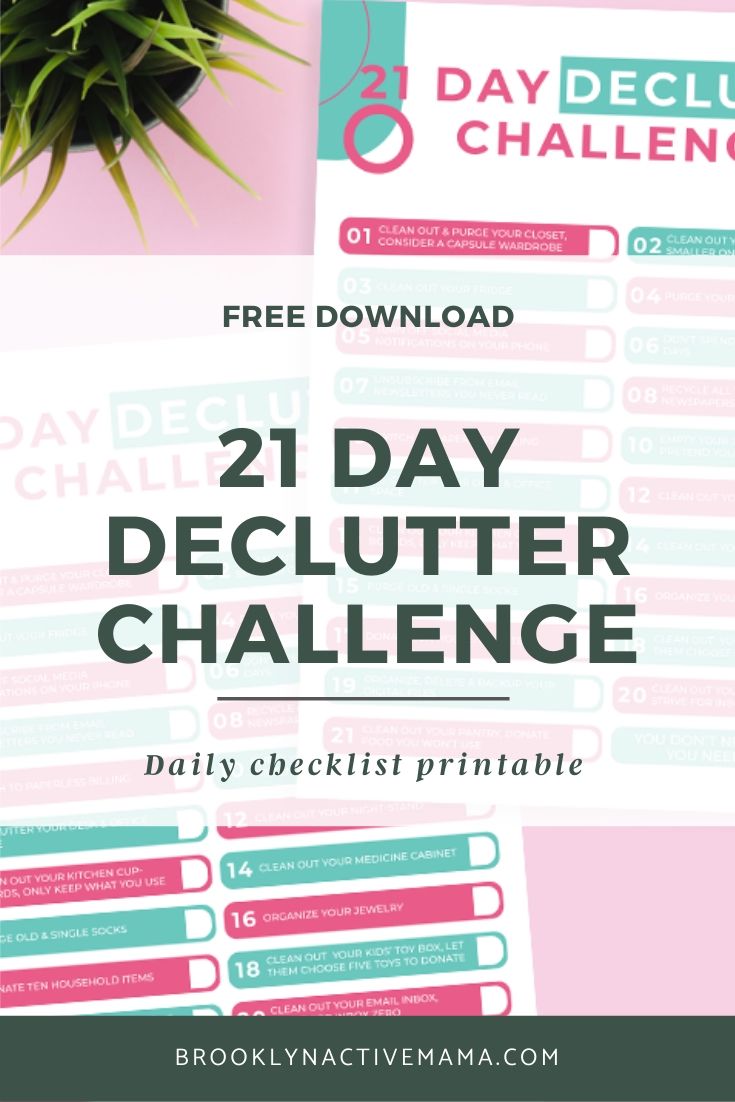 Step Three
Start at one corner of a room or one shelf or rack of a closet and remove everything from that space. Create three sorting options for those items. Toss everything that is broken beyond repair or totally useless in a discard pile.
Place items that you no longer use, need or want in a donation box or bag. Carefully examine the items you plan to return to the closet, cabinet or room and place them there in the most space efficient and organized manner.
You may find that you need to invest in some organizers to maximize space and maintain order.
Step Four
Once you've successfully achieved your goal of clearing the clutter from the areas you want to reclaim, it's important that you refrain from allowing clutter to once again accumulate.
You can do this by establishing a few clutter preventing habits:
Toss all junk mail in the trash as soon as you bring it in. Once you put in on the table to deal with later, it becomes clutter.
Reduce the amount of junk mail that arrives at your house by having your name removed from catalog mailing lists.
Adopt the "one thing in, one thing out" habit. If you buy new clothing, donate something that you have stopped wearing. The same applies to bringing in new toys for kids, books, games and many other things.
Keep the pantry uncluttered by establishing an organizational system. Rotate the items you put there and establishing a plan for using up items that have been there a while. A pot of homemade soup or a creative pizza is a good way to clear out a refrigerator, freezer or pantry.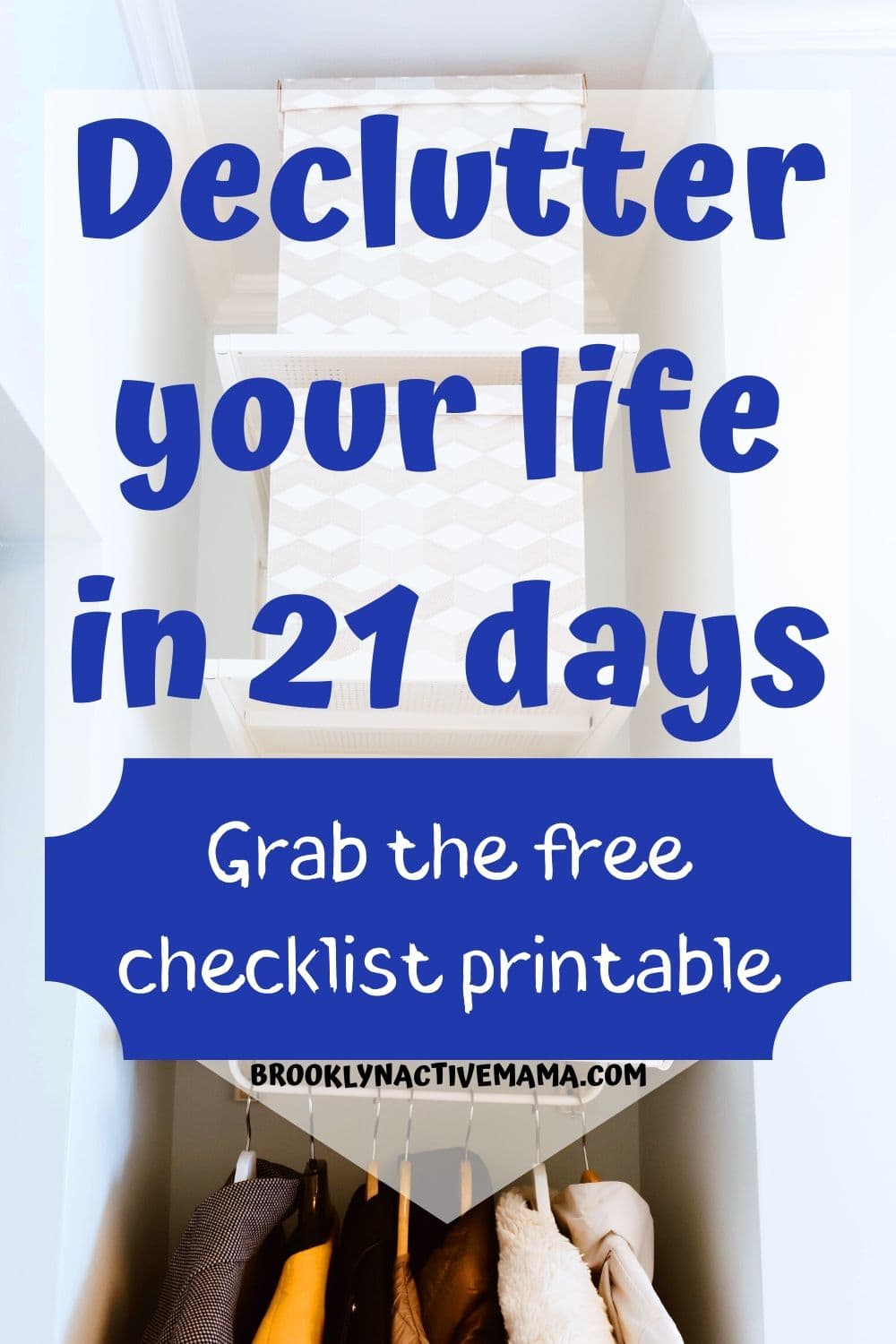 Step Five
As you successfully complete the process of clearing the clutter from one area, step back and observe the amazing transformation. Seeing how much space you gain and how efficiently an organized area can be should be motivation enough to keep you going with the clutter clearing process until there is an absence of clutter through your home.
Clutter free living is a stress reducing lifestyle. It's difficult to relax in a room where clutter makes the atmosphere feel chaotic. Frantic searches for specific items that get lost among the clutter can cause stress and frustration which in turn put a negative spin on your day.
You deserve the luxury of living in a clutter-free home. (So do I for that matter!)
21 Day Challenge To Declutter Your Home
So are you ready to start getting rid of all the things? Great! Here is a 21 day checklist to help you get started which not only includes getting rid of physical things and declutter your home, but starting to declutter your digital life as well! You can check them off as you go–we can do this!
Download Your Free Declutter Challenge Printable!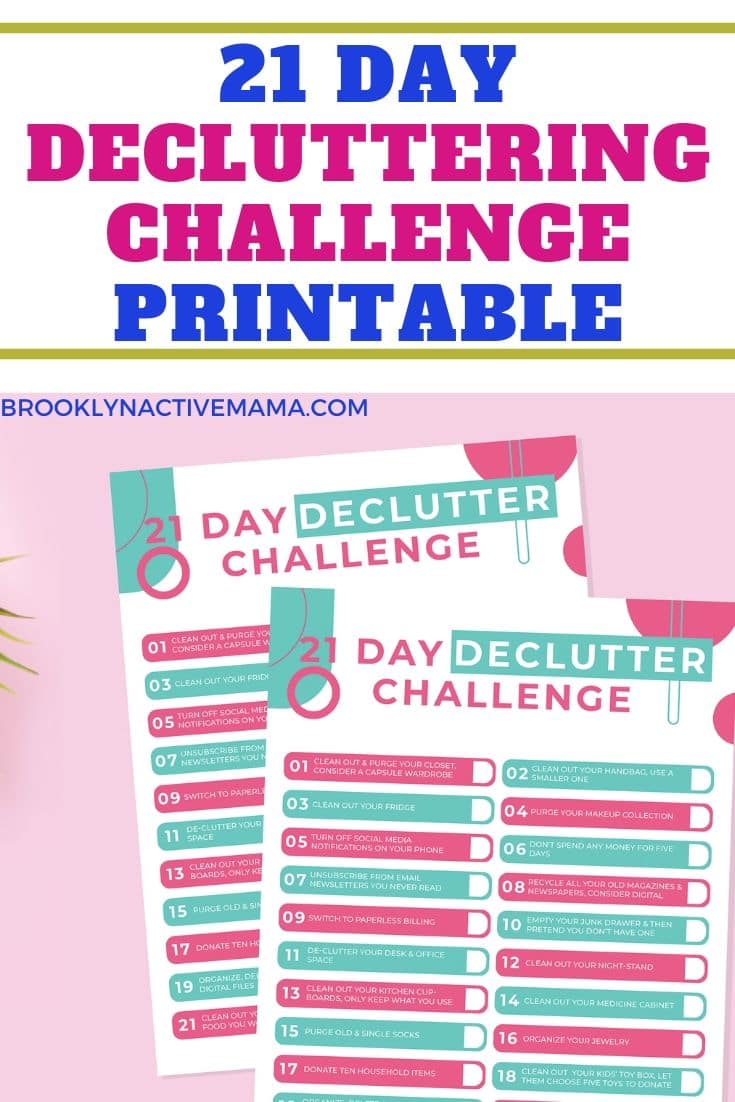 How often do you declutter the house?
Hi! I'm Nellie. I am a busy mama of three, wife to my high school sweetheart who loves to cook, workout and stay organized! I love to share helpful printables, the best recipes and fitness tips for the modern mom. I strongly believe that every mom can feed their family well, take proper care of themselves and have fun along the way! Read my story.
Get comfortable and be sure to come hang out with me on social. Don't grab your free fitness journal before you go!