Disney Photo Spots and Bingo Printable
The next time you're heading to Disney, check out this Disney Photo Spots and Bingo Printable. Perfect for making and taking photos!
When visiting the Disney parks, explore each themed area and discover fun photo spots. From classic attractions like Space Mountain at Magic Kingdom to hidden gems like the Tree of Life at Animal Kingdom, you'll find plenty of places to snap a memorable picture.
Our free printable bingo cards provide an extra way to enjoy the magic with iconic picture options located throughout the parks.
Spot characters while waiting in line, search for popular attractions while exploring, or take a break from the heat and shelter indoors while discerning patterns on your card.
With our bingo game and Disney Photo Spots printable, you can create unique experiences as you make your way through the Walt Disney World Resort. As you walk into Main Street U.S.A. you are going to get some amazing family photos!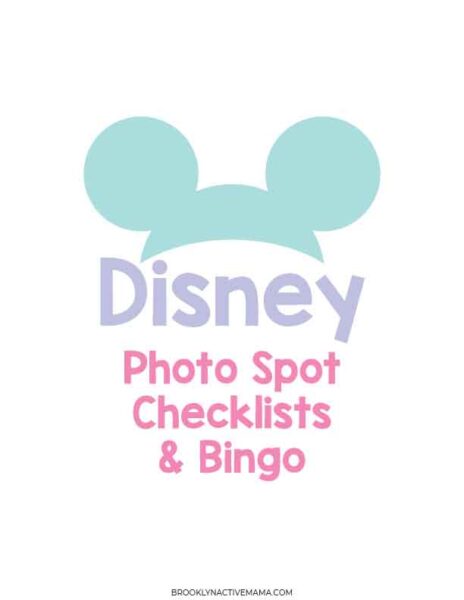 Why do people love taking pictures at Disney World?
People love taking pictures at Disney because it allows them to capture unique memories and experiences that will last a lifetime.
From classic characters, attractions, and shows to creative costumes, delicious treats, and magical moments with loved ones, there is something special about preserving these incredible memories through photography.
Whether it's a picture of your favorite ride or a group selfie in front of the castle, each picture taken at Disney provides an opportunity for lasting joy and happy memories. Disney is the most magical place and now you can create photos that reflect that!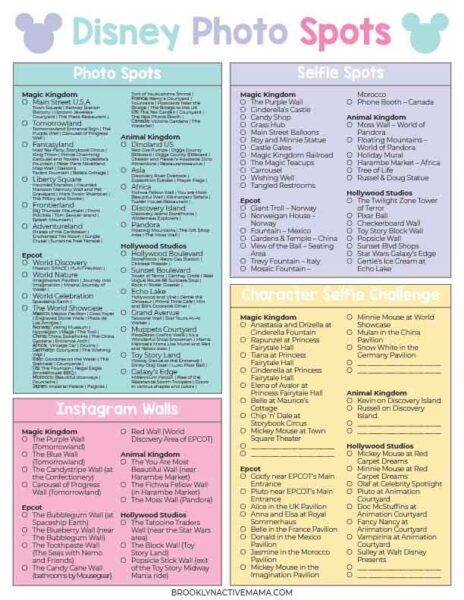 Where can I take the best pictures in Disney World?
You can go to Disney Springs, Disney's Animal Kingdom, Disney's Hollywood Studios, or other places during your Walt Disney World Vacation to take these photos. These games are supposed to bring more fun to the most perfect spot in the whole world, not cause more stress!
So, if you can't find all of the photo locations, don't stress! Whether you need to find Cinderella's castle, Toy Story Land, Twilight Zone Tower of Terror, the Millennium Falcon, Galaxy's Edge, the Disney Photo Bingo, and the Disney Photo Spots will guide you to help you get the best photos ever!
I've included some fun Instagram Walls of Disney for you to take and share to your social media!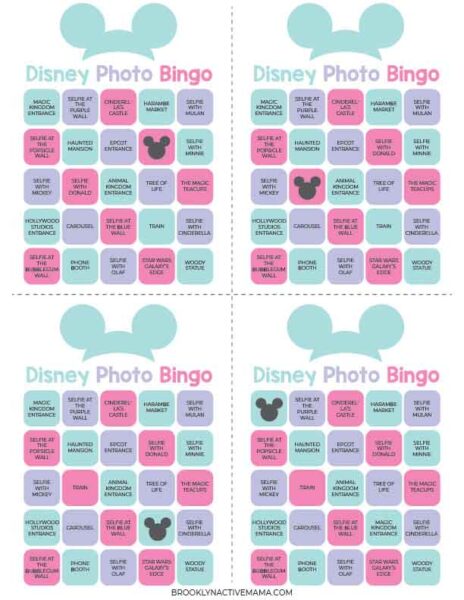 Reasons to Play a Fun Game Like Disney Photo Spots
Capture precious memories of magical Disney moments from a great spot.
Enjoy the breathtakingly beautiful sights throughout all Disney parks and resorts.
Have fun exploring different angles and perspectives to capture your favorite attractions, characters, and landmarks.
Document your experiences and share them with friends and family for keepsakes to look back on for years to come!
Get creative with unique compositions telling a story in one photo!
Relive the magic by capturing classic Disney poses that will never get old!
Discover hidden gems around every corner waiting to be photographed.
Enhance any picture with Disney props such as fun hats, signs, and decorations, making it even more special!
Give the cast members something a smile about by showing them what you're working on! You can become your own Disney photographers.
Extra Reasons People Love Photo Bingo & Magic Shots
Have fun competing with friends and family to see who can fill their bingo cards first!
Enjoy the challenge of finding specific photos while exploring Disney in a whole new way!
This is a great way to capture unique perspectives of your favorite attractions, characters, and landmarks to complete your bingo cards for bonus points and get great photos.
Get creative with props and poses such as hats, signs, and decorations to make the perfect photo!
Strategize with your group by splitting up into multiple areas around the parks to increase your chances of winning!
With different levels of difficulty on the cards, players are sure to enjoy a good challenge!
Feel a sense of accomplishment when you fill up your entire bingo card before anyone else in your group!
Relive all the fun activities you did at Disney through all those memorable photos on your bingo card!
Celebrate at the end after completing a round by gathering everyone's cards for a final look back at all that adventure!
You can skip the Memory Maker from Disney and make your own photo memories from your favorite spot.
There are tons of great backdrop options in Disney, the Disney Photo Bingo will help you find them all!
All of the pictures that you will take are the best photo spots and great for posting on social media!
When it comes time to go home, all those photos will be waiting there, bringing more magical memories that will last forever! Have you ever used Disney's photopass? If you're at the Disney Theme Parks, consider skipping the photo pass and enjoying your very own group photos on Main Street USA using these printables! You'll get a ton of photos and ideas for the whole family.
Don't forget to check out the full list of Disney posts here: Disney World Travel Tips, Tricks & News
What are some other helpful disney posts you need to plan your trip?
Pin it for later!
If you enjoyed this recipe be sure to check out my Instagram Page for the latest posts!
Before you go, check out these great posts!
Day Trip Travel Itinerary – Free Printable To Keep You Organized
20 Places to Travel in Your 30s — Best Cities To Visit In USA
5 Must Have Travel Apps For Family Vacations
Hi! I'm Nellie. I am a busy mama of three, wife to my high school sweetheart who loves to cook, workout and stay organized! I love to share helpful printables, the best recipes and fitness tips for the modern mom. I strongly believe that every mom can feed their family well, take proper care of themselves and have fun along the way! Read my story.
Get comfortable and be sure to come hang out with me on social. Don't grab your free fitness journal before you go!