French Silk Pie Cookies Recipe
Dive into the luxurious world of French Silk Pie Cookies. Marrying the velvety texture of a classic French Silk Pie with a yummy cookie.
These crumbl like cookies promise an unparalleled dessert experience. An Oreo cookie base, a heart of luscious chocolate mousse, and a topping of whipped cream come together for a delightful journey of flavors.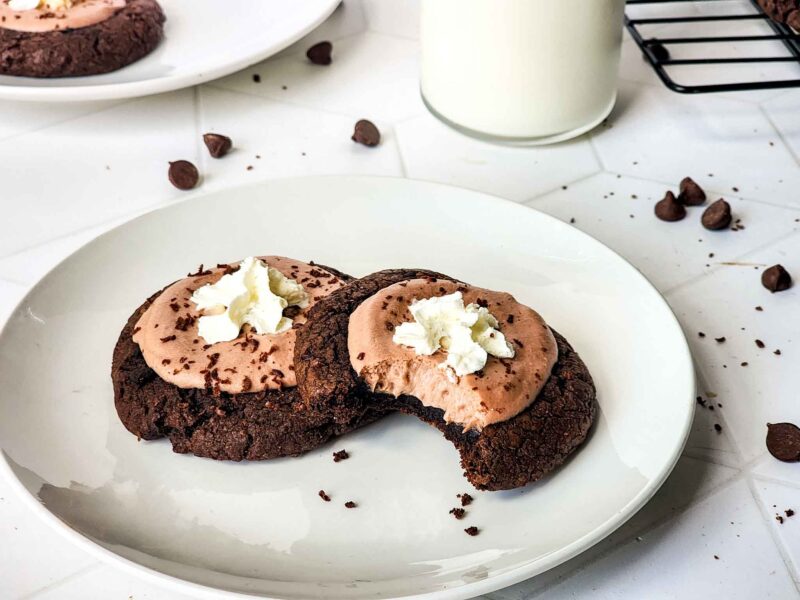 French Silk Pie Cookies Ingredients
Let's break down the role of each ingredient in your French Silk Pie Cookies recipe: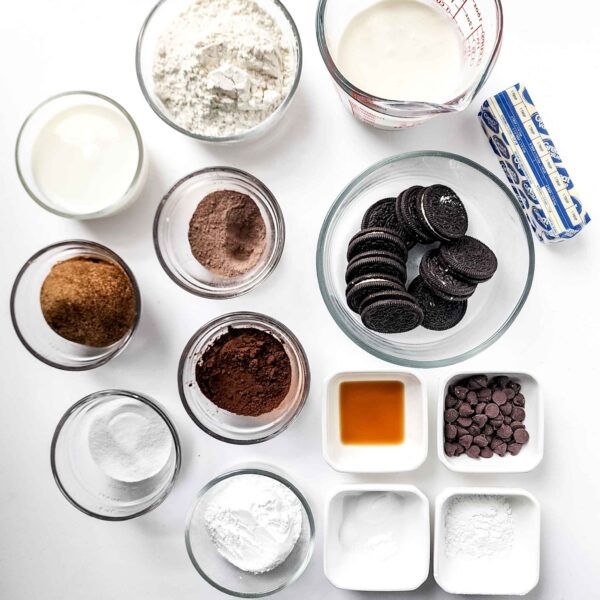 For the Cookie Base:
10 Oreos: These act as the main structure of the cookie base, providing a delicious and crunchy texture reminiscent of a pie crust.
1 ¼ cup all-purpose flour: This is the primary structure of the cookie, giving it body and substance.
1 tablespoon cornstarch: Cornstarch makes the cookie tender and gives it a melt-in-your-mouth texture.
¼ cup dark cocoa powder: Enhances the chocolate flavor, giving depth and richness to the cookies.
½ teaspoon baking soda: Acts as a leavening agent, allowing the cookies to rise and become fluffy.
¼ teaspoon baking powder: Another leavening agent that helps the cookies puff up slightly.
¼ teaspoon salt: Balances the sweetness and enhances the overall flavor of the cookie.
½ cup brown sugar: Adds sweetness, moisture, and also contributes to a slightly chewy texture because of the molasses content.
1 egg: Provides structure and moisture, acting as a binding agent in the cookie dough.
1 teaspoon vanilla extract: Imparts a sweet aroma and flavor, complementing the chocolate.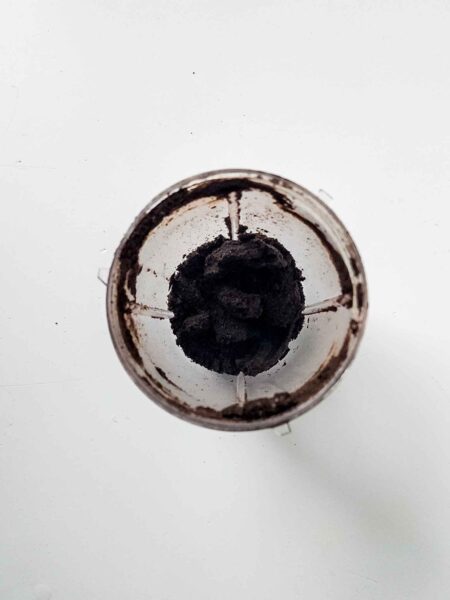 For the Chocolate Silk Filling:
2 tablespoons chocolate pudding mix: Acts as a thickener and flavor base for the filling, ensuring a creamy texture.
½ cup milk: Combines with the pudding mix to create the desired consistency and adds moisture.
¾ cup heavy cream: When whipped, it gives the filling a light, airy texture and adds richness.
¼ cup powdered sugar: Sweetens the filling and its fine texture ensures a smooth consistency.
1 teaspoon vanilla extract: Enhances the overall flavor profile of the filling.
3 tablespoons chocolate chips, melted: Provides a deep chocolate flavor and a velvety texture to the filling.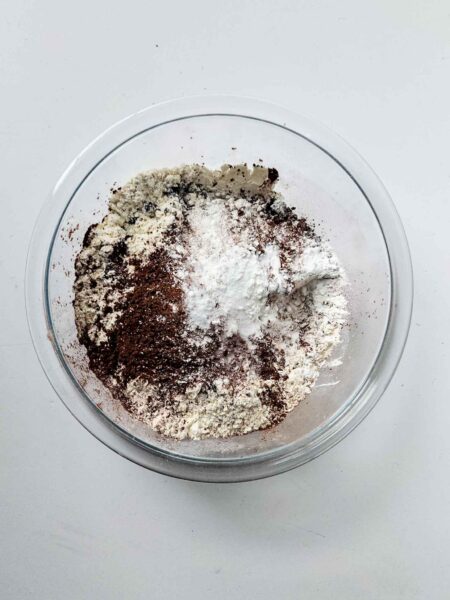 Whipped Cream:
Used as a topping, this adds a creamy, light contrast to the rich chocolate filling and crunchy cookie base. The ingredients typically include heavy cream (for body and richness), vanilla extract (for flavor), and some form of sugar (for sweetness).
Why This Recipe Works
This recipe brings together basic ingredients, most of which might already be part of your pantry or are readily available at the grocery store. The winning contrast between the rich chocolate mousse and the crumbly cookie base ensures an indulgent bite every time. Moreover, by sidestepping raw eggs, commonly found in the original French Silk Pie recipe, we offer a safer yet equally tantalizing version.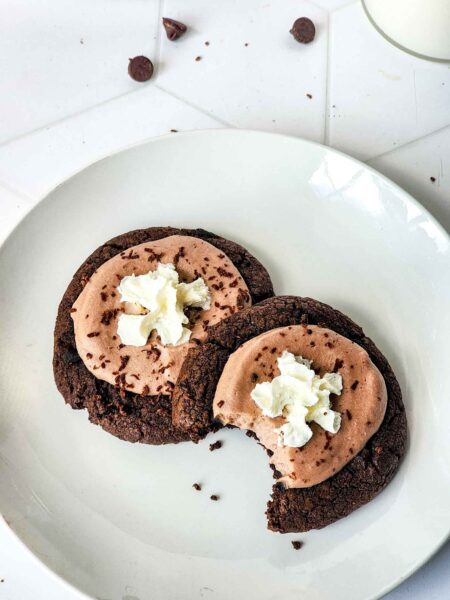 FAQs
Can I use regular Oreos instead of chocolate Oreo cookies? Regular oreos can serve as a delightful alternative to chocolate oreos.
Why avoid raw eggs in this French Silk Pie Cookies recipe? Omitting raw eggs provides a safer eating experience, especially for children and expecting mothers.
Is there a difference between black cocoa powder and natural cocoa powder? Indeed, while black cocoa powder has a deeper, richer profile, natural cocoa powder offers a milder taste.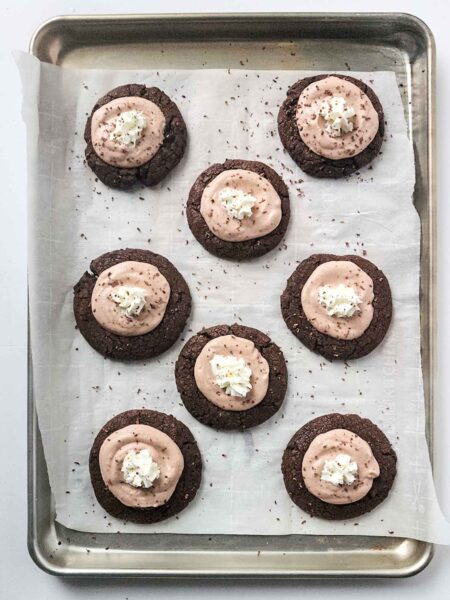 Tips and Tricks
Opt for room temperature butter for seamless mixing and richer cookies.
Prioritize high-quality chocolate chips to enhance the chocolatey depth.
Chocolate curls or shavings can elevate the presentation, making your cookies look as good as they taste.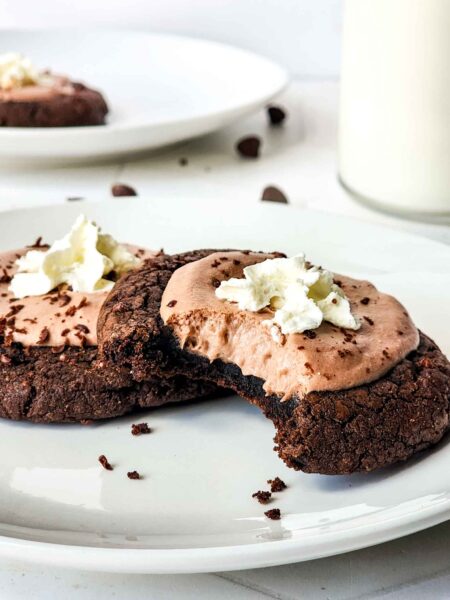 Variations
Nutty Delight: Introduce a crunchy layer of crushed nuts of your choice.
Cheesy Magic: Incorporate cream cheese in the chocolate mousse for added creaminess.
Peanut Butter Twist: Peanut butter swirled in the chocolate mousse lends an unexpected yet delightful flavor.
Where to Serve
These elegantly crafted cookies fit seamlessly into any special event, from birthdays and anniversaries to a relaxed weekend treat.
Storage Tips
Using an air-tight container is key to retaining the freshness of these cookies. If you've added a frosting layer, refrigerate them, ensuring they're consumed within 2-3 days.
Common Problems and Their Solutions
Cookies Spreading Too Thin: Chilled cookie dough balls hold their shape better during baking.
Lumpy Chocolate Mousse: A smooth mousse can be achieved by blending the cooled chocolate mixture with an electric mixer on medium-high speed.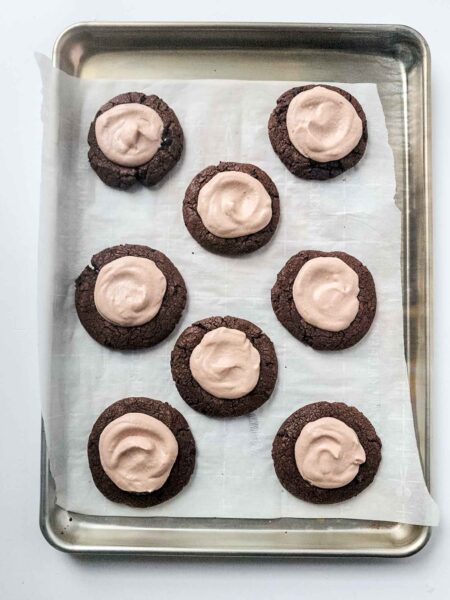 Making This Recipe with Kids
Children can participate by pressing down on the cookie dough balls using the bottom of a measuring cup.
Filling a piping bag with chocolate mousse and letting kids decorate ensures a fun, interactive baking session.
However, always ensure they are supervised, especially around the oven.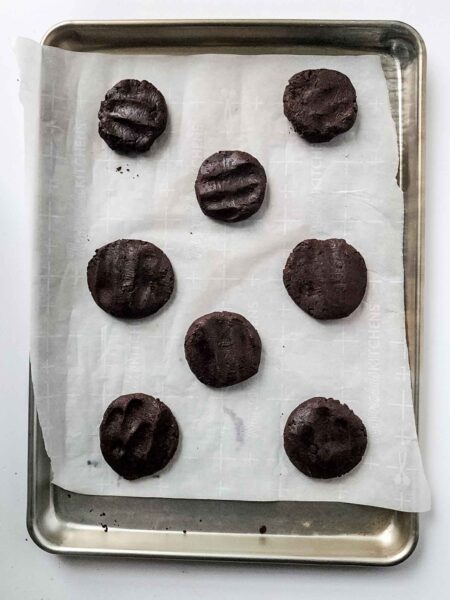 Topping Options
From a generous swirl of whipped cream topping to a decadent drizzle of melted chocolate, topping options abound for these cookies. Chocolate shavings add a gourmet touch, making your cookies the star of any dessert spread.
What are some other amazing chocolate cookie recipes to try?
If you are looking for more fun cookie recipes be sure to check out this comprehensive list! The Best Cookie Recipes For Year Round Baking!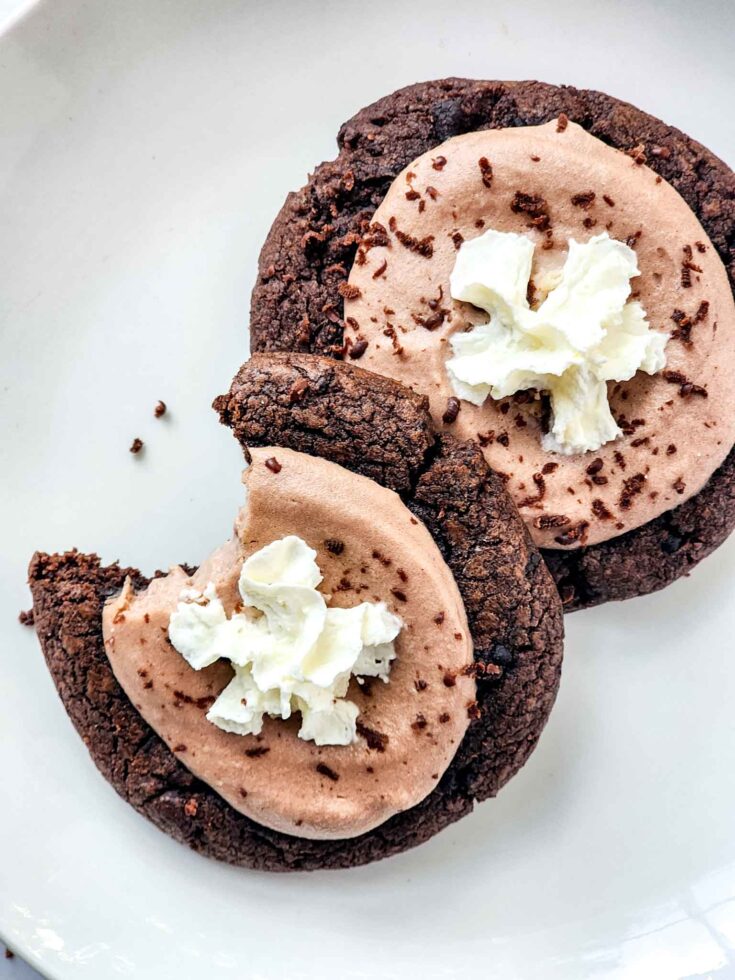 Yield:

8-10 cookies
Easy French Silk Pie Cookies
Additional Time:
15 minutes
These amazing french silk pie cookies are so good and delicious!
Ingredients
10 oreos
1 ¼ cup all purpose flour
1 tablespoon cornstarch
¼ cup dark cocoa powder
½ teaspoon baking soda
¼ teaspoon baking powder
¼ teaspoon salt
½ cup brown sugar
1 egg
1 teaspoon vanilla extract
Chocolate silk filling
2 tablespoons chocolate pudding mix
½ cup milk
¾ cup heavy cream
¼ cup powdered sugar
1 teaspoon vanilla extract
3 tablespoons chocolate chips, melted
Whipped Cream
Instructions
Preheat the oven to 350 degrees Fahrenheit. Prepare a baking sheet with parchment paper.
In a food processor or blender, add the oreos and pulse until finely crushed.
In a mixing bowl add the crushed oreos, cocoa powder, flour, cornstarch, baking soda, baking powder and salt. Whisk together these dry ingredients.
In a separate bowl, add the softened butter, sugars, egg and vanilla extract. Mix together until creamy.
Pour the dry ingredients into the wet ingredient bowl and fold everything together until a cookie dough forms.
Use a scooper to create large cookie dough balls and place on the parchment covered baking sheet about 2 inches apart from each other. Flatten slightly.
Bake in the oven for 10 minutes.
While the cookies are baking, make the whipped filling. Add the milk, heavy cream, pudding mix, powdered sugar, vanilla and melted chocolate in a bowl all at once.
Use a hand mixer to blend on low to medium speed until the chocolate mixture becomes a thick cream.
When the cookies are done baking, immediately use the bottom of a cup or measuring cup to flatten the center of each cookie. This creates a divot for the pie-like filling to sit in later. Let them cool for 15 minutes.
Once the cookies aren't too hot anymore, scoop a large spoonful of the chocolate cream filling in the center of each cookie.
Top each with a squirt of whipped cream and enjoy!
Nutrition Information
Yield
10
Serving Size
1
Amount Per Serving
Calories

268
Total Fat

11g
Saturated Fat

6g
Trans Fat

0g
Unsaturated Fat

4g
Cholesterol

40mg
Sodium

202mg
Carbohydrates

38g
Fiber

1g
Sugar

20g
Protein

4g
If you enjoyed this recipe be sure to check out my Instagram Page for the latest posts!
Before you go, check out these great posts!
Easy Chocolate French Silk Brownies Recipe
Easy Fudgy Brown Butter Brownies Recipe
Easy Salted Caramel Brownie Cookies Recipe
Hi! I'm Nellie. I am a busy mama of three, wife to my high school sweetheart who loves to cook, workout and stay organized! I love to share helpful printables, the best recipes and fitness tips for the modern mom. I strongly believe that every mom can feed their family well, take proper care of themselves and have fun along the way! Read my story.
Get comfortable and be sure to come hang out with me on social. Don't grab your free fitness journal before you go!