Hazelnut Cookies
These Hazelnut Chocolate Cookies are the perfect nutty flavor! You won't be able to get over how delicious these cookies are.
Looking for a nutty and sweet treat? Look no further than hazelnut cookies! These cookies are deliciously crispy on the outside, and soft and chewy on the inside, making them the perfect indulgence for any occasion.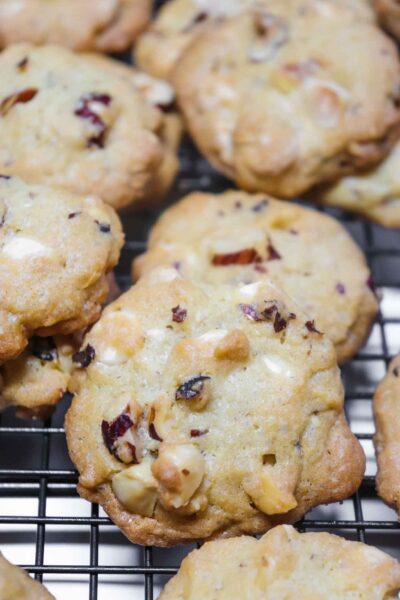 Whether you're looking for a quick snack, a dessert to impress your loved ones, or a treat to share with friends at a party, hazelnut cookies are a crowd-pleaser that everyone will love.
Why You'll Love Hazelnut Cookies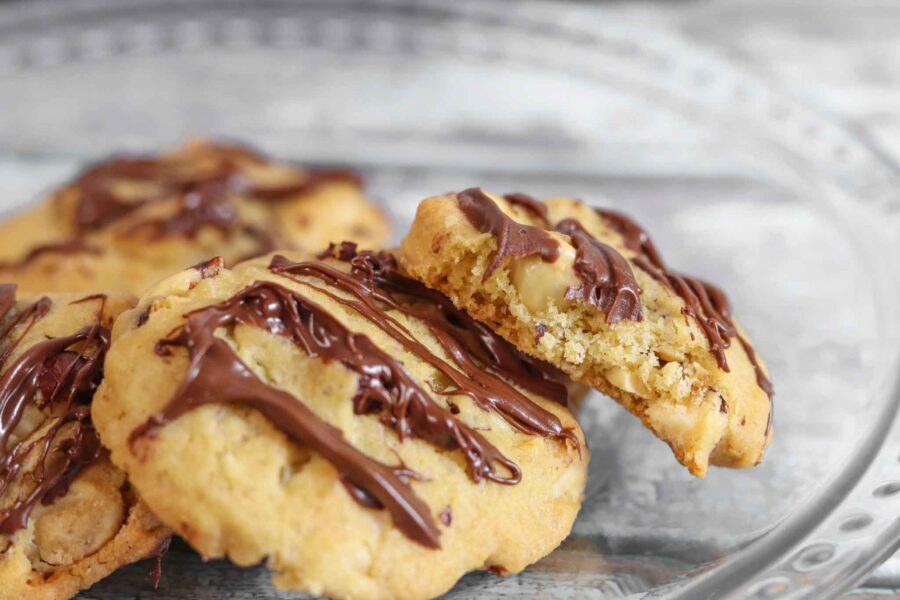 Nutty goodness: Hazelnuts give these cookies a rich and nutty flavor that pairs perfectly with the sweetness of the dough. Whether you're a fan of nuts or looking for a unique twist to your classic cookie recipe, hazelnut cookies will definitely satisfy your cravings.
Crunchy on the outside, chewy on the inside: Hazelnut cookies have a delightful texture that will keep you coming back for more. The outer layer is crisp, while the center is gooey and soft, creating a perfect balance of textures that will satisfy your sweet tooth.
Versatility: Hazelnut cookies are a versatile treat that can be enjoyed any time of the day. They make a great snack with coffee, tea, or milk, and can also be the perfect dessert to serve at the end of a meal. Plus, they're easy to customize by adding chocolate chips, dried fruits, or other ingredients to suit your taste.
Ingredients Needed
Butter – Butter adds richness and flavor to the cookies. Softened butter is easier to mix into the dough, resulting in a smooth and creamy texture. Make sure to use unsalted butter so you can control the amount of salt in the recipe.
Sugar – Sugar sweetens the cookies and helps them brown in the oven. A combination of white and light brown sugar adds both sweetness and depth of flavor. Alternatively, raw turbinado sugar can be used for a more natural and less refined sweetness.
Egg – Egg gives the cookies structure and binding power, helping them hold their shape and texture. It also adds moisture to the dough, resulting in a soft and chewy cookie.
Vanilla – Vanilla extract enhances the flavor of the cookies and adds a pleasant aroma. Use pure vanilla extract for the best taste.
Flour – Provides structure to the cookies and ensures the dough is the right consistency. All-purpose flour works well in this recipe.
Baking Soda – Baking soda helps the cookies rise and keeps them from spreading too much. Use the right amount for perfectly puffy cookies.
Salt – A pinch of salt balances out the sweetness in the cookies and enhances the flavor of all the ingredients.
White Chocolate – Adds richness and creaminess to the cookies. Use high-quality white chocolate for the best taste.
Mini-chocolate chips – Add bursts of chocolate flavor and texture to the cookies. They balance out the sweetness of the white chocolate and complement the nuttiness of the hazelnuts. Feel free to use regular chocolate chips or omit them altogether if desired.
Tools you may need: Baking tray, plastic wrap, parchment paper, dark chocolate, cocoa powder, heavy cream, sheet pan, clean kitchen towel, medium bowl, food processor for ground hazelnuts, wire rack, electric mixer, large bowl, cookie sheet.
FAQs
Is the hazelnut flavor good in these cookies?
These cookie dough balls are going to create fragile dough, but the end result is Simple Hazelnut Cookies that are beyond delicious!
What else are these cookies called?
Chewy Chocolate Hazelnut Cookies and German Hazelnut Cookies.
How to store these cookies?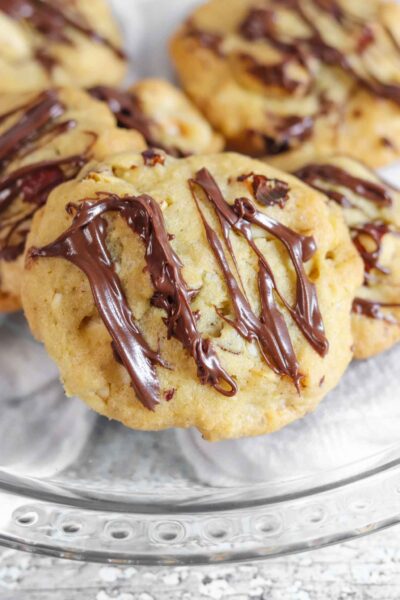 These cookies have the perfect nutty texture and to keep it that way, you can add the cookies into an airtight container! You can store them at room temperature until you're ready to eat them.
If you are looking for more fun cookie recipes be sure to check out this comprehensive list! The Best Cookie Recipes For Year Round Baking
Yield:

50 cookies
Easy and Delicious Hazelnut Cookies
These Hazelnut chocolate cookies are so good and great to make for dessert!
Ingredients
1 1⁄4 cup whole roasted hazelnuts (how to below)
9 tbsp butter, softened
1 cup sugar (1⁄2 cup white + 1⁄2 cup light brown OR 1 cup raw turbinado)
1 egg
1 tsp vanilla
1 1⁄2 cup flour
1⁄2 tsp baking soda
1⁄2 tsp salt
1 cup white chocolate
1⁄2 cup mini-chocolate chips
Instructions
How to Roast Hazelnuts:
Crack hazelnuts to remove the hard outer shell.
Heat oven to 350°.
Spread nuts on a parchment lined baking sheet.
Bake 12 minutes, nuts should be lightly browned.

How To Make Cookies
Set oven to 350°.
Coarsely chop roasted hazelnuts, set aside 1⁄2 cup.
In small saucepan, melt 2 tbsp butter.
Combine melted butter and remaining hazelnuts in a small bowl. Set aside.
In medium bowl, cream 7 tbsp butter, sugar, egg, and vanilla until fluffy.
Stir in hazelnut and butter mixture. Set aside.
In a small bowl, combine flour, baking soda, and salt.
Add flour mixture to medium bowl. Stir to combine.
Stir in remaining hazelnuts.
Stir in white chocolate.
Add water to a small saucepan, and place a small bowl with the mini-chocolate chips inside to
create a double boiler. While cookies are baking, heat on medium-low until chocolates melt.
*Microwaving the chocolate is also an option.
Use a small cookie scooper or spoon to place cookies on a parchment lined baking sheet.
Bake 10-12 minutes or until lightly browned.
Place cookies on a wire rack to cool.
When cookies are cooled, drizzle melted semi-sweet chocolate on cookies. Set aside to allow
the chocolate to set before stacking.
Store in an airtight container.
Nutrition Information
Yield
50
Serving Size
1
Amount Per Serving
Calories

96
Total Fat

6g
Saturated Fat

2g
Trans Fat

0g
Unsaturated Fat

3g
Cholesterol

10mg
Sodium

57mg
Carbohydrates

11g
Fiber

1g
Sugar

7g
Protein

1g
Pin it for later!
If you enjoyed this recipe be sure to check out my Instagram Page for the latest posts!
Before you go, check out these great posts!
How To Make An Easy Delicious Chocolate Mug Cake
The Best Chocolate Mississippi Mud Cake Recipe
Easy Bakery Style Chocolate Chip Scones
Hi! I'm Nellie. I am a busy mama of three, wife to my high school sweetheart who loves to cook, workout and stay organized! I love to share helpful printables, the best recipes and fitness tips for the modern mom. I strongly believe that every mom can feed their family well, take proper care of themselves and have fun along the way! Read my story.
Get comfortable and be sure to come hang out with me on social. Don't grab your free fitness journal before you go!