Delicious Slow Cooker Cuban Ropa Vieja
I've got an pretty great main dish recipe for you today! This awesome and delicious slow cooker Cuban Ropa Vieja recipe is great all times of year!
Bask in the flavors of Cuban cuisine with this slow-cooked Ropa Vieja. Translating to "old clothes," Ropa Vieja refers to the shredded, tender beef that resembles tattered rags. This classic dish, infused with the flavors of tomatoes, bell peppers, onions, and a mix of herbs and spices, offers a comforting, homey meal that's wonderfully easy to make in a crockpot.
I don't remember the first time I was introduced to Cuban food. I know it was in my early twenties.
Growing up in Brooklyn I'd always been eating Latin food, and when I met my Puerto Rican husband at 15 years old, I REALLY fell in love with Spanish cuisine. His mom was the best cook!
Cuban food was different though. It was Latin cuisine with a twist. I never made it at home, I'd always frequent the many Cuban spots in NYC. There are SO many good cuban restaurants in NYC!
What ingredients do you need for this recipe?
2 pounds flank steak
1 28-oz can fire roasted diced tomatoes, drained
2 red bell peppers, sliced
1 medium onion, cut into chunks
2 tsp dried oregano
1 tsp ground cumin
1 tsp salt
1/4 tsp pepper
1 cup long-grain jasmine rice
1/4 cup fresh cilantro leaves
Ropa Vieja FAQs
Q: Can I use a different cut of beef?
A: Yes. While flank steak is traditional, you can also use chuck roast or brisket.
Q: Can I make this dish spicy?
A: Absolutely. Add a sliced jalapeño or a dash of hot sauce for heat.
Tips and Tricks
Sear the Meat: Searing the beef before slow cooking locks in the flavors and gives the dish a deeper taste.
Slow Cooker Size: A larger slow cooker (6 quarts or more) is ideal to fit all the ingredients comfortably.
Variations
Vegetarian: Substitute the beef with portobello mushrooms for a vegetarian take.
Pulled Chicken: You can also use chicken thighs instead of beef for a different flavor profile.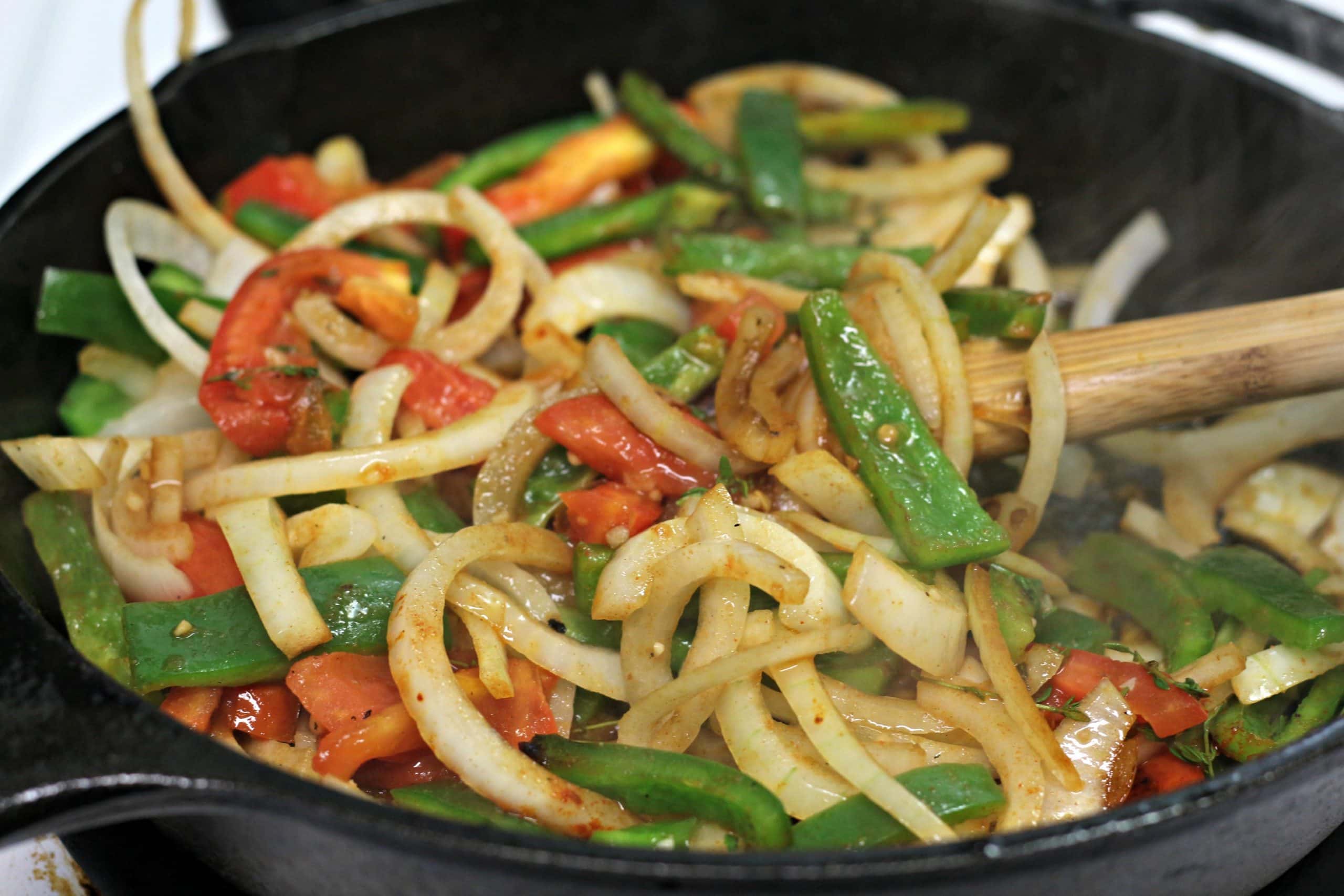 Then, a few years ago I was introduced to a famous eatery in Miami called Versailles. The food was just out of this world. My friends and I may or may not have eaten there 3 different times during our 4 day trip. It's THAT good.
There are so many Cuban main dishes that I LOVE but my absolute favorite is ropa vieja which is flank steak beef cooked slowed and pulled apart just like it's a rope. Very much like skirt steak!
Where to Serve
Ropa Vieja is a perfect dish for family dinners, potlucks, or when you're hosting a gathering. It's traditionally served with white rice, black beans, and sweet plantains.
Where Did This Recipe Originate?
Ropa Vieja originated in Spain and was brought to the Americas by Spanish settlers. It's most commonly associated with Cuban cuisine, where it's considered a national dish.
Storage
Store the leftover Ropa Vieja in an airtight container in the refrigerator for up to 4 days. It also freezes well and can be stored for up to 3 months.
What is Ropa Vieja?
Ropa vieja is one of the national dishes of Cuba, but is also popular in other areas or parts of the Caribbean such as Puerto Rico and Panama, as well as in Spain and the Philippines. It consists of shredded or pulled stewed beef with vegetables. In the Cuban cuisine of Miami, Florida, it is typical for ropa vieja to have a sweet undertone.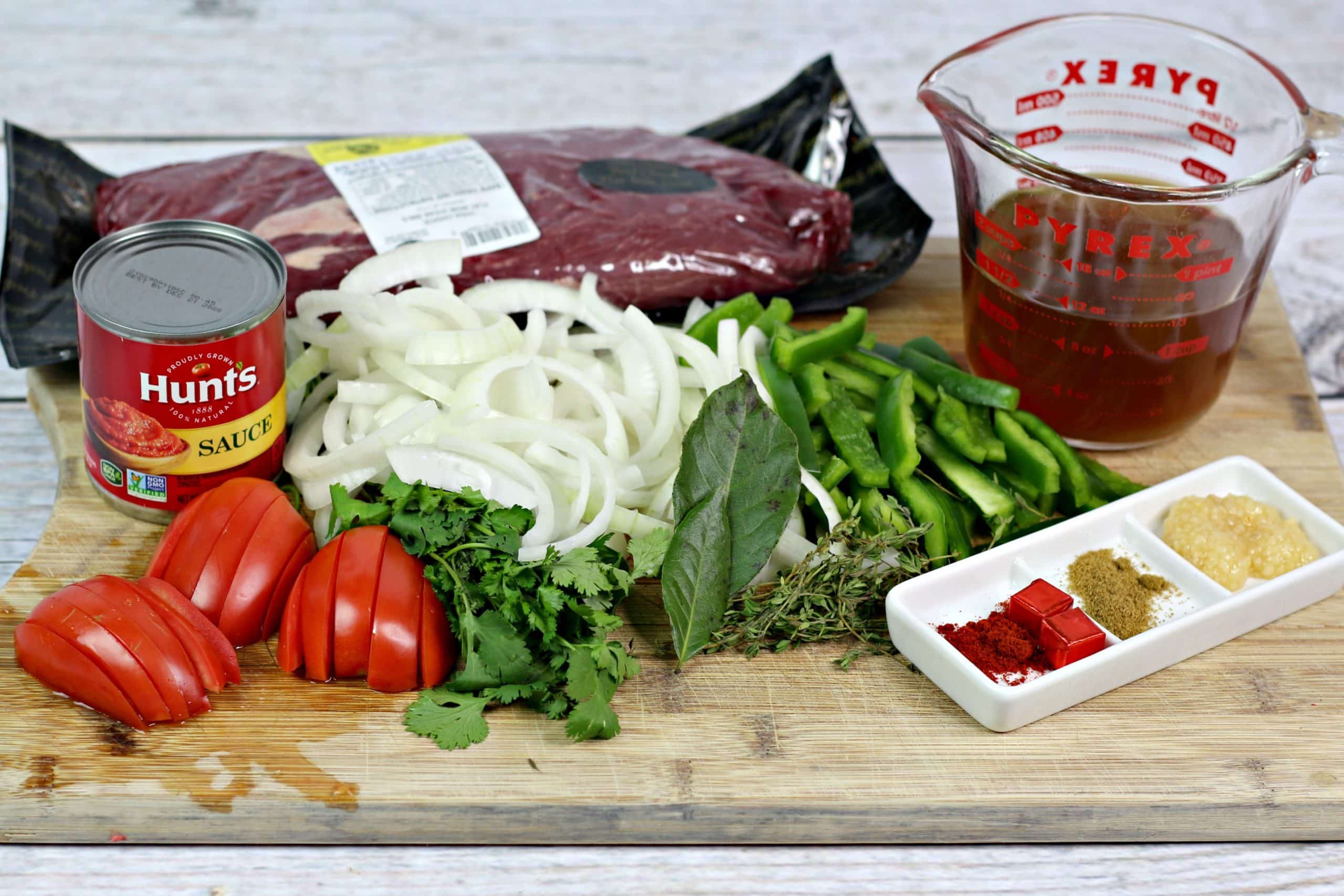 Ropa Vieja is served with white rice and plantanos— or plantains that are fried or boiled. I can pretty much eat this dish for the rest of my life. You slow cook 2 pounds of flank steak for 4-5 hours, separate it with two forks and boom a delicious dinner that is so yummy!
Common Problems and How to Avoid Them
Problem: The meat is tough.
Solution: Ensure you're cooking it long enough. The longer it cooks, the more tender it will become.
Problem: The flavors are bland.
Solution: Don't skimp on the seasonings. Make sure to adjust the salt and spices to your liking before slow cooking.
Making this Recipe with Kids
While this recipe involves some complex flavors and techniques, there are still ways kids can help:
Add Ingredients: Kids can help add the ingredients to the crockpot.
Shred Beef: Once the beef is cooked and cooled, older kids can help shred it.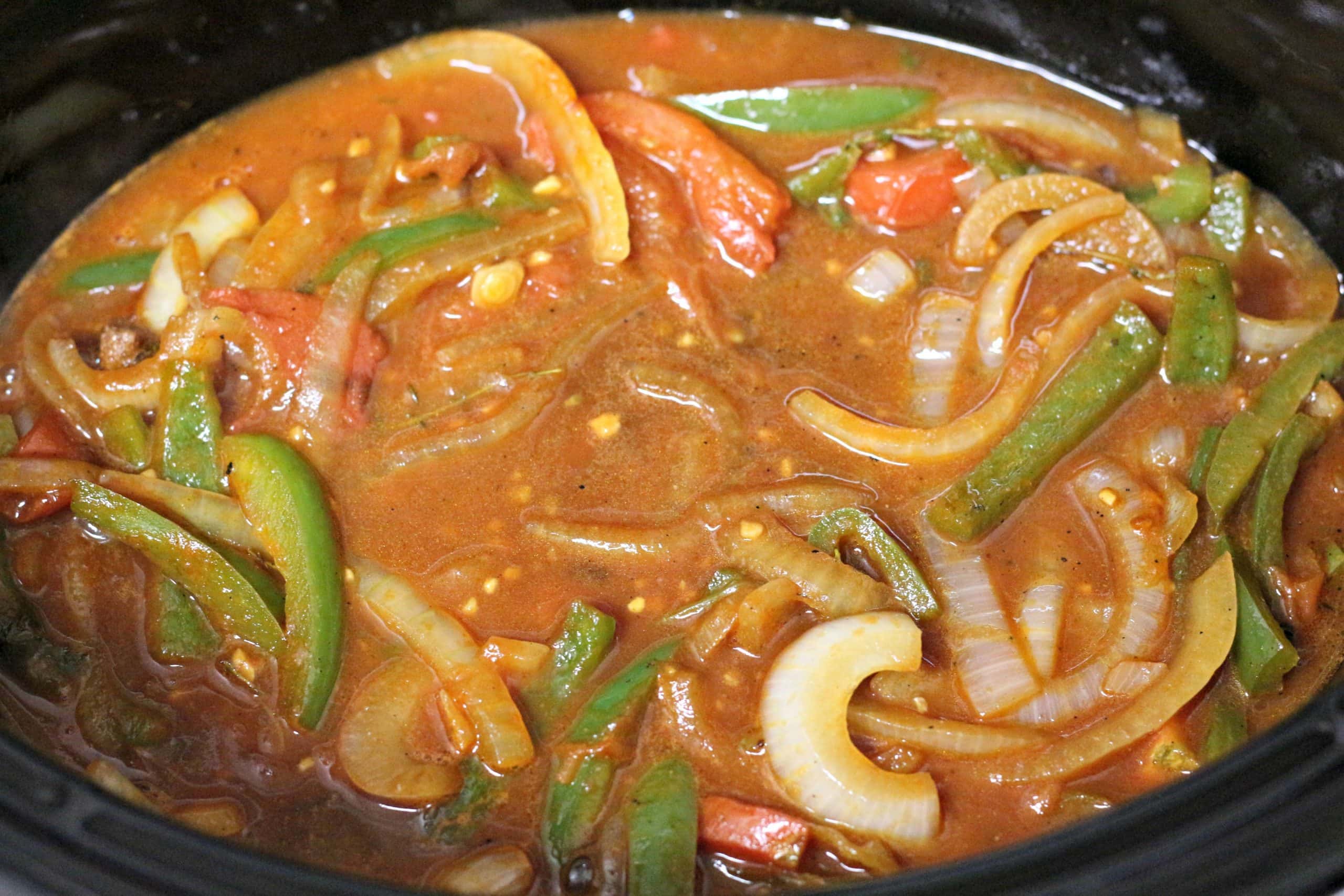 What should I eat my ropa vieja with?
Ropa Vieja is classically served with white rice, but yellow rice works too! A spring salad is always a nice addition and if you are truly looking for an authentic experience fried plantains is the way to go!
Related: Easy Crockpot Pepper Steak Recipe
This recipe is so easy because you are just throwing everything in a slow cooker and letting it do it's thing. The flavors and the spices marinate perfectly (and the house smells amazing too!!). You know how much I love my slow cooker–especially these amazing cheddar mashed potatoes!
Topping Options
Cilantro: Sprinkle some fresh cilantro on top for a pop of fresh flavor.
Lime: Serve with lime wedges for squeezing over the top.
Why This Recipe Works
The beauty of this Crockpot Ropa Vieja lies in its simplicity of preparation and depth of flavor. The slow cooking process allows the beef to become fall-apart tender while absorbing all the flavors of the aromatic vegetables and spices. The result is a satisfying, hearty dish that's steeped in tradition and sure to become a family favorite.
What are some other amazing crockpot recipes to try?
If you are looking for more slow cooker recipes be sure to check out this full list! The Best Easy Slow Cooker Recipes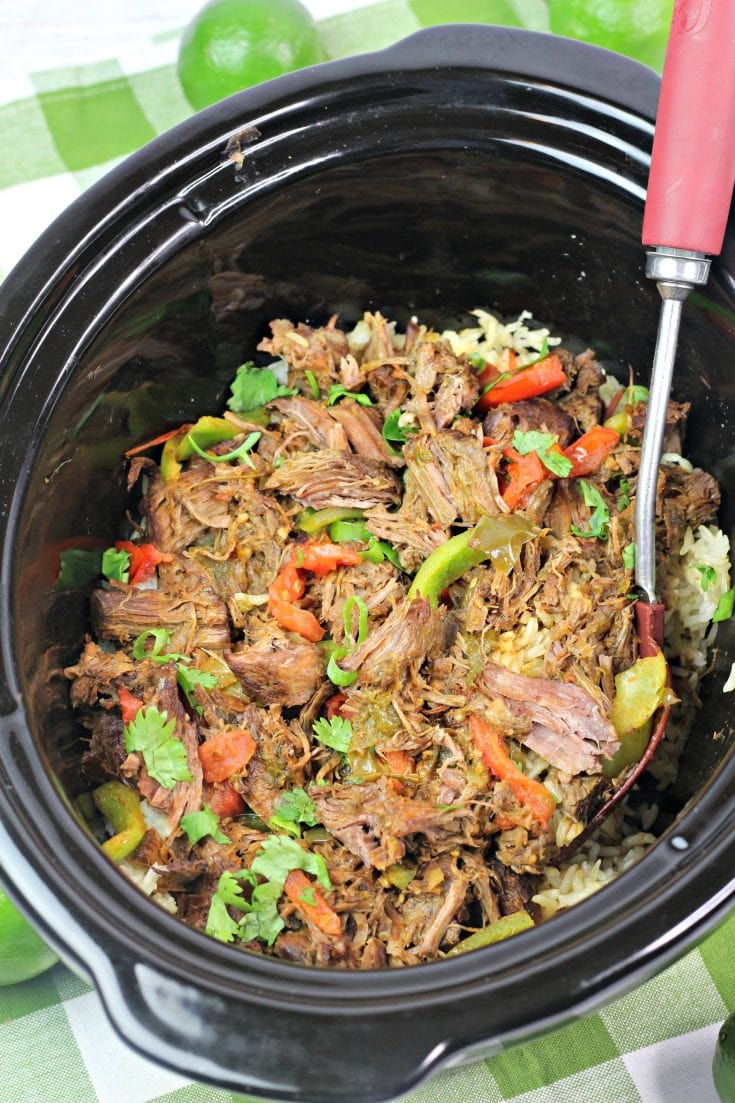 Yield:

8-10 servings
Delicious Slow Cooker Cuban Ropa Vieja
Cook Time:
5 hours
4 seconds
Total Time:
5 hours
5 minutes
4 seconds
A super yummy main dish of Cuban Ropa Vieja slow cooked to perfection!
Ingredients
2 pounds flank steak
1 28-oz can fire roasted diced tomatoes, drained
2 red bell peppers, sliced
1 medium onion, cut into chunks
2 tsp dried oregano
1 tsp ground cumin
1 tsp salt
1/4 tsp pepper
1 cup long-grain jasmine rice
1/4 cup fresh cilantro leaves
Instructions
In the bottom of a slow cooker, add the tomatoes, peppers, onion.
Stir to combine.
Add the oregano, cumin, salt and pepper.
Stir to combine.
Place the steak in the crock pot.
Cover on the slow cooker and cook on high for 4-5 hours.
Prepare your rice as directed and set to the side.
When the meat is done, shred the beef using two forks.
Stir to combine all flavors.
Serve the beef over the rice, topped with cilantro.
ENJOY!!




If you enjoyed this recipe be sure to check out my Instagram Page for the latest posts!
Before you go, check out these great posts!
The Most Delicious Cuban Dinner Ideas
Easy Slow Cooker Italian Meatball Subs Recipe
Easy Slow Cooker Deep Dish Pizza Recipe
Hi! I'm Nellie. I am a busy mama of three, wife to my high school sweetheart who loves to cook, workout and stay organized! I love to share helpful printables, the best recipes and fitness tips for the modern mom. I strongly believe that every mom can feed their family well, take proper care of themselves and have fun along the way! Read my story.
Get comfortable and be sure to come hang out with me on social. Don't grab your free fitness journal before you go!