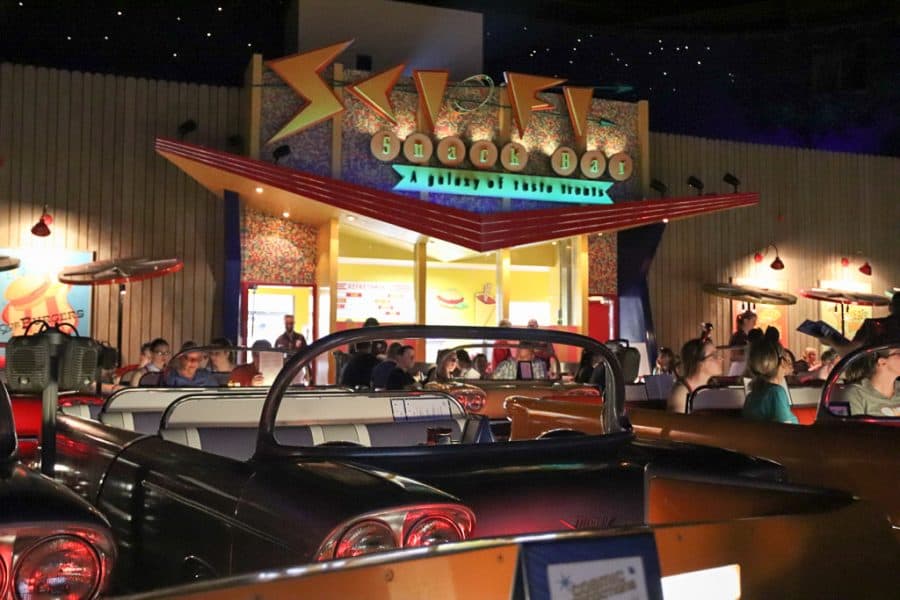 You guys may not know this about me, but years before I had kids my husband (then boyfriend) and I used to go to Disney four times a year and have the BEST adult trips. This was before Yelp, and Disney blogs, so I'd depend on message boards for all of my planning needs. One of the most talked about restaurants was the Sci-Fi Diner in what was then MGM Studios.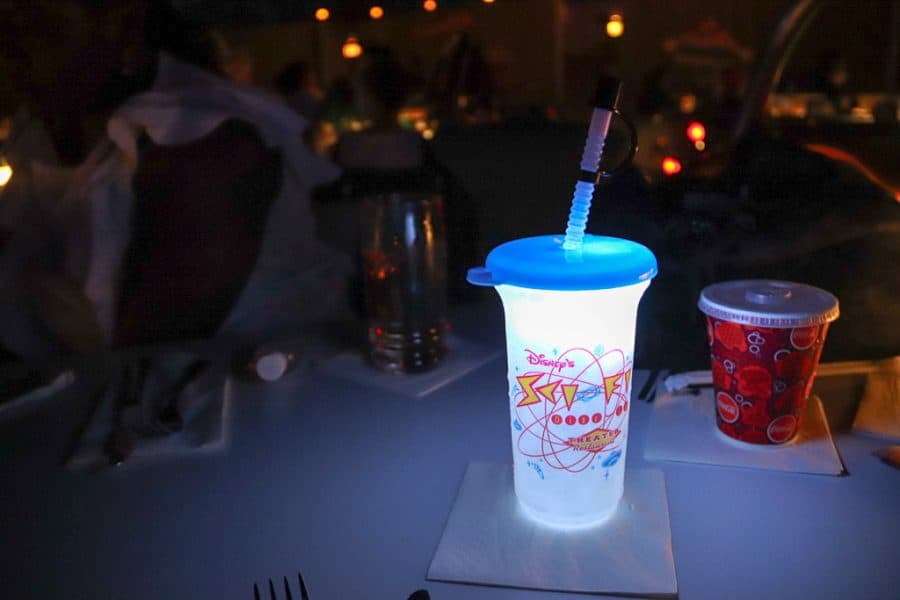 The first time we went as young adults, we had SUCH a good time. We vowed that every single time we returned we would absolutely make a stop at the Sci Fi Diner. So imagine how excited I was to take the kids and my mom for the first time at the Disney Social Media Moms Conference!
Here are a few of the reasons why we love the Sci Fi Diner (and you should too!)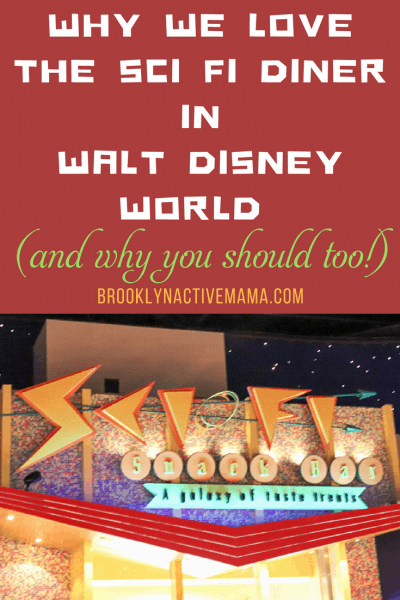 The Food
I have never had a bad meal here. My favorite meal is the cheeseburger and fries (just simply one of the best in Walt Disney World) but my mom had the salmon salad, my son had the chicken nuggets and french fries and they all enjoyed their meals thoroughly.
The Ambiance
So the whole thing about dining in the Sci Fi Diner is that the entire restaurant is built to make you believe that you are sitting outside in a drive through watching old black and white movies.
Whether its daytime or night-time outside, it's ALWAYS night-time inside of the restaurant. This makes for a really cool ambiance, it also requires flashlights for the menus!
Restaurant Seating In The Cars:
Everyone is seated in a car! Some families of four get to sit across from each other with a table in between, but if you are a couple you can sit in the front of a car with a table or in the backseat. Wherever you are placed, you can see the huge screen in front of you and all of the cars are classic and so fun!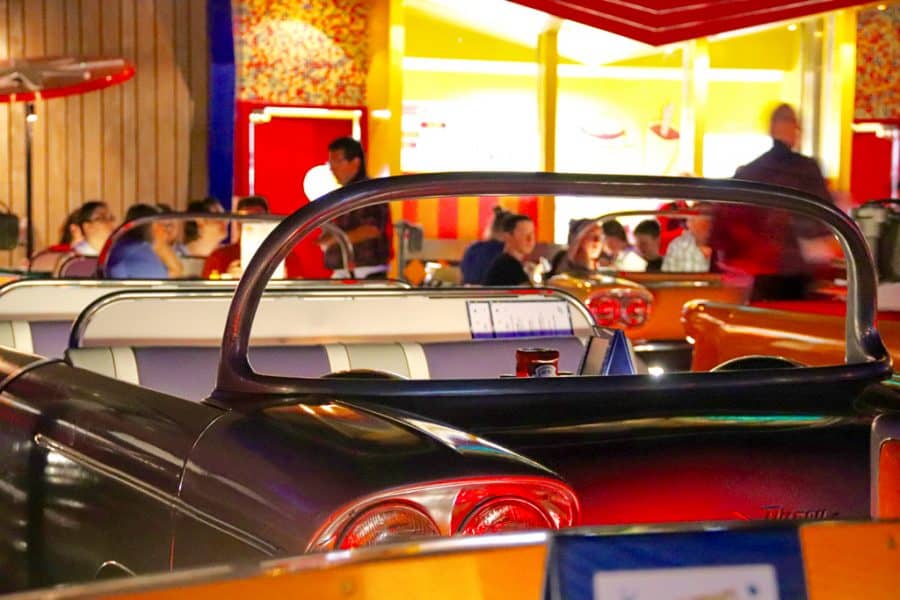 The Free Popcorn:
While you wait for you table (which may be a while if you don't do advanced dining reservations!) You can grab a free sample cup of freshly popped popcorn. Helps a LOT when you have hungry children waiting to eat!
The Wait Staff:
The staff is fantastic! They have the best magic tricks and jokes and they automatically transport you to a drive in diner! Every server that I have encountered have always made me feel right at home and make me never ever want to leave. They even gave "drivers licenses" to both boys which were super adorable.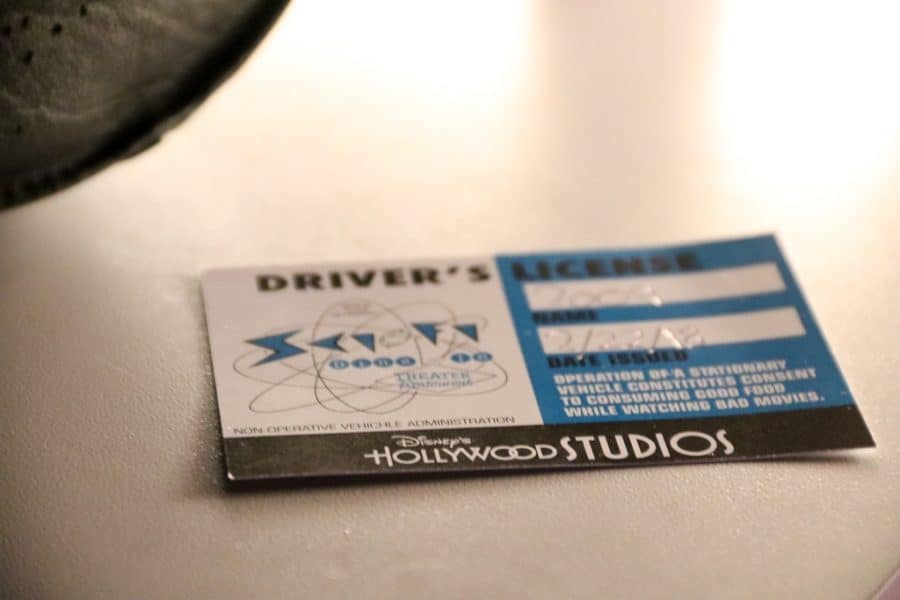 The Movie Showings:
While you are enjoying your yummy eats you are also being entertained by a floor to ceiling screen with black and white showings of Tom & Jerry, and old movie trailers–nothing scary for the kids but fun to watch all the same.
What are some other fun Disney posts to check out before you leave?
Have you ever been to the Sci Fi Diner? What is your favorite sit down restaurant in Walt Disney World?
Hi! I'm Nellie. I am a busy mama of three, wife to my high school sweetheart who loves to cook, workout and stay organized! I love to share helpful printables, the best recipes and fitness tips for the modern mom. I strongly believe that every mom can feed their family well, take proper care of themselves and have fun along the way! Read my story.
Get comfortable and be sure to come hang out with me on social. Don't grab your free fitness journal before you go!