If you hang out with me on social (I hope you do!) then you already know that I spent 6 days at the Disney Social Media Moms Celebration that covered both Land and Sea, with three full days in the Parks and another three days on the Disney Dream, a Disney Cruise that visits not one but TWO islands in the Bahamas. I had a really amazing time with my mom and kids (hubby couldn't get the days off, boo!) and although I can go on for days about it, here are my top 10 highlights from the very magical 2018 Disney Social Media Moms Celebration.
I won a Dooney & Bourke Bag!
I KNOW! When I saw the lovely Leanne walk up on the stage with the beautiful bag on her arm, I knew 2 things right away–1) It was a gorgeous Dooney & Bourke bag and 2) I WANTED IT. So when I heard her call my name, it was like everything went silent. She said my name twice and I finally raised my hand–I was quite literally overcome with excitement!
My Mom experiencing Disney World for the first time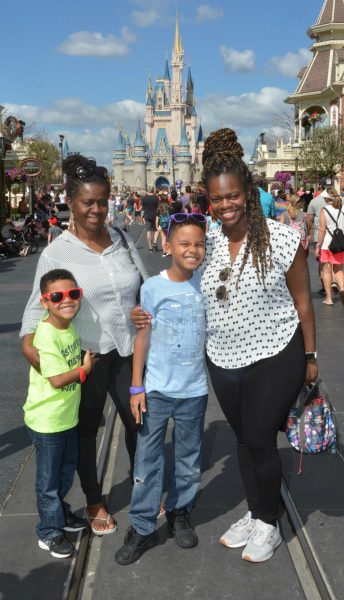 Believe it or not in my mother's sixty plus years of life she had never been to Walt Disney World. It was fun explaining the ins and out of Disney and watching her react to it all. She did an excellent job helping me with the kids and even enjoyed herself tremendously!
The Rose Gold Minnie Cupcake
So I've been seeing this Rose Gold Cupcake with Minnie Ears all over the internet. I didn't knowi f I was going to have to time to hunt one down but turns out I didn't have to worry about it because we were gifted the coveted cupcakes during our session! Picture the scene: A lot of blogger babes in one room, the announcement of the beautiful cupcakes sitting in the back of the room, all of us grabbing our cameras, and taking photos. Whoever planned this on the Disney team was pretty damn brilliant–not to mention that the cupcake actually TASTED good too!
The Disney Social Media Moms Celebration Swag
I attended this conference previously in 2016 and the swag was incredible then. They completely outdid themselves this time! From a pretty amazing and durable branded Samsonite bookbag, to portable chargers, tumblers, Luggage from American Tourister, Outlet converters, beach bags, a fully branded blanket…and so so much more, we were completely spoiled and I loved every minute of it!
The entire cruise experience
I've been on two cruises in my life, the first one was a cruise that I got for my graduation when I was 16 years old and my honeymoon cruise. Disney really showed me what a cruise experience is REALLY supposed to be about! I had a really top notch experience from the minute I stepped on the boat to the minute I stepped off. The waiters at the restaurant were so good to my family, and everyone was so easy to approach and talk to. The amount of things you can do on that incredible Disney Dream boat is insane! I can't wait to go back and try new things.
The photography!
The organizers of the Disney Social Media Moms Celebration had a photographer follow us lovely bloggers around to help us capture precious family moment of the conference, and omg he was SO good! He was with us everywhere and helped us to capture amazing photos so we could share on social media and our blogs. Not to mention the photos were uploaded in a super timely fashion so we were able to post right away!
Balance of Free Time and Conference sessions
Don't get me wrong, this is the Celebration of a lifetime but things tend to get really hectic really fast! I love that I was able to get a great amount of time with my blog friends and an equal amount of time with my family too.
Character appearances at the Disney Social Media Moms Celebration
Throughout all of the family meals we would get really cool character appearances! We would walk into the dining room and be SO excited to see some of our FAVS like Woody and Buzz, The Incredibles and so much more! The boys got an autograph book for the first time so it also helped to fill the pages!
The selection of speakers and topics
The speakers were excellent. We learned a lot about what is upcoming for Disney in the near future but we also learned some great SEO advice, and also how to create the best Video content. I had a ton of notes, and quite honestly left quite refreshed and ready to write again.
Communication
The logistics of taking care of 100+ bloggers and their families is mind blowing. When I think about all of the planning that was involved in getting bloggers to different parks, ports and even islands–it makes my head spin! The communication about where we should be was SO clear and readily available that I never had a problem and I always knew where to go. I am a fan of clear concise directions and I was so grateful to have that on this trip.
10 Incredible Highlights From The 2018 #Disney Social Media Moms Celebration #DisneySMMC
Do you like to plan your own trips, or have trips planned for you?