When it comes to side dishes, there are so many options. This amazing Garlic parmesan broccoli is so good and easy to make!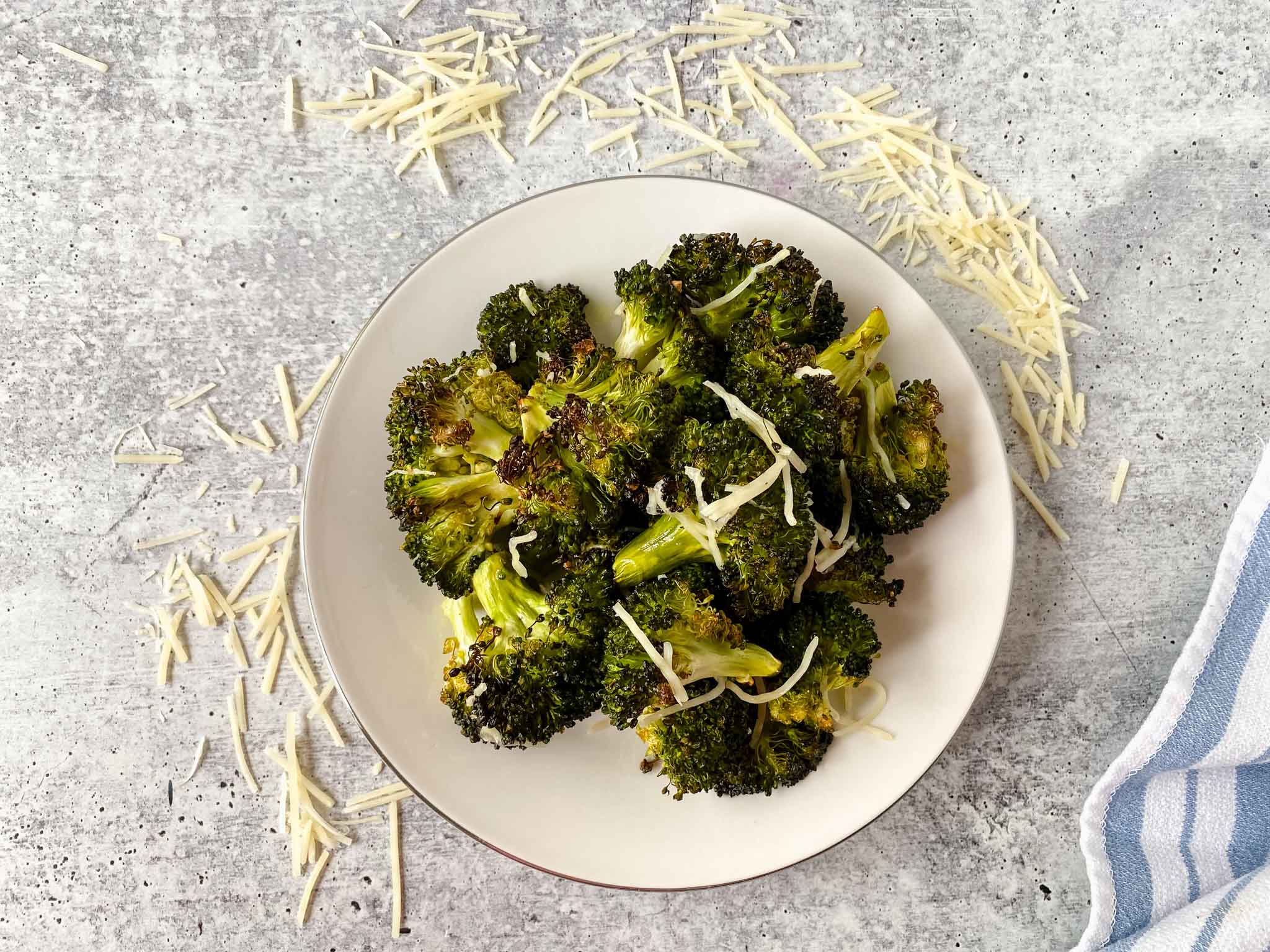 If you are looking for the most perfect side dish for your holiday gatherings or dinner parties–look no further!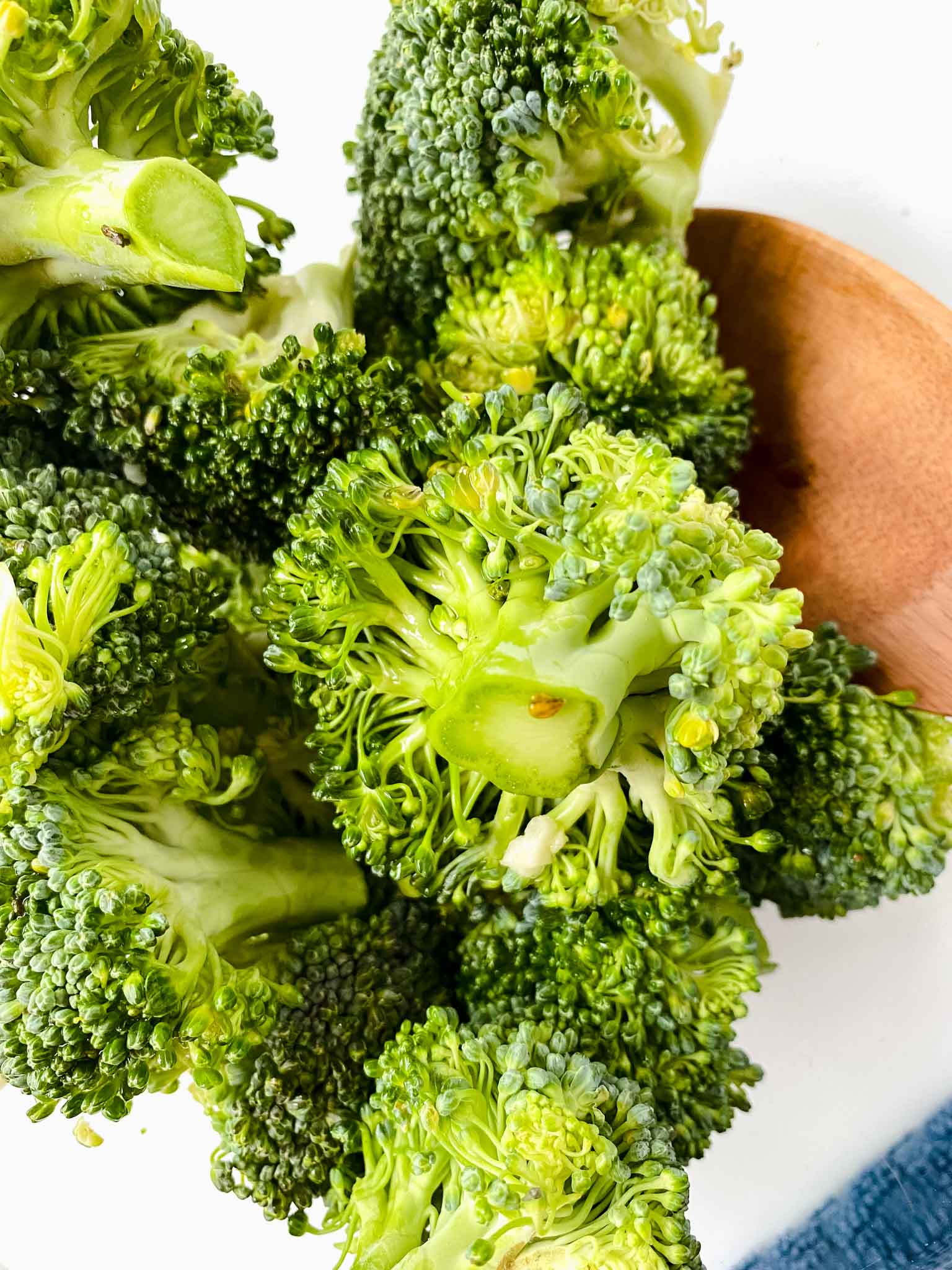 Garlic Parmesan Broccoli is a dish that can be served alongside (or even as!) your favorite meat dish. It a great compliment to any entree.
This recipe is so simple and quick to make! It can be prepped in under 10 minutes and only needs 4 ingredients: broccoli, garlic, salt, parmesan cheese. This dish is also very nutritious since it's all natural–no processed junk here!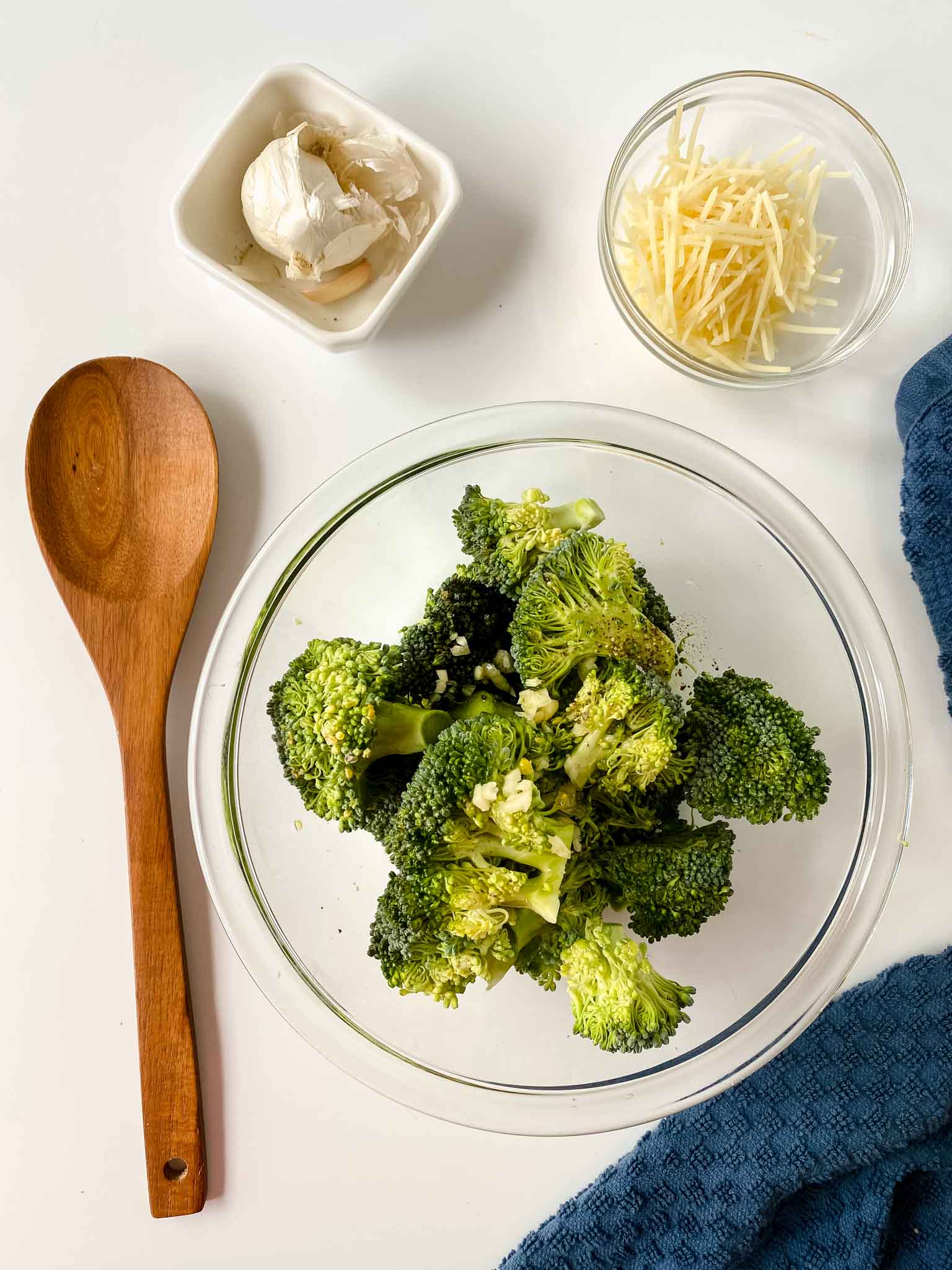 When I make this I usually double the recipe because it goes fast at the dinner table! It adds a great flavor to a classic veggie dish.
What ingredients do you need for this Garlic Parmesan Broccoli?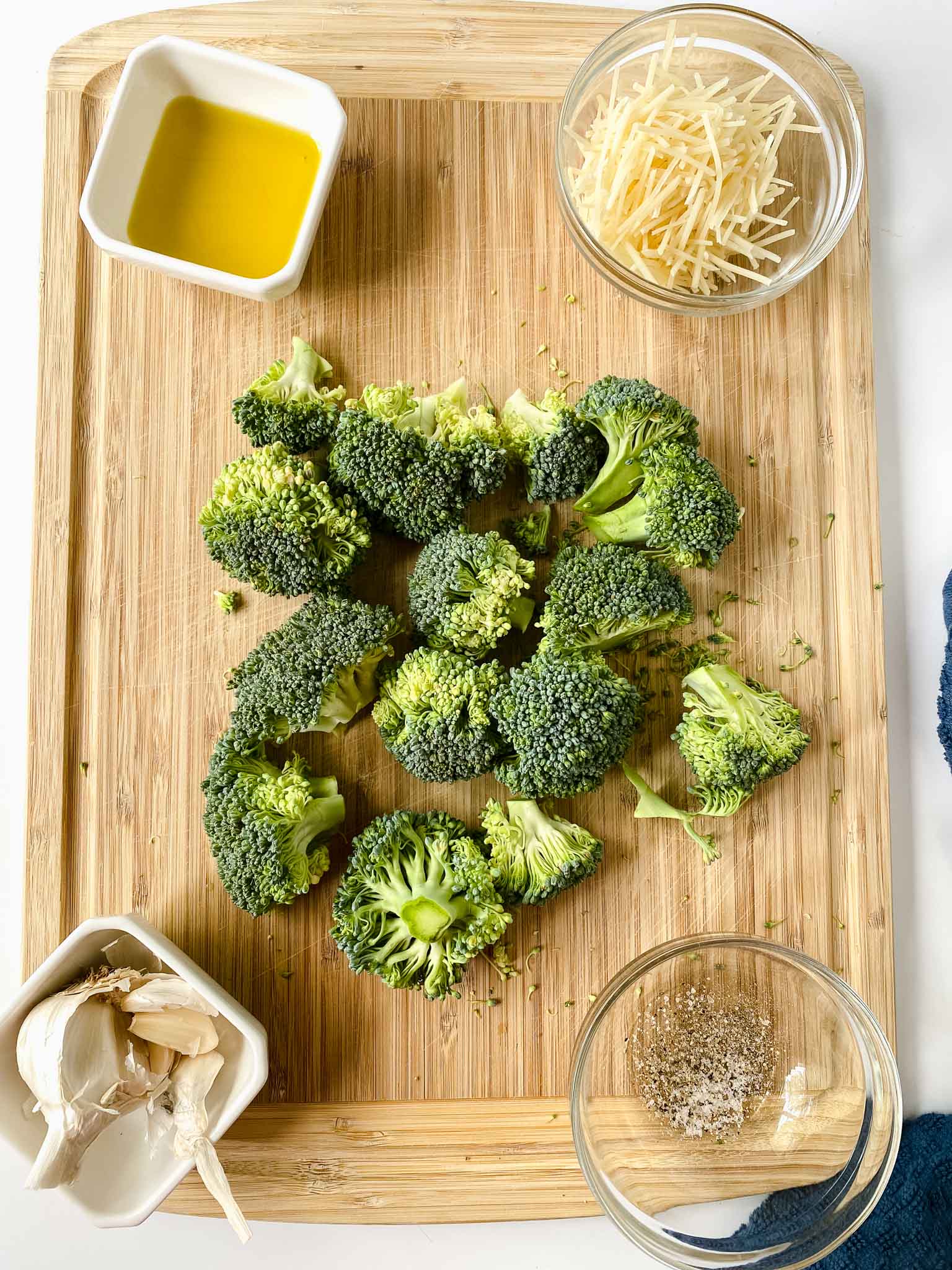 1 pound Fresh or frozen broccoli
1-2 tbsp extra virgin olive oil
1 tsp sea salt
1 tsp ground black pepper
1/2 tsp minced garlic
1/4 cup grated Parmesan cheese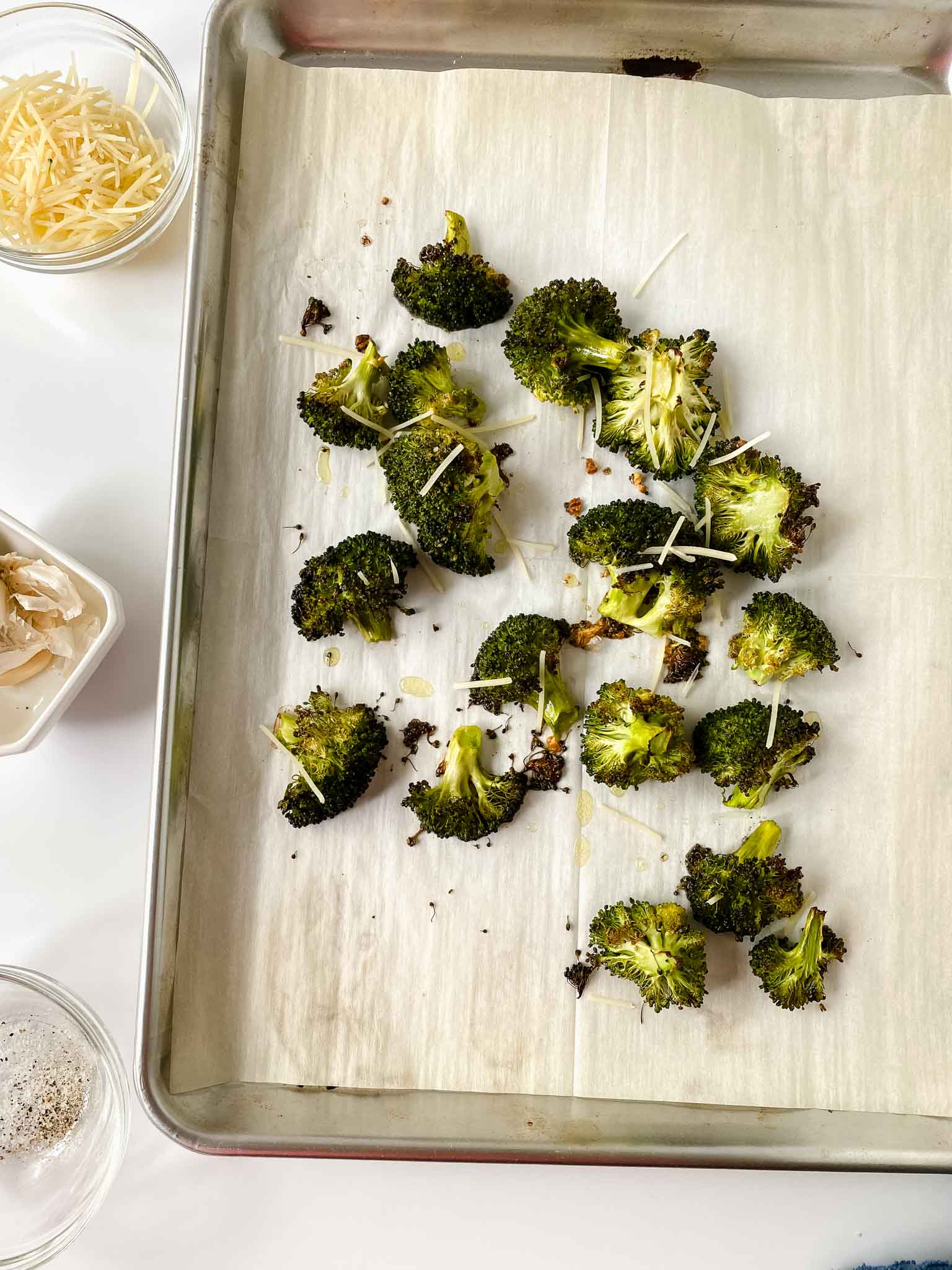 Super simple ingredients that you already likely have in your freezer and pantry. It's a foolproof recipe that takes plain old broccoli to another level!
The end result is a delicious side dish that you can't get enough of! You will make this easy side dish over and over. Get ready to add this one to the dinner rotation. The best part is that you can easily make this for weeknight dinner. In less than 30 minutes, you will have a delicious side dish that adds just the right pop of flavor to any dinner.
Did you know that broccoli is one of those foods that have almost as much protein as red meat? You can toss it into a salad or eat it with an awesome sauce like this garlic parmesan one on top and get a little burst of extra nutrients in your body. It's so good for you and tastes great too! Broccoli is rich in Vitamin C, K, B6 and other vitamins and minerals.
Got Extra Broccoli? Here Are 4 Quick Recipes to Put it to Use
Let's all collectively agree here- broccoli isn't the most delicious veggie in the world, but we all know how it is easily the healthiest. If you've got yourself some of it, and it is lying there in the refrigerator, waiting to be used, here's some inspiration to get you started.
Read on to discover 4 simple and quick recipes that help you get more of it!
Broccoli Cheddar Soup
One of the simplest ways to put broccoli to use is to whip up a quick soup that tastes absolutely divine- the kids will love it too! All you need to do is boil some broccoli and carrots together and blend them once they are cooked. Meanwhile, in a medium pot, heat some butter, add a chopped onion and saute.
Add in a couple of tablespoons of flour and allow it to cook for a couple of minutes. Now add some milk and stir continuously until there are no lumps. Loosen the mixture with some stock, and finally add the blended broccoli mixture and some grated cheddar cheese and allow it to come to a boil.
Remove from heat and serve hot!
Broccoli & Peppers Stir Fry
You can never go wrong with a nice stir fry, and for all those days when you're craving something a little spicy, this recipe could turn out to be an excellent choice! In a large wok, heat some oil, add some chopped ginger, garlic and green chillies and fry them for a couple of minutes.
Now add some oyster sauce or hoisin sauce (or any other Asian sauce of your preference) and give it a nice stir. Next, add diced bell peppers and chunks of broccoli and allow them to cook for a few minutes.
Sprinkle some toasted sesame seeds or chopped coriander over the top right before serving!
Broccoli Mac & Cheese
What could be better than turning your favorite comfort food into something a little bit healthy? Yes, sneaking in some blanched broccoli into homemade mac & cheese is the best, no-fuss way to get more of it.
Plus, you can actually whip up an easy one-pan version of it. All you need to do is saute some of those florets in a pan with some olive oil and chopped garlic, throw in some Alfredo sauce, season and then follow it up with some boiled pasta and loads of cheese. Easy peasy!
Beef & Broccoli Pasta
Pasta lovers will totally dig this one! Simply stir fry some broccoli florets with garlic in a pan, add in some beef strips and season. Now add some leftover pasta water and allow it to cook for a few minutes. Add some chilli sauce into the mix, followed by the boiled pasta and allow it to cook well.
You can also add some more veggies into the mix (bell peppers taste absolutely amazing with this one!).
Yield:

2-3 servings
Easy Garlic Parmesan Broccoli For The Perfect Side Dish
This awesome easy twist to a classic side dish by adding garlic and parmesan!
Ingredients
1 pound Fresh or frozen broccoli
1-2 tbsp extra virgin olive oil
1 tsp sea salt
1 tsp ground black pepper
1/2 tsp minced garlic
1/4 cup grated Parmesan cheese
Preheat the oven to 425
Instructions
Toss broccoli with olive oil, salt, pepper, and garlic.

Lightly oil the baking sheet (parchment paper)

Spread out broccoli in a single layer on baking sheet

Roast for 18-22 mins.

Once the broccoli is fork tender remove from oven

Sprinkle with Parmesan cheese and a sprinkle of salt and pepper. Mix up on the sheet and serve immediately.

Nutrition Information
Yield
3
Serving Size
1
Amount Per Serving
Calories

160
Total Fat

12g
Saturated Fat

3g
Trans Fat

0g
Unsaturated Fat

8g
Cholesterol

7mg
Sodium

943mg
Carbohydrates

10g
Fiber

5g
Sugar

2g
Protein

7g
Pin it for later!
Check out these fun side dish recipes that you can add to your collection!
Instant Pot Taco Stuffed Baked Potatoes
Perfectly Seasoned Potato Salad For Every Event
Healthy and Tasty Chickpea Salad
Hi! I'm Nellie. I am a busy mama of three, wife to my high school sweetheart who loves to cook, workout and stay organized! I love to share helpful printables, the best recipes and fitness tips for the modern mom. I strongly believe that every mom can feed their family well, take proper care of themselves and have fun along the way! Read my story.
Get comfortable and be sure to come hang out with me on social. Don't grab your free fitness journal before you go!