Would you love to have dinner on the table in about 35 minutes? Then this recipe is for you! Easy Spaghetti squash marinara is a fantastic gluten-free pasta option that's so easy to cook and something fun to eat. Pair this with a green salad, some country bread and butter for a complete meal.
Bring a burst of color to your dinner table with this delightful Spaghetti Squash Marinara recipe. Boasting an explosion of tangy marinara sauce over tender, spaghetti-like strands of squash, topped off with a sprinkle of parmesan cheese, it is a splendid symphony of flavors that screams comfort food, while still being wonderfully light and healthy.
This dish is a feast for the senses with the vibrant yellow of the spaghetti squash and the rich red of the marinara, finished with the fresh green of the basil leaves and olives. It's simple, wholesome, and perfect for those seeking a gluten-free pasta alternative.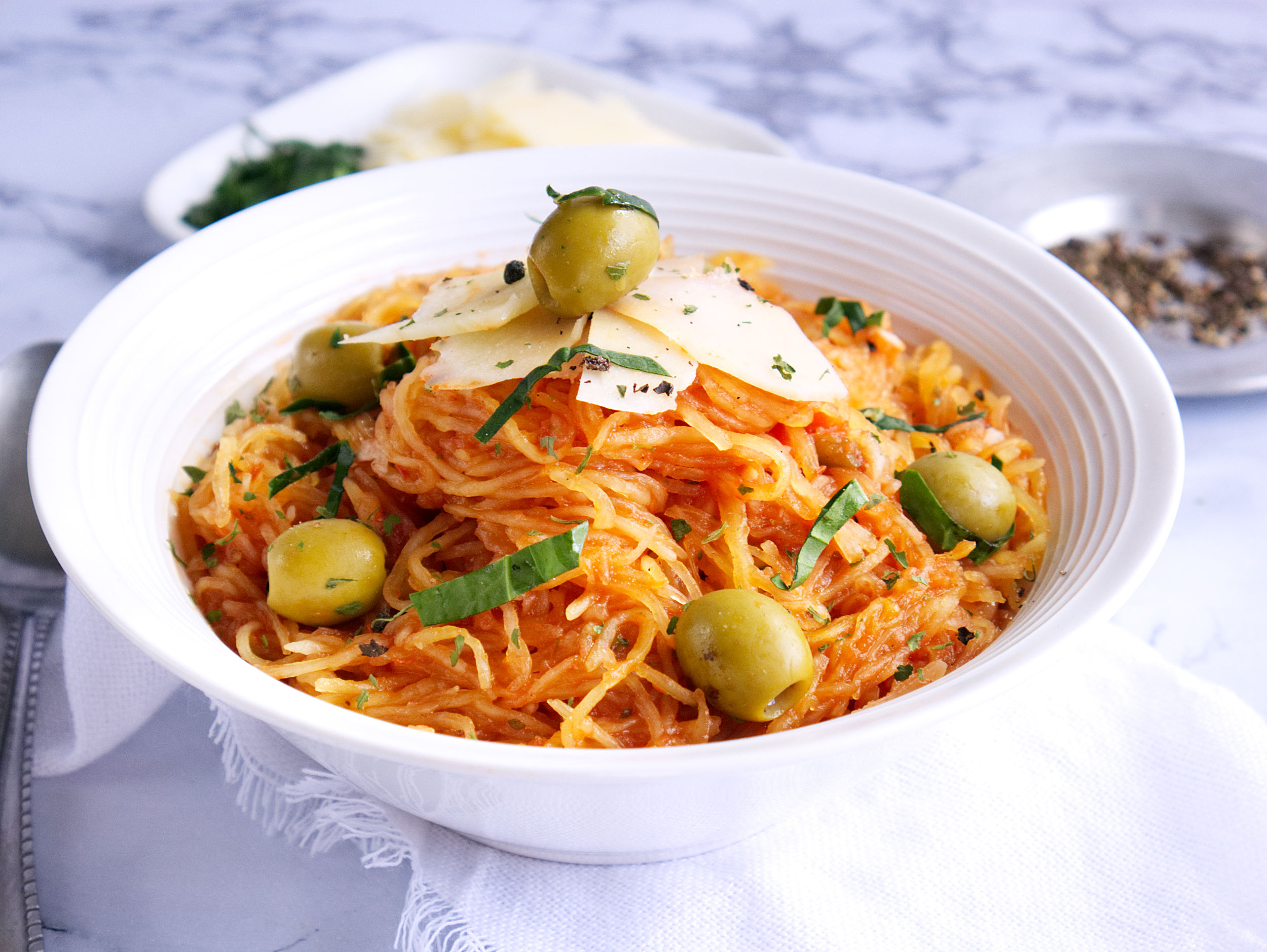 What is Spaghetti Squash?
Also called vegetable spaghetti, vegetable marrow, or noodle squash. A small, watermelon-shaped variety, ranges from 2 to 5 pounds or more. It's golden-yellow, oval and has a mild nutlike flavor. The Spaghetti squash that is the most yellow will be the ripest and best to eat.
FAQs, Tips and Tricks
1. How to select the perfect spaghetti squash?
Look for a squash that's bright in color, feels heavy for its size, and has a firm, dry rind without cracks or soft spots.
2. How to cut the spaghetti squash?
Cutting a spaghetti squash can be challenging due to its hardness. Pierce the skin with a fork, then microwave it for 5 minutes to soften before cutting.
3. Should I roast the squash?
Yes, roasting brings out the sweetness and gives a beautiful texture. Drizzle some olive oil, sprinkle sea salt and black pepper before roasting.
Variations
Consider adding other vegetables like bell peppers, onions, or spinach for added nutrition and texture. For a protein-packed version, toss in grilled chicken or shrimp. You can also add chili flakes for a spicy kick.
Where to Serve
This dish is versatile and can be served as a main course for a family dinner or a casual get-together. It's also perfect as a side dish to a roast or steak.
Storage
Store leftovers in an airtight container in the refrigerator for up to 3-4 days. It's also freezer-friendly and can be stored for up to 2 months.
Common Problems and How to Avoid Them
One common issue is the squash becoming mushy. To avoid this, ensure to not overcook the squash; it should be tender but still have a slight crunch. Over-saucing can also make it soggy, so keep the sauce to a reasonable level.
Although it may seem counterintuitive, larger spaghetti squash have more flavor than smaller ones. When cooked, the flesh separates in strands that resemble spaghetti pasta–and here is where we have an amazing recipe for easy delicious spaghetti squash marinara without the carbs! Don't forget to make a great marinara from scratch!
Tips for Making this Recipe with Kids
Invite the kids to help with safe tasks like scraping the spaghetti strands from the squash, adding the sauce and toppings, and sprinkling the cheese. This recipe is a fun and engaging way to encourage them to eat more vegetables.
Topping Options
You can get creative with toppings! Consider adding pine nuts for a delightful crunch, sun-dried tomatoes for an intense, concentrated flavor, or even capers for a briny kick.
What are the nutritional benefits of spaghetti squash marinara?
Spaghetti squash marinara is an excellent choice for those looking for a nutritious and flavorful meal. Here are some key nutritional benefits of this dish:
1. Low in Calories and Carbohydrates:
Spaghetti squash is a fantastic low-calorie and low-carb alternative to traditional pasta, making it suitable for those on a diet or watching their carbohydrate intake.
2. High in Fiber:
Spaghetti squash is high in dietary fiber, which aids in digestion, keeps you feeling full, and may help control blood sugar levels.
3. Rich in Vitamins and Minerals:
Spaghetti squash is an excellent source of vitamin C, vitamin B6, and manganese. It also contains other vitamins and minerals such as potassium, magnesium, and calcium.
4. Antioxidant Properties:
The vibrant yellow color of spaghetti squash signifies the presence of beta-carotene, a powerful antioxidant that can support immune health, eye health, and healthy skin.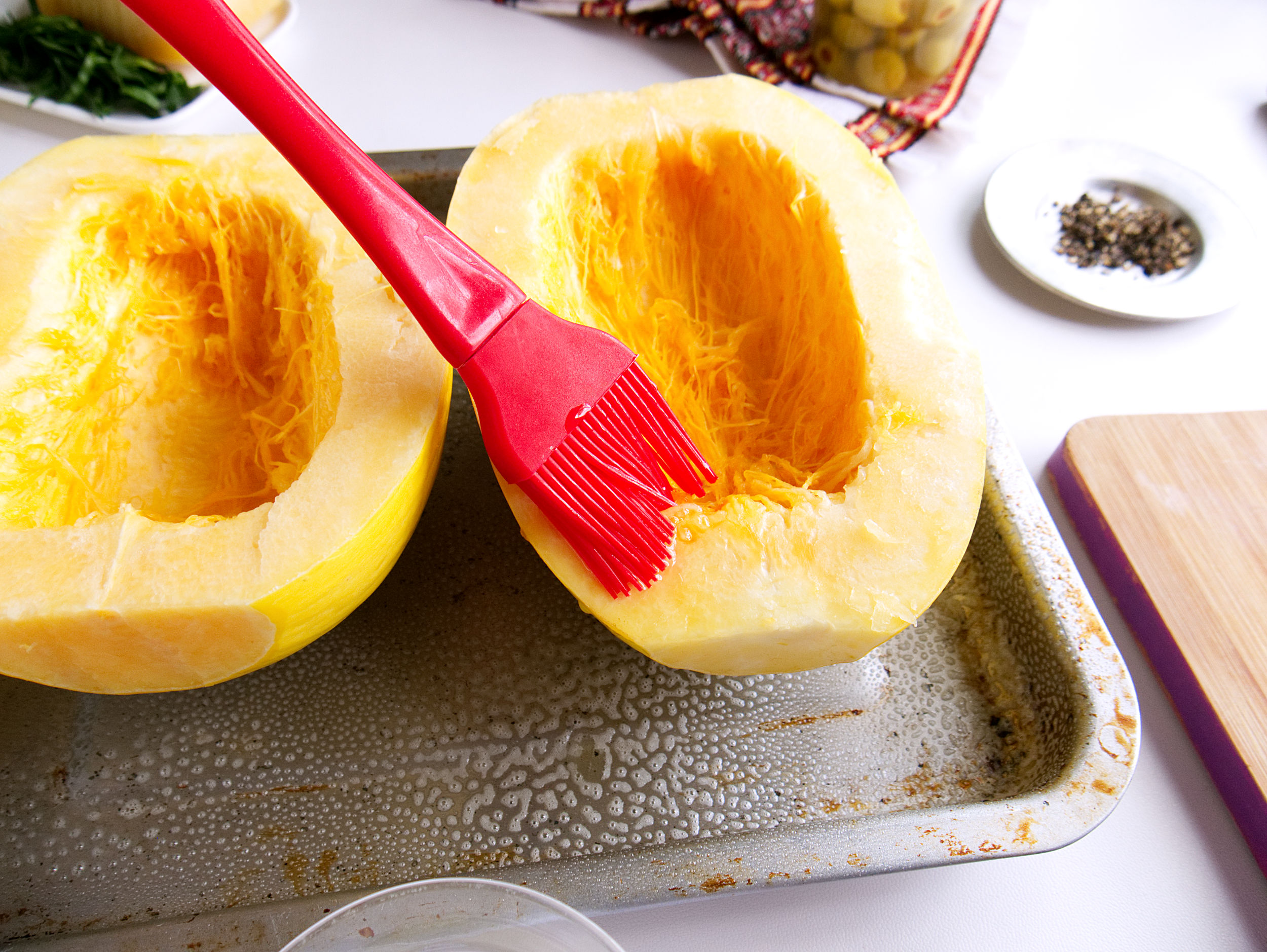 5. Heart-Healthy:
The marinara sauce, made primarily from tomatoes, is rich in potassium, a crucial mineral known for its heart health benefits. It's also high in lycopene, a powerful antioxidant with cardiovascular benefits.
6. Good Source of Protein:
When topped with cheese, this dish also provides a decent amount of protein.
7. Healthy Fats:
The olive oil used for roasting the squash and the olives added as a topping are rich in monounsaturated fats, which are beneficial for heart health.
While this dish is already packed with nutritional benefits, keep in mind that you can always add more veggies or lean protein to increase its nutritional value further. Always remember that the overall health benefit of any dish can vary based on the portion size and how it fits into your total daily diet.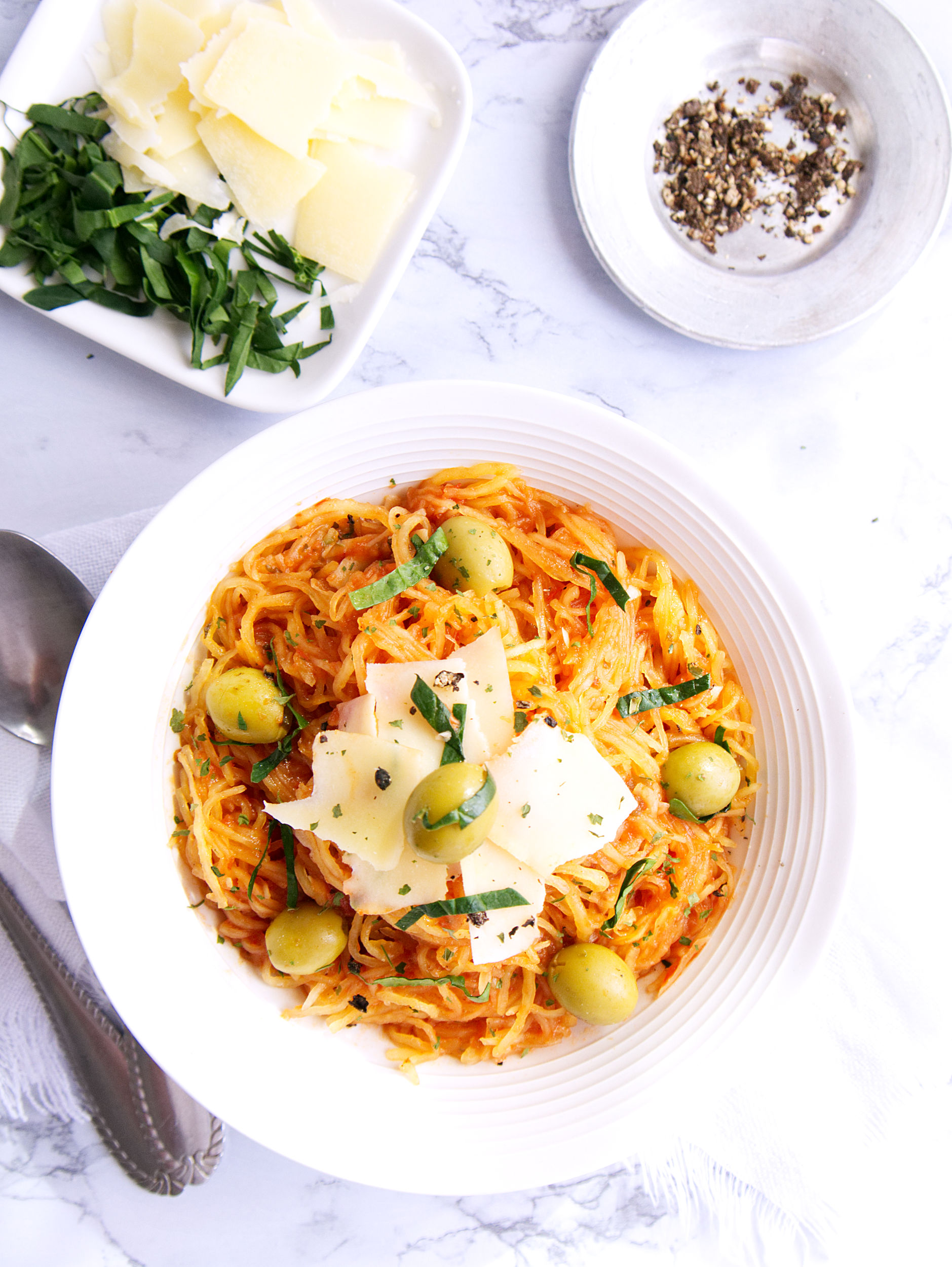 Why this Recipe Works
The beauty of this recipe lies in its simplicity and versatility. It offers the comfort and familiarity of spaghetti marinara but with a healthier, lower-carb twist. Moreover, the squash serves as a natural dish, adding an aesthetic appeal. Finally, the mix of umami from the marinara sauce, salty notes from the cheese and olives, and the freshness of the basil makes it a balanced and irresistible dish.
What are some other fun italian style dishes to try?
If you are looking for more fun dinner recipes be sure to check out this comprehensive list! Easy and Tasty Dinner Ideas For The Whole Family
Yield: 4 Servings
How To Cook Easy Spaghetti Squash Marinara: Easy Vegetarian Dinner Recipes
Prep Time: 35 minutes

Total Time: 35 minutes

Super easy Spaghetti Squash marinara recipe using everything you already have on hand in the kitchen!
Ingredients
2 large spaghetti squash
1 jar or your favorite marinara sauce
freshly sliced or grated parmesan cheese
thinly slivered basil leaves, to taste
green olives, to taste
freshly ground black peppercorns
olive oil
fine sea salt, to taste
cooking oil spray
Instructions
Preheat oven to 400F and spray a baking sheet with cooking spray oil
Throughly rinse the spaghetti squash, dry and carefully slice off both ends.
Cut the spaghetti squash in half going lengthwise, use a spoon to remove the seeds and discard them.
Lay the squash on the baking sheet and brush or rub the inside with a little olive oil, then sprinkle with salt.
Flip the halves flesh down, bake in center of oven for 25 to 30 minutes or until you can easily scrap away the spaghetti squash from the rind.
Remove from the oven and allow to cool slightly before using a fork to carefully pull off the spaghetti squash from the rind.
While you wait for the squash to cool down, heat the marinara sauce in a pot.
Notes
To Serve:
Options #1: Place the scraped off spaghetti squash into a bowl and top with marinara sauce, parmesan, olives and basil and enjoy. You can also stir in the marinara sauce with the squash before serving and adding toppings.

Options #2: Scrap off the spaghetti squash from the rind and leave it inside the squash, then top with marinara sauce, parmesan, olives, basil, olive & freshly ground black pepper. You can also stir in the marinara sauce with the squash before serving and adding toppings.

Notes:

* This spaghetti squash also pairs well with bolognese sauce or pesto or even with just some sautéed cherry tomatoes, minced garlic and lots of fresh basil.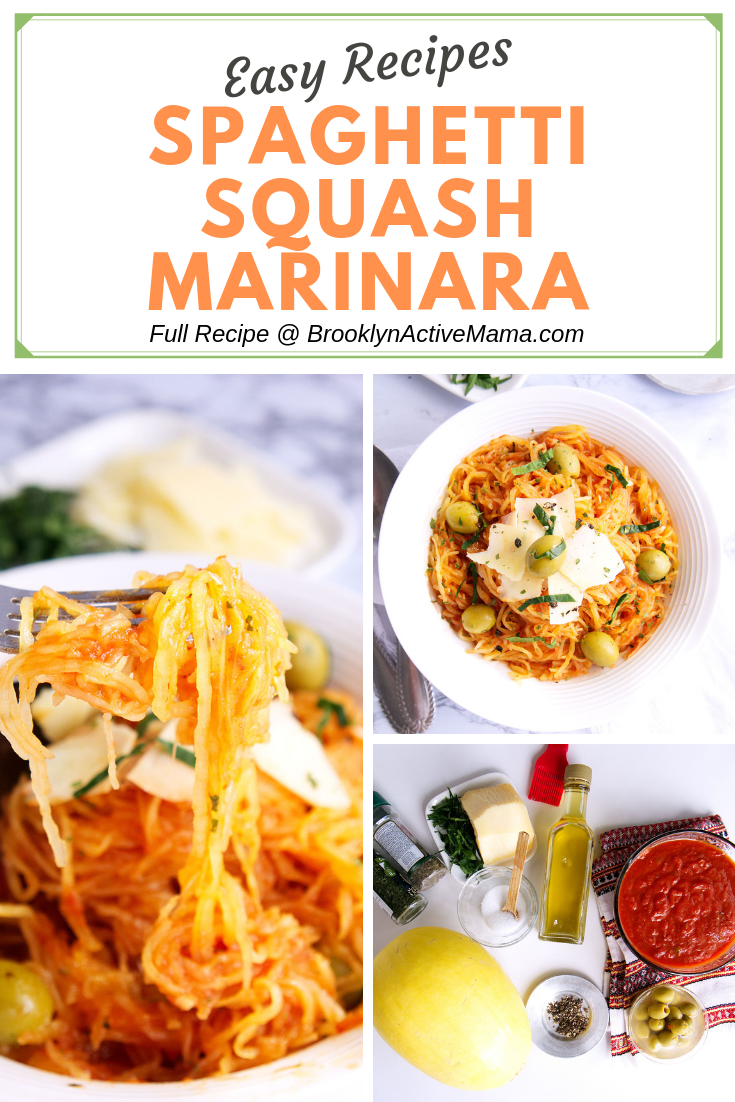 For more vegetarian recipes check out:
20 Minute Easy and Delicious Weeknight Penne Rosa Recipe
Easy Creamy Spinach Artichoke Penne Recipe
Vegan Strawberry Smoothie Bowl Recipe + Quick and Healthy Breakfast Ideas
Tomato Cucumber Greek Pasta Salad Recipe
Hi! I'm Nellie. I am a busy mama of three, wife to my high school sweetheart who loves to cook, workout and stay organized! I love to share helpful printables, the best recipes and fitness tips for the modern mom. I strongly believe that every mom can feed their family well, take proper care of themselves and have fun along the way! Read my story.
Get comfortable and be sure to come hang out with me on social. Don't grab your free fitness journal before you go!